August 29, 2009
F1 Quals: Belgium 2009!
I can't believe what I just saw. I never thought I'd ever be typing this combination of words in this order. Not even in my wildest dreams did I think this was even possible.
Here goes:
Force India is on the pole for the 2009 Grand Prix of Belgium.
Here's the grid:
FORCE FRICKIN' INDIA!

But the rest of the grid is weird, too! Jarno Trulli second? Is this the single most unlikely front row of all time? Grizzly Nick Heidfeld's BMW third? BrawnGP
didn't even exist
a few months ago, and 4th is disappointing for them now. The BMW of Robert Kubica is 5th, for heaven's sake.
Here's the frightening thing: Fisichella and Sutil's speed seems to be legit. They were 1st and 4th in Q1, 3rd in Q2, and obviously fastest of all in Q3. That sort of performance isn't a fluke.
Wait, this grid gets even more strange the farther down you go! Look at positions 12 thru 14: reigning driver's champion Lewis Hamilton, two time driver's champion HWMNBN, current driver's championship points leader Jenson Button, and Hamilton's teammate Heikki Kovaleinninnie. All knocked out in Q2, with Button and Hamilton just barely making it into that session to begin with, and all of them behind Adrian Sutil in the other Force India!
In fact, the grid doesn't look truly normal until you get to those knocked out in Q1: Buemi, NKOTT, Kazoo and Lettuce aren't strangers to dying in Q1.
Then you get Luca Badoer, who becomes the first Ferrari driver to qualify dead last in two consecutive races... EVER! Sixty years and that has never occurred before.
And why this sudden burst of performance from Giancarlo Fisichella? Some say that he's been tabbed to replace Badoer after Spa; Fisi for his part has always said that as an Italian, it's been his dream to drive for the Scuderia, and that he'd quit whatever drive he had immediately if it was offered to him.
Or it might be down to fuel loads. His 648kg weight is less than Trulli or Heidfeld (656.5kg and 655kg, respectively), but he's heavier than Rubens Barrichello (644.5kg).
Or it might just be the Kingfisher that's probably flowing freely tonight in Mumbai. No matter how it happened or how you look at it however, Force India has earned their first ever pole. They were Jordan when I became a F1 fan, then turned into Midlands, then Spyker, then, finally, Farce India.
Well, they are a Farce no more. All hail mighty FORCE INDIA! Maybe they'll even earn their first point. Hey, stranger things have happened.
The weather forecast calls for just a slight chance of rain, and temperatures in the mid-60s. But this is Spa-Francorchamps; the teams have probably packed parkas, bermuda shorts, and a lot of umbrellas (not to mention snowshoes and sled dogs) into their transporters. The weather is terribly unpredictable and really can change at any time. In fact, during quals today, at one point it was sunny at one end of the track, cloudy at the other, and raining in the middle of the circuit, but NOT where it was actually getting on the driving surface. Your guess is as good as anybody else as to what the weather'll be. Which is one of the reasons why Spa is such fun.
See you Sunday!
Posted by: Wonderduck at 11:50 AM | Comments (4) | Add Comment
Post contains 691 words, total size 14 kb.
August 28, 2009
F1 Practice: Belgium 2009!
A beautifully sunny afternoon at Spa-Francopants for Friday's Second Practice session. Quite the change from the first practice session, where it poured down buckets. Ah, that lovely Spa weather... it's kinda like the weather we get here in the Midwest: don't like what you've got? Wait a few minutes, it'll change.
For those unfamiliar with the layout of Spa-Francophone, here's a quick lap around courtesy of Kimi Raikkonen and ITV, from 2007 or 2008:
Note the elevation map shown at the beginning...
There are rollercoasters with fewer dips and hills than Spa.

Second practice was fun to watch, simply because of the track. While nobody was particularly troubled, nobody seemed to have a firm handle on the beast either. Everybody save McLaren had loads of wing cranked off, so all the cars could be described as "squirrely". The McLarens, twitchy at the best of times, had so much wing dialed on that the Legendary Announce Team declared it "a barn door."
Well, everybody'll have farm implements on their cars tomorrow, as Lewis Hamilton had fast lap of the session, though only .016 seconds ahead of Timo Glockenspiel's Toyota. A win, a second place, and now this? Yup, McLaren's back.
Down at the other end of the timesheet, the Marc Gene watch continued as Luca Badoer was, again, embarrassingly slow, over two seconds behind Hamilton, and nearly a second behind 19th place. Further endearing himself to the other drivers and teams, his car shed a wheel spat early in the session, bringing out a red flag as the debris was sitting dead-center in Blanchemont. No, it wasn't his fault, but it still happened to Capitano Lento.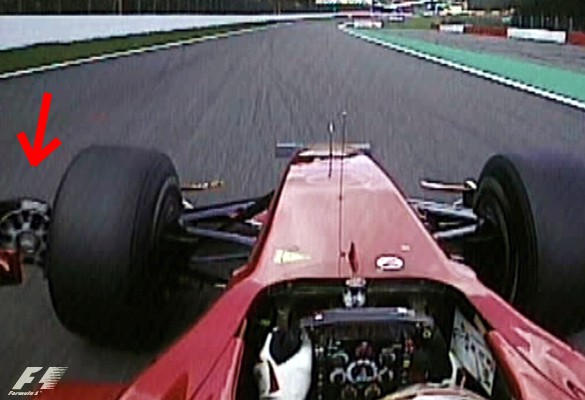 So, enjoy your Badoer while you can, because he probably won't be around much longer. Drivers rumored to be replacing him include the aforementioned Gene, Nico Hulkenberg aka the driver with the name most made for F1Update!, HWMNBN (with some weird contract finagling), and the dearly departed SeaBass, late of Toro Rosso.
Quals in the morning, with any luck! See you then.
Posted by: Wonderduck at 08:40 PM | Comments (1) | Add Comment
Post contains 342 words, total size 2 kb.
August 24, 2009
F1 on SPEED!: BELGIUM, man, BELGIUM! 2009!
It doesn't get any better than this. We leave the boring street circuit in Valencia and head to the most exciting and vibrant track on the F1 calendar, the Swimming Pool at Spa-Francorchamps. While Silverstone is probably my favorite circuit overall, if someone held a gun to my feathered head and said "only one track ever again," I'd probably choose Spa.
There's nothing you need in a race course that Spa doesn't have. Elevation changes, high speed straights, both high- and low-speed turns, legendary curves, history out the ears, and rain. Lots and lots of rain. In fact, 2008's
Grand Prix of Belgium
was far and away the most dramatic race in a season chock-filled with drama.
Let's take a look at the track map for this wonderful circuit:
The named turns alone are worth the price of admission: La Source, Eau Rouge, Raidillon, Beau Rivage, Pouhon, Blanchimont... any one of them would be the stars of a lesser track, but here they weave a course that pretty much every driver, and every F1 fan, loves. From a steep climb at Eau Rouge that makes Raidillon a blind turn, to the steep downhill starting around 11 and ending around Blanchimont, no track on the calendar has more or steeper elevation changes.
Yet for all that, it's a very fast track, and will probably have the lowest downforce settings we've seen yet this year. Monza will have lower yet, of course, but Spa is just a lot more
fun
than the Italian track.
Of course, the ever-present threat of rain at this track in the Ardennes means that the setup is almost a crapshoot. Do you plan for rain and crank on the wings and raise the ride height, only to suffer if it's dry? Or do you take off wing angle, lower the chassis as far as it'll go and go for the speed, only to find that you can't stick to the road in the rain? Headaches abound for the unwary, not to mention
ping-ponging
off the barriers before Raidillon.
No, it doesn't get any better than Spa-Francopants, and the good sprouts at SPEED will be bringing us their usual stellar coverage, beginning with Friday's Second Practice live from 7am to 840am. Saturday brings us the plausibly live Quals session, from 7am to 830am. The race, then, is on Sunday, LIVE, from 630am to 9am. Bring your inflatable rafts and water wings, and let's go racing!
Posted by: Wonderduck at 05:48 PM | Comments (2) | Add Comment
Post contains 414 words, total size 3 kb.
August 22, 2009
F1 Quals: European Grand Prix @ Valencia 2009! (UPDATED)
McLaren's back. Badoer's slow. Really slow.
Here's the provisional grid:
Two races ago, McLaren looked like they were destined to be backmarkers for the rest of the season. Last race, Hamilton won. This time around, a front-row lockout bodes well for the team's fortunes. It's come too late for them to get into the top three in Constructor's points or for Lewis to make a run for the Drivers' championship, but they've suddenly become legit competitors for wins. That might seem obvious since they won in Hungary, but did anybody
really
think that Toro Rosso had suddenly become winners last year, just because Seb Vettel
triumphed at Monza
?
Robert Kubica is showing signs of life now that BMW has decided to withdraw from F1. While 10th isn't all that great, in Q2 he looked like he was a serious contender for a while, topping out around 4th before slipping back. There's no question he's quick, we've seen that already... it must be that his car is rubbish.
We're still waiting for fuel loads to be reported, and for information on what happened to Kazoo Nakajima's Williams in Q1. For no reason that anybody could tell, the engine apparently just cut out, causing him to spin and roll to a stop.
Luca Badoer just looks lost right now. He was 1.5 seconds behind NKOTT, good enough for dead last on the grid, nearly 3.5 seconds behind the fastest speed set in Q2. The LAT brought up a good point, saying that testing is a whole different animal than racing. Boiling down what they said, it's similar to the difference between singing karaoke in your local bar... and performing in an arena in front of 50000 people. They also thought that giving the seat to Badoer was something of a "thank you" for his decade of thankless service as the test driver for Ferrari, and that perhaps it's something of a white flag on the season as well. After all, their other tester, Marc Gene, is an active racer who won at the 24 Hours of LeMans this year (as well as having raced in F1 as recently as 2004) and would probably be a lot more competitive. Could it be that Ferrari really has given up on 2009?
I think they're right when they said if he's still in the cockpit (barring substantial improvements) after next week's race at Spa-Francopants, they've decided to concentrate on 2010.
Race on Sunday!
UPDATE: Fuel loads are in, and Rubens Barrichello looks like he's in the catbird seat. With a total weight of 662.5kg, he's 9.5kg heavier than Lewis Hamilton and 7.5kg more than Kovaleinninninnie. Everybody behind him back to 7th is lighter than him as well, though not by much. So, fast lap in Q2, more fuel onboard, and still P3? Yep, that's promising for ol' Rubino. Now to see if he can actually get the car in gear when the lights go out.
Oh, and Luca Badoer is lighter than everybody ahead of him, except for NKOTT, up to 15th. In fact, Jarno Trulli, two places ahead of him, is almost 18kg heavier.
Yeeeeeeesh
!
Posted by: Wonderduck at 10:57 AM | Comments (7) | Add Comment
Post contains 662 words, total size 16 kb.
August 21, 2009
F1 Practice: European Grand Prix @ Valencia 2009!
Wow, it was good to see the F1 Circus back on track. Lots of interesting stuff today, so lets get right to it.
For the first time in modern memory, we have a decent chance of seeing a non-penalized, still-running Ferrari finishing last in a Grand Prix. Luca Badoer, replacement driver, was over three seconds/lap slower than the fastest time set in P1, good for dead last in the session. In P2, he was 18th, but only because Lewis Hamilton's McLaren had a rather impressive slide that took him around two corners sideways only three laps into the second session. When his front suspension went over a curb, something broke and the team apparently didn't have a replacement immediately at hand. Badoer probably would have been 19th otherwise, probably not what Ferrari had in mind. He only managed to beat out NKOTT.
Oh, and he got
four
three separate penalties for speeding in the pit lane, to boot. At least he was fast SOMEwhere.
Meanwhile, Lettuce Grosjean and his hair, the new New Kid On The Track, managed to bring his Renault home in a neat 13th. His teammate, HWMNBN, got the home crowd excited with the only sub-1:40 lap of the day, for the fast lap honors. Just before he did that, however, he managed to screw up the final turn, locking up his brakes and slithering into the BMW of Grizzly Nick Heidfeld, who had wisely (if uselessly) moved as far away as possible from HWMNBN's racing line. The front-right tire of the Renault got in the way of the left-rear of the BMW, with the inevitable result occurring: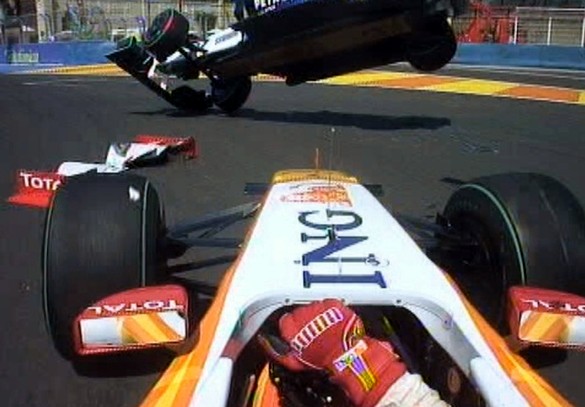 Liftoff! We have liftoff!

Heidfeld's Beemer was rather broken upon landing, and stayed in the pits for the remaining 15 minutes or so. HWMNBN at least had the decency of cleaning up after himself, running over his front wing and dragging it into the pit lane. Awfully nice of him.
In an e-mail to me, Official First Reader of The Pond Mallory asked me if the Legendary Announce Team's repeating of something Ferrari team boss Luca di Montezemelo said was true. I'm afraid to say that yes, it is true. See, di Montezemelo stated a week or two ago that he'd like teams to have the option of entering THREE cars in a race, as opposed to the current practice of two. While the LAT suggested that would mean a potential 39 car field, that's not what di Montezemelo was actually talking about. Instead, he wanted to actually limit the number of teams to eight or fewer, so as to do away with new teams altogether. Of course, this would also raise operating costs (which is against the wishes of the FIA's cost-cutting measures) by at least a third. Also of course, there aren't many teams that could
afford
running three cars; Ferrari for sure, and perhaps McLaren and Toyota could do it... maybe. Gee, who would win the Constructor's Championship?
If there was a 39-entry field, though, we'd see a return of the pre-qualifying period, where the fastest 26 or 28 cars only would be allowed into quals. I'm fine with that idea, but only if we really had that many discreet entries.
I'm sure di Montezemelo doesn't believe that would ever happen, though.
Quals in the morning!
Posted by: Wonderduck at 10:42 PM | Comments (3) | Add Comment
Post contains 558 words, total size 4 kb.
August 20, 2009
F1 News 'n' Notes Before Valencia
With the F1 Circus setting up its tents in Valencia, we've got some nuggets and tidbits of information being handed out like cotton candy and peanuts.
*Norbert Haug, president and overseer of all Mercedes-Benz motorsport activities, got a little dig in at the FIA today. In the usual Thursday pre-race interviews, Haug was asked about the lifting of the one-race ban handed to Renault after the Hungarian Grand Prix. His response was classic: "
It's good to see that a harsh punishment is sometimes reversed. I would like to know what that's like

." Of course, the Death Penalty handed down to McLaren-Mercedes in 2007 had nothing to do with his comment.

*Campos F1, one of the new teams coming in for 2010, reportedly is going to name their driver lineup soon. Expected to be in the Campos cars are Russian GP2 driver Vitaly Petrov and current McLaren third driver and F1 Update! long-time favorite Pedro de la Rosa, better known around these parts as "Pete Rose." Petrov is an interesting choice. He's currently third in the GP2 standings, and would be the first Russian F1 driver ever, which could be important considering that there's a push to place a Grand Prix in Russia.

*As expected, Renault did name Romain "Lettuce" Grosjean as the replacement for the fired Nelson Piquet Unemployed. Lettuce immediately declared himself a French driver. He actually was born in Switzerland, but his mother is French, and he has dual nationalities and passports. "In motorsports, my nationality is clearly French, because all
all of the support in my career was coming from France, never Switzerland," said Grosjean. Being French, of course, he will never win a F1 race, because one lap from the end he'll see a white flag and pull over. (*badum-pssshhhhh!*)

*Ferrari's replacement for Felipe Massa, Luca Badoer, has managed to get some time in the F60 recently. Earlier this week, he drove about 120 miles over two days on Bridgestone's ultra-hard demonstration tires as a TV commercial was filmed. The runs were all in a straight line, and at least he got some practice with the gearbox. In interviews, Badoer has said that Valencia "will basically be a test session" for him.

*Finally, as was earlier speculated, new team USF1 announced that YouTube CEO and co-founder Chad Hurley had signed on as the team's "primary investor." No word if this means that the YouTube logo will be plastered on the car. Considering Bernie Ecclestone's problems with the video website (which is why it's often hard to find current F1 clips there), one can only hope it WILL be, in a prominent spot. The other interesting bit of news is that the car's livery will probably be blue. See, back in the old days, a team's nationality determined their car's color. Britain was green, Italy was red, Germany was silver... and America was blue. It's a throwback, and I'm loving it.

See you tomorrow for Practice!

Posted by: Wonderduck at 09:29 PM | Comments (1) | Add Comment
Post contains 495 words, total size 3 kb.
August 17, 2009
F1 on SPEED!: European Grand Prix at Valencia 2009!
As the F1 Circus reawakens from its midsummer slumber, we find ourselves headed to Valencia, on the east coast of Spain, for the European Grand Prix. It's the second year for this track, and one can hope that we'll have a better competition than we did for the inaugural race.
Let's take a look at the track map, shall we?
Deemed a "street circuit," since most of the course runs through and around the marina district of the city,
we discovered last season
that it really has little in common with
real
street tracks like Monaco or Singapore. The streets are wide and mostly smooth, there's plenty of runoff area where it's needed, and other than
a stray pigeon
or two, there's not a whole lot of drama to the circuit. In other words, it's a Hermann Tilke course.
Of course, that was last year. This year, if you remember (it has been a while since we last had a race, after all), we had a whole raft of rule changes that may make a difference.
The signature of Valencia has to be the gazillion turns. Sure, a few of them a hard to consider an actual turn, per se (21, 22 and 23, we're looking at you), but 25 is the definite record for modern circuits (no, I'm not counting the old Nordschliffe). Visually, the bridge between turns 9 and 10 is probably the highlight, though it does have competition in the form of the marina and the nicely renovated buildings attendant to it. Since it was the harbor for the 2007 America's Cup yacht race series, the city did a lot of beautifying to the marina area, and it showed.
However, at 200mph, you don't get to see much of it. Further belying its so-called street circuit origins, Valencia is a low downforce, high-speed track. As a result, it
is
hard on the brakes. Turn 12 in particular is a test of the carbon-carbon pads, where the cars have to slow from a track-high-speed of about 201mph down to around 80-90mph. All this abuse is quickly followed by turn 17, where they do it all again though only from about 160-180mph. For all the go-fast-stop-go-fast-stop-go-fast nature of the circuit, though, it's relatively easy on the engines, though
Kimi Raikkonen might disagree
with that assessment.
Fortunately for the organizers of the race, Renault's one-race suspension resulting from HWMNBNed wheelless excursion in Hungary has been lifted, meaning that Spain's favorite son will be able to race in Valencia. Perhaps he'll finish a lap this time.
Thankfully for all involved, the TV coverage returns to where it belongs, on SPEED Channel, for the rest of the season. Their regular excellent coverage begins on Friday morning from 7am to 840am, with live coverage of the day's Second Practice session.
After that, we get Quals on Saturday morning, plausibly live, from 7am to 830am. Later that night, though, Legendary Announce Team member Steve Matchett takes on a tour of the Ferrari factory in the special show "Ferrari: A Look Inside," from 11pm to 1130pm. We don't often get a chance to see the inner workings of a F1 team's factory, and doubly so for the secretive Scuderia Ferrari, so this might be very interesting viewing indeed.
Finally, however, we'll get our F1 at the right time of day. The 2009 European Grand Prix comes to us LIVE on Sunday, from 630am to 9am with a replay from 330pm to 6pm that same day.
Of course, we here at F1 Update! will be all over the race with our usual sterling coverage. Ahem.
In one last bit of news, Felipe Massa is recovering very well indeed from his head injury at Hungary. In fact, there's some rumblings coming out of Italy that he may very well return to the cockpit of the F60 in time for Monza, two races after Valencia. If so, that'll be one of the great medical miracles of our time, considering the multiple skull fractures he suffered. While I hope he really is fully healed less than two months after the accident, I suspect that it's just the Italian press trying to stir up some circulation numbers. After all, Slappy Schumacher's accident was six months ago, and he wasn't able to stand the gaff, though the neck gets a tougher workout in a F1 car.
Either way, the fact that there's even a chance the doctors might okay him to race again this season is incredible news. I wouldn't've put a wooden lira on that bet four weeks ago.
Posted by: Wonderduck at 09:07 PM | Comments (6) | Add Comment
Post contains 768 words, total size 5 kb.
August 11, 2009
Slappy's Out!
Retired seven-time World Driving Champion Michael 'Slappy' Schumacher has called off his comeback. Tabbed to replace the injured Felipe Massa, Slappy hadn't been behind the wheel of a F1 car since early 2007. After a 67-lap test in the F2007 last week, he had severe neck pain.
Today it was revealed that his neck pain has not responded to treatments and that the motorcycle accident in February that injured the neck in the first place was somewhat worse than previously known. Slappy had suffered "fractures in the area of head and neck" in the crash. The amazing g-force loads experienced by a F1 pilot exacerbated the injuries, and instead of risking further damage or not obtaining medical clearance right before the upcoming European Grand Prix at Valencia, Slappy decided to end his comeback.
"
I am disappointed to the core. I am awfully sorry for the guys of Ferrari and for all the fans who crossed fingers for me. I can only repeat that I tried everything that was within my power. All I can do now is to keep my fingers crossed for the whole team for the coming races.
"
To be honest, if Ferrari had let the severity of Slappy's injuries be known, the news of his comeback wouldn't've been hailed as such a wonderful thing, but with skepticism. As it was, Slappy's physical fitness
was already in question
, even without knowing all the details of the injury. There's no question Ferrari knew how bad the injury was, so either they honestly believed that a 40-year old with a broken neck who hadn't sat behind the wheel of a F1 car in three years could recover and drive well... or this was all just a weird publicity stunt.
I'm leaning towards the first, but I can't completely rule out the second. After all, this IS Formula 1 (and Ferrari) we're talking about here. There's been stranger things done.
Ferrari has named team test driver Luca Badoer to take over driver duties for Valencia, which is now looking like the least interesting race ever. No Schumacher, no Renault (pending review of their suspension), no hometown hero in HWMNBN, and a frankly boring track? Yeesh.
UPDATE: Luca Badoer's highlight in Formula 1 probably wasn't even in a race, but at the 2006 Winter Olympics in Torino, Italy.
Posted by: Wonderduck at 09:12 AM | Comments (8) | Add Comment
Post contains 388 words, total size 3 kb.
91kb generated in CPU 0.0254, elapsed 0.1761 seconds.
52 queries taking 0.1589 seconds, 277 records returned.
Powered by Minx 1.1.6c-pink.