March 30, 2016
F1 on TV: Bahrain 2016 (UPDATED)
From Australia's circuit within a public park, the F1 Circus now finds itself in the middle of a desert. The Sakhir circuit is much the same as it's been in past years... the artillery emplacements are gone, the machinegun nests have been filled in, the tanks no longer use the end of the pit lane to repair their treads... so we should probably just look quickly at the map:
No change, as I said. Even politically there's been no change, as Bahrain is one of the places where the 'Arab Spring' movement was crushed, with military help from Saudi Arabia and the UAE. Nowadays, the Bahrani government is still in ham-fisted mode, apparently arresting four US journalists for trying to cover the fifth anniversary marches last month. And so it goes.
Other than that, the circuit itself is grippy (thanks to asphalt imported from Wales), fast, and pretty much flat. Wind can be an issue, as can sand since its in the middle of a desert. Rain is not something you'd expect, though it did rain on Monday; one of the teams' twitter feeds had pictures of their equipment sitting in a soaked pit lane.
Before I get into the "this is why I didn't say anything about it" bit, here's the broadcast times for the race weekend, featuring the Legendary Announce Team! All times Pond Central, of course.
Friday
10am - 1130am: Practice 2 live on NBCSN
Saturday
10am - 1130am: Quals live on CNBC
Sunday
930am - 1230pm: 2016 Grand Prix of Bahrain live on NBCSN
As always, check your local guides for times... I have conflicting information on when the actual race is on-air.
Now then... remember that
debacle of a qualifying format
from Australia? And
people were saying
that F1 would be reverting back to the "old" way of quals? Yeah, about that... it was wrong. We've got
the same elimination format again
for Bahrain and (possibly) beyond... and since the alternative was a "reverse grid" lineup, where the top eight qualifying cars would be moved deep into the grid, we should probably be happy about it.
One thing I've learned over the years of covering F1 in whatever way you call this thing is that if it isn't being said by the FIA, it isn't real yet. And while the best thing to do with this qualifying format is to take it back behind the barn and shoot it, we're stuck with it for at least one race more. At least it'll be at a decent time. See ya soon!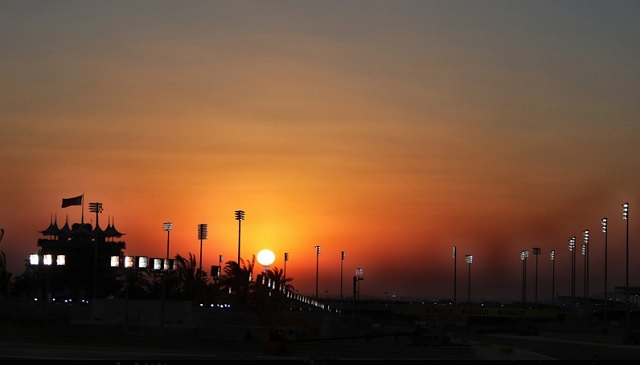 UPDATE
: Fernando Alonso is not being allowed to drive in this race. He failed medical tests today, stemming from a fractured rib suffered in his accident at Australia. He'll be retested before the next Grand Prix, in China. Until he passes, McLaren has tabbed Stoffel Vandoorne, the team's reserve driver (and reigning GP2 champion), to take his seat.
Posted by: Wonderduck at 09:45 PM | Comments (1) | Add Comment
Post contains 489 words, total size 3 kb.
March 19, 2016
F1 Quals: Australia 2016
Disaster.
That's the only way to describe the new qualifying format, unless you want to use words like
debacle
,
awful
,
failure
, or
what were they thinking?
. Before we get into why Quals was an unmitigated catastrophe, let's take a look at the provisional grid for the 2016 Grand Prix of Australia:
Pos.
Driver
Team
Time

1

Lewis

Hamilton

Mercedes

1:23.837

2

Nico

Rosberg

Mercedes

1:24.197

3

Sebastian

Vettel

Ferrari

1:24.675

4

Kimi

Räikkönen

Ferrari

1:25.033

5

Embryo

Verstappen

Toro Rosso

1:25.434

6

Felipe

Not Nasr Massa

Williams

1:25.458

7

Carlos

Sainz

Toro Rosso

1:25.582

8

Daniel

Ricciardo

Red Bull Racing

1:25.589

9

Sergio

Perez

Force India

1:25.753

10

Nico

Hulkenberg

Force India

1:25.865

11

Valtteri

Bottas

Williams

1:25.961

12

Fernando

Alonso

McLaren

1:26.125

13

Jenson

Button

McLaren

1:26.304

14

Jolyon

Palmer

Renault

1:27.601

15

Kevin

Magnussen

Renault

1:27.742

16

Sony

Ericsson

Sauber

1:27.435

17

Felipe Not Massa

Nasr

Sauber

1:27.958

18

Kid

Kvyat

Red Bull Racing

1:28.006

19

Lettuce

Grosjean

Haas

1:28.322

20

Esteban!

Haas

1:29.606

21

Rio

Rollins Tachibana

Manor

1:29.627

22

Turbo Pascal

Wehrlein

Manor

1:29.642
Pretty standard results, more or less. That Toro Rosso got both of their cars ahead of Red Bull is an interesting twist, but part of that performance has to be credited to Embryo Verstappen, who might be turning into a very skilled driver indeed. The McLarens showed signs that last year's nightmare is over by actually looking like they deserved to be on the track.
But let's get to the efalump in the room: the new quals elimination format. It was supposed to make things more exciting, but the exact opposite occurred. You saw a great rush at the beginning of each session as everybody went out to set a lap time before the elimination timer began ticking down... and then the Mercs and Ferraris, secure in their speeds, disappeared. It appeared that the teams had some confusion about how the new format worked, too... when the 90-second timer reached zero, whatever car was slowest was eliminated,
even if they were on a flying lap
. Previously, when clocks ran out (such as at the end of the session), flying laps counted. This means that timing is
everything
now... for example, a lap of Australia takes around 1:26 or so. Basically if you're not on your lap or about to start one when that 90 second timer begins, you're out of luck. That's what doomed Kid Kvyat, who was in the pit lane when the timer started on him. The two Haas cars were also badly hurt by this: Esteban! was on a
serious
flyer when his time ran out; his time would have bumped him up to eighth on the timesheet, plenty good enough to advance. Lettuce Grosjean was going even faster for the first two track sectors when the clock struck ":00" on him, much quicker that his teammate. He decided not to finish the lap at that point.
However, if you're the last one to be under the clock in a session, your final hot lap counts even if time runs out, just like before. Renault's Jolyon Palmer snuck his way into Q2 that way, relegating the Sauber of Sony Ericsson in the process (and causing confusion and annoyance up and down Pond Central). Q2 went down much the same way.
All of that was just prelude to the ridiculousness that was Q3. Basically, the eight cars that advanced to Q3 went out for one lap each, returned to the pits, and for all intents and purposes the session was over; the clock just hadn't run out yet. Oh, Nico Rosberg moved himself from fourth to second later, but there was nothing going on for the last five or six minutes. Hamilton busied himself sitting atop of the medical car, fans busied themselves thinking "WTF is going on?" and critics everywhere broke keyboards as they rushed to post scathing diatribes about the new format.
And they've got the right of it. Drivers, team principals, even Bernie Ecclestone have all come out calling the format "rubbish" and saying that F1 needs to go back to the knockout format again. At least then you usually had the drama of people being on track at the end of Q3.
Race late tonight... I'm unsure if I'll be able to stay awake for it, however: I coudn't manage the trick for Quals. We'll see what happens, F1U! tomorrow.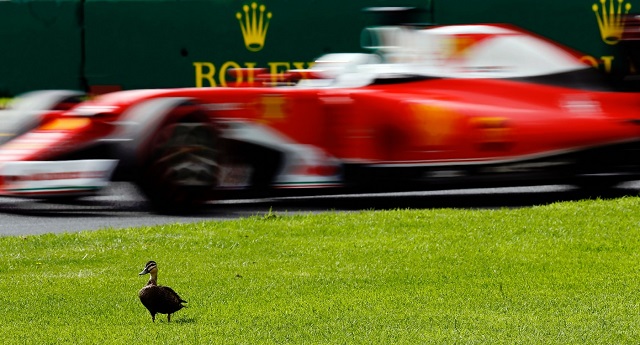 Ducks always get the best seats.


click for bigger

Posted by: Wonderduck at 01:36 PM | Comments (4) | Add Comment
Post contains 747 words, total size 25 kb.
March 14, 2016
F1 on NBCSN: Australia 2016
And we're off! The 2016 Formula 1 season is just a few days away. As is traditional, the Circus is Down Under, raising its tents for the first race of the year. There's a new performer added to the show, and two major rule changes, so this'll be fun and exciting in ways we've not seen in a while! But first, let's look at the track map for the 2016 Australian Grand Prix:
To me, the track in Melbourne is almost like a security blanket. It's always been there, it's never changed, and it's just a swell place to have a race. Fast, but not
fast
fast. Twisty turns, but not ridiculously so. Tough, but fair. A great way to start the season, both for the fans and for the teams. The only bad thing about it is that it takes place at Inconvenient O'Clock, Pond Central Time, but at least Quals and the race bookend Saturday! Here's the broadcast schedule, brought to you by the Legendary Announce Team, NBCSN, and F1Update!: ask for it by name!
Wednesday
1030p - 1130p:
Haas F1 - America's Return To The Grid
, NBCSN
Thursday
830p - 10p: Practice 1, live on NBCSN
Friday
1230a - 2a: Practice 2, live on NBCSN
Saturday
1a - 230a: Quals, live on NBCSN
11p - 2a: 2016 Grand Prix of Australia, live on NBCSN
Which brings us to the first bullet point of the season. There's a new team on the grid, and it's American.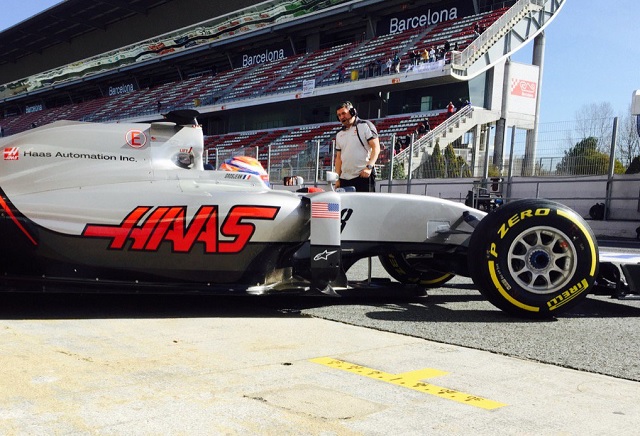 Now Haas F1 is American the same way McLaren is British, or Renault is French... that is to say, "nominally." Every team on the grid is made up of people from around the world. Team Principal Guenther Steiner is Italian (name sure sounds German, though), the drivers are French and Mexican, and they've got bases of operations in England and North Carolina. But it's got the American flag on it, Gene Haas (the founder) is American, and that's all that matters. I'll be paying special attention to HaasF1 all season, and we'll be having a good ol' time with the good ol' boys from Kannapolis. They've already been impressive in pre-season testing; despite losing a front wing on the first day, and an entire day in second testing due to engine problems, they still turned more laps than McLaren and showed good pace the whole way. Promising, if nothing you can really hang your helmet on. Moving on...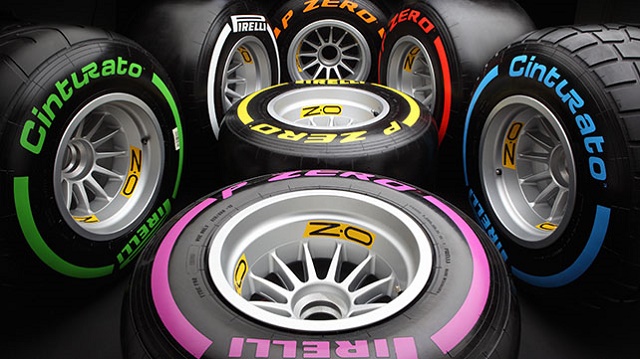 There's been a couple of changes to the tire rules for the 2016 season. The first, and easiest to explain, is the addition of the Ultra-Soft tire compound to the old standbys of Hard, Medium, Soft and Super-Soft. Back when Pirelli was last providing tires to F1, qualifying was single-car-single-lap, go as fast as possible and damn the torpedoes. To get the maximum amount of speed, teams had qualifying engines, tuned to (reportedly) give as much as 1500hp at some circuits... at the price of being useless after only a few laps. Think of them as F1's version of a Top Fuel dragster's motor: one run, then a complete rebuild. However, those engines would be useless if you couldn't apply the power to the circuit, and thus was born the Qualifying Tire. If the qualifying engine had a short life, the Quals Tire had one equally as short, if not worse. Imagine marshmallows covered with velcro and slathered with superglue... lots and lots of grip, but no lifespan to speak of: one race lap was about it. The new Ultra-Soft tires aren't quite that bad, but only maybe by a few laps before they're scattered to the four winds.
The difficult rule change is how tires are allocated during the weekend. Before, Pirelli would bring two compounds to the track, and all teams had to use at least one of each during the race. The rules now state that Pirelli will announce three compounds for each race, and the teams get to choose how many of each compound they want (up to a maximum of 13 sets). The only catch is that the softest compound must be used during Q3 of Qualifying, and the drivers must have at least one set of the others for the race. If I'm reading the rules correctly, the drivers don't actually have to use both, just have them available. Oh, and they have to give back the softest tires before raceday. I think. For Australia, the compounds are Medium, Soft, and Super-Soft. If I've got these rules incorrect, please someone correct me, because they really are a bit vague.
Finally, there's a new Qualifying format. On the surface, it's quite similar... three Quals periods, knockout elimination, you know the drill. Except now, Q1 is 16 minutes long, and instead of removing the slowest five all at once, after seven minutes the slowest car will be eliminated, followed every 90 seconds by the slowest car remaining until the session is over. Thus, seven will be knocked out, and 15 go on to Q2. Q2 is 15 minutes long, and after six minutes the slowest car is removed, then every 90 seconds thereafter. That will leave eight cars for the final session. Q3 will be 14 minutes in duration, and after five minutes the slowest is knocked out. Again, another car will follow every 90 seconds until there are just two remaining. Those two will then go until time's up. Simple, right? I think the FIA is a little over their skis on this one... it might really be cool, but I have this feeling it's needlessly complex and will be hard to keep track of for the fans.
Well, we'll find out this weekend! Keep an eye out for the first F1Update! of the season on Sunday!
Posted by: Wonderduck at 10:06 PM | Comments (14) | Add Comment
Post contains 963 words, total size 6 kb.
67kb generated in CPU 0.0143, elapsed 0.0854 seconds.
47 queries taking 0.0745 seconds, 254 records returned.
Powered by Minx 1.1.6c-pink.