March 29, 2010
F1 On Speed!: Malaysia 2010!
For many, many years, the most hated man in Formula 1 was either Max Mosley or Bernie Ecclestone. It was thought that their meddling with the rules was to blame for the "processional" style of racing we've seen for a while, and there's no denying that they certainly deserve their share of brickbats. But even more deserving of slings and arrows is a man who's face we've seen but rarely. He is responsible for the designs of either nine or 10 (depending on how you lay blame) of the 19 circuits on the F1 calendar. He has a knack of placing turns at just the right place to ruin any chance of passing, or to take what should be a good turn for a pass and destroy it by changing the radius mid-bend. This man is named Hermann Tilke. The Grand Prix of Malaysia is held on one of his circuits. Here's the track map.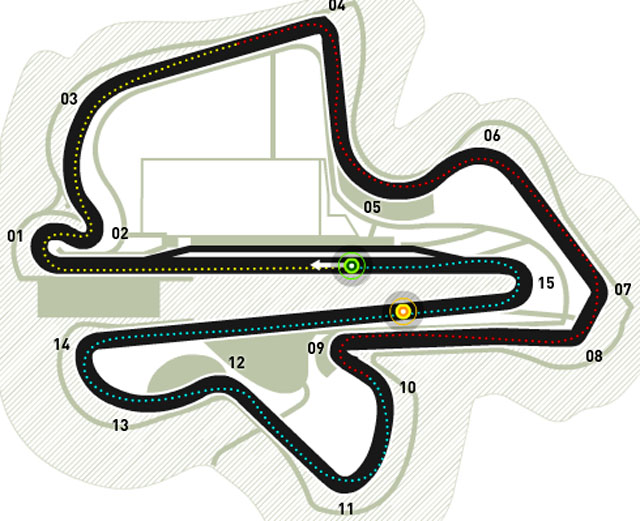 To be fair to Mr Tilke, his race complexes often have stunning architecture involved, and Malaysia's Sepang International Circuit is probably best known for having
the longest continuous fully covered grandstand
in the world. Beginning shortly after Turn 14, it runs down to Turn 15 then pivots around a central parasol, continuing down the main straight until ending near pit-out.
The fact that I'm writing about architecture might give you the impression that I'm struggling to come up with something nice to say about this racetrack... and you'd be entirely right. Other than the Turn 1-2 complex, an off-camber descending corkscrew of turns that I've always been fond of, there's not all that much to like about Sepang.
Unless you like rain, in which case
boy
do I have a circuit for you! Last year's race was the first in a long, long time to be called on account of weather before the half-way point, meaning all points scored were halved. The big deluge soaked the track for such an extended period that the sun set before it was safe to drive on again. Oh, guess what? There's rain in the forecast again. What a shock.
Still, SPEED will bring us its usual high-quality coverage beginning at 1am Friday morning with LIVE footage from Friday's Second Practice, until 240am. Saturday has plausibly live coverage of the Quals session, from 3am to 430am. The actual race is on Sunday, from 230am to 5am, with a replay at 1030am. Unfortunately, the Legendary Announce Team will be down a voice all weekend, as the ringmaster, Bob Varsha, will be working the Palm Beach Barrett-Jackson collector car auction. I believe they said Lee Diffie will be filling in, and he's certainly knowledgeable enough (he does the same job for Australian TV coverage of F1), but he's not The Varsha.
We'll be here with our sterling reportage all weekend, so don't forget to drop in, Dear Reader. And my other reader is welcome, too.
Posted by: Wonderduck at 08:20 PM | Comments (3) | Add Comment
Post contains 489 words, total size 3 kb.
March 28, 2010
Good Morning F1 Fans
While I get the sleep out of my eyes after the late night of F1 watching, maybe get some breakfast in me, here's some grid girls to make the wait for F1 Update! a little easier.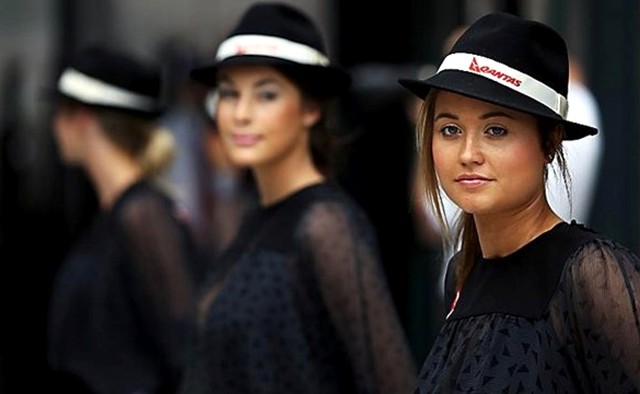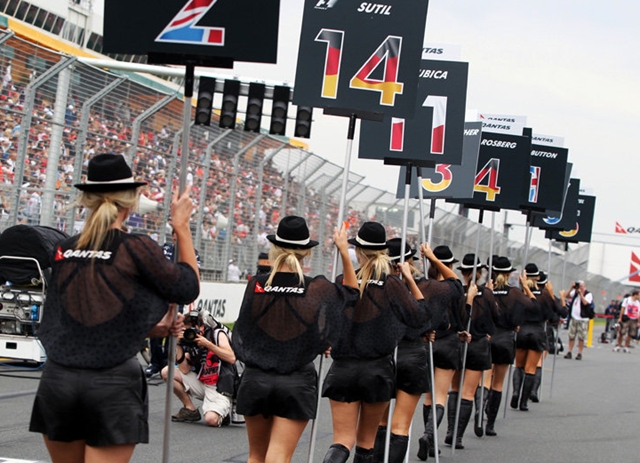 You're welcome.
Posted by: Wonderduck at 08:31 AM | Comments (1) | Add Comment
Post contains 42 words, total size 1 kb.
March 27, 2010
Weather Report: Australian Grand Prix 2010 (UPDATED)
We're 10 minutes from lights-out for the Australian Grand Prix, and it has just started to rain... but it's just a drizzle. It might get harder, it might run for a while, so nobody has a clue what type of tire to put on.
For the record? I'm giggling like a schoolgirl.
UPDATE 1am, recon lap: Looks like everybody is playing it safe and going with Intermediate tires.
UPDATE end lap 01: Safety Car! Felipe Massa made a rocket start to 2nd, Kubica went from 9th to 4th,
Alonso
HWMNBN and Slappy got deranged, breaking Slappy's nose. But the big one came when the Sauber of Kamui Kobyashi had his front wing come off (AGAIN), sending him into a wall, then across the track where he collected the Williams of Nico Hulkenberg in a massive accident. Safety Car lasts 5 laps or so.
UPDATE end lap 11: Everybody is back on slicks now, but it's beginning to rain again. Oops. I'm just going to watch the race now unless there's a major occurrence.
UPDATE end lap 26: Major occurrence! Seb Vettel crashes from the race lead, maybe a broken suspension. Button is now your leader!
Posted by: Wonderduck at 11:54 PM | Comments (3) | Add Comment
Post contains 202 words, total size 1 kb.
F1 Quals: Australia 2010!
Rain threatened in Q3, but held off just long enough to get the session completed in the dry. So who's on pole? Let's take a look at the provisional grid:
The big surprise is Lewis Hamilton, knocked out in Q2. He claims that he was balked on his final hot lap, and it is true that he came across two cars somewhere in sector 3. However, both cars were off the racing line. Further, the TV director had us in-car with Hamilton's McLaren at that portion of the lap; if he lifted off the gas or blipped the brakes, you sure couldn't tell from the engine note or the onscreen displays of RPM. I think he's just looking for an excuse; his teammate was fourth in Q2, after all, and ended up fourth on the grid after Q3. Just a bad performance for the 2008 World Champion, and as it turns out, for the team. Reports are coming in as I write this that Hamilton may not have had enough fuel for a final hot lap, though he crossed the line with time remaining on the session clock. If so, that'll rank up there with the two Ferrari blunders early in the '09 season, when in separate incidents both Massa and Raikkonen sat in their garages with what they thought were safe times, only to see the track come alive and the rest of the field sweep by them, dumping them out in Q1.
Another mild surprise was the relatively poor showing by the two Renaults. Kubica, and to a lesser extent Petrov, had been quite quick during the three practice sessions. Having Petrov knocked out after Q1, and Kubica needing a late push in Q3 to get past the Force India of Adrian Sutil, must have been a disappointment for the team. Petrov had a slight moment on his final flying lap in Q1 that sent him just far enough off-track to ruin his chance to make it to the next session, but I'm sure there were still some rueful glances thrown about.
Of course, all six of the new cars went out in the first session, though the Lotuses (Lotii?) are making some small amount of progress out there. Virgin, as we know, can't be a threat until they rebuild their car because of their too-small fuel tank. But spare a moment for Bruno Senna and Karun Chandhok. The HRT HRT is just brutal. While they did last the entire Q1 session, a minor miracle in and of itself, I don't think
any
driver could get more than a second out of that beast. We did an onboard lap with, I think, Chandhok, and the steering inputs that he had to enter, just to make a turn, looked like he was trying to hack chunks off a slab of meat with the wheel. Just constant, nigh frantic, back and forth sawing at the steering wheel. Other teams would consider the HRT HRT to be in an emergency situation in every single turn. Compare that to the smooth, almost negligible, steering required by Jenson Button and his McLaren, and it becomes obvious: the HRT HRT is just not ready, at all.
Blame the ban of in-season testing. The one thing that the new teams need to improve is track time, and because of the rules, they can only get that
at the races
. In baseball, it'd be like drafting a player out of high school, then only being allowed to play him if he's in the big leagues... no minor league playing time once the majors start their season.
Race coverage begins at 1230am Sunday morning... see you there!
Posted by: Wonderduck at 02:19 AM | Comments (3) | Add Comment
Post contains 775 words, total size 15 kb.
March 26, 2010
Australia Second Practice 2010
The good news is that Kamui Kobyashi's front wing didn't fall off in the second practice session. The bad news is that it rained. Twice. While some teams tried to take advantage and get some running in the wet, most of the teams quickly discovered that the track was too wet for the dry tires, but not wet enough for the intermediates. Rubens Barrichello said it best when, over the radio to his pit crew, he simply said "we're not learning anything. We know the white lines are slippery."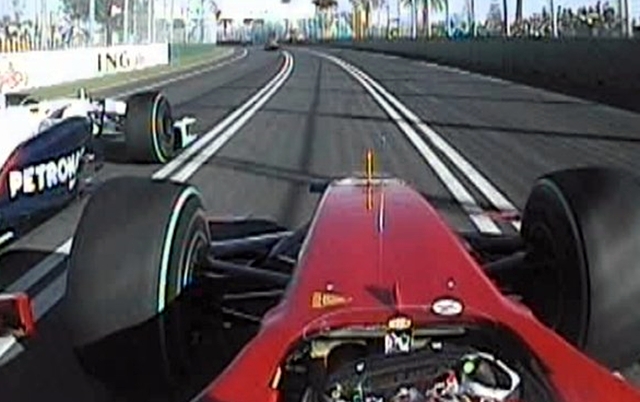 Picture from the 2009 Australian Grand Prix
It's those lines that earned the Albert Park circuit "God's Slotcar Track," by the way. Because of the ooky track conditions, nobody could really decide what shoes to run. As a result, a lot of teams very quickly chewed through their tires. P2 was, essentially, a waste of time for the most part.
So let us, instead, look at what's going on around F1! The big news up and down the pit lane is the rather embarrassing announcement that the virgin Virgin Racing VR-1 was built with... a fuel tank that was too small. Oy. The team estimates that it really needs to be about 21 liters larger for their car to have the ability to run a race distance. After going to the FIA, begging and groveling, they've been given dispensation to install a larger tank. The problem is, however, that F1 cars are built to such tight tolerances that to install a bigger fuel bladder requires a complete redesign and rebuild of the chassis. The amount of work needed to be completed will mean that the new chassis will be a whole new car... and that
should
mean new crash testing and all that sort of thing. It goes without saying that the costs of all of this rework will be astronomical... and for a new team, perhaps too much to carry. Of course, the chances of the VR-1 actually finishing a race for the forseeable future are slim to none, so maybe they won't bother.
Speaking of the new squads, Hispania Racing Team got a grand total of zero complete laps in P2 from their two cars. Bruno Senna's car had a telemetry/electrical problem and never left the pits, and Karun Chandhok's HRT HRT made it 100m out of the pit lane before it died, apparently of embarrassment. To be fair, they did complete 43 laps in the first session between the two drivers.
Darth Bernie Ecclestone told Italy's
La Gazzetta dello Sport
that he intends for F1 to be back in the US in 2012. "I'm trying to get F1 to the US in 2012, opposite Manhattan in New Jersey with skyscrapers in the background. The track would be just fifteen minutes from the city centre of New York. It would be something great," said the F1 Troll. I'll believe it when it happens, says the F1 Wonderduck.
Finally, the weather forecast for Australia is great: thunderstorms all afternoon and evening. Which means a wet race, which means fun fun fun! Except for one tiny detail... remember
last year's Malaysian Grand Prix
, when it rained so hard that the race was delayed, then called at about the halfway mark because of darkness? The Australian Grand Prix will be starting at 5pm local time, and it will be twilight-ish at the end of the race. If it rains during the race...
Quals are late tonight; I'm going to try to stay awake for it.
Posted by: Wonderduck at 07:07 PM | Comments (2) | Add Comment
Post contains 587 words, total size 4 kb.
March 25, 2010
Australia First Practice 2010
Since SPEED doesn't provide coverage of the first Friday practice session, I'm afraid I can't be sure of what's going on, but it seems that Sauber's Kamui Kobayashi is having a bad day. To whit:
Yes, having your front wing come off in the tight confines of Australia's Albert Park is probably the very definition of "having a bad day."
From what I've been able to find out, earlier in the session he hit a pylon and lost his wing, ending up in the kittylitter (causing a red flag for the session). The car was returned to the pits , the nose repaired and he went back out... and then the nose fell off on it's own? That's gotta be a horrible feeling for a driver.
Coverage of P2 will come around sometime Friday evening.
Posted by: Wonderduck at 09:12 PM | Comments (1) | Add Comment
Post contains 139 words, total size 1 kb.
March 21, 2010
F1 On SPEED!: Australia 2010!
After the snorefest that was Bahrain two weeks ago, the F1 Carnival heads to Australia this week. On the whole, the semi-street circuit at Albert Park in Melbourne brings us an entertaining race every year, so we can only hope that this year is more of the same. Let's take a look at the track map:
The Australian track runs around a man-made lake in a large city park. For those of us in the US, imagine a racetrack in New York City's Central Park, and you've got the basic idea. It uses tarmac built specifically to be part of the circuit, parking lots and public roads to create the layout. Because of this, there are a ton of slippery spots all the way around the track due to the painted lane stripes. These stripes are what gives it the nickname "God's Slot Car Track." Due to a resurfacing in 1996, it's pretty smooth and thus easy on tires, though some braking zones have some surprise ripples. It's not particularly hard on brakes. The track is wide and forgiving for the most part. Basically, it's an easy circuit to drive. But, like most street circuits, there's armco barriers all the way around and very little runoff area where there isn't armco. You get off-track here, and you've usually broken your car.
The other interesting feature of the race is the start time, 5pm local. The sun will be in the drivers' eyes all day as they come down the main straight and the run from Turn 2 to Turn 3, getting lower all the while. That's just gotta be annoying.
Well, the good folks at SPEED will do their darnedest to bring us their usual stellar coverage. Friday's second practice session comes to us live from 1230am to 210am on Friday morning. The Quals are Saturday morning from 1am to 230am, more-or-less live. The Grand Prix of Australia itself is Sunday morning from 1230am to 3am, and there are no replays scheduled that I can find... so either stay up late, record it, or miss it altogether! All times are Central Pond Time; subtract two hours for San Francisco, add one for Cleveland.
See you then!
Posted by: Wonderduck at 10:18 PM | Comments (2) | Add Comment
Post contains 371 words, total size 2 kb.
March 13, 2010
F1 Quals: Bahrain 2010!
So the first qualifying session of the 2010 season is in the books, and while some things have changed, the results sure look the same. Let's take a look at the grid:
A bunch of new rules changes that we need to talk about before we get around to discussing the grid. First off, all qualifying sessions are now done on low fuel. Prior to this year, teams had to declare how much gas they'd start with in the race, and carry that in Q3. Since there's no refuelling in-race now, everybody gets the same amount of gas (more or less). Another switch is that the cars in Q3 have to start the race on the tires with which they set their fast lap. In other words, if they used (say) soft tires to qualify, that very same set must be on the car to begin the race. Finally, teams are limited to 11 sets of dry tires for the entire weekend, and can only use six sets during the race itself, three of each compound.
Now that we've gotten that out of the way, let's look at how the cars'll line up for the race! No shock at the top of the grid, what with Seb Vettel and Luscious Liz on the pole. Perhaps a small surprise in Massa beating his teammate, HWMNBN, particularly considering the rumors that Felipe is a little twitchy being back in the cockpit. No surprise at all is that Nico Rosberg handily beat his teammate, Slappy Schumacher. Schumi's been unhappy with his car all weekend, and has been right around 8th on the timesheets the whole time. World Champion Jenson Button must be disappointed to be picking up right where he left off last season with a lukewarm qualifying session. His teammate, Lewis Hamilton, is probably also disappointed, despite ending up fourth on the grid... he always expects to be on pole when he's got a halfway decent car under him. And a big 'attaboy' to Force India for their 10th-12th qualys. I'm amazed, but we might have to consider them halfway serious contenders!
Really, though, we need to give the techies at HRT a round of applause. Despite a major gearbox problem that prevented Karun Chandhok from getting any track time in the three practice sessions, the team pulled an overnighter to get the car in running order. Of course, Chandhok ended up 24th, but he got seven laps under his belt, each one faster than the one before it. His first flying lap was 2:11, and taking six seconds off the time is pretty good. Okay, yes, he's nearly 11 seconds off the pace, but good job anyways! None of the new teams could be considered quick, however. Actually, "quick" isn't in their vocabulary... yet.
So here we go! The first race is right around the corner, and I can't wait! See you tomorrow!

Posted by: Wonderduck at 11:20 AM | Comments (3) | Add Comment
Post contains 648 words, total size 22 kb.
March 12, 2010
F1 Practice: Bahrain 2010!
F1 is back, ladies and gentlemen, and today's practice sessions have pointed out something I surely didn't expect: everything's changed, and
nobody
has a clue what the
hell
is going on. It's just that simple... nobody knows which teams are fast, and even the fast teams are being looked at with raised eyebrows right now.
For example, the fast team for the second practice was Mercedes. Nico Rosberg was fastest of all, and Slappy Schumacher was third, but both drivers had problems dealing with their cars. In particular, Slappy spun repeatedly in the first session. Still, they were able to squeeze fast laps out there. But nobody knows what their fuel loads were... a heavy fuel load now could easily be worth five to 10 seconds a lap.
Lap times at Bahrain have gone through the roof. Obviously a lot of that has to do with the new section, but when lap times have climbed from 1:30 to 1:56, it's not
just
because of the longer track.
One thing that we
do
know, however, is that the new teams are brutally,
brutally
slow. Nico Rosberg's fast lap of the second session was 1:55.409. Bruno Senna, turning the first ever laps for the HRT HRT, maxed out at 2:06.968. That's right,
11.5 seconds slower
. The fastest of the newbies was Heikki Kovaleinninninnie's Lotus, at 2:00.873. Six seconds faster than the HRT HRT, but over five seconds slower than the Merc. Even Minardi was better than that, usually.
Another thing we've discovered today is that all that fuel weight is pure raw hell on the tires. For this race, Bridgestone has brought the super-soft and medium compounds. As has been the case in the past, the super-softs are only lasting for a few laps, except instead of "a few" meaning 10 or so, now "a few" means "two, maybe three" before they stop being tires and begin pretending to be wagon wheels. "Sure," I hear you saying, "but that's the softys. The mediums must be a lot more durable." Yes,
if
you consider six or eight laps to be durable. Of course a tire change pitstop is only going to take three seconds or so, and Red Bull is claiming that they've gotten it down to 1.8 seconds, but there's still the travel time down the pit lane. If you have to make three or four stops... *shaking head*. If Sauber is going to win races this year, this is how it's going to happen, because they are reportedly very easy on their tires... just as BrawnGP was last season.
Finally, it looks like Felipe Massa's recovery from the horrendous "spring upside the helmet" incident last season is complete... but Brazilian reporters are saying that he's seeming rather... tentative behind the wheel. He isn't as fast as HWMNBN, to be sure. Is that because of rust? Or something deeper?
So, the season is underway, and all is right with the world. But who's driving? Click "more" for your official F1 Update! driver list!
more...
Posted by: Wonderduck at 08:55 PM | Comments (2) | Add Comment
Post contains 991 words, total size 8 kb.
March 08, 2010
F1 On SPEED!: Bahrain 2010!
The FIA tells us that the 2010 Formula 1 season officially opens with Friday's first practice session. But I have come amongst you, brethren and sistren, to tell you different. For I have heard the holy wail of St Fangio the Quick's blessed V10, and it tells me that here at The Pond, the season begins...
...now.
And things will be different this season. We no longer have refueling, so pitstops now are for tires only, and in testing were running sub-three-seconds. We've got three brand new teams, running nearly five seconds behind the frontrunners. We have six drivers that weren't on the grid last year, from rookies Bruno Senna and Vitaly Petrov to some guy nicknamed "Slappy." There's a new points system. There's no KERS anymore. And there's a new location for the first race of the season, cutting in front of Australia.
And even THAT'S new, because the people who run the Sakhir International Circuit in Bahrain have realized that maybe,
just maybe
, Hermann Tilke doesn't have the slightest idea how to design a successful racetrack. Let's take a look at the new layout: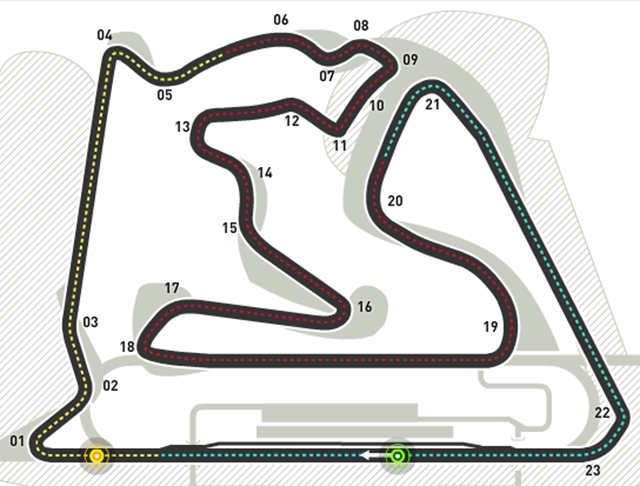 Well, that's a rather serious change. Everything from Turn 5 to Turn 15 (which is a reprofiled Turn 7 on the old layout) is new, as you can see if you compare the layout to
last year's map
. While the old circuit design may have been the best of Tilke tracks as far as passing went, it sure wasn't what anybody would've called conducive to overtaking. The new bit, which adds nearly a kilometer to the overall length, is supposed to facilitate passing by throwing in new braking zones for drivers to take advantage of. At least from looking at the map, I'd say Turns 11, 16 and 18 will be the new hot spots, with brave pilots maybe trying Turn 13 as well. Of course, nobody really knows because the teams haven't turned a wheel on it yet. It's worth mentioning that Renault's Robert Kubica doesn't think the new section will add any new passing opportunities.
Just another advantage of building a circuit in the desert, 12 miles away from the nearest city. Bahrain is probably the safest track in F1, complete with built-in sandtraps, runoff areas that you could build small suburbs on and the most modern infield medical complex in the series. And there's no neighbors to annoy when you update the complex, to boot!
It's pretty safe to assume that it won't be raining for the race, though there is always a chance for sandstorms. The organizers even thought of that, however, as they spray an adhesive over the sand around the complex before race weekend. Even with that though, the track should permanently be considered "dirty," with a thin layer of sand off the racing line.
We'll get our first look at the Bahrain "Endurance" Circuit, as it's called, on Friday March 12th, with SPEED's live coverage of the day's 2nd Practice session from 5am to 640am. Saturday brings us the first Quals session of the year, plausibly live from 5am to 630am.
Sunday, of course, is the beginning of Daylight Saving Time, so remember to shift your clocks ahead one hour at 2am! That way, when you set your VCR for the race, which will be coming to us live from 630am to 9am, you'll actually
get
the race. There'll also be replays at 1230pm to 3pm on Sunday and another from 1130am to 2pm on Monday.
Of course, the F1 Update! crew will be providing our usual post-race writeup. F1 is back, and it promises to be one heckuva season!
Posted by: Wonderduck at 02:17 PM | Comments (3) | Add Comment
Post contains 608 words, total size 4 kb.
March 03, 2010
RIP USF1
USF1 is now, for all intents and purposes, completely dead. Over the weekend, the team requested permission to miss the 2010 season and have their slot on the grid held until 2011. On Tuesday, the entire staff of the fledgling American team was put on unpaid leave, pending the FIA's decision.
Today, the decision was handed down... and the answer was "No." The team no longer has a place on the grid for this year or next year. Considering that any legitimate investor will look at the team's track record and run screaming for the hills, there's practically no chance for USF1 to rise from the dead and reapply in 2011.
Nobody has seen Peter "Smarmy" Windsor for months. The one driver they announced is about to join Campos Meta (which, after financial troubles of their own, has been renamed HRT F1) as their reserve. Ken Anderson is squarely in the targeting reticule as having mismanaged the team into the grave.
At least StefanGP didn't get the slot. The FIA decided to go with a 12-team grid this year, instead of letting the obnoxious Toyota grave robbers take the slot. So there's some small blessing in all this.
Damned shame, this.
Posted by: Wonderduck at 08:36 PM | Comments (1) | Add Comment
Post contains 203 words, total size 1 kb.
97kb generated in CPU 0.0375, elapsed 0.0914 seconds.
55 queries taking 0.0765 seconds, 275 records returned.
Powered by Minx 1.1.6c-pink.