December 29, 2009
Some F1 News and Reactions
As you remember, Michael "Slappy" Schumacher has returned to F1 as a driver for the new Mercedes team. His contract is for three years at a reported £7million per, after which he'll become a spokesman and consultant for Mercedes-Benz. Sounds a lot like his old setup for Ferrari, actually. The Daimler Executive Council, directors of Mercedes' parent company, is grumbling about the cost of the contract, saying that the laid-off workstaff can't understand the whole thing and thinks that Mercedes should, instead, pull out of F1. That won't happen, but they have a point... after all, Honda, Toyota and BMW thought that way.
Luca di Montezemelo, Ferrari head honcho, is putting a brave face on Slappy's leaving, saying that it's good for F1, and if something is good for F1 then it's good for Ferrari. Inside, though, you've gotta think that he's seething. Throw in the fact that Slappy will be teaming again with Ross Brawn, the combination that led to five Championships for Ferrari, and di Montezemelo must be wondering where the luster behind the red cars has gone. I think it disappeared when Lucky Luca unceremoniously shoved Slappy out the door back in 2006. Schumi didn't want to go, but Ferrari wanted Massa and Raikkonen instead... and forced arguably the best driver in F1 history to retire.
Of course, if Slappy is back, of course there have to be rumors that lil' brother Ralf will be returning to F1 as well, this time with Toro Rosso. I think I speak for all F1 fans worldwide when I say "No. Please, no. Just... no."
2010 is going to be a
very
interesting season, just chock full of built-in storylines. For example, Britain (McLaren, Button, Hamilton) vs Germany (Mercedes, Rosberg, Schumacher), McLaren vs Ferrari vs Mercedes, Hamilton (2008 Driver Champion) vs Button (2009 Driver Champion) on the
same team
, four new teams on the grid (or five if you include Sauber coming back), Alonso vs Massa at Ferrari... and that's just off the top of my head.
Speaking of new teams, there are visible signs of life at USF1! They (finally) activated their website, which
you can see here
, but more importantly there's a video on it that shows (amongst other things) substantial progress on the building of the actual chassis... and a good idea of what the car will actually look like. On the wall in one shot of the video, there's a CAD print of a F1 racer: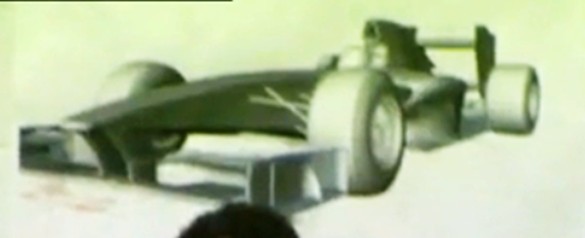 ...which doesn't actually mean anything, you're saying to yourself. To which I'd say, I agree entirely. Except for the extended sequence that's shown a few moments later, as the team makes the monocoque and the nose of the car out of foam, plastic molds, and then finally carbon fiber. Here's a screenshot from that: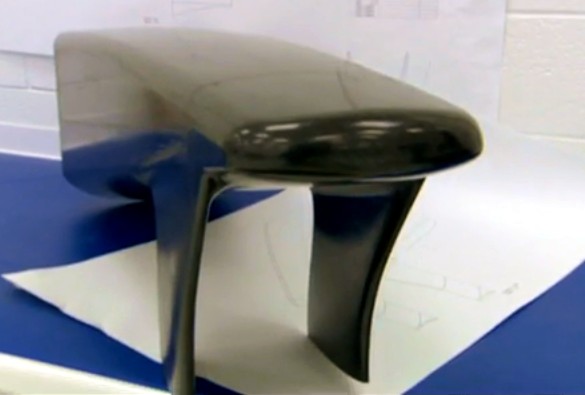 Please note that the verticals lean backwards, just like they do in the CAD drawing. Carbon fiber isn't cheap, it's not likely that a new startup like USF1 would be making noses just to fark with us.
I think we now know what the USF1 car is gonna look like. Now if only we had a rolling chassis to drool over...
Finally, one piece of good news to report! SPEED
officially announced
that they've re-upped their contract with Formula One Management, meaning that they'll continue to be the network to cover F1 for the foreseeable future. The Legendary Announce Team will be back, as well.
Posted by: Wonderduck at 01:13 PM | Comments (4) | Add Comment
Post contains 574 words, total size 4 kb.
December 23, 2009
Schumi's Back... And This Time, It's For Real!
Michael Schumacher announced this morning that he will be returning to Formula 1 as a driver for the Mercedes GP Petronas (
nee
Brawn) F1 team.
Somewhere, Rubens Barrichello just yelled something obscene very loudly.
More to come once I get back to Pond Central.
Posted by: Wonderduck at 09:16 AM | Comments (2) | Add Comment
Post contains 52 words, total size 1 kb.
December 14, 2009
Schumi's Back? And Other F1 News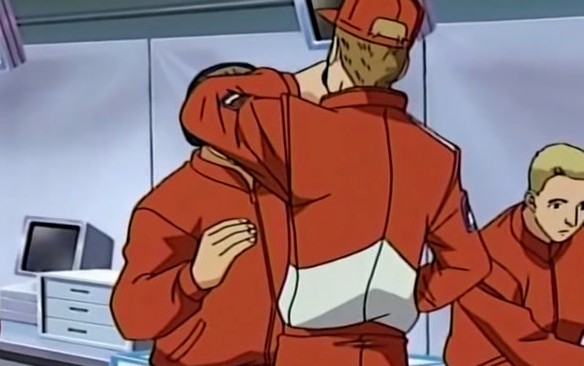 Just like the picture above, the answer has to be "not quite," but close. The
BBC
and the German newspaper
Bild
are both reporting that the only thing separating Michael "Slappy" Schumacher from returning to F1 with Mercedes is a signature on the contract. Both reports say that Luca di Montezemelo, Ferrari's grand poobah, has agreed to let Slappy go from his consulting position with the Prancing Ponies, for the good of the sport. Reportedly it's only the tiny details that need to be worked out before it all becomes official. Reports vary as to how much he'll be paid: somewhere between €3.5million and €7million seems to be the range. Obviously, we'll keep an eye on this and let you know when something becomes official.
In other news, the new Lotus F1 team announced their driver lineup for 2010 as "hiring two race-winning drivers."
That's right, Lotus F1 is putting their faith in Jarno Trulli and Heikki Kovaleininninninnie. It
is
true that both have won races in Formula 1; Trulli won the 2004 GP of Monaco, Heikki the 2008 Hungarian Grand Prix. I'm not entirely sure that one win each, 2 wins in 17 seasons combined is something to trumpet, but what the hey? Let 'em have their fun! It might be the only time this season they get to...
Posted by: Wonderduck at 06:24 PM | No Comments | Add Comment
Post contains 226 words, total size 2 kb.
December 10, 2009
New F1 Points Layout For 2010!
Well, this comes as something of a surprise! The FIA, with the support of the teams, is expected to approve a change to the points scheme for the 2010 season. The first change is that that the first 10 finishers will now score points, as opposed to the first eight. The reason for that is simple: there's going to be a lot more cars on the grid: 26 as opposed to 20. The percentage of cars scoring points will essentially remain the same: 40%.
The other change is the number of points everybody will score. Under the old system, 1st place netted 10 points, 2nd was 8, 3rd was 6, then 5, 4, 3, 2 and 1 for 4th thru 8th. For the new system, though, the points layout will be as follows:
1st: 25 points
2nd: 20 points
3rd: 15 points
4th: 10 points
5th: 8 points
6th: 6 points
7th: 5 points
8th: 3 points
9th: 2 points
10th: 1 point.
Suddenly there's a substantially larger incentive to win. That five point differential, proportionally, is much more valuable than the two point differential we used to have. The same goes for 2nd to 3rd. The jump from 3rd to 4th, however, is even bigger than the others. This is obviously a response to the call to give race wins more weight, though it's extended over the entire podium.
Hopefully, this will stick a four-tined fork in Darth Bernie's stupid "medals" idea in which the driver's championship would be decided solely on race wins.
I think I actually like this. Who knew the FIA could actually do something
right
once in a while?
Posted by: Wonderduck at 09:06 PM | Comments (1) | Add Comment
Post contains 271 words, total size 2 kb.
December 03, 2009
Sauber In, But Renault Out?
It's about bloody time:
The FIA has written to inform BMW Sauber AG that their application for an entry in the 2010 FIA Formula One World Championship has been successful. Subject to their signing the Concorde Agreement, BMW Sauber will be awarded the 13th entry in the championship, taking the place of the departing Toyota team.
-From the official FIA announcement.
Good news all around, as Peter Sauber is one of those motorsports legends that nobody really hears about, but everybody on the inside respects immensely. How much? When BMW purchased an 80% stake in what was then known as Sauber-Petronas F1 from Credit Suisse, they could have just gone ahead and renamed the team after themselves (see "Mercedes Benz"), and nobody would have blinked an eye. Instead, they decided to call themselves BMW-Sauber, even though Sauber himself was to be naught but a "consultant" for the team.
In a related note, you may remember
this post
that included a picture of some
die-cast F1 cars
I picked up in the toy aisle of a local grocery store. Two of the cars were obviously based on the Toyota and McLaren liveries, but I couldn't place the third one. I now believe that it was a half-hearted attempt to match the old Sauber-Petronas paintjob.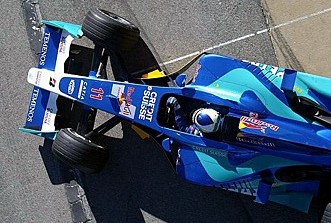 There's even an animal on the air scoop. Okay, sure, it's a white bear on the toy and a red bull on the Sauber, but it's in the right place. The "flames" even kinda match up. So until someone comes up with with a better answer, I'm going with Toyota, McLaren, Sauber.
According to
PlanetF1.com
, Renault appears to be on the verge of getting out of the sport as a race team. Of course, this has been rumored ever since Crashygate came down and they got their wrists slapped, but now there's actually some names attached to it. The story is that Renault will sell their team to the Prodrive company, which had been
granted a slot on the grid
in 2008. That attempt fell through, but if this is true, well, they're a team with a lot of history and background.
Renault would still be an engine provider, at least through 2012, however, so they wouldn't be completely gone.
Silly season... almost as much fun as the
real
thing!
Tip o' the helmet to reader Madmike for the pointer!
Posted by: Wonderduck at 11:21 PM | Comments (3) | Add Comment
Post contains 398 words, total size 3 kb.
December 02, 2009
F1's 2010 Official FIA Teams List Released
On Monday, the FIA officially announced the teams that will compete in Formula 1 in 2010, as well as an updated drivers list and car numbers. Let's take a look-see:
McLaren-Mercedes
1 Jenson Button (GB), 2 Lewis Hamilton (GB)
Brawn-Mercedes Benz
3 Nico Rosberg (D), 4 TBA
Red Bull Racing-Renault
5 Sebastian Vettel (D), 6 Mark Webber (AUS)
Ferrari
7 Felipe Massa (BR), 8 HWMNBN (E)
Williams-Cosworth
9 Rubens Barrichello (BR), 10 Nico Hulkenberg (D)
Renault
11 Robert Kubica (PL), 12 TBA
Force India-Mercedes
14 Adrian Sutil (D), 15 Vitantonio Liuzzi (I)
STR-Ferrari
16 Sebastien Buemi (CH), 17 TBA
Lotus-Cosworth
18 TBA, 19 TBA
Campos-Dallara
20 TBA, 21 Bruno Senna (BR)
USF1-Cosworth
22 TBA, 23 TBA
Virgin-Cosworth
24 Timo Glock (D), 25 TBA
A couple of interesting things leap out at the observant viewer. The biggest one is that there are only 12 teams listed. Of course that's because ToyotaF1 pulled out, but it was expected that the once BMW-Sauber-then-Qadbank-Sauber-then-finally-just-Sauber entry would be granted the slot.
It appears that that is not automatically the case. See, ToyotaF1 may have removed themselves from F1, but they still hold the rights to their slot on the grid and are bound by the Concorde Agreement to put forth a team for the season. If they sell the team,
a la
Honda to Ross Brawn last year, whomever purchases them would get the slot... maybe. Peter Sauber, longtime F1 guy and namesake of the Sauber team, is reportedly somewhat grumpy about the whole situation.
Next up, the rookie team Manor Motorsports has changed their name to VirginF1. Since the megacompany has slapped down the money for major, if not exclusive, sponsorship, that makes sense.
Third, two things from the Campos team. A little surprise that their engine supplier is listed as Dallara, since it was reported that the newbies' acceptance to the grid was contingent on their choosing Cosworth as their engine supplier. The Campos team has a history with Dallara that goes back a few years, and Dallara will be building the car for the Spanish rookies. It may be that in fact, they'll have Cosworth engines anyway, or perhaps Cossies rebranded as Dallara. Just an interesting bit of speculation.
The other thing is that Bruno Senna isn't listed as the team's first driver, despite being to date their
only
driver. Turns out there's a good reason for it: the car number. Senna is Brazilian, and Embratel, the Brazilian telecom company, is a major sponsor. "21" is the code used to dial the operator for Embratel connections. Clever.
Finally, you may note that McLaren, not constructor's champion Brawn/Mercedes Benz/Whatever, has car #1. That's because of the tradition giving the Driver's Champion the prestigious number, and his teammate #2. After that, the numbers are allotted via the constructor's standings. There have been exceptions, however. If the reigning driver's champion is not in F1 the following year (because of death or retirement, for example), his team is given car numbers 0 and 2. This has happened twice in the past, in 1993 and 1994.
Of course, #13 hasn't been used since 1976.
Posted by: Wonderduck at 08:50 PM | Comments (3) | Add Comment
Post contains 524 words, total size 4 kb.
46kb generated in CPU 0.0206, elapsed 0.4475 seconds.
49 queries taking 0.4358 seconds, 254 records returned.
Powered by Minx 1.1.6c-pink.