June 29, 2015
F1 on TV: Great Britain 2015
There was once a time where Silverstone was my favorite circuit on the calendar. The track was just about as perfect as it could be. The racing was thrilling. The fans were insane. But those days have gone, demolished by a remodel of the track. And here the F1 Circus comes again, once more to the old RAF airbase. Let's take a look at the map, shall we?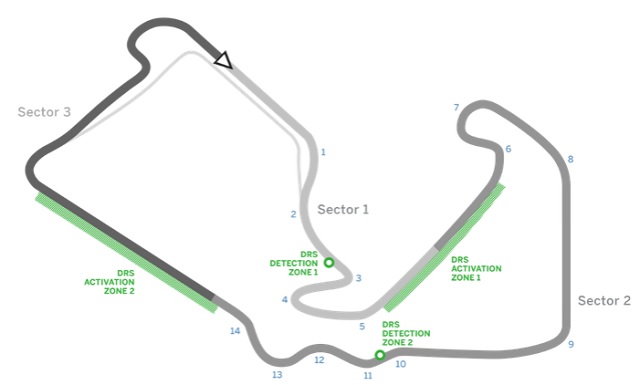 They moved the start-finish line
, they added a whole new section in a pointless arena complex, and they managed somehow to make me stop loving my favorite track. Good job, F1! You must be proud... or you would, if you cared about American F1 fans, which you don't. Which is a pity. Its not like some of us aren't the most passionate followers of your sport around or anything. Heck, I don't even count myself among that number, and I've still written about F1 since 2005. Along the way, I've either created new fans or brought lapsed fans back into the fold via my readership, but because I'm in Duckford, not Duxford, I'm not important in the eyes of Formula 1 or Bernie Ecclestone. Don't get me wrong, I'm not saying I have all the answers... or indeed, any answers at all... but I can tell you that I'm kinda tired of being considered a second- or third-class citizen in the eyes of my favorite form of motorsport, which it must be said is rapidly descending towards second-class status in MY eyes. It's too bad full races in the World Endurance Championship are so rarely shown here in the US. Just sayin'.
But you're not here to read my diatribe, you're here to find out when the 2015 Grand Prix of England will be on television, right? Well, here's the schedule:
Friday
Practice 2: 800a - 930a live on NBCSN
Saturday
Quals: 700a - 830a live on CNBC
Sunday
2015 Grand Prix of England: 630a - 900a live on CNBC
NBCSN has decided that either the Tour de France or English Premiere League soccer is more important than F1, so off to the hinterlands of CNBC goes the Circus.
I apologize. I'm bitter all around right now. Drug dopers on bicycles and floppers acting like their spine has been shattered when someone pats 'em on the back... now
that's
entertainment!
See you Friday.
Posted by: Wonderduck at 06:42 PM | Comments (2) | Add Comment
Post contains 397 words, total size 3 kb.
June 20, 2015
F1 Quals: Austria 2015
Rain hit the RedBullRing before the Qualifying session. While it wasn't raining when the Time To Go Fast began, there were still plenty of wet patches around the circuit. Would it make any difference to who was on top? Let's take a look at the provisional grid for the 2015 Grand Prix of Austria:
Pos.
Driver
Team
Q1
Q2
Q3

1

Lewis

Hamilton

Mercedes

1:12.218

1:09.062

1:08.455

2

Nico

Rosberg

Mercedes

1:10.976

1:08.634

1:08.655

3

Sebastian

Vettel

Ferrari

1:11.184

1:09.392

1:08.810

4

Felipe Not Nasr

Massa

Williams

1:11.830

1:09.719

1:09.192

5

LeMans

Hulkenberg

Force India

1:11.319

1:09.604

1:09.278

6

Valtteri

Bottas

Williams

1:11.894

1:09.598

1:09.319

7

Embryo

Verstappen

Toro Rosso

1:11.307

1:09.631

1:09.612

8

Kid

Kvyat

Red Bull

1:12.092

1:10.187

1:09.694

9

Felipe

Not Massa Nasr

Sauber

1:12.001

1:09.652

1:09.713

10

Lettuce

Grosjean

Lotus

1:11.821

1:09.920

No Time




11

Pastor

Maldonado

Lotus

1:11.661

1:10.374




12

Sony

Ericsson

Sauber

1:12.388

1:10.426




13

Carlos

Sainz

Toro Rosso

1:11.158

1:10.465




14

Daniel

Ricciardo

Red Bull

1:11.973

1:10.482




15

HWIOSCTBNA

McLaren

1:12.508

1:10.736




16

Sergio

Perez

Force India

1:12.522






17

Jenson

Button

McLaren

1:12.632






18

Kimi

Räikkönen

Ferrari

1:12.867






19

Roberto

Merhi

Marussia

1:14.071






20

Will

Stevens

Marussia

1:15.368





Up at the top of the grid, it looks awfully normal. Lewis Hamilton took pole, but it actually took a little bit of luck for it to happen. He was the last to cross the start/finish line before time ran out on Q3, but he immediately beached his Mercedes into the kittylitter outside of Turn 1... just as the news came out that his teammate Nico Rosberg had set the fastest first AND second sector times of the day... if he kept that pace up, he'd grab pole easily. And then, just as Hamilton was exiting from his car at the far end of the front straight, Rosberg hurled his car off at the final turn, located at the OTHER end. He left four long black streaks of rubber behind as he reached the gravel trap short of the tire wall. So much for fast times on the first two sectors.
At the other end of the grid, we had a very interesting conversation between the Ferrari pit wall and Kimi Raikkonen: "Okay, Kimi, we wound up P18." "How did
that
happen?" As this is a friendly, happy blog, I may have edited a few words out of his response. Mistakes were made, and as the track dried at the end of P1, times began to plummet. When the team pitted his car, Raikkonen was seventh on the timesheets. A couple of minutes later, he was 18th and out of Quals. Heck, at one point McLaren's Jenson Button was on pole, though with six or seven minutes left.
Speaking of McLaren, both of their cars will be starting from Unterkohlstatten due to receiving matching 25-grid place penalties. Since there are only 20 places on the grid, they'll both be starting from the very back AND either a time penalty or a drive-through penalty to boot. Button basically changed every aspect of his power unit before Quals, while HWIOSCTBNA did the same except for the cigarette lighter. Red Bull's Daniel Riccardio and Toro Rosso's Kid Kyvat have also suffered various penalties, though nowhere near as extreme as the McLarens.
So that's the way it works out for the race in Austria. One thing to keep an eye on: both Saubers are reportedly set up for a rainy race, while nobody else appears to be. More and more reports are suggesting rain about one hour into the contest... if
that
happens, considering how well they qualified I'd expect a major upset on Sunday.
Oh, and congratulations have to go out to Mercedes. The last time either Lewis Hamilton or Nico Rosberg wasn't on pole for a race was one year ago, when Williams' Felipe Not Nasr Massa pulled a surprise in Austria. It's been one full race year, 19 races, since then.
Race in the morning. Lord knows when I'll get the writeup done!
Posted by: Wonderduck at 02:47 PM | Comments (2) | Add Comment
Post contains 671 words, total size 26 kb.
June 16, 2015
F1 on NBCSN: Austria 2015
From that well-known European city of... Montreal?, the F1 Circus makes their way to the cosmopolitan megalopolis of Spielberg, Austria, some 197km down the S36 to the B227 from Vienna, home of the RedBullRing, the location of the 2015 Grand Prix of Austria! Let's take a look at the track map, shall we?
Last year's race
saw Felipe Massa on pole and Nico Rosberg get the win over his teammate Lewis Hamilton in a brake-problem-filled race that also saw Patrick Friesacher in a
Minardi PS04
in the pre-race festivities. Ah, the memories. Other than all of that, however, it was a fairly lackluster race that I remember as being on a fairly boring circuit that felt like it really was in the back-end of nowhere. Like, the run from Turn 2 to Turn 3 seemed to be bordered by a wheat field. One expected to see cows grazing beyond Turn 3. There is a nice bit of elevation change here, however, so perhaps there's some hope for the track and my opinion was colored by my mood at the time. I can't think of anything else interesting to say about this track so here's a pretty picture of a classic F1 car.
Ah, UOP/Shadow... we need you back on the grid. Anyway, here's the schedule for NBCSN's coverage this weekend:
Friday
Practice 2: 7a - 830a live
Saturday
Quals: 7a - 830a live
Sunday
2015 Grand Prix of Austria: 630a - 9a live
Join me, join all of us, won't you? Y'all be there, y'hear?
Posted by: Wonderduck at 02:55 PM | Comments (4) | Add Comment
Post contains 260 words, total size 2 kb.
June 06, 2015
F1 Quals: Canada 2015
Having loaded myself up on buttermilk pancakes from
Scandahoovia Inn
(warning:
swedish
pancakes have been known to instantly clog arteries. Fortunately, lingonberries have restorative properties equaled only by a high-level cleric's healing spells... and it goes with just about everything!) and conversation with the folks, I returned to Pond Central to watch myself some Qualifying for the 2015 Grand Prix of Canada. So how'd it turn out? Here's the provisional grid:
Pos.
Driver
Team
Q1
Q2
Q3

1

Lewis

Hamilton

Mercedes

1:15.895

1:14.661

1:14.393

2

Nico

Rosberg

Mercedes

1:15.893

1:14.673

1:14.702

3

Kimi

Räikkönen

Ferrari

1:16.259

1:15.348

1:15.014

4

Valtteri

Bottas

Williams

1:16.552

1:15.506

1:15.102

5

Lettuce

Grosjean

Lotus

1:15.833

1:15.187

1:15.194

6

Pastor

Maldonado

Lotus

1:16.098

1:15.622

1:15.329

7

Nico

Hulkenberg

Force India

1:16.186

1:15.706

1:15.614

8

Kid

Kvyat

Red Bull

1:16.415

1:15.891

1:16.079

9

Daniel

Ricciardo

Red Bull

1:16.410

1:16.006

1:16.114

10

Sergio

Perez

Force India

1:16.827

1:15.974

1:16.336

11

Carlos

Sainz

Toro Rosso

1:16.611

1:16.042

12

Embryo

Verstappen

Toro Rosso

1:16.361

1:16.245

13

Sony

Ericsson

Sauber

1:16.796

1:16.262

14

;">

HWIOSCTBNA

McLaren

1:17.012

1:16.276

15

Felipe

not Massa Nasr

Sauber

1:16.968

1:16.620

16

Sebastian

Vettel

Ferrari

1:17.344

17

Felipe

not Nasr Massa

Williams

1:17.886

18

Roberto

Merhi

Marussia

1:19.133

19

Will

Stevens

Marussia

1:19.157
Sharp-eyed readers will note that Jenson Button's McLaren is conspicuous by his absence. He had a major failure in part of his power unit during Practice 3 and the team couldn't get it repaired in time. He'll be starting towards the back of the grid. Seb Vettel, who had a power unit problem of his own, has been penalized five spots for passing under a red flag in P3, and thus will be starting halfway through the Hairpin. Meanwhile, Embryo Verstappen received
two
penalties: five grid spots for causing the wreck towards the end of the race at Monaco, and a whopping ten spots for using his fifth engine of the year. He'll be starting somewhere near
Channel-Port aux Basques
, where he's likely to have a slow getaway considering he'll need to take a ferry to the mainland when the lights go out. Fortunately, the MV Leif
Ericson
(no relation to the Sauber driver) makes a good 18kts so it's only a seven hour trip to North Sydney, Nova Scotia. From there, it's 14 hours by passenger car to Toronto. He has his work cut out for him if he wants points.
Up at the top of the grid, nothing's changed. Oh, there was some thought that Nico Rosberg might possibly take pole over Lewis Hamilton, but it didn't happen... even Rosberg said his last try was a "rubbish way to end the session." With Vettel not making it out of Q1, Ferrari's Kimi Raikkonen felt free to stretch his legs, and it earned him his best starting position of the season. He should try that more often. The two Lotii of Lettuce Grosjean and Pastor Maldonado nearly came to grief in Q3 when both of them were released from their pit stalls simultaneously and wound up running side-by-side down the pit lane... I'm surprised there wasn't a penalty somewhere for unsafe release for that.
Otherwise, everything was pretty normal going. The race is tomorrow on NBC... the big network, kids! Break out those rabbit ears and pull the 12" b&w out of storage, it's race time! We'll see ya afterwards for F1U!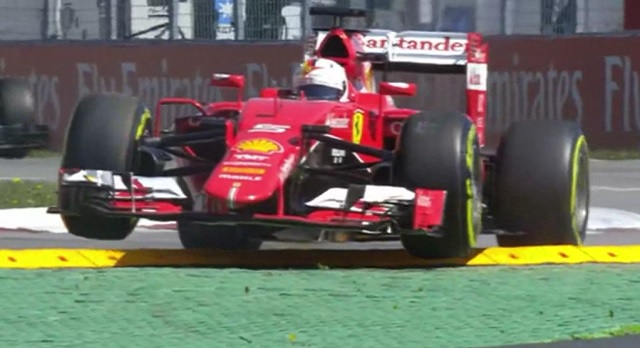 Posted by: Wonderduck at 04:16 PM | No Comments | Add Comment
Post contains 563 words, total size 14 kb.
June 05, 2015
F1 Practice: Canada 2015
Well,
that
was a bit of a wet noodle. Practice 2 started out well enough. Every team had their car out on track almost from the get-go. That's exciting for the fans, but not so much for those "in the know", because that always means that weather is coming in, and the teams are trying to get as much data in the computers as possible. Sure enough, the on-screen graphics quickly popped up a message: rain due at 135pm Pond Time. Lewis Hamilton's Mercedes was tearing off laps a good .330 faster than anybody else (on top of his session-leading times in P1), but he didn't look jaw-droppingly dominant. Indeed, he very nearly stuffed it into the Wall of Champions at one point, missing the turn-in to the final chicane and getting all four tires off the ground when he hit the backside of the curb. For the record: your grip levels are greatly reduced when you're not physically in contact with the racing surface. He managed to not come to grief, though. And then, at 137pm Pond Time, the rains came to Ile Notre-Dame. Everybody made their way into the garages and superhero Berndt Maylander began to run laps around the course, testing grip levels.
After Berndt gave the car a rest, Mercedes had a great idea. Their thinking went something like this: "Just in case it rains on Sunday, which it isn't
supposed
to do but the possibility exists that it could, let's send Nico and Lewis out on Intermediate tires to try and get some data. It'll be fun!" Meanwhile, everybody else kept their cars under cover, snug and dry. So how did Mercedes' fun-filled adventure go?
Ah. Yes. Heading into the Hairpin at less-than-racing speed, Lewis realized that he wasn't so much driving a car as riding in a boat. The car was aquaplaning so badly that you could actually
see
that the front tires weren't making contact with the track surface. Remember what I said about grip levels being reduced in that situation? The car slid all the way into the barriers on the outside of the Hairpin, which is quite the journey. I can't remember the last time I saw someone end up there... not even
Robert Kubica
made it that far. Anyway, the good news was that the impact was at quite low speed and Lewis was unhurt. The bad news was that the nose got stuck in the tire barrier. The
ugly
news is that, when the tractor pulled the Merc free, the car swung back and smacked into the big green chunk of machinery. Who knows what sort of damage that did to the rear of the car? Of course, the session was red-flagged during all of this, and once it was over with, none of the other teams thought it was worth going back out. Or they were all laughing themselves sick, one of the two.
Quals in the afternoon tomorrow; I'll be having lunch with the folks, so I won't have the post until after I get back. See ya then!
Posted by: Wonderduck at 03:01 PM | Comments (5) | Add Comment
Post contains 516 words, total size 3 kb.
June 02, 2015
F1 on TV: Canada 2015
From the champagne and caviar of Monaco, the F1 Circus crosses The Pond to the land of Labatt's and poutine, Canada. It's quite the jump from a tiny fishing village on the coast of France to the bustling metropolis of Montreal, or quite the plunge if you're talking about gross domestic income, but that's where the cargo planes have taken us this time. Let's take a look at the track map for the 2015 Grand Prix of Canada:
Once again we've come to the Ile Notre-Dame, a man-made island in the St Lawrence River and the location of Circuit Gilles Villeneuve. We've been here every year since 1978, save twice: 1987 and 2009, and if one has to bet on a track to give us a good race, I'd put my money on this one every time.
So what is it about this circuit that makes that happen? Well, it's ridonkulously fast. Oh, it's no Monza, sure, but from Turn 7 to the braking zone for the Hairpin is basically flat out, as is the run from the exit from the Hairpin to the Chicane at Turn 13/14. It's a fairly narrow track, meaning there's not much room for error, but it's filled with passing opportunities. I've seen passes at every single turn
except
the final chicane. Then there's the ever-present threat of rain... this is the site of
the longest race in F1 history
, over four hours, in 2011. Also one of the best races,
also
in 2011. It's the place the first Safety Car was ever called out, and since then it's averaging more than one per race. It's the home of the Montreal Marmot Massacre and the Wall of Champions. It's where SuperAguri hit their highpoint (~SUPERSATO~ passing Alonso for points!). And it's just a lovely, lovely track... even during the times the concrete was breaking up. There's just enough challenge to the driver to make it fun, and if they're having fun, chances are we will too.
So when does all this fun take place? I'm glad you asked! Let's take a look at the schedule:
Friday
Practice 2: 1p - 230p live on NBCSN
Saturday
Quals: 12noon - 130p live on NBCSN
Sunday
Prerace: 1230p - 1p live on NBCSN
2015 Grand Prix of Canada: 1p - 3p live on NBC
Its the first of three races we don't have to stay up until ungodly-o'clock (or wake up at
what
-time-is-it? AM) to watch, hooray! Check your local schedule for exact times and channels. All times Pond Central. Subtract two hours for random apartments in Oregon, add one hour for random boats just off the coast of Virginia, and sneeze if you're on Guam. No reason, I just want you to sneeze.
What with all this competition that's been happening recently, I expect some action. Everybody but Mercedes have used some of their allotted "tokens" to upgrade various pieces of their Power Units (remember when we used to call them "engines"? Ah, good times, good times...), so it's even possible that someone other than Mercedes will take that final step up on the podium.
I'm not
betting
on it, but it's possible. See ya then!
Posted by: Wonderduck at 03:44 PM | Comments (7) | Add Comment
Post contains 534 words, total size 4 kb.
85kb generated in CPU 0.0182, elapsed 0.2589 seconds.
49 queries taking 0.2453 seconds, 261 records returned.
Powered by Minx 1.1.6c-pink.