March 24, 2012
F1 Quals: Malaysia 2012
It was hot, sticky, and a bit cloudy when the challengers took to the track for Qualifying, but teams have to look ahead to the race as well. Will the
potential
for lousy weather in the race make a difference in setups? Let's take a look at the provisional grid for the 2012 Grand Prix of Malaysia:
Another McLaren one-two, another great performance from
Renault
Lotus, and another headscratcher from Red Bull. While 4th and 6th are hardly bad positions to be in, and Vettel will be starting on the hard tires, for a team used to effortlessly claiming pole whenever they felt like it, it has to be the same as not even making it out of Q1.
Speaking of not making it out of Q1, the Red Cars very nearly met that fate today. Felipe Massa burned soft tires in both Q1 and Q2, and HWMNBN had to use his softs in all three... and the best he could do was 9th. He also had a balky KERS unit, from all reports. He said it wouldn't have made a difference as far as position goes, but it would have closed the nearly 1 second gap to 8th.
The best news of the day, though, was that both HRTs made it into the race, though Kittylitter was having overheating issues and probably won't make it far on Sunday... unless it rains, in which case all bets are off.
Speaking of rain, if anybody is set up for a wet track tomorrow, they're being very subtle about it. I suppose it's possible that the Red Cars and the Saubers have a rain setup; their times were consistent across the board in all three Quals sessions, while the people above them got faster as time went on. Something tells me that no, they aren't, they're just legitimately slow in comparison.
Two drivers received five-grid-spot penalties. Mumbles had a compromised gearbox after Australia and had a new one put in, and Kovaleinninnie got his penalty for passing behind the safety car last week. So the HRTs won't be last on the grid, and Kimchee will be 10th.
See you Sunday for the F1U!
Posted by: Wonderduck at 02:50 PM | No Comments | Add Comment
Post contains 533 words, total size 16 kb.
March 23, 2012
F1 Malaysia Practice 3 Liveblogging!
(PRE-SESSION) As I've completely given up on my fantasy baseball team being anything more than suck and fail this year, I'm going to do something new: liveblog a third practice session! Unlike Friday Practice sessions, P3 is only 60 minutes long, and it's often a coinflip as to what you're gonna see. Sometimes it's everybody on track going hell-bent for leather, but others nobody is even thinking about going out. Let's see what the weather is doing... hm. Clouds over the track, 79° and humid, but no rain. 50% chance of thunderstorms though. Quals will be at 3am Pond Central time, so there's plenty of time for the weather to change between now and then...
(ALMOST GONE GREEN) I'd like to take this opportunity to thank Microsoft Security Essentials for allowing me to be able to do this sort of thing. My previous antivirii programs made blogging a nightmare, particularly uploading pictures. They got in the way constantly. MSE on the other hand is barely noticeable. Good job, Microsoft!
(902pm) Hmm... the stream was supposed to have started two minutes ago.
(905pm) Oh. It appears that somewhere along the way, I wrote down the wrong start time for P3. It actually begins at Midnight, not at 9pm. Well. Gosh. Um... so, anybody for Parcheezi?
Posted by: Wonderduck at 07:38 PM | No Comments | Add Comment
Post contains 219 words, total size 1 kb.
March 22, 2012
F1 Malaysia Practice 1 Liveblogging!
(PRE-SESSION) So here we are again! I didn't expect that I'd have the chance to do this, but I've pretty much given up on my fantasy baseball league preparation. There's no way I'll be able to do enough research in two nights, so instead I will do F1 to you. A quick check of the weather sites points out that it's not raining in Kuala Lumpur, so we should have a useful practice session ahead. To watch along with this liveblog, point yourself to
SPEED's F1 stream
. As in the past liveblogging sessions, the session is 90 minutes in length. I'll be using the time remaining as the time notation: if you see (1:02:30), that means 27.5 minutes have gone by in the session. Read from (1:30:00). Do not taunt happyfunball. If happyfunball begins to smoke, seek shelter and cover head. Happyfunball may suddenly accelerate to dangerous speeds. Accept no substitutes!
(1:30:00) ...and we're green!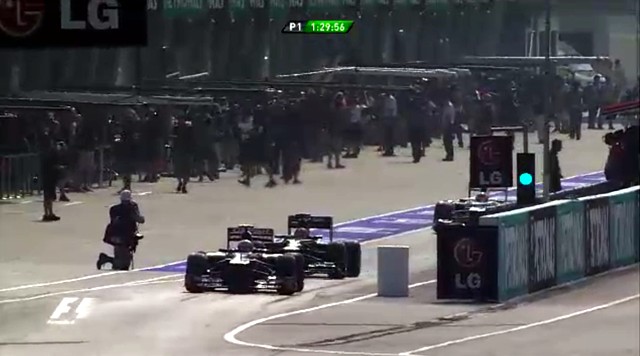 (1:28:10) Back a few years ago,
Lotus
Caterham said that they'd be based entirely in Malaysia. Their factory was to be there, the cars would be built there, the whole lot. Wonder what happened to that plan?
(1:25:40) Interestingly enough, everybody is making for the track to turn a few laps... including the heavy-hitters. I've seen McLaren, Ferrari, Mercedes, Williams, FIndia, all on the circuit already, pretty much anybody but Red Bull and Toro Rosso. Usually the big boys wait a bit before they go out. Even stranger, Slappy Schumacher was perambulating around the course with his rainlight flashing... do they know something we don't?
(1:22:30) Speak of the debbil, here's a Toro Rosso doing a lap, and Sebby Vettel getting ready to go out.
(1:20:15) Narain Kittylitter is getting ready to try and get a few laps in for HRT before the car falls apart again. Optimistic, isn't he?
(1:16:50) I'm not saying that Paul di Resta is having problems with his Force India, but he was just passed by the Marussia of Tim O'Glockenspiel. I'm also noticing that he's not activating his DRS at all. And his rain light is flashing.
(1:13:34) It's not raining, but from the look of the skies, it will be soon enough. And Kittylitter takes the field!
(1:11:11) Oof. To whit:
For those unschooled in the fine art of FIA Graphics Packages, let me translate. In the lower left, you see two times: the current fastest lap time at that point of the lap (in this case, 1:01.348) in red, then Kittylitter's time at that same point. The HRT was over four seconds slower. I don't care that it was an installation lap, the chassis just
looked
slow.
(1:05:10) Felipe Massa's father was just shown on camera. He still looks like
Joe Torre
.
(1:03:06) Lettuce Grosjean is having problems with his
Renault
Lotus. How could I tell?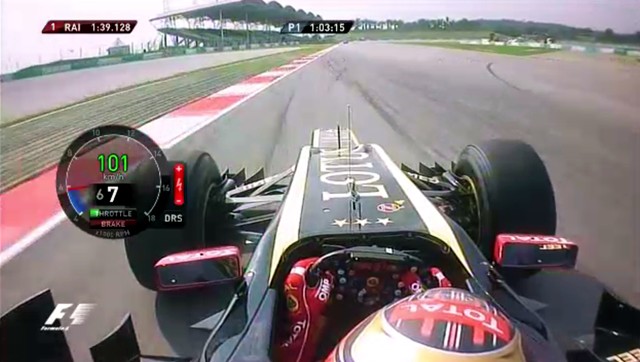 Please note the dial on the left-hand side of the screen. It shows that the car is going 101 kph (approx 60mph) in 7th gear, at around 6000rpm. Usually you'd be ~18000rpm and 180mph in 7th gear. That's how I could tell.
(1:03:00) Well, that and his radio call to the pits: "There's something wrong with the car."
(56:19) I wonder how it feels to be the pilot of the camera helicopter at a F1 race. You get yourself all lined up, you put on max power as the F1 car comes off the hairpin... and it leaves you behind like you were standing still. Must be kinda demoralizing.
(52:40) Looks like Vettel, Hamilton and Slappy are playing a game of "who's got the bigger one." One sets fast lap, then one of the others come along and kick it over.
(51:07) Case in point: Hamilton just kicked Vettel in the shins, taking fast lap honors by a half-second, despite smoking his tires like they had been coated in gasoline.
(49:50) Paul di Resta's thoughts: "Note to self: F1 cars drift very very poorly" Force India pit wall's thoughts: "AIEEEEEEEEEEEEEEEEEEE!!!!"
(47:45) Still no zeppelin sighting. I fear the worst.
(46:49) If you had 43 minutes, 11 seconds in the HRT Breakdown Time pool, please claim your winnings at the front desk.
No word on what caused it yet, but I think "Being a HRT" is cause enough.
(42:50)
@GreyDuck
, that's what the practice sessions are for, to get the kinks out. Of course, sometimes that isn't entirely possible *coughHRTcough*.
(40:40) The FIA reports "no rain for the rest of the session." Teams up and down the pit lane immediately begin reaching for their umbrellas.
(37:45) I wonder if Pete Rose is regretting his decision to purchase a drive with HRT today. His mechanic: "We can lower the ride height, that should help with the grip levels. Does it feel like there's no rear grip at all?" Rose: "You can put a mechanic on the back, too." At least that's what it sounded like he said. Snark, thy name is Pedro de la Rosa.
(34:44) HWMNBN just turned in the 15th fastest lap of the day, only 1.5 seconds off the fast lap time. Which is better than his previous lap, some 10 seconds slower.
(33:20) Now I'm curious why that press photographer had a "no dogs" sticker on his very long camera lens.
(31:50) Felipe Massa has elected a Pope.
Actually, that's been happening a lot today, and not just to lesser drivers. Is it just because it's first practice? Or is there some odd conflict betwixt the tires and the Malaysian asphalt? Probably the former.
(27:35) Sergio Perez is standing in the garage, looking like he's about to die of heatstroke. To be fair, Malaysia's weather is pretty miserable right now: 85 and ridiculously humid... and driving a F1 car isn't exactly the least fairly strenuous activity in the world.
(24:48) Why is it that every time Vitaly Petrov takes to the track, I hear the song "
I'm a danger to myself and others
" in my head?
(20:20) Pete Rose just successfully completed a lap without his HRT bursting into flame, shedding the majority of its bodywork, ingesting wildlife, or crashing headlong into the Pacific Ocean. WIN!
(17:14) Lettuce Grosjean is serving notice that either he's pretty darn good or the
Renault
Lotus is pretty darn good... or both. He's got the 5th fastest lap. Considering what he was doing the last time we saw him in F1, I'm agog.
(15:10) Ladies and Gentlemen, with Sharle ToothPic completing his first run of the day, we have now had all 24 cars turn timed laps. Tooth's time was 10.58 seconds slower than the fast lap, and 24th. Could we have a 20-car field this time around?
(11:39) I finished the novel
Abraham Lincoln: Vampire Hunter
earlier tonight. Pretty okay, to be honest. I can't believe the forthcoming movie is going to be anything better than awful, though. Why no, there isn't much going on at the Sepang International Circuit, why do you ask?
(6:40) Mumbles will have to learn that he's no longer a Finnish rally car driver, otherwise he'll find that his F1 car isn't as sturdy as those vehicles very quickly.
(0:00) Not with a bang, but a whimper.
(POST-SESSION) Mark Webber is on a flyer, but he's some three seconds off the pace. Red Bull must be doing some fuel runs or tire wear experiments with him this session. He's ended up 6th, while Hamilton's fast lap held up.
So what did we learn from this? Nothing except for very broad strokes: McLaren good, HRT bad, that sort of stuff. I'll see you on Saturday for Quals unless something important occurs during P2. Thanks for reading along!
Posted by: Wonderduck at 07:51 PM | Comments (5) | Add Comment
Post contains 1274 words, total size 9 kb.
March 20, 2012
The F1U! Nicknames
Earlier tonight, I was having dinner with Ph.Duck and his new bride (for whom a duckish appellation has yet to be assigned), and while we waited for the food to be brought to the table by the fine staff of
ImperialMandarinPalaceGardens
(try the orange chicken, yum yum!) we discussed Formula 1. This conversation bored the newbie at the table to tears, but Ph.Duck and I gabbed away semi-obliviously. As I blathered on, after a while I noticed that he had a strange look on his face.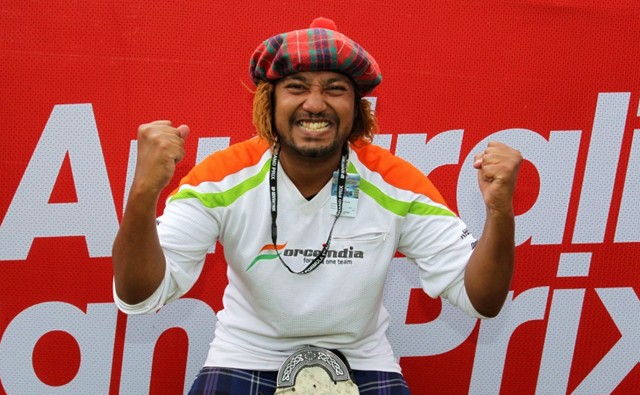 After inquiring politely if he had gas, he explained that he didn't understand one of the nicknames I had just used. As I tried to define just why that particular nickname was stuck on that particular driver, I realized that it's been a long time since I've defined the nicknames used in the F1 Update! features here on The Pond. So let's get cracking!
Vitaly "The Red Menace" Petrov:
he's Russian and when he first got to F1 it was never a question of IF he'd crash, but WHEN... and how many others he'd take out with him. Believe me folks, that's about as deep as most of these get.
Michael "Slappy" Schumacher
: During the 2005 Belgian Grand Prix, F1U! favorite Takuma "Suicide" Sato made one of his patented close-your-eyes-and-pray attempts at a pass. As was often the case, it didn't come off. As was also often the case, he collected another driver in the process. This time around, it was seven-time world champion Michael Schumacher, who was not exactly what you would call pleased. He got out of the wreckage of his Ferrari, stalked over to Sato (who was still sitting in his Honda), leaned over, said some words, then...
slapped the young Japanese driver across the helmet
. And a nickname was born. For a short time, he was also called "Parky", due to
an incident at the 2006 Monaco Grand Prix
, where he (ahem) accidentally blew a turn (on the narrowest part of the track) and stalled his car. Coincidentally, this was during the last moments of Quals, he was on pole, but HWMNBN (see below) was coming up fast. Stalled car = yellow flag = nobody could outqualify Schumacher.
HWMNBN
: Standing for "He Who Must Not Be Named," this nickname belongs to the Spaniard who currently drives for Ferrari. We here at F1U! recognize his immense talent and ability. We also realize that he's quite possibly the largest tw*twaffle on the grid, if not all of motorsports. It all started during his year with McLaren in 2007, when Lewis Hamilton was a rookie... and was doing a pretty good job of making HWMNBN look like an amateur. So HWMNBN went to the head of McLaren and whined and moaned and demanded that he be named the #1 Driver for the team, and that Hamilton should bow and scrape to him. This was rejected. Then came
the incident at Hungary
. Then came
Stepneygate
, HWMNBN's role in which cost the team roughly $100 million. Then came
Crashgate
with Renault. Then there was the Ferrari Fiasco at the German Grand Prix, where Felipe Massa was ordered to let him by ("(HWMNBN) is ...faster than you. Do you understand this message?") All of this, despite his immense skill behind the wheel. Damn shame he's such an unpleasant human being.
Romain "Lettuce" Grosjean
:
Romaine
is a type of lettuce.
Romain
is only one letter different. And that's how nicknames are born.
Jerome "Custard" D'Ambrosio
: Though he's currently the test driver for
Renault
Lotus, we here at F1U! stole this nickname directly from the team he drove for in 2011, Virgin. It seems that there's
a brand of custard
in Britain called "Ambrosia"... and a nickname was born.
Charles "Tooth" Pic
: It's pronounced "Sharles Peek." He's French. If he ever gets good, we'll take to calling him "The Hammer", in a nod to Charles Martel. We probably won't wind up calling him that. As to why he's called "Tooth"? C'mon, do we
really
need to explain it?
Kamui "Gandalf" Kobayashi
: One race can make you in this business. For Japanese rookie Kamui Kobayashi, that race was the
2010 European Grand Prix at Valencia
. For 39 laps he kept three faster, immensely more experienced, drivers behind him... as his tires became more and more lousy. The image of him in the cockpit, screaming "You shall not pass!" leaped to mind immediately. Oh, just read the link... it's funnier there.
Jean-Eric "Jules" Vergne
: Literary allusions FTW!
Timo "Tim O'Glockenspiel" Glock
: THREE different nicknames in one! Originally, he was Timo Glock, son of famed weaponsmaker Mr Colt. Then came "Glockenspiel," because it's obvious and we here at F1U! embrace the easy whenever possible. Then came the
Top Gear

episode
where the guys went to Monaco on race weekend and got to drive the track... okay, yes, it was in hatchbacks, but still, how cool is that? Anyway, Hamster and Captain Slow spoke to a very nice F1 driver named "Tim O'Glock." Combine the two, and voila.
Pastor "

XXXX

" Maldonado
: Not so much of a nickname as a running gag. For most, if not all, of last year, in the interest of religious equality and the desire for an all-inclusive blog, I changed the name "Pastor". One week it may have been "Imam," the next "Rabbi," then "Predicant", then "Bishop," then... every session it changed to a different religious title. Nobody mentioned it. We were bummed.
"Grizzly" Nick Heidfeld
: Many years ago, Nick Heidfeld was clean shaven. Then he grew a beard. It was ugly. The end.
Heikki Kovalainen
: He's usually called "Kovalinninninnie" here on F1U! Do you have any idea how hard it is to spell "Kovalainen"? We had to look it up. If we're lucky, we even got it right.
Narain "Kittylitter" Karthekeyan
: Almost as hard to spell as Kovalainen. Fortunately, the first Indian driver in F1 history tended to put his car in the graveltraps with startling regularity back in the day. Has actually been fairly successful in every format he's driven in... except F1.
Kimi "Mumbles" Raikkonen
: It is not uncommon for foreign speakers of English to have problems with inflection, putting emphasis on the wrong syllables of a word, that sort of thing. Kimi ignores such things by not putting
any emphasis on any word
at any time.
Zsolt Baumgartner
: That's his real name. Seriously.
I'm sure I'm missing a good gazillion others, but that should be enough to get people up to speed for the season... if not, let us know so we can
point and laugh at you!
clarify matters.
Posted by: Wonderduck at 09:42 PM | Comments (5) | Add Comment
Post contains 1103 words, total size 9 kb.
March 19, 2012
F1 On SPEED!: Malaysia 2012
After a long long offseason, we find ourselves blessed with back-to-back races! After the... shall we say
eccentric
Melbourne circuit, the F1 Circus packs up the tents and takes an eight-hour flight to Kuala Lumpur, home of the Sepang International Circuit and the Grand Prix of Malaysia. Let's take a look at the track map:
It takes not much of a look to realize that it's our first Hermann Tilke design of the season. The two loooooonnnng straightaways are clever, I suppose, but that's about the only nice bit around the circuit... though under duress I will admit to a fondness of the Turn 1/2 complex, what with its downhill, off-camber profile and all. There's something sickly amusing about seeing cars worth untold millions of dollars descending and twisting with one tire off the ground, which has got to do bad things to a car's mechanical grip.
Which is important to have when the aerodynamics are compromised, which appears to be on tap for this race. And I use "tap" the way you would with a sink... yep, we're scheduled for rain for all three days. And not just "rain", but "big sloppy buckets o' rain with enough lightning to impress Pink Floyd's lighting designer." And rain makes EVERY race better! Which would be nice, because the last two have been, to be blunt, dogs, and the best part of the 2009 race was that it was red-flagged and never resumed.
Fortunately for us, the good
juruhebah
of the Legendary Announce Team will have their Mae Wests handy as they bring us their usual spiffy coverage of all the action. Here's the lineup:
Thursday 9p - 1030p, P1 streaming
Friday 1a - 240a, P2 live
9p - 10p, P3 streaming
Saturday 3a - 430a, Quals plausibly live
Sunday 230a - 5a, Grand Prix of Malaysia live
As is usual for this time of year, this weekend is my fantasy baseball league's annual player auction, which is scheduled for Saturday morning. The Quals report will be delayed until after that, the Practice report may never occur as I do research, and even the F1U! is in danger of being shuffled around as I may have something going on that day as well. Depending on what The Librarian and I are doing, I might do a liveblog of P1.
I've been in this particular fantasy baseball league since 1987... yes, there are upperclassmen at Duck U that are younger than my fantasy team. As much as I love F1, baseball is life.
Posted by: Wonderduck at 07:37 PM | No Comments | Add Comment
Post contains 425 words, total size 3 kb.
March 17, 2012
F1 Quals: Australia 2012
September 13th, 2009. In most ways, it was just another day in just another year, no big deal. Except that day was the
Italian Grand Prix
at Monza. Lewis Hamilton was on pole with Adrian Sutil next to him, odd enough on its own as that was the last time a Force India has gotten so high on the grid. It was also the last time we had a F1 race start without a Red Bull qualifying on the front row. The three practice sessions we've had so far has made the RB8 look... mortal. But that's practice; now is the time for Quals, when the gloves really come off and the haymakers begin to be thrown. Let's take a look at the provisional grid for the 2012 Grand Prix of Australia:
Oh, the difference a few months and one change to the technical regulations make. The RB8 is no RB7, that much is clear. What also appears to be clear is that no car leaned more heavily on the now-banned blown diffuser technology than that same RB7. Last year, it was common to see Seb Vettel on pole, and his teammate Mark Webber right alongside. Things have... changed. They've locked out the third row, which is hardly
bad
... it's just not what the Red Bullies have come to be used to.
But some things don't change, either. McLaren now perches on the front row, with Hamilton the only driver to get into the 1:24s. The session's biggest surprise is the man that sits third on the grid, Lotus's Lettuce Grosjean. The last time we saw him, he was stinkin' up the place in a Renault (now Lotus) in 2009. He won GP2 last year, so it's safe to say that he's gotten better... and so, it appears, has the car, at least potentially. Lettuce lines up next to Slappy Schumacher, who for most of the session held my bowels in an icy grip. The Silver Arrows of Mercedes are showing every sign of being legit competitors this season, and through Q1 and Q2 they were hanging out in the top few slots. It didn't come together for them in Q3 though, not that fourth is bad. I'm sure Rosberg is less than thrilled with his seventh. Eighth, ninth and tenth are held by a Williams(!), a Force India and a Toro Rosso, all of which is wonderful news that indicates a potential shakeup in the midpack.
The sharper-eyed of my readers may have noticed a lack of Ferrari so far in this Qualifying report. That's because the F2012 is proving to be a twitchy, snarling, uncooperative beast of a chassis with all the manners of a starving pitbull presented with a table full of porterhouses. Felipe Massa had to get onto soft tires just to make it out of Q1, and couldn't do any better than 16th and elimination in Q2. HWMNBN, on the other hand, had set a halfway acceptable lap in Q2 before he tried to apply the brakes with his left-side tires on the grass. The result was a snap spin and a sudden burial in the kittylitter. Despite this, his time was very nearly good enough to get him through to Q3, only being bumped to 12th in the final few seconds.
The other man missing from the report so far is Mumbles Raikkonen. In his first race back in F1, he could only manage a distant 18th. Still, the blame is not his alone. The team kept him on the hard tires for the entirety of Q1 while everybody around him had gone to the softs. Then, on his final flying lap, which was looking like it'd be good enough to get him into Q2, he made a mistake that put his entire car over the curb and required some quick steering action to keep him out of the wall and allow the
Renault
Lotus mechanics to keep their dinner reservations. On the other hand, he's probably the only driver on the grid with a full allotment of unused soft tires. We know the car can be quick (see
Grosjean, Lettuce
). We also know that nobody on the grid right now is as cold-blooded as Mumbles. Let's see if the combination of fast car, driving skill, and an extra set of soft tires will bring us another of his patented 18th-to-3rd races tomorrow.
Now for the bad stuff. For the second year in a row, both HRTs failed to meet the 107% qualifying requirement, and now have to plead their case to the stewards to be allowed to race. This is unlikely to be granted as they've not even come close to being on race pace this weekend. Unsurprising, really, considering the offseason they've had. When Colin Kolles left the team, it turns out he not only took his designs with him, he also took all the machinery used to make a F1 car with him as well. Seeing that he owned it all, that's only correct, but it did leave HRT in something of a bind. Not only did they have to design a car from scratch, but then they ALSO had to get the equipment needed to actually manufacture the parts for the chassis. No wonder they failed their crash tests. P1 was the first time they had actually gotten the chance to run the car!
Also, Kittylitter, Daniel Ricciardo and Pete Rose are all under investigation for impeding the progress of other drivers in Q1, and rumors up and down the pitlane are saying that Ferrari and
Renault
Lotus are going to protest the Mercedes "f-duct" rear wing. More on those stories if they happen.
We've got a good one shaping up here, folks... See you post-race for F1Update!
Posted by: Wonderduck at 02:33 AM | Comments (4) | Add Comment
Post contains 1132 words, total size 20 kb.
March 15, 2012
F1 Australia Practice 1 Liveblog!
(PRE-SESSION) Well, here we go, the season starts in earnest! If you want to watch what I'm talking about tonight as it goes down,
just follow this link
. It all
should
start at 830p Central Pond Time. I say "should" because
there were technical difficulties
the last time I tried this. There's a threat of rain during the Friday sessions down under, which is exactly what we
don't
want. Rain is fun during Quals and the race itself, but during first practice? It'll just make the teams keep their cars in the garage... because if you think about it, all you'll learn from running in the rain is how many pieces you can break your car into when you... say it with me... stick it in the wall, upside down and on fire. As with the past liveblogging events, I'll be using the time remaining in the session as a reference. If you see 1:15:00, that means there's 75 minutes left in the 90 minute session. So settle into your seat, get the vegemite and koalaburgers handy, and let's get ready for the F1 season.
(1:30:00) Ladies and Gentlemen, we have a F1 season! And the track is damp!
(1:25:00) Ferrari is first out on the circuit.
(1:23:00) We have our first off of the season!
Nico Rosberg, take your prize!
(1:19:36) Slappy is on the course, but he's tiptoeing around the track. Of course, that makes sense... wet surface, new car, yadda yadda. If there's one person here, though, that should know this place, it's him.
(1:17:20) Melbourne goes silent. This might be a good time to mention that we've got an US person back driving in the sport, at least theoretically. American Alexander Rossi has signed with
Lotus
Caterham to be their third driver. It's bad sport of me to hope that The Red Menace slips on some ice and breaks his leg, I know, but...
(1:14:34) Zeppelin!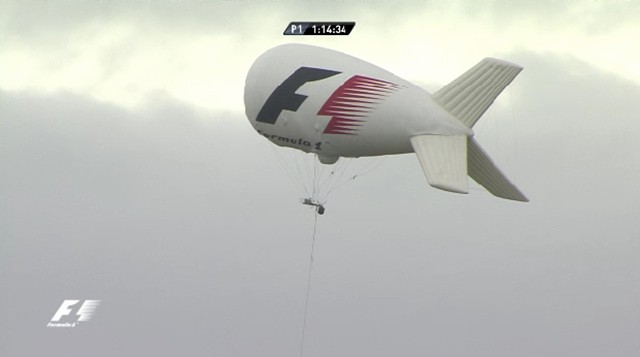 (1:11:30) We have a Toro Rosso sighting. We now return you to our usual programming. ZEPPELIN!
(1:10:18) Daniel Ricciardo in the Toro Rosso was... I dunno, he couldn't drive a straight line down the front straight. I dunno if he was trying to get some heat in the tires, or if the car was just snaking on him. Looked weird as heck, like his front alignment was off.
(1:07:38) And the world champion takes the field. Just found another thing I don't like about the platypus... because the nose has that ridiculous dropoff, you actually can't see the front of the nose at all.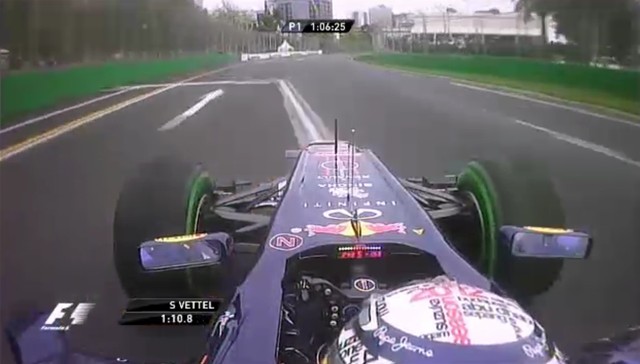 Which makes telling the difference between the Toro Rosso and Red Bull cars awfully hard from the T-bar camera (TR has a gold nose, RB a yellow one, btw).
(1:02:32) HWMNBN rips off the first legit flying lap of the season, taking two seconds off the best time so far.
(59:05) And we have our first yellow flag of the season!
Courtesy of HRT and Narain Kittylitter! "The engine, it just shut down on its own." "Okay, park it so we can come get you Narain." Good to see they're in midseason form already.
(54:56) Y'know, I dunno if they'll win anything this season, but the Mercedes is awful purty. Looks and a good haircut can get you a long way in this world. Just ask
Sergio Perez
.
(51:34) Or
Nico Rosberg
.
(48:07) HWMNBN is looking awfully racey today. Wonder what's gotten into him? He isn't known for blowing people's doors off during practice sessions... Oy! Lost my entire broadband connection for a few minutes there.
(41:44) Starting to see some rubber buildup in a few places. Pirelli said they were going to be bringing the pain this season as far as tire degradation goes, but that's ridiculous.
(39:17) Nobody on track, so the FIA cameras are gathering "B-roll" footage.
Yeah, well, we don't think you're exciting either, lady.
(33:35) Gandalf and Shadowfax just took FIVE SECONDS off the fastest lap.
I think I know who's on dry soft tires...
(31:12) Mark Webber is now second... some three and a half seconds behind Gandalf. Shadowfax must be feelin' his oats today.
(28:15) Well, that didn't take long. Webbo just bumped Gandalf by some small fraction of a second. Ces't la Grand Prix.
(25:09) I just realized... other than a few shots of Button and Hamilton in the garage, we haven't seen the McLarens at all.
That
can't be good at all.
(23:44) Nico Rosberg must not have liked the joke... he's just taken fastest lap.
(21:26) This is my worst nightmare. SLAPPY has fast lap now. Good lord, what will I do if he wins a race this season???
(19:37) Hey look! It's a McLaren! Oh. It's just Lewis turning an installation lap. Or he's been given a drive-through penalty, one of the two. Chances are about even either way.
(17:09) Button turns an installation lap, bringing us this pointless but incredibly cool camera shot:
(14:39) Massa beaches it!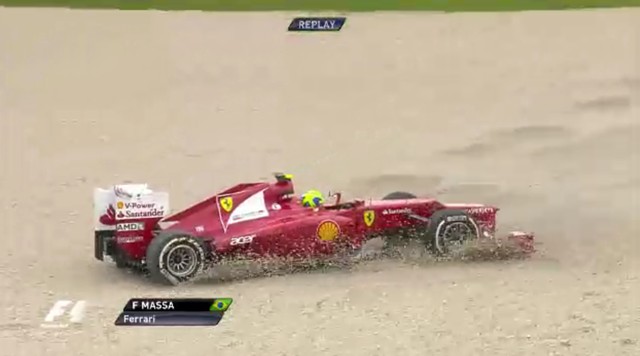 Taken off by the crane, session over for him. He said it "went light and just snapped sideways."
(9:23) Yeah, that sitting in the garage was a real problem, good call Wonderduck:
Please note that Button's got fast lap, but Hamilton is third. Sure, "that can't be good." If anybody with some talent would like to take over the F1U! duties, please contact me.
(6:30) Sergio Perez might have to change his firesuit after the sideways moment he just had... looked like he was drifting, except with a lot less control. Yeesh.
(5:11) Mumbles Raikkonen has taken to the track for the first time in three years! And maybe it's showing: he's 20th. Still too early to tell, though... maybe it's the car, maybe he wasn't pushing particularly hard.
(2:30) Seb Vettel just got borked on a flying lap. Or he's having a bad day. Or both.
(0:00) Button on top, followed by Hamilton, Slappy, HWMNBN, and Webbo'. The last three are still on track.
(Post-0:00) HWMNBN, there's a change of firesuits waiting for you, too. Coming off the last turn, he wound up fishtailing and nearly sideways for a hundred yards or so. The top five stay in their positions.
So what have we learned today? Well, that the McLarens are fairly quick, the Red Bulls have got to be sandbagging, and Wonderduck knows absolutely zero about F1. But boy is it good to have it back! See you for Quals, I'm thinking!
Posted by: Wonderduck at 07:19 PM | Comments (10) | Add Comment
Post contains 1072 words, total size 8 kb.
March 12, 2012
F1 On SPEED!: Australia 2012
It's been a long time since we last met back in November of 2011. We were in Brazil back then, watching Seb Vettel take home his second consecutive Driver's Championship at the end of long and, let's face it, kinda dull season. However, Formula 1, being what it is, always begins anew. You know that things are starting up again when the teams drag themselves into Melbourne, their cars crated and palletized.
And such it is today as the 2012 season cranks into life! It's
back
, baby! Let's take a look at the trackmap for the traditional first race on the calendar, the Australian Grand Prix!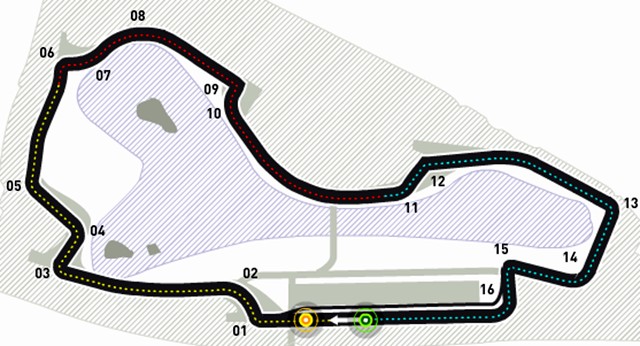 There's not a lot that I can say about the Melbourne circuit that I've not
mentioned in the past
. While it's technically a street circuit, being run on the public roads and parking lots that go through Albert Park just south of the center of the city, it races much more like a standard road circuit. Or, to put it another way, it's less like Singapore and more like Silverstone. This is a
good
thing. Drivers universally praise the circuit, believing it to be easy to get used to, but not so easy as to be boring. There's a distinct sense of "going someplace" when you race in Melbourne, courtesy of the splendid scenery provided by... well, Albert Park isn't called a "park" because you leave your car there while you go to work.
Turn 8 from the golf course.
Unfortunately, there's a vocal (and loudly so) group of politicians and residents that want Melbourne to dump the race altogether. Too loud, too eco-unfriendly, too expensive, you name it, they've yodeled about it. Bernie "The Troll" Ecclestone, with his wonderful sense of history and style, agrees with them and thinks the race should go away. We should enjoy this wonderful spectacle while we can, methinks.
Other than the usual bits about the circuit having not so much runoff area, fencing ridiculously near the track, and lots of painted lines on the racing surface that can play hob with grip, the big news for this year is that there'll be two DRS zones, as opposed to the last year's one. Undoubtedly one will be on the front straight. The location of the second is anybody's guess... I'm thinking the run from Turn 2 to Turn 3. There really isn't any other place for it, unless you put it on the "straight" from Turn 10 to 11, which is actually a curve that needs the traction provided by the rear wing. Then again, nothing like multi-million dollar cars careening through a catchfence and ending up in the lake to make the race go away, am I right?
It's all moot for this year, however... there WILL be a race, and the good cobbers at SPEED will be bringing us all the coverage with their usual aplomb and bonhomie. Here's the schedule, which begins on Thursday:
Thursday: 830p - 10p P1 streaming
Friday: 1230a - 210a P2 live
10p - 11p P3 streaming
Saturday: 1a - 230a Quals plausibly live
Sunday: 1230a - 3a Grand Prix of Australia live
1p - 330p GP of Australia replay
Now for a bit of Wonderduck scheduling. There's pretty much no way I'll be able to provide coverage of P2, as there's an event at Duck U Friday night. I'll be there from 815a to approximately 10p, give or take a half hour. By the time I get back to Pond Central, it'll be 1030p and I'll be staring Quals dead in the face. The good news is that I'll be trying to liveblog P1 right here at The Pond... nothing like starting the season off right, right?
F1's back, folks... let's see if we can't make it a good'un... and yes, I said "we." I welcome, nay, nigh on
require
, all your questions and comments, educated or neophyte. It makes it a lot easier if y'all participate! Fair dinkum? Fosters for everybody and I'll throw a few pounds of prawns on the barbie... mind the wallabies and the sugar gliders!
Posted by: Wonderduck at 08:26 PM | Comments (14) | Add Comment
Post contains 685 words, total size 5 kb.
114kb generated in CPU 0.0199, elapsed 0.1254 seconds.
49 queries taking 0.112 seconds, 283 records returned.
Powered by Minx 1.1.6c-pink.