October 28, 2013
F1 on NBCSN: Abu Dhabi 2013
Keenly observant readers of The Pond may have noticed that there's been something of a F1 interest decline of late... and by "of late," I mean "most of the season." I surely can't slip anything past these clever readers, you brilliant people you. The never-ending domination of Red Bull and Vettel has sapped much of the joy out of the sport for me. Which brings us to Abu Dhabi, the next race on the F1 calendar. Let's take a look at the track map, shall we?
It shouldn't come as any surprise to hear that there's probably not been a race this year that I've been less interested in than this week's. Both the Driver's and the Constructor's championships have been won. Abu Dhabi may as well have been designed for Red Bull cars. The race
after
this one is the US Grand Prix, which has the cachet of being... well,
HERE
. The race after that is Brazil, the last one of the season. But Abu Dhabi? What does it have going for it?
Right, exactly. Sure, there's plenty of drama left: will Mercedes or Ferrari end up as the second-best constructor? Will Force India, with a 23 point lead over Sauber, end up choking away sixth place? Will Raikkonen catch HWMNBN for 2nd place in the driver's championship, which would make for
really
interesting news going into next year, when they'll be teammates. Drama indeed... but the Wonderduck that would have written thousands of words for the fight for 10th place in the driver's championship between Paul di Resta (40 points) and Nico Hulkenberg (39 points) isn't the Wonderduck sitting in front of the keyboard these days.
I miss that Wonderduck.
Here's the coverage on NBCSN:
FRIDAY
8a - 930a: Practice 2 live
SATURDAY
1230p - 2p: Quals definitively not live
SUNDAY
630a - 9a: 2013 Grand Prix of Abu Dhabi
I'll be here... will you? I wouldn't blame you if you weren't, given what I've just talked about, but I hope you show up.
Posted by: Wonderduck at 08:03 PM | Comments (1) | Add Comment
Post contains 342 words, total size 2 kb.
October 26, 2013
F1 Quals: India 2013
This is ridiculous. It's like the other drivers aren't even trying any more. Here's the provisional grid for the 2013 Grand Prix of India:
.752 of a second per lap.
Really
? Why even bother? Here's the F1U! for Sunday's race: "Vettel wins by 20 seconds. What a shock." The only hope we have is that HWMNBN is on the medium tire and Vettel on the soft. The mediums are wearing well, the softs are going about six laps before they die... maybe HWMNBN will be able to parlay this into something other than a 7th place finish. I'm not hopeful, but maybe.
I'm rooting for HWMNBN. Shoot me now.
Race in the morning. See you afterwards!
Posted by: Wonderduck at 07:07 AM | Comments (4) | Add Comment
Post contains 273 words, total size 14 kb.
October 25, 2013
F1 Practice: India 2013
If this was in Los Angeles, we'd say the inversion layer had moved in. If it was in China, one would have to assume the factories were going full speed.
But this is in India, I suppose we'll have to say that the vindaloo is particularly spicy today. The F1 homepage is claiming that it was foggy during practice, but fog doesn't change the sky color. Fog doesn't give everything a dirty-orange hue. Nope, we had smog out the ying-yang there in Upper Noida, which makes me wonder how that affects the engines. I assume there's air filters, but I guess I don't really know!
One thing we do know is that the Indian cuisine claimed one driver this morning. Paul di Resta apparently spent most of Thursday in his hotel room with a case of Delhi Belly. Too much naan and gulab jamun, that'll do it every time.
In other news that'll send us scurrying to the loo, Hannibal Vettel was fastest in the second session... by nearly a half-second... over his teammate. The next closest was Lettuce Grosjean, another third of a second adrift. Did I mention that Vettel has been on the pole and led every lap of both races at India? I think that bodes not well for HWMNBN's chances to win the Championship, particularly after he wound up with a gearbox full of neutrals in Practice 1.
Maybe after he wins the championship, Vettel will move down to Marussia or something for a bit of fun. Hey, we can dream, right?
Quals at 330am... see you sometime after that.
Posted by: Wonderduck at 09:41 PM | No Comments | Add Comment
Post contains 268 words, total size 2 kb.
October 21, 2013
F1 on NBCSN: India 2013
Namaste! The next stop for the F1 Circus is the Buddh International Circuit in Upper Noida, Uttar Pradesh, India. It's the third time Formula 1 has made the journey to the subcontinent, and it might just be the last. With that in mind, let's take a look at the track map, shall we?
Sadly, India is off the calendar for 2014 due to political and scheduling issues. It's supposed to come back in 2015, but nobody knows that for sure quite yet. So if this
is
the last time we experience this course, it may be a memorable one: this could be a championship clinching race for Hannibal Vettel. Should I mention that Vettel is also the only driver to have won in India? I think I'll just quietly draw a veil over that sad fact and move on.
It's a fast circuit without much of the mickey-mousing that Hermann Tilke is justifiably reviled for. Having said that, it's also not a technically difficult track to drive. For example, Singapore is a technical challenge for a driver... there's no room for mistakes and a ton of places to make them. India? Not so much. The layout is wide with plenty of runoff area, so if you do make a mistake, you wind up being able to just keep on driving, no huhu. One thing that's quite pleasant about Buddh is that there's a decent amount of altitude change: almost 45 feet in the first three turns alone. The track's big party piece is The Carousel, Turns 10-11-12. Over 180° of awesome banked multi-line turn... yep, in theory two cars could run through it side-by-side at speed and neither would have to yield to avoid an accident. In practice, not so much, but it COULD happen.
Well, the Legendary Announce Team will be bringing us their usual coverage this weekend... let's see what the schedule looks like!
FRIDAY
330a - 5a: Practice 2 live
SATURDAY
330a - 5a: Quals live
SUNDAY
4a - 630a: 2013 Grand Prix of India live
You'll note the half-hour starts up there... that's the fault of India's oddball timezones. Just tell your DVR to look around, it'll find 'em on NBCSN.
Bring your Kingfishers, we could see a Champion crowned again...
Posted by: Wonderduck at 10:05 PM | Comments (9) | Add Comment
Post contains 380 words, total size 3 kb.
October 12, 2013
F1 Quals: Japan 2013
It's just after 9pm Pond Central, and I've only just now made it home from a busy day at work. Yes, on a Saturday. This is Homecoming Weekend, y'see, and more importantly, it's the first Homecoming after Duck U's name change which I don't think I've mentioned on here before. Anyway, originally Duck U wasn't a U at all, but a "C", as in "College." However, this past July 1st, we officially became Duck U, to massive acclaim from everybody but the alumni, who resoundingly said "meh" to the change... but they still showed up in droves today. Throw in dinner with Ph.Duck, and voila, 9pm-ish.
All of which is my long-winded way of saying that I haven't watched Quals, and probably won't, not with the race only three hours away. But here's the grid anyway:
My heavens, it's someone OTHER than Vettel, Rosberg or Hamilton on pole... stop the presses! Of course, the soon-to-be-four-time-world-champion, or STBFTWC, which I suspect means something really rude in Klingon, had a KERS failure in Q3, so there is that. On the other hand, you know that Mark Webber isn't going to be particularly helpful to his so-called "teammate". If he can avoid a Mark Webber Lousy Start
®
, we should be in for an interesting race indeed.
As an aside... if the STBFTWC wins and HWMNBN finishes eighth or lower, the STBFTWC will actually be the FTWC. Go Webber!
Right, I'm going to go rest my weary bones. F1U! tomorrow... see ya then.
Posted by: Wonderduck at 08:31 PM | No Comments | Add Comment
Post contains 407 words, total size 15 kb.
October 11, 2013
Merely Terrible Upgrades To Tragedy
Perhaps you remember the story of
Maria De Villota
, the Marussia test driver who last year was in a hideous accident? The team was doing straight-line testing, going up and down a runway, with her behind the wheel. When she brought the car in for servicing, it jerked forward and ran into the back of the team's transporter... which had its liftgate lowered. The results were sub-optimal.
De Villota's skull wasn't so much broken as it was shattered like an egg dropped from the top of a tall building. Thanks to the amazing skill of her surgeons, she not only survived the experience, but came off pretty well, all things considered. To be sure, she was not unscathed: she lost her right eye, her sense of taste and smell, and suffered from severe headaches. That's pretty good, if you ask me, when the alternative is... well, just
look
at that picture. Over the past year, De Villota had more or less completely recovered from the accident. She was married this past July, had been involved with the FIA in both auto safety and a women in motorsports council, and was even thinking about racing again.
Maria De Villota was found dead in her hotel room in Seville, Spain, this morning. Authorities are saying that foul play was not expected, and her death was from "natural causes." Or, at least, natural for someone who had undergone the sort of accident she'd been in. Her death came one year to the day that she held her first press conference after the accident.
She was in Seville to speak about her new book,
Life Is A Gift
, on Monday.
The thoughts and prayers of the entire F1Update! crew go out to her family and friends. She was 33 years old.
Posted by: Wonderduck at 08:54 PM | Comments (3) | Add Comment
Post contains 302 words, total size 2 kb.
October 09, 2013
F1 on NBCSN: Japan 2013
We're running late this week, and my apologies for that. It's at least theoretically possible that one or two of you rely upon this feature to set your DVR, and you're not getting your info on time. I'd like to send you all a balloon animal to make it up to you, but FedEx just raised their fuel surcharge and I don't have an account with UPS anymore, so you'll just have to settle for something spiffy at the end of this post. Until then, however, it's early-mid October (or late-early October, whichever) which means it must be time for one of the truly classic tracks on the F1 calendar. Libbets and bunnymen, allow me to introduce to you the trackmap for the 2013 Grand Prix of Japan at Suzuka.
Really, I'm not entirely sure why this isn't my favorite F1 track. Maybe because they turned 130R into a mere ghost of itself when they slowed it down a touch? Could be, I suppose. I've never really seen 130R the way it used to be, so I can't say. Really, Suzuka has everything you could possibly want from a racetrack. It's fast, it's slow, but each section flows into each other like it was meant to... unlike some circuits I could name, and I'm looking at you here Korea. Plus, you've got the clever 'S'-Curves that are a true rhythm section like
Buddy Rich
could only dream about. Then, of course, you've got the crossover that makes this a figure-8 layout, just like our Tyco slotcar track when we were kids. There's elevation change galore, the Japanese are probably more passionate about F1 than even the Italians, so what's not to love?
Well, and I don't believe I'm going to say this, but "rain." When it rains in Japan, it doesn't just drizzle, but it bloody well typhoons, and that's just too much. The Great Suzuka Boat Races are a real thing, when the teams float homemade boats down the pitlane whilst watching track time go away under the deluge of dampness. At least at Spa, usually you still manage to get out on track.
Still, if that's the only quibble I have with Suzuka (and it is), then I guess I'll manage to get over it. It's a helluva circuit, and I'm still not sure why it isn't any higher than #3 on my favorites list. Oh well, maybe the Legendary Announce Team will be able to help us, for they'll be doing their thing as always this week. Here's the broadcast schedule:
FRIDAY
12mid - 130a: Practice 2 live
SATURDAY
12mid - 130a: Quals live
SUNDAY
1230a - 3a: 2013 Grand Prix of Japan live
So we've not a lot of time before P2 starts already! Go set your DVR now. What are you waiting for, a balloon animal?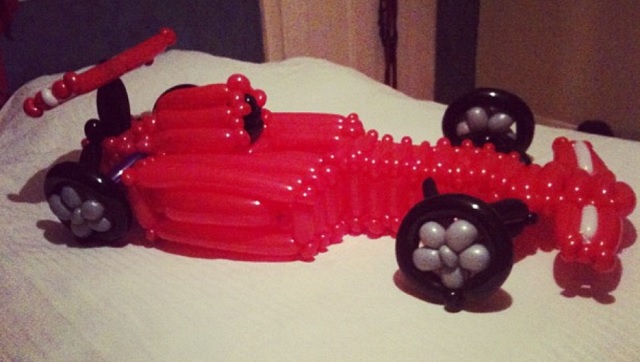 Will that do? See you sooner or later.
Posted by: Wonderduck at 08:13 PM | Comments (1) | Add Comment
Post contains 484 words, total size 3 kb.
October 05, 2013
F1 Quals: Korea 2013
If you have any doubt about the results of today's Qualifying session for the 2013 Grand Prix of Korea, you've clearly not been following Formula 1 lately. Here's the provisional grid:
Oh look, Hannibal Vettel is on pole. I never saw that coming. Not only was the Red Bull the fastest through the twistybits, but it was also fastest through the speed trap, too. Just what we need, huh? Don't look for rain to save us, either. Now the forecasters are saying that the rain, at best, will soak the track in the morning, then stop well before the race begins. Yeesh.
We'll see you Sunday for the F1U!... hopefully it'll be worth writing about!
Posted by: Wonderduck at 02:55 PM | Comments (4) | Add Comment
Post contains 272 words, total size 14 kb.
90kb generated in CPU 0.0222, elapsed 0.5299 seconds.
50 queries taking 0.5155 seconds, 267 records returned.
Powered by Minx 1.1.6c-pink.