March 28, 2013
Take A Lap Of Monaco... With Six Strings.
I dunno if it's "real", or if he recorded it ahead of time, but I'll be darned if I care.
I like the bit with the window shades... and note the slight echo on the guitar at that point, too.
It's not content, but hey, it's better than looking at my BP numbers, right?
Posted by: Wonderduck at 07:51 PM | Comments (3) | Add Comment
Post contains 62 words, total size 1 kb.
March 23, 2013
F1 Quals: Malaysia 2013
They say that there are two things that are inevitable in life: death and taxes. I'd like to add a third entry: it rains in Malaysia during F1 time. Let's take a look at the provisional grid for the 2013 Grand Prix of Malaysia:
Q1 was dry, and it became apparent that the big teams were protecting their hard tires for the race. This trick very nearly backfired for Seb Vettel, who was 15th at the end of the session, a mere quarter-second away from being knocked out. This being F1, however, you can pretty much expect that Red Bull planned it that way all along. Right.
Q2, on the other hand, saw everybody lined up in the pit lane, waiting for the track to go green. Rain was coming, and lots of it... 35 miles away, the Malaysian Open golf tournament had just been called for the day by torrential rains, and the clouds rapidly heading towards the race course promised a similar fate for the guys in the fast cars. Thus, the plan was to get on track, put in a banker lap, then hope to get something faster in before the rains come. This was duly accomplished by everybody... except for Paul di Resta, who never completed his first hot lap. Instead, he drove back to the pits and the Force India mechanics started to do the usual maintenance... wipe down the car, clean the radiators, check telemetry, that sort of thing. It was seemingly only as the rain began to fall that people realized "hey, he doesn't have a time yet." Too late: he was five seconds off the pace of the next slowest car.
On the gripping hand, Q3 started off wet, but with little rain falling. Intermediate tires were the way to go, and a dry line quickly began to form. As the final session went on, one began to wonder if anybody would risk putting on a set of slick tires... it was
that close
to the cut-off time where the dries were as good or better. If the session was 15 minutes long, someone surely would have tried it. Alas, Q3 is only 10 minutes in length. Remarkably, Seb Vettel took pole by nearly a second over Felipe Massa, despite running less rear wing than anybody in the field. I'm not sure what that means for the race... nothing good, I expect. It's supposed to be plagued by heavy rains... if it turns out to be dry, Vettel will run away with this. If it does rain... well, I truly don't know.
Fortunately, we'll find out Sunday morning! See ya there for F1Update!
Posted by: Wonderduck at 04:11 AM | Comments (3) | Add Comment
Post contains 600 words, total size 17 kb.
March 22, 2013
F1 Practice: Malaysia 2013
Hello, howdy and welcome to Malaysia's Sepang International Race Circuit, where it is currently hot, humid, about to rain, and...
OMGWTFBBQ!!! IT'S
THE VARSHA
!!! HE'S BACK!!!!1!11!!! Okay, he's filling in for Leigh Diffey, who's calling the IndyCar season opener this weekend, but THE VARSHA IS BACK! SQUEEEEEEEEEEEEE!!! We've got the entire Legendary Announce Team together again for the first time!
Everybody's terribly concerned about the tire situation for the race. Pirelli has brought the hard and medium compounds to the track, and from all reports the hards aren't lasting more than a handful of laps on the hot, hot asphalt. They rubber is just blistering and boiling off. One would assume that means the mediums will explode into flame the moment they hit the first turn, but as it turns out, they didn't wear quite as badly as the hards. No, I can't explain it either.
Esteban Gutierrez had a little problem with his Sauber: the fire extinguisher built into the car went off. While he was driving it.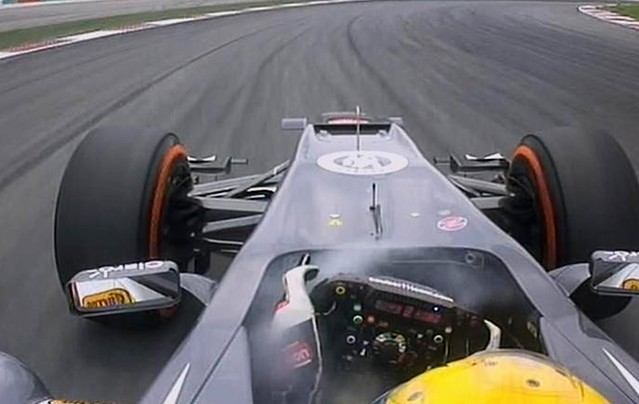 I can imagine this would be... disconcerting. And, considering that the temperature and humidity were both in the 90s, perhaps refreshing as well.
And then it rained, and everybody stopped driving. Mark Webber actually said that the slicks worked better on the wet track than they did in the dry. That's Australian humor, I suppose.
I've half-arsed this post. Sorry about that. Quals in the morning.
Posted by: Wonderduck at 08:32 PM | No Comments | Add Comment
Post contains 239 words, total size 2 kb.
March 18, 2013
F1 on NBCSN!: Malaysia 2013
After a rousingly entertaining Grand Prix of Australia, the traveling band of oddballs known as Formula 1 makes its way to
Koala Lumper
for the 2013 Grand Prix of Malaysia... and a more different circuit you could not find. Let's take a look at the track map:
The Sepang International Circuit has the honor of being our first Hermann Tilke design of the year, and oh boy aren't we the richer for it? Well, the two long straightaways broken up by the hairpin is nice, but the rest of it? If there was to be an international symbol for "meh", it would be the trackmap for Sepang. Or the logo for Windows Vista. One of the two.
Combine the uninspired layout with stupidly high humidity and temperatures, and you've got a race that's brutally difficult for the drivers. However, that's all tempered by the fact that it supposedly always rains right at race-time. Since the switch to the 5pm local start time in 2009, we've had wet races twice: last year and in the inaugural race. The forecast for this weekend is cloudy for Practice and Quals, and Biblical Apocalypse for the race. If that occurs, then the Pirelli tire choice of Hards/Softs won't come into play. As is, the tire manufacturer expects three stops if it doesn't rain... which means the teams'll do two.
Here's the NBCSN broadcast schedule for the race weekend:
FRIDAY
:
1a - 230a Practice 2 Live
SATURDAY
:
3a - 430a Quals Live
SUNDAY
:
230a - 5a Grand Prix of Malaysia
5a - 530a F1 Extra
Looks like first practice was only being shown for Australia, which makes sense... first race of the year, first F1 broadcast ever for the channel, it gave 'em a chance to work out the kinks and so forth. As it was, I thought NBCSN did a perfectly acceptable job. They'll get their second chance this weekend, and F1Update! will be... um... paying attention. We'll see you then!
Posted by: Wonderduck at 07:27 PM | Comments (1) | Add Comment
Post contains 332 words, total size 2 kb.
March 16, 2013
F1 Quals: Australia 2013... Q2 and Q3
After yesterday's soggy session, it looks like we've finally got a grid for Sunday's Grand Prix of Australia! Let's take a look, shall we?
From reports, Q2 started out wet but drying, and Q3 finished on the supersoft tires. I don't think anybody is going to be surprised by the men on the front row; if we're lucky, the Red Bulls won't dominate the whole year. I think the surprise has to be McLaren just being... slow. We'll see if it carries over through the race and the season.
The race is in a few hours, we'll have the F1U! tomorrow! See ya then!
more...
Posted by: Wonderduck at 09:30 PM | Comments (3) | Add Comment
Post contains 268 words, total size 14 kb.
F1 Quals: Australia 2013... RAINED OUT!
When the time came to start Q1 for the Australian Grand Prix... they postponed it for a half-hour due to wind, rain and general miserableness. From what the New Legendary Announce Team said, just after the V8S support race ended, the skies opened up with a fury not often seen in these here parts. Rain came down in buckets, the wind tore branches from trees and umbrellas from hands, and very quickly the track became undrivable. It took frantic action from the track marshals, the broom brigade, some random birds, and a brief cessation of rain for the session to start at all.
Once the 20 minute Q1 did begin, some began to wonder if it should have, as it took only a single lap for cars to begin leaving chunks of themselves scattered around the circuit. Lewis Hamilton, Felipe Massa, both Caterhams, Mark Webber, Sergio Perez, Esteban Gutierrez, Paul di Resta, and Papabile Maldonado all had exciting rides. Webber, Perez, di Resta and Maldonado DIDN'T damage visibly their cars, though only through luck. Eventually the session came to an end, with the following being knocked out: Charles ToothPic, Geido van der Garde, Max Chilton, Jules Bianchi, Esteban Gutierrez, Papabile Maldonado. ToothPic is 22nd, Maldonado 17th.
Unfortunately, in the stretch between Q1 and Q2, the heavens opened up again. Scheduled to begin at 6pm local time, Q2 wound up being delayed by 10 minute intervals to 650pm. At that point, with heavy rain still falling, the radar screen a lurid shade of green for 500 miles, the sun setting at 738pm local and two Qual sessions left to run that would equal 25 minutes on their own, the decision was made to postpone until 11am Sunday morning local (Saturday night, 7pm Pond Central Time). At that point, the action will resume with Q2. Alas, we won't be getting coverage of it here on NBCSN, but I'll report the results when they become available.
On a historical note, this is only the third time Quals has been postponed in 10 years... and the other two
occurred in Japan
due to various typhoons. No Great Australian Boat Races, though. Pity, that.
Posted by: Wonderduck at 02:48 AM | Comments (5) | Add Comment
Post contains 365 words, total size 3 kb.
March 15, 2013
F1 Practice: Australia 2013
A vaguely gray day greeted the sparse crowd at Melbourne's Albert Park circuit, but nobody cared. Nobody cared because the red light of the offseason had been replaced by a green light, a light that signified that the 2013 Formula 1 season had finally begun.
Then every car in the pitlane came out, ran for the entire length of P1 and P2, and left us as fans exhausted and wanting more. That was the theory. In practice, Practice 1 was roughly half over before we saw our first flying lap. The first 45 minutes saw the teams bring their cars out for an installation lap, making sure that every bolt was tight, every hose connected, every fluid topped off and so forth, then bringing them back in to check everything all over again. Then, and only then, did anybody even think about going back out for head-to-head white knuckled racing action. Or another install lap, take your pick. Seriously. I mean, I expected it; they DID just ship their cars halfway around the world AND this is the first race of the season, of course they're gonna work to make everything exactly right. But still, the people in the stands weren't even getting red-hot pitstop action. What they got was a lot of nothing. AND YOU'LL LIKE IT!
Once the session really began, and all the way through Practice 2, it became perfectly clear that while some things had changed, like McLaren seeming dreadfully slow, some things hadn't: Red Bull and Seb Vettel remained on top of the timesheets. In dominating fashion, it might be pointed out, nearly a half-second ahead of their nearest rival in P2, Nico Rosberg.
Even that little bit of news had a dark lining, as Mercedes' newest driver, Lewis Hamilton, speared into the barriers with five minutes to go in P2, reporting that "something's wrong with the car." Right after that, the Mercedes pit wall told Rosberg that he had a gearbox problem and he needed to pull over and shut it down. That's somewhat ominous, what when both Mercs fail to finish the session like that...
Even more ominous could be the performance of the two McLarens. Jenson Button could only manage 11th on the day, and Sergio Perez a humbling 13th. Handling seemed to be an issue for the glares with wheels, as they tended to porpoise and tremble into corners. Steve Matchett was suggesting that the suspension was too stiff, and he may very well be right... or maybe it's something not so easily fixed?
The boys at Maranello must be ecstatic with Ferrari's 6th and 8th finishes, particularly considering last year's debacle in Australia when they were closer to the back of the grid than the front. If so, Team Lotus are probably calling their doctors after four hours, for they finished P2 4th and 5th.
But of course, this is only practice. You can never judge the true worth of a car from practice, just because every team is operating differently. For all we know, McLaren could have been running under a heavy fuel load all day, and once the weight burns off they'll handle better. Red Bull could have been running minimum fuel (note: they weren't). Maybe Mercedes accidentally used French Onion instead of Ranch in their gearbox. We just don't know.
Except... we kinda do, don't we? We'll find out for sure Saturday at Quals! See ya then!
Posted by: Wonderduck at 02:17 AM | Comments (2) | Add Comment
Post contains 574 words, total size 4 kb.
March 12, 2013
F1 On NBCSN!: Australia 2013
F1 is back.
Everything is right with the world.
As is tradition, the new season is opening in the Land Down Under. Beautiful Albert Park, Melbourne, will host the Australian Grand Prix for the 18th consecutive year, and to say that this should be a revealing race would be something of an understatement. But first, let's take a look at the track map:
It's the same old circuit that it's been for as long as I've been watching F1, and that's a really good thing. What we have here is probably the most balanced of tracks on the calendar, in that there's no "technical" section. See, I just cringe when I see "technical" or "stadium" used as a descriptor for a part of a race circuit. It's just a nice way of saying "slow and pointless". For example, please look
at the track map for Interlagos
in Brazil. Can YOU guess what the "technical" section is? If you said "from Turn 7 to Turn 11," you're right! It's just there to slow the track down as the cars go up and down and up and down. Awful.
And Australia doesn't have any of that. Oh, to be sure, you slow down, but it's never for more than a corner, maybe two tops, before you're back to racing. It's organic. It
flows
. It's a challenging layout, but not so challenging to be a bad way to start a season... imagine if Monaco was the first race of the year! HRT would have won every season simply because they couldn't go fast enough to hurt themselves if they bumped into the walls... but I digress. On the whole, drivers uniformly love the track. The single most unique part of the track is that it's very much a street circuit at heart. Almost the entire map can be driven by the public year-round; Albert Park is a working public
park
, after all. There's even one bit that cuts through a parking lot! As the tarmac is really road, that means there's all sorts of oil, transmission fluid, radiator drippings and crud that falls out of working engines over daily use embedded in the asphalt. Throw in the lines painted to signal lanes and the like and you've got what can be a very slippery surface, particularly if it rains... and guess what's in the forecast for Quals and Race Day? Well, at least a chance of the wet stuff. Personally, I don't want it to rain... I want to see these cars out on a dry track so we can get an idea of what's what! Don't get me wrong, rain is fun! Let's have it in Malaysia,
next
weekend.
But before we talk about the second race of the year, we need to see the first. This year, for the first time in my adult life as a F1 fan, the races will not be covered by SPEED. In fact, in a few months, SPEED itself will go away, turned into FOXSports1. Y'know the saying "Meth: Not Even Once"? Fox's version of the aphorism appears to be "SPEED: Not Anymore." I've gone astray again. NBCSN, new channel, new coverage... mostly the same old Legendary Announce Team! Steve Matchett and David Hobbs, the mechanic and the driver, make the move over. Leigh Diffey takes over for The Varsha, a role he's used to as he did the same at SPEED whenever Bob was doing car auction coverage. And, if you trust the tweets, The Varsha may be rejoining the Legendary Announce Team later in the season. Will Buxton's Exuberance remains the pit lane guy. But when do we get to experience this new group? Let's take a look:
THURSDAY
:
11pm - 1230am Practice 1 (delay) on NBCSN
FRIDAY
:
1230am - 2am Practice 2 (live) on NBCSN
SATURDAY
:
1am - 230am Quals (live) on NBCSN
SUNDAY
:
1230am - 3am Grand Prix of Australia (live) on NBCSN
3am - 330am F1 Extra, whatever that is, on NBCSN.
That's right, we get Practice 1 on television now! P3 is probably streaming, but I can't confirm that.
Before we go, I think it'll behoove us to take a look at the driver lineup for 2013... the last time we talked about it, not every seat had been filled, after all. Here we go:
Red Bull
: Seb Vettel, Mark Webber. Really, why mess with a good thing?
Ferrari
: HWMNBN, Felipe Massa. If he beats Vettel for the championship, even I'll put in a good word for The Evil One. If
Massa
beats Vettel for the championship, I can only assume the world is about to come to an end.
McLaren
: Jenson Button, Sergio Perez. So weird to see this team without Shiv Hamilton.
Lotus
: Kimi Raikkonen, Lettuce Grosjean. Kimi knows what he's doing. The same may not be able to be claimed for Lettuce.
Mercedes
: Nico Rosberg, Shiv Hamilton. We've seen the last of Hamilton on the top step for a while.
Sauber
: Nico Hulkenberg, Esteban Gutierrez. With Gutierrez and Perez, we have two Mexican drivers in F1. No Americans, though.
Force India
: Paul di Resta, Adrian
F'n
Sutil. Sutil's back!
Williams
: Papabile Maldonado, Vallteri Bottas. Bottas
has no lips
.
Toro Rosso
: Jules Vergne, Daniel Ricciardo. One is French, the other bland.
Caterham
: Charles ToothPic, Geido van der Garde. I'm gonna have to come up with a nickname for Geido in a hurry.
Marussia
: Jules Bianchi, Max Chilton. Sponsorship!
Here we go, folks. We're just a few days away now...
Posted by: Wonderduck at 08:48 PM | Comments (10) | Add Comment
Post contains 917 words, total size 7 kb.
March 04, 2013
Vodka... Definitely Vodka
For anybody interested, NBC Sports Network will be showing their F1 preview show this coming Thursday at 8pm Central. Oh, and one week from today? F1 on
SPEED
NBCSN for Australia. It's back, my friends.
It.
Is.
BACK.
Posted by: Wonderduck at 10:21 PM | Comments (6) | Add Comment
Post contains 41 words, total size 1 kb.
90kb generated in CPU 0.0221, elapsed 0.2883 seconds.
52 queries taking 0.274 seconds, 280 records returned.
Powered by Minx 1.1.6c-pink.