July 31, 2010
F1 Quals: Hungary 2010
Welcome back to the Bad Old Days. Let's take a look at the provisional grid:
The Red Bull of Seb Vettel was over a second faster than the nearest non-RB6 competitor, the Ferrari of HWMNBN, and nearly half a second quicker than his teammate Mark Webber. To make matters worse, that time was set on his first flying lap in Q3; usually the second flying lap has the faster time. Certainly it was for everybody else.
It may be no coincidence that the first four slots are occupied by cars running what sure appears to be a flexible front wing. Race Director Charlie Whiting has tested the front wings of both the Red Bulls and the Ferraris and declared them race-legal. For all four cars though, video shows the endplates of the front wings nearly touching the ground on the high-speed sections of the track, instead of staying three inches clear as the regulations state. This would have the effect of increasing downforce, thereby allowing the cars to brake later into a turn. It seems telling that the fastest cars through the speed traps were the Force Indias at 186mph, while the Red Bulls were the slowest, nearly 11mph off the pace... yet they're still turning the fastest laps.
And not by a little bit either, but by a dominating amount... just like Ferrari used to during the dark days when Slappy, Rubens and Ross Brawn were making every race into one for third place. As if Hungary wasn't boring enough.
In other news, Jensen Button was the shocker elimination in Q2, just unable to kick himself into the final session. More surprising than that would have to be the Sauber of Pete Rose getting into Q3 for the first time this season. In what is also a first for the year, Vitaly Petrov outqualified his teammate Robert Kubica.
The "duh" moment of the qualifying period has to go to Gandalf. At the end of Q2, he was supposed to pull into the FIA scrutineering garage so his car could be weighed and checked. This happens randomly during quals, and is mandatory. As he pulled into the pit lane, the red light at the entry was on, a FIA marshal was waving and pointing where he was supposed to go... and he drove right on through. "I didn't see him at all," said Gandalf afterwards. "I don't care," said Whiting in reply, "here's a five grid-spot penalty." Which is lucky, because he could have been excluded from the race.
Race is tomorrow morning, F1U! will be along sometime. See you then!
Posted by: Wonderduck at 12:00 PM | Comments (3) | Add Comment
Post contains 594 words, total size 14 kb.
July 30, 2010
F1 Practice: Hungary 2010
No news whatsoever from the track today. Red Bull was fast, Ferrari was too, McLaren is struggling to keep up, etc etc etc
The only bit of any interest at all is the news that Lotus brought out their new chassis today, and it's substantially faster than the car they've been running all year.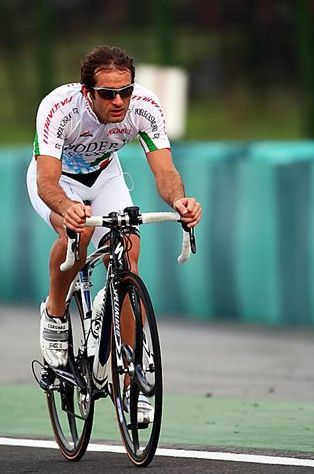 Jarno Trulli testing the new Lotus
I suspect it won't pass scrutineering, and I don't want to be anywhere nearby when they take the fuel sample for testing.

God I hate the Hungaroring.

Quals in the morning.

Posted by: Wonderduck at 05:24 PM | No Comments | Add Comment
Post contains 95 words, total size 1 kb.
July 26, 2010
F1 on SPEED!: Hungary 2010
Okay, let's get this out of the way.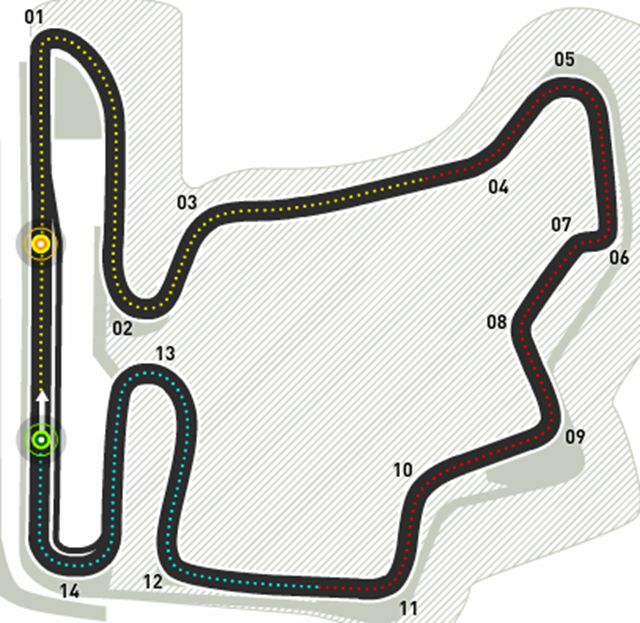 This is the trackmap for the Hungarian Grand Prix. If you think it looks like a Hermann Tilke circuit, you'd be wrong... which makes it all the worse. Slow, twisty, narrow, dusty from disuse, the Hungaroring was constructed in 1986, before Tilke became the unofficial official designer for F1. It does all the same sort of things that your normal Tilke track does: turns perfectly positioned to ruin any chance at passing on a straight, turns too quick to pass on, hairpins too big to turn inside someone (2 and 5, I'm looking at you), even the main straight is one of the shortest in F1. It's the Ur-Tilke Circuit.
The original concept for the layout came from Birdy Ecclestone himself. He wanted a street circuit similar to Monaco built in Budapest... instead, the government of Hungary built the circuit in a nearby park, but used the same basic design. The result? A street circuit without any of the visual appeal of street circuits. The one thing the Hungaroring does well is spectator seating; situated in the bottom of a natural bowl, fans can see most of the track from nearly anywhere but the main grandstands. However, the sandy soil makes the bowl a dusty nightmare to drive in. That natural bowl also traps the heat and humidity of the Hungarian summer. Drivers routinely complain about the temperatures and the bumpiness of the track surface, both of which make life miserable.
On the other hand, I routinely complain about the whole GP of Hungary experience. Now that Magny-Cours is off the calendar, this should be the next track to get the axe... unfortunately, it has a contract through 2016. The only thing that can save a race here from being a processional is rain. Unfortunately, there's only been one rain race here, in 2006... which turned out to be Jenson Button's first victory and perhaps the best race of the year. There IS rain predicted for Sunday, but we all know that forecasts made a week out can change.
The one spot of good news is that we're back to live coverage on SPEED! No more four-hour-tape-delayed coverage, and not as many commercial breaks, too! P2 comes to us live on Friday, from 7am to 840am, with Quals from 7am to 830am on Saturday.
The race will be LIVE on SPEED from 630am to 9am on Sunday morning, with a replay from 130pm to 4pm that afternoon. F1U! will be doing our usual eccentric coverage all weekend, god help us. See you then!
Posted by: Wonderduck at 05:28 PM | Comments (1) | Add Comment
Post contains 436 words, total size 3 kb.
July 24, 2010
F1 Quals: Germany 2010
The 1997 Grand Prix of Europe saw three drivers, Jacques Villeneuve, Slappy Schumacher and Heinz-Harald Frentzen, set identical qualifying lap times of 1:21.072, the closest pole result in F1, and perhaps all of motorsport in general, history. Why does this piece of trivia matter?
Let's look at the provisional grid for the Grand Prix of Germany:
Two milliseconds separate hometown hero Seb Vettel and Ferrari's HWMNBN. Two-thousandth of a second. My back-of-envelope calculations tell me that a car averaging 120mph per lap (note: I have no idea what the average lap speed is at Hockenheim) will move just over four inches in two milliseconds.
Four inches over a 2.842 mile long course. That was the difference between pole position and second place, the second smallest gap in qualifying times in F1 history, behind only the aforementioned 1997 GP of Europe. HWMNBN did not look particularly pleased sitting there during the post-Quals interview session, while Vettel had a smile broad enough that I was afraid the top of his head would fall off.
All the worries about a wet qualifying session ended up for naught, as there was even a bit of sunshine here and there on the track. However, and this news brought a smile to my face, the weathermen are now predicting rain around the time the race is scheduled to begin. Considering the times put up by everybody, it appears that the teams have gone with dry setups, and I
think
everybody was on the super-soft tires in Q3. Certainly the top eight were. I don't remember seeing Rosberg's tires, and Hulkenberg turned a total of one timed lap during Q3 and may not have even been on camera.
In other happenings during the Qualy session, Lucas di Grassi had a breakdown of some sort before he could take to the track. Force India's Adrian Sutil had to change a gearbox before the session, so he'll be given a 5-spot grid penalty and will be starting 19th. His teammate, Vitantonio Liuzzi, had a wicked crash in Q1 that brought out a red flag for eight minutes while debris was cleaned off the front straight. Probably the surprise of the session, though, was the lousy performance of Team Mercedes. Slappy didn't make it out of Q2 and his teammate Nico Rosberg just barely squeaked into Q3 (bumping Slappy out in the process). Hockenheim was originally built as a test track for Mercedes, it's their home circuit, and the company always throws a big bash during race weekend. Heck, the stadium section of the track is
named "
Mercedes" for heaven's sake. A lot of red Teutonic faces today.
Race is tomorrow on Fox... and F1U! will be all over it. See you then!
Posted by: Wonderduck at 08:29 AM | Comments (4) | Add Comment
Post contains 616 words, total size 15 kb.
July 23, 2010
F1 Practice: Germany 2010
If practice sessions are anything to go by, and they usually aren't, Sunday's race at Hockenheim is going to be all about two numbers: 3 and 2.
Three
is roughly the number of seconds faster per lap that a car shod in the Bridgestone super-soft tires can expect to be in relation to the hard compound rubber.
Two
is roughly the number of laps that the super-soft tires will give you before they give up and go south.
This disparity could very well make for some interesting racing come Sunday. Remember that a driver is required to start the race on whatever tire compound he used when he turns his fastest qualifying lap. Will someone make a bid for pole on the super-softs, get pole, but then have to change his tires after only a few laps? Or will someone, lets say Gandalf Kobyashi, run almost the entire race on the hards, then zip into the pits, come out on the stickies, and cause havoc in the standings? It's not impossible that we might even see two or three stops this race if the hards can't stand the gaff.
But then, as if intended to throw everything into a cocked hat, the teams are going to have to deal with the weather, too.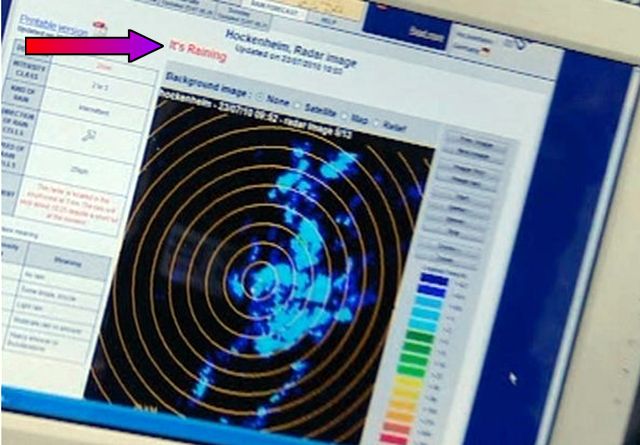 The FIA: Masters Of The Obvious

The Legendary Announce Team described it as "changeable," which doesn't make it sound like so much of a much, but we discovered something about Hockenheim today that I didn't know previously: it doesn't drain very well. Rivers of water were running across the track during most of P2, even though it didn't rain much at all during the session.
It rained quite a bit during the first practice session however, making the track treacherously slick. Lewis Hamilton discovered just how bad it was when he began skidding one way, deftly caught his McLaren, then had the car overcorrect underneath him and go galumphing over the curbs, through the grass and into the tire barrier on the outside of Turn 3. Unfortunately, he hit at a relatively shallow angle and the car wound up rotating around the point of impact, the left-rear wheel. In the process, it broke the suspension on three corners of the car, tore up the bodywork something fierce, damaged the rear wing and diffuser, tore off the nose, and generally beat the thing into a pulp. Reportedly, the undertray was ripped to shreds too, just to make things worse. However, and here's the important part, the actual chassis and monocoque weren't damaged. All the team had to do was hang replacement parts onto the framework of the chassis, scrape the gravel out of the cockpit, and the car was good as new... after a few hours of white-knuckled work by the McLaren mechanics, of course. Much to everybody's surprise, Hamilton got back on track with 15 minutes left on the clock in P2.
The 2008 World Driver's Champion wasn't the only person having problems with the track. Pretty much everybody had at least one or two moments where they did some agricultural driving, and by the time the practice session was over it looked like the track's dry line was about 10 feet to the outside of the curbing on some turns.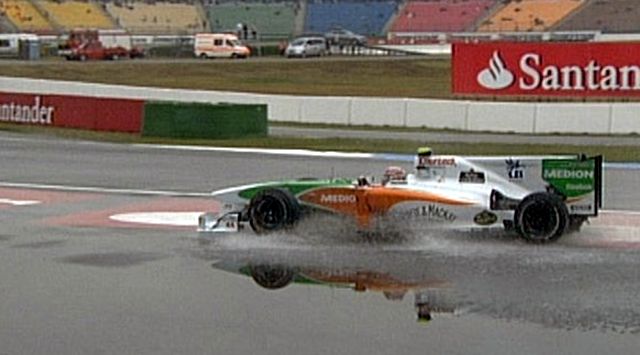 While it's not supposed to rain on Sunday, it IS expected to do so during the Quals session... which, along with the question about the tires, throws us another curveball. Will teams set their car up for the wet weather, hoping to improve their qualifying position, but compromise their setup for the race? Remember, once a car takes to the track at the beginning of Q1, it is in what is called
parc ferme
condition, meaning that they can't be worked on at all without petitioning Race Director Charlie Whiting. Whiting does not approve of such things unless it's a matter of a broken part, for example, and then it can only be exchanged like-for-like. This means no adjusting the setup from wet to dry before the race.
Conversely, a team could go for a dry setup, hurting their qualifying position (and making it easier to wreck the car!) but improving their speed on race day. Or, of course, they could go for an in-the-middle setup and screw themselves on
both
days... I don't expect anybody would do that, but it's an option.
So many questions hanging out there, all to be answered on Saturday morning! See you then!
Posted by: Wonderduck at 07:04 PM | Comments (6) | Add Comment
Post contains 747 words, total size 5 kb.
July 19, 2010
F1 on TV: Grand Prix of Germany 2010
What do you do when you've got two Formula 1-quality race tracks in a country, neither of which are willing to shell out the cash to Birdy Ecclestone to own the GP outright? You alternate the tracks, of course. They did that in Japan for a short time, bouncing between Fuji and Suzuka, but the idea originated in Germany. Last year the German Grand Prix was run on the Nurburgring Jr track. This year, however, it comes back to Hockenheim. Let's take a look at the map: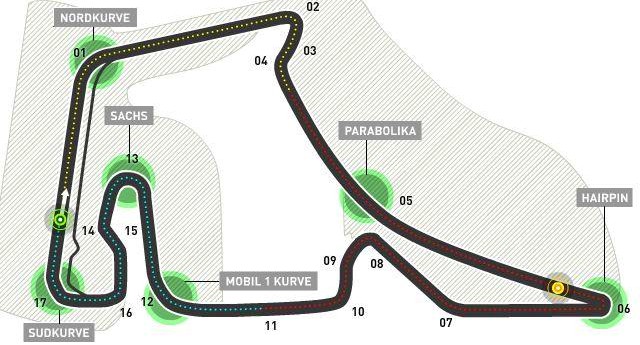 In
its original format
, the circuit didn't have a turn at Turn 2, instead charging out into a forest, then returning and joining the modern track at the Hairpin. It was a frighteningly fast track that had the ability to reach up and
kill even the best F1 driver ever
. Of course, that's too dangerous for today's racing, and rightfully so, and the track owners let Hermann Tilke get his hands on the layout. Now it's just another track.
However, it's a track that the new-spec cars have yet to run on with slick tires, since they raced at the Nurburgring last season. What's really surprising is that Bridgestone has decided to bring the super-soft and the hard rubber compounds to Hockenheim. Now that might make a driver's choice of tires very interesting. The asphalt on the circuit isn't known as being particularly abrasive, but it doesn't baby the rubber, either.
In fact, the whole circuit is sort of like that: it's very much in the middle of the circuits on the calendar as far as difficulty, downforce settings, tire wear, top speed, yadda yadda yadda. I suppose if you want to see just how good your car is, there probably isn't a much better place to find out.
Of particular interest to the fans this time around will be the reception of one Slappy Schumacher and the other German drivers (Nico Rosberg, Seb Vettel, Adrian Sutil, Timo Glockenspiel, Nico Hulkenberg), not to mention two (technically) German teams (Mercedes, BMW-Sauber). Should be raucous.
Well, we'll find out just how raucous the fans get starting Friday from 7am to 840am with SPEED's coverage of the 2nd Practice session. The next day, SPEED brings us Quals, from 7am to 830am.
I'm pleased to say that this will be the final race of the season to be broadcast on FOX, though to be fair, it appears that most of their problems with the Canadian coverage was due to the race being done live. The last two races have been pretty decent, though wayyyyyyyyyy too many commerical breaks for my taste. Anyway, this race will be Sunday from 11am to 1pm, with a replay Tuesday on SPEED, also from 11am to 1pm.
All times, of course, are Pond Central.
Posted by: Wonderduck at 08:18 PM | Comments (1) | Add Comment
Post contains 470 words, total size 3 kb.
July 13, 2010
Top Gear Gets A Visitor
Casual fans of the BBC TV show
Top Gear
are familiar with the segment "Star in a Reasonably Priced Car," where some celebrity shows up and takes an inexpensive vehicle around
Top Gear
's own racetrack. The top star currently is musical artist
Jay Kay
, lead singer of the group Jamiroquai, with a 1:45.8 in the Chevrolet Lacetti, known as the Suzuki Forenza here in the States (for the record, the fastest lap around the track was put in by a RN Sea Harrier, :31.2; the fastest car was Renault's 2004 F1 car, the R24, with a :59.0, driven by The Stig).
What those who aren't particularly familiar with the show don't know is that, occasionally, they manage to score
real
racers for a lap around the track, known as "F1 Stars in a Reasonably Priced Car." Such luminaries as Jenson Button, Lewis Hamilton, Nigel Mansell, Mark Webber and Damon Hill have turned laps, with all coming behind The Stig's 1:44.4.
Last night, they snagged Rubens Barrichello.
It's remarkable how not tall Barrichello is, particularly standing next to 6'5" Jeremy Clarkson. He's very small. I knew that F1 drivers are usually short, but it's still a shock every time one sees that fact. Anyway, in his day job, he drives a F1 racer, capable of 205mph on the right track, with enough grip to pull 5Gs in the turns or under braking. But what is he driving for this lap?
A Suzuki Liana, the same as every other F1 driver. Rubens' reaction?
He drove the same line that The Stig takes around the track, unlike just about every other F1 driver, who tend to go a lot wider through the turns to keep their speed up.
And what was the result?
more...
Posted by: Wonderduck at 08:01 PM | Comments (5) | Add Comment
Post contains 384 words, total size 3 kb.
July 10, 2010
F1 Quals: Great Britian!
Hoo-boy, is this gonna be an ugly race tomorrow. Let's take a look at the grid:
Another RedBull one-two, but at least in the past someone has been able to challenge them a little bit. Not here, not today. Today, Seb Vettel and Mark Webber dominated Silverstone completely and utterly. When you have the only cars turning sub-1:30 laps and the nearest competitor is almost 3/4th of a second behind, you know you're doing something right. Nowhere on the circuit did the RB6 seem to have a weakness that somebody could possibly exploit for some momentary gain. The only thing that appears to be able to do them in on Sunday is mechanical difficulties, and while that may be a thin reed to cling to, you'd best believe that it's possible. During Saturday's final practice session, Vettel was having a routine lap when his nose fell off.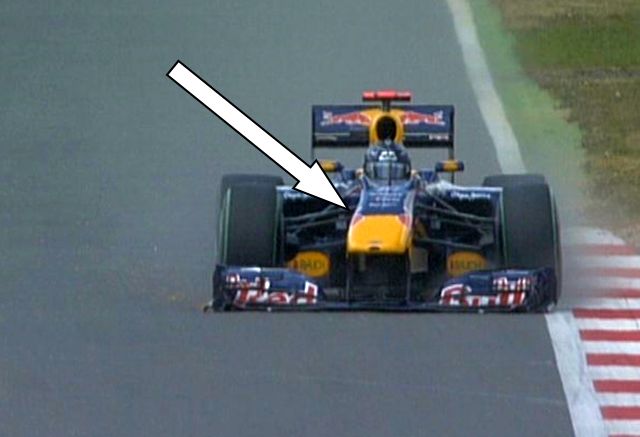 You can see that the wing is askew and actually dragging on the ground. It's hard to spot, but the nosecone of the car is actually separated from the chassis right where the arrow is pointing. The mounting points for the top of the nose failed, and while Red Bull have replaced both the mounting points and the mounting pins on Vettel's and Webber's cars, it can't be a big confidence boost for the drivers. Kind of like how Seb Buemi must have felt when the wheels
blew off his car
.
Behind, very far behind, the front row we find the usual suspects... except for one. Jenson Button doesn't much care for Silverstone. Certainly it's his home circuit, and yes indeed he likes driving here he says, but he's had a dog's luck at this place. "The car is undriveable," was the call over the radio, "there's no rear grip." The best the reigning World Driver's Champion could manage was 14th, and he may have been lucky with that.
Sharp-eyed readers might notice that Bruno Senna's name is missing from its usual place at the bottom of the timesheets. It appears that HRT is in something of desperate financial straits at the moment, if rumors are to be believed. Creditors are reportedly baying at their door, and in an attempt to get some fast cash they sold his seat for this race only to former SuperAguri driver Sakon "Admiral" Yamamoto. At least, that sure seems to be the way it looks; Senna is physically healthy, and other than his sponsors not paying their bill to the team, there's no obvious reason that he wouldn't be driving. I have a bad feeling about this.
Now, about the new "Arena" portion of the Silverstone Circuit. Reviews are mixed, all in all, with some drivers loving it, while others just can't stand it. What nobody likes is how slippery the new surface is, and how bumpy the tarmac is. Particularly bumpy is the spot where the old layout meets the new. What was supposed to be a fairly fast bend now has an incredibly rough patch right in the middle of it. Just watching cars cross it is scary enough, I can't imagine how it feels to be in the car when it goes over this washboard at speed... with an unsprung suspension, no less. The Legendary Announce Team's tech wonk, Steve Matchett, says that cars all up and down the pit lane have been suffering damage from the bumps, the track surface already has gouges taken out of it, and it seems quite possible that Vettel's amazing removable nose trick may have been aided by the vibrations caused. Should make for some interesting times tomorrw, all in all. We'll be here after the race with F1U! See you then.
Posted by: Wonderduck at 01:36 PM | Comments (7) | Add Comment
Post contains 776 words, total size 15 kb.
July 09, 2010
F1 Practice: Britain! Cancelled
I've often said that the only reason I watch practice sessions is to get used to the circuit. Well, maybe I'll watch a bit of it later, but for now there will be no coverage of Friday's 2nd Practice from Silverstone. To be honest, life has gotten in the way... worked this morning, then went to lunch with Ph.Duck and three of my relatives (distant but close, if that makes sense), and in a short while The Librarian should be coming over. By the time she moseys off, it'll be late and I'll be exhausted.
See, currently there's no air conditioning at Duck U. Last year the chiller system for the U shuffled off this mortal coil. The Powers-That-Be brought in a temporary unit (really neat, actually; mounted on a semi-trailer) and ordered a permanent replacement unit to be delivered in May of this year.
The manufacturer failed miserably. It didn't show up until just a few weeks ago, and it has been VERY hot and humid around Duckford recently. In fact, it hit 91 on Tuesday and Wednesday.
Unfortunately,
that was in the store
. And on Tuesday, we got our big shipment of used books for the Fall semester. Of course, the freight driver refused to deliver the 73 boxes into the store (like he was supposed to) because the loading dock is a little short. So guess who got to do it? Ugh.
As a result, this four-day week was very long, very uncomfortable, and very very draining. So I suspect that I'll be asleep fairly early.
Quals in the morning, THAT I'll be all over like a cheap suit on rice.
Or something like that.
Posted by: Wonderduck at 05:32 PM | No Comments | Add Comment
Post contains 282 words, total size 2 kb.
July 05, 2010
F1 on TV: Grand Prix of Great Britain 2010
People say that Monaco is the soul of Formula 1, and surely that's where the big deals usually get done in the sport. After all, who in their right mind would turn down a fully-paid business trip to Monte Carlo on F1 weekend? Right, nobody.
But if Monaco is the soul, the home of the British Grand Prix is the heart of the sport. Silverstone was the site of the very first official World Championship F1 race in 1950, and most of the teams are based within easy drive of the track. Heck, Force India's site is located literally across the street from the entrance.
But with Birdie Ecclestone in charge of track choices, the heart has changed. Let's take a look at the track map: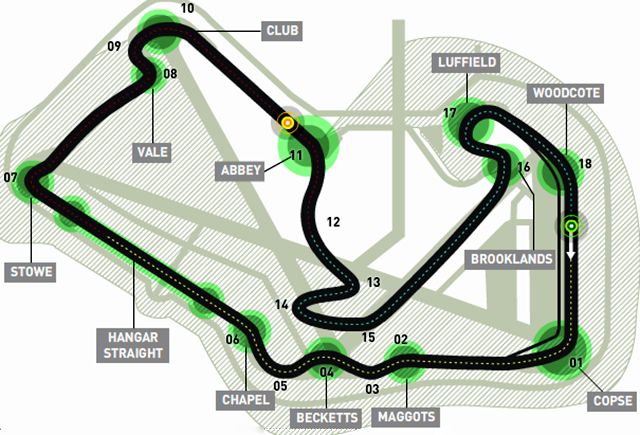 Ladies and Gentlemen, may I introduce the Silverstone Arena Circuit layout. The original, familiar layout used to follow the green more-or-less horizontal line from Abbey to Brooklands. The new Arena layout is about 780m longer, and was created so the circuit could host a round of the MotoGP motorcycle championship when it looked like F1 would be moving to Donington Park.
I'll be curious to hear the driver's opinions on the new section. It looks like it'll make the track a little faster overall. The stretch from Abbey to Turn 13 will probably be a flat-out sweeper, and the run from 14 to Brooklands probably won't require any braking in the least. All of this
might
add three more opportunities for passing (13, 14 and the reduced-radius Brooklands), or it might just end up doing nothing. I suspect the latter, but we'll see.
Still and all, Silverstone still has my favorite conglomeration of turns, the Maggots-Becketts-Chapel complex, so I'm happy. Probably F1's ultimate high-speed rhythm sequence, if I was given access to one place on the F1 calendar, even if it wasn't a normal spectator spot, I'd choose the inside of Becketts, pretty much right where the number "04" is on the map. Seeing the cars change direction on a dime like they do there must be an awe-inspiring sight. For the record, second choice would be at the crest of the hill of Eau Rouge, third would be inside the tunnel at Monaco. Fourth would be somewhere on the pit wall of any race. But I digress.
For a relatively high-speed circuit, the usual setup for the cars sees a medium level of downforce. There's just enough tight turns to make it worthwhile to go a little slower on the straights. "Ya gotta go slow to go fast" isn't just an overused aphorism, it's also the truth. Stowe, Vale, Turns 13 and 14, and the M-B-C complex all scream for a ton of grip. So you crank on a bit more wing and smirk when you slotcar through the turns while everybody else slops around. Still haven't heard about the tire compounds that Bridgestone'll will be bringing, but I'd guess supersoft/medium. I don't remember the track surface as being particularly abrasive.
Well, we'll find out beginning Friday morning, from 8am to 940am, with SPEED's coverage of the 2nd Practice session. Quals airs from 7am to 830am Saturday morning, also on SPEED.
The race, however, will be from 11am to 1pm on Sunday. This will be the third of four FOX races, so check your local listings, just in case. All times are, as usual, Pond Central time.
Hopefully Mark Webber won't go for any more unscheduled flights... though Silverstone is an old RAF base, let's leave the airshow stuff to the Red Arrows.
Posted by: Wonderduck at 10:24 AM | Comments (5) | Add Comment
Post contains 599 words, total size 4 kb.
107kb generated in CPU 0.0322, elapsed 0.6196 seconds.
52 queries taking 0.6042 seconds, 281 records returned.
Powered by Minx 1.1.6c-pink.