May 27, 2012
The Greatest Day In Motorsports
Every year, this particular Sunday is called "The Greatest Day In Motorsports." It's hard to disagree... you've got the Grand Prix of Monaco, the Indianapolis 500 and the Coca-Cola 600 all running, one after the other.
I watched all three, and almost every lap. Out of a possible 1261 miles, I saw 1211. That's enough motorsports for one weekend.
Posted by: Wonderduck at 09:10 PM | Comments (1) | Add Comment
Post contains 64 words, total size 1 kb.
May 26, 2012
F1 Quals: Monaco 2012
No
.
No no no no no
.
No no no no no no no no no no no no no no no no no no no no no no no no no no no no no no no no no no no no no no no no no no no
. Here's the provisional grid for the 2012 Grand Prix of Monaco:
Good news! Slappy
isn't on pole
!
Yes!

YES
! If you'll remember, he was penalized five grid spots for his Moooooo-ooove of the Race at Spain, when he drove into the back of Bruno Senna's Williams. For once, justice is served to Slappy, and it is served in heaping teaspoons of bile and spite... and it is AWSUM! Meanwhile, the winner at Spain, Pratiprasth
ā
tr Maldonado, went insane during P3 and drove across the nose of Sergio Perez, much the same way he did to Lewis Hamilton last year. However, these extracurricular activities on Maldonado's part may have led directly to Perez wrecking in Q1 when it looked like his steering failed in the Swimming Pool. Maldonado was peanlized 10 grid spots.
The upshot of all this is that we've got a fine shot of having our sixth winner in six races on Sunday, as Mark Webber is promoted to pole, Lewis Hamilton to 3rd and Lettuce Grosjean to 4th. It'd take Lettuce winning to give us our sixth team winning as well, which I'm gonna guess is unprecedented in F1 history. How cool would that be?
Considering how this year has gone so far, I wouldn't bet against it happening. See ya tomorrow!
Posted by: Wonderduck at 01:01 PM | Comments (7) | Add Comment
Post contains 432 words, total size 16 kb.
May 24, 2012
F1 Practice: Monaco 2012
Well, in the televised Practice 2, it rained. It rained just enough to be too wet for slick tires, but not enough for the intermediate rain tires. In racing parlance, the circuit was "greasy," except greasy at Monaco is a different cup of meat from anywhere else. As the Legendary Announce Team pointed out, at its heart the Principality of Monaco is still a functional fishing village. Okay, yes, it's the richest fishing village in the world, but the harbor isn't
always
filled with yachts. And working harbors need trucks, and buses, and street cars, and Vespas, and they
all
drip and spit and hork oil and radiator fluid and transmission fluid and the stuff that goes in the windshield wiper tank, and all of this cocktail of maliciousness winds up being leeched out of the asphalt when it rains. And F1 tires don't like it much.
Which explains why seemingly half the field ended up sliding into the runoff area at Mirabeau in the course of ten minutes towards the end of the session. The bad news is that it isn't supposed to rain on race day. The good news is that
Quals
could be wet, and that's almost as good. Could we see Heikki Kovaleinninninnie on pole?
Only if he doesn't blow another engine. He managed to bring P1 to an end nine minutes early when his lump went kablammo! and he killed every mosquito in the Tunnel. Unfortunately, the smoke just sort of lingered in the enclosed space. Combined with the oil he spilled, that was enough for the track marshals to throw the red flag and end the session early.
So to recap: the teams are going into a Quals session on the most difficult circuit on the calendar having gotten roughly nothing as far as data collection goes from the Practice session that's used for setting up the car, while knowing that there's probably going to be a 180° swing in weather conditions just to make things interesting.
I suspect that at times like these, the mantra up and down the pit lane is "if it was easy, everybody could do it." Should make for fun watching, that's for sure... but we'll have to wait until Saturday. See ya then!
Posted by: Wonderduck at 06:30 PM | Comments (7) | Add Comment
Post contains 379 words, total size 3 kb.
May 21, 2012
F1 on SPEED!: Monaco 2012
Monaco. The world's second-smallest sovereign country at 0.79 square miles. Home of the world's highest life expectancy: 90 years. The lowest unemployment rate in the world: 0.00%. The average GDP per capita is $172,676, unsurprisingly the highest in the world. Also unsurprisingly, real estate prices are out of this world in Monaco: just over $56,000 per square meter. Despite being smaller than the entire campus of Duck U., its banks hold just over €100 billion in funds.
Sounds like a great place to have a little car race. Here's the track map for the 2012 Grand Prix of Monaco:
There is no more famous F1 race than Monaco, nor one more prestigious. Indeed, it is undoubtedly on the short list for the title of "Greatest Car Race," with the other two entries in racing's unofficial "triple crown," the Indianapolis 500 and the 24 Hours of LeMans. Though the track is, without a doubt, the most dangerous and perhaps worst on the F1 calendar in terms of actual
racing
, it still appears on the calendar every year... because everybody involved loves it.
This is F1's only original-style street circuit. To be sure, the track at Valencia meanders its way through that city's harbor area, but over extra-wide tarmac designed to be raced upon. Singapore runs hither and yon through that city-state's Marina Bay district, but is wide and airy in comparison to Monaco. Here, the streets are narrow, lined with Armco and covered with oil from leaky trucks and buses. You might be able to get three cars side-by-side, not that anybody would be stupid enough to actually try that. Two cars is the functional limit, and only with a steely glare, clenched teeth, a firm jaw, and dozens of brooms standing by to clean up the carbon fiber shards. It's a circuit where a mistake, no matter how small, usually ends up with a car in the wall.
Right,

Tabac

. Left, the run to

Beau Rivage

.
It is also the F1 circuit that allows for the most glorious visuals on the calendar. Nowhere else can a fan get so close to the track than Monaco... if you have the cash, the cafe at Anthony Noghes is the most exclusive seat in the world, unless you prefer to moor your yacht in the harbor (and you're lucky enough to win a Zone 1 slot for the weekend)?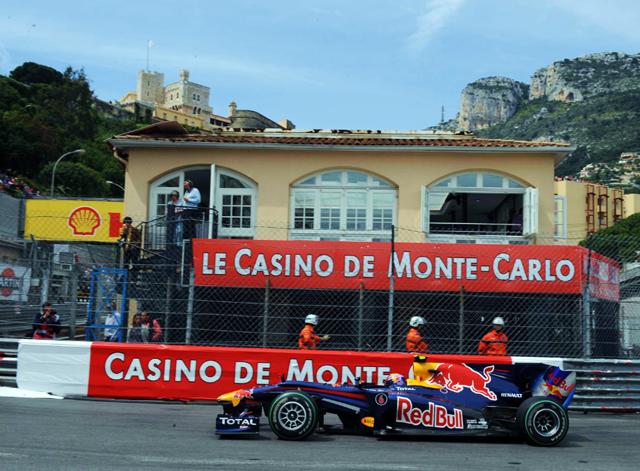 It's the slowest circuit on the calendar, with two turns forcing the cars to go as slow as 45 miles/hour or less. The fastest point on the track would be through the famous tunnel section, where the cars will get up to 160-170mph before heading quickly downhill into the simply-named Chicane. It was here that saw Nico Rosberg narrowly avoid a tremendous accident last year, and
Sergio Perez pointedly not avoid one
. As a result of those mishaps, there have been some changes made to the circuit in that area. The hideous bump at the exit of the tunnel that's been the cause of so many wrecks in the past few years has been removed (allegedly), and the TecPro barrier that Perez hit has been moved back about 30 yards. The rest of the circuit remains unchanged.
As is usual, the
bon hommes
of SPEED's
Mythique
Annoncent
Equipe

will be bringing us the usual superior coverage of every session. Here's the schedule:



THURSDAY


P1: 3a - 430a streaming
P2: 7a - 840a live


SATURDAY


P3: 4a - 5a streaming
Quals: 7a - 830a live-ish


SUNDAY


Grand Prix of Monaco: 630a - 9a live.

Yes, Thursday. As is tradition at Monaco, Practices are on Thursday, Friday is a "quiet" day, certainly to let the residents of the Principality come home (or head for the hills).

F1Update! should be here all weekend, so stay tuned!

Posted by: Wonderduck at 07:58 PM | Comments (6) | Add Comment
Post contains 634 words, total size 5 kb.
May 12, 2012
F1 Quals: Spain 2012
Well,
that
was unexpected... which, considering how this season is going, I probably should have expected. Let's get the mental conundrums behind us and take a look at the provisional grid for Sunday's Grand Prix of Spain:
We'll cover the most obvious bit first: Lewis Hamilton, who earned pole by nearly a half-second over the surprising Williams of Primate Maldonado, has a big black "DSQ" by his name. That stands for "Disqualified," which is what he was from the Qualifying session. After he made his final pole run, the McLaren engineering mavens told him to pull over on-track. Y'see, there is a rule saying that a car must have a liter of fuel presented for scrutineering after Quals, and it appears that the team maybe didn't put enough gas into the MP4-27 to get him all the way around and be able to provide that liter. However, there's another rule in Quals: a car must be able to return to the pits under its own power, except in cases of
force majure
. In FIA-speak, that means if the car breaks down on the way back to the pits, it's not in violation of the rules, essentially.
McLaren immediately said to the stewards that running out of fuel was a case of
force majure
. The stewards, quite rightly, laughed in their faces, stating that the amount of gas in the tank was entirely up to McLaren, and if they didn't have enough to get him around that was their problem. They then said that he was out of Quals. He'll still be allowed to participate in the race though, as long as he starts 24th.
So this gives Primate Maldonado his first ever pole, and Williams their first pole since the 2010 Brazilian Grand Prix. This result, however, was no surprise. He was obviously quick all day, it was just a question if it would be fast enough to beat Hamilton. As it turned out, it wasn't, but in a way it was.
The other surprise in Quals was that both Mark Webber and Jenson Button went out in Q2, caught in the pits with safe lap times... safe until a large cloud moved over the circuit and lowered the temperature of the asphalt around about 1°C, or just enough to make the soft tires come alive. Heck, Seb Vettel went from 2nd to 8th in Q2 in the space of a commercial break as the track just got faster and faster. He got away with it, Webber and Button didn't.
We're still awaiting word as to whether or not Kittylitter will be allowed to race; when he DID get to run in practice, he was setting times well within the 107% rule. In Quals, he had all sorts of technical issues that really prevented him from showing a representative time. We'll see, but my guess is that he'll get to run.
Race in the morning, F1U! sometime thereafter!
Posted by: Wonderduck at 04:10 PM | Comments (3) | Add Comment
Post contains 658 words, total size 18 kb.
May 11, 2012
F1 Practice: Spain 2012
Lots of little things today from the world of F1, now centered wholly in Barcalounger, Spain, so let's get right to the news bits so I can crawl into bed and pass out before Duck U's graduation on Saturday.
First up, since this is the first time F1 has been in Europe this year, we've seen a proliferation of new parts appearing on the cars all up and down the pit lane. The biggest and most obvious change has to be McLaren. As you may remember, this is what the MP4-27 looked like at the pre-season rollout:
Well, here's what it looks like now:

No optical illusion here; the nose is substantially higher than it was. Of course, McLaren is trumpeting this as if it's the second coming of active suspension and ground effects. Well, actually, they aren't, but they do think that the simple act of putting the nose u[ a few inches will account for roughly 20% of their downforce improvement. Now, they didn't mention just how much improvement there was, but Jenson Button was fastest in P2 today. Then again, how big a shock is that?
What
was
a surprise was the man driving the Caterham in P1 today.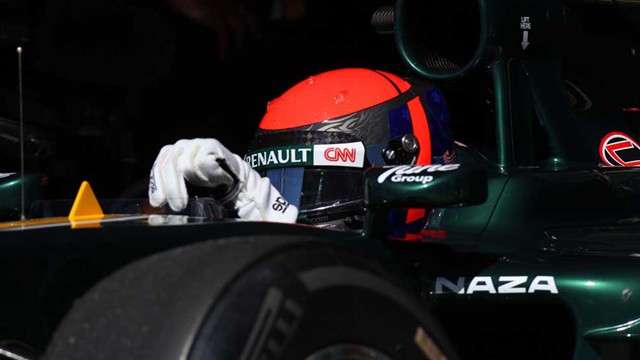 For the first time since American Scott Speed was unceremoniously booted from Toro Rosso on July 31st, 2007 (replaced by a young German named Seb Vettel), the Stars and Stripes are being represented in F1. Alexander Rossi of Auburn California got his first taste of a F1 weekend when he sat in for Heikki Kovaleinninninnie in the morning session. While he finished nearly a second behind The Red Menace, he wasn't out there for ultimate top speed. These practice sessions are more and more replacing testing, so he was basically told to go out and run laps at such-and-such a pace... and that's what he did. There's a school of thought that he'll be driving for Caterham next year... how cool would that be?
In "roll your eyes, big surprise" news from P2 today, Narain Kittylitter, out for most of P1 with an electrical fault, made it a grand total of three corners in his HRT before he suffered an electrical failure. Good to see that HRT is doing their level best to be the level best they can be.
Quals tomorrow, report sometime in the afternoon, after I get home from selling last minute cap'n'gowns to panicky Duck U Grads-to-be!
Posted by: Wonderduck at 07:47 PM | No Comments | Add Comment
Post contains 407 words, total size 3 kb.
May 07, 2012
F1 on SPEED!: Spain 2012
It has been a while since Bahrain, hasn't it? Still, the form of motorsport that we all love/like/tolerate/whichever is back with the opening race of the so-called European Leg of the calendar. That's right, F1 is returning to Barcelona, Spain! Let's take a look at the track map, shall we?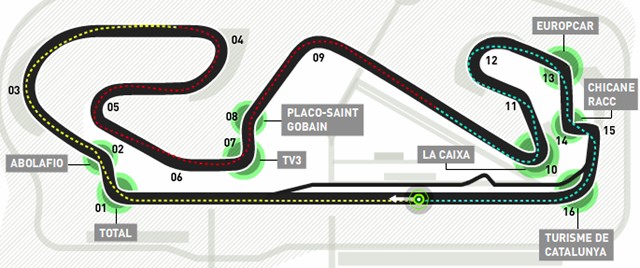 On the whole, I don't mind the Circuit de Catalunya. In many ways, it's a very good track. It's a mildly challenging circuit, but not so hard as to be difficult to drive. It's fast, but not so fast as to ignore low-speed handling. It's a relatively new track, being opened in 1991, but not so new as to have the taint of Hermann Tilke hanging over it. It's not a particularly good circuit for passing, but it has its moments, and with KERS/DRS there's enough to entertain. Yet there hasn't been a good dry race at Barcalounger in a decade, if not longer. What's the problem?
The problem is twofold. One, THERE IS NO PROBLEM. It's a run-of-the-mill track, meaning in effect that it's dull as dishwater. It's just...
there
. I've never really heard a driver praise the circuit much, nor trash it. In the world of the F1 Circus, decked out in a tent of thousands of colors, Barcalounger is a uniform beige.
The second problem is that it's such an average track, in such a generous climate as Spain, that every team loves to go to the test sessions there, and indeed, F1 has tested there every year the layout has been open. The upshot to this is that there will never,
ever
, be a surprise here. The teams know the placement of every bump in the circuit, every crack in the asphalt, they know the chemical makeup of the paint used on the curbs, hell, even what type of kittylitter is used in the run-off areas. Because they know everything there is to know, there's nothing the track can do to affect the race itself. That's good, in a way, as it leaves it up to the cars and drivers... but when the cars are so close in performance, and the drivers are the same way, it becomes a simple processional, guaranteed. There IS a chance of rain in the forecast for Sunday, so there is that.
Whichever way it goes, los hombres buenos de la SPEED will be bringing us their usual excellent coverage, both online and on TV. Here's the schedule:
Friday
:
P1: 3a - 430a streaming
P2: 7a - 840a live
Saturday
:
P3: 4a - 5a streaming
Quals: 7a - 830a plausibly live
Sunday
:
Grand Prix of Spain: 630a - 9a live
Of course, F1Update! will be all over it, just like Wonderduck is all over a duck chow enchilada with a side order of refried beans. See ya then!
Posted by: Wonderduck at 08:18 PM | Comments (5) | Add Comment
Post contains 472 words, total size 3 kb.
85kb generated in CPU 0.0199, elapsed 0.359 seconds.
50 queries taking 0.3456 seconds, 272 records returned.
Powered by Minx 1.1.6c-pink.