May 23, 2019
Motorsport Holiday!
That's right, it's Memorial Day weekend here in the US, and that means it's time for all auto racing fans to plop themselves down on the couch with the remote, a bag of chips, and just spend the entirety of your Sunday watching car races!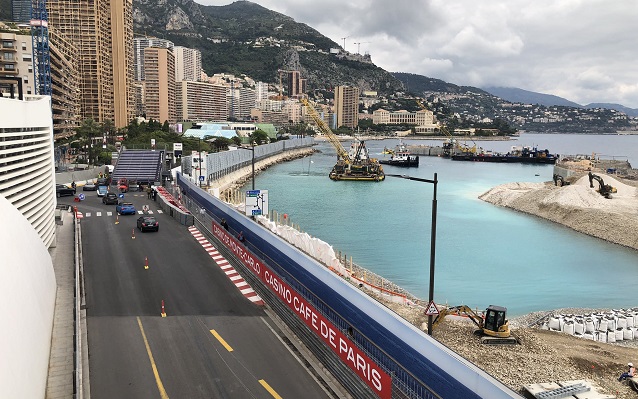 First off is Monaco, and we probably won't be seeing
this
view all that much. Monaco is dredging out tons of silt from near the Tunnel exit, so as to create a firm base for some land reclamation. It's supposed to be finished by 2022, at which point the run from the Tunnel will be much more dramatic, going between highrises and the like.
There will be a sense of sadness around Monaco this year though. Just this past Monday two-time Monaco winner and three-time World Driver's Championship winner Niki Lauda passed away at the age of 70. By now you know the story of his terrible fiery accident at the Nurburgring, how it severely burned his head and neck, and worst of all inhaling hot gases scorched his lungs. At one point comatose, he was given Last Rites. And then, because he was a bad-ass, Lauda came back six weeks later to race at Monza, because there was a championship to be won. He finished fourth. A reporter says that after the race, Lauda had to peel bloodsoaked bandages off his head. He went into the final race at Mt Fuji Circuit in Japan three points up on rival James Hunt. Due to terrible rains, he withdrew, stating it was too dangerous. He wound up losing the championship by one point. The courage it took to get back into the car only 40 days after nearly dying was immense... he has since said that he was absolutely terrified. In recent times, he'd been an adviser to Mercedes. He had a lung transplant last year, and was undergoing dialysis treatments of late when he died. I don't use the term "hero" very often, but we are not likely to see the level of heroic bravery it took for him to drive again. Fortunately, we are in a time where we most likely won't see similar circumstances arise.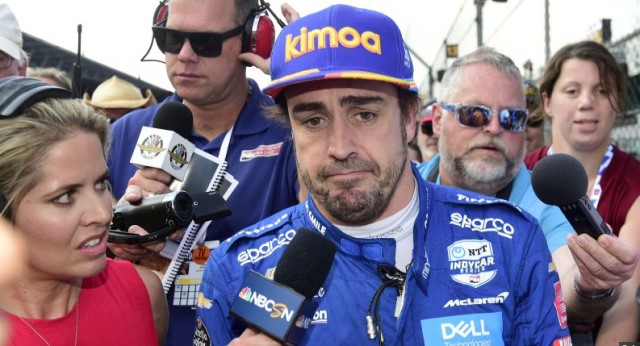 Speaking of not seeing things, we won't be seeing Fernando Alonso in this year's Indy 500. The McLaren effort failed to give him a car able to qualify in the top 33, being bumped at the very last moment possible. I suppose if another team withdraws, he'd be allowed in, but... not likely to happen. I'll admit, that removes a lot of interest in the 500 for me, but what the hell, it's only once a year and it's THE biggest race in America. Right?
Then in the late afternoon/early evening, NASCAR brings us the Coca-Cola 600 from the Charlotte Motor Speedway. I have very little to say about this race; I haven't paid any attention to stock car racing this year at all. But it makes the three-race extravaganza complete, so it is not to be scoffed at.
Monaco is at 8am Pond Central, Indy around 11am, and the 600 is at 5pm. That makes it look like there's a few hours between the end of the 500 and the beginning of the NASCAR race, but wait! Some bright spark at ABC noticed that gap, and decided that we'll be seeing the Monaco GP on tape-delay on the network beginning right about 2pm. One could literally go from 11am to roughly 9pm watching autoracing. For those of us who prefer NOT to wait, ESPN2 will have Monaco at the correct time.
So... I've got chips. I've got gatorade. There will probably be pizza. Lets race!
Posted by: Wonderduck at 01:41 AM | Comments (6) | Add Comment
Post contains 610 words, total size 4 kb.
May 08, 2019
Oh Look... Spa!
In the past, during the various F1U!s for the Grand Prix of Belgium at Spa-Francopants, I've said that rain is always a possibility. That's just the way Spa do. This past weekend, the World Endurance Championship held the Six Hours of Spa, and the skies were quite nice to begin... but rain is always a possibility, right?
...I'm fairly sure I've never said SNOW was a possibility. Ye cats and little fishes.
Hey... LeMans is coming up, isn't it? Mid-June... hope it's gonna be on TV here, I can't find anything about who's broadcasting in the US.
Posted by: Wonderduck at 08:25 PM | Comments (5) | Add Comment
Post contains 100 words, total size 1 kb.
30kb generated in CPU 0.0222, elapsed 0.7489 seconds.
46 queries taking 0.7387 seconds, 244 records returned.
Powered by Minx 1.1.6c-pink.