June 30, 2011
HRT Hates India!
Did HRT's team principal Colin Kolles once have a bad tikka masala or something? Last year, the weekend before the 2010 British Grand Prix, the team jettisoned Cowboy Karun Chandhok from its lineup for Sakon Yamamoto. Today, the weekend before the 2011 British Grand Prix, HRT demoted Narain Kittylitter into their reserve driver slot, replacing him in the race seat with Australian Daniel Ricciardo.
A heckuva birthday gift for the to-be-22-year-old, who's birthday is Friday. Ricciardo has been behind the wheel of a F1 car before, as he's been a Friday driver for Toro Rosso. Somewhere, NKOTT (Jaime Alguersuari) is breathing a sigh of relief. Ricciardo had been looming large in the shadows as the Toro Rosso driver had a lousy beginning to the season, leading many to believe that he'd take over NKOTT's seat.
Back at HRT, it's no surprise that everybody expects to see Kittylitter behind the wheel again, conveniently in time for the first Grand Prix of India... particularly because TATA Motors, India's largest automobile maker (and the world's 4th largest manufacturer of trucks and 2nd largest maker of buses) sponsors the team. Yeah, Narain'll be back, no question.
Meanwhile, the guys over at Force India have to be muttering bad things about HRT, wouldn't you think?
Posted by: Wonderduck at 09:13 PM | Comments (1) | Add Comment
Post contains 213 words, total size 1 kb.
June 25, 2011
F1 Quals: Valencia 2011
A beautiful day at Valencia for the Qualifying round of the 2011 Grand Prix of Europe. Would the rules changes make a difference, would it be much ado about nothing? Let's take a look at the provisional grid:
A surprisingly undramatic Qualifying session today, to be honest. There was a red flag in the middle of Q2 when Bhikshu Maldonado's Williams had a gearbox failure of some type, bringing him to a halt in the middle of the track. Since they had to crane him off the course, the flag was thrown, but it was only for a couple of minutes and did not appear to disrupt anybody's qualifying plans. Even Q3 felt unexciting: the most tension involved was wondering if Heidfeld and Sutil would come out for a lap in the session. Neither did, realizing that the best they could likely do is ninth place. By not coming out, they've protected a set of soft tires. Kinda sad when that becomes more important than trying to improve your slot on the grid, but there you are.
The high point of Quals was undoubtedly Vettel's pole-winning lap, as it was the fastest a car has gone around the Valencia Street Circuit ever. Nobody has broken into the 1:36s before the Red Bull did today. So much for engine mapping restraints leashing the Bulls.
We don't know what the race will bring of course, but one would be a fool if you didn't think we'd have a Red Bull runaway. Of course, Vettel has been hard-pushed the last two races and cracked under the pressure in Montreal, so it's not impossible that we'll have a good race.
We'll see tomorrow, and F1U! will be there as soon as we can... since the race is tape-delayed here in the US, it won't be starting until 11am Central. See ya then!
Posted by: Wonderduck at 10:01 AM | Comments (3) | Add Comment
Post contains 475 words, total size 16 kb.
June 24, 2011
F1 Practice: Valencia 2011
So it was another dull practice session today, lots of cars just turning laps. HWMNBN was fastest in P2, just ahead of Lewis Hamilton, Seb Vettel and Slappy Schumacher. All four were separated by less than 6/10ths of a second, so it truly could be anybody on pole...
if
you put any stock in practice session times, which I don't.
However, this race will be the first with a new set of rules. The FIA stepped down from on-high and decided that teams are no longer able to adjust electronic engine mapping between Quals and the race. This
actually makes sense
. Once Q1 begins and a car crosses the pit-out line, it is then considered to be in
parc ferme
condition and only the most minor changes can be made (wing settings, mostly). After a car is eliminated from Quals (or makes it through Q3), the teams are basically unable to even touch the chassis. Yet prior to this weekend, they could hook up a computer to the car and reprogram the Electronic Control Unit, basically telling the engine "hey, we want you to work
this
way now." No longer. There are pernicious rumors going around that this trick is one of the major reasons Red Bull has been so good in Quals: they had found a particularly hot combination of settings on their ECU. It probably wouldn't last a full race distance without causing the engine to grenade, but it didn't have to: they could just change it to something more suitable for Sunday. I don't know that I entirely believe it, yet it's awfully strange that their Renault engine outperforms RENAULT'S Renault engine. Guess we'll find out on Saturday.
But that's not the only rule change coming down the pike, oh no. Many teams have been doing some very clever things with their diffusers this season, directing their exhaust gases over it to get extra downforce. Now, this seems counter-intuitive: you get the most powerful exhaust stream when you're accelerating, which is when you want it the least. Conversely, when you're braking for a turn, you want more downforce, but you've probably got your foot off the throttle at that time, meaning less exhaust and therefore less downforce. The engineering boffins have figured a way around this however, and now have a "constant flow" exhaust. In effect, the same amount of exhaust is blown out the tailpipes, no matter how hard you're pressing the go-fast pedal. If you've watched any races this season, you've surely noticed the flatulent sound that the Mercedes and McLaren make when they brake for a turn... that's from the constant flow exhaust kicking in. At the beginning of the season, the FIA was fine with this, but they changed their mind a few races ago... effective at the next race (Silverstone), this technological trick is banned.
As you can imagine, the teams are screaming bloody murder about these (mostly unprecedented) mid-season rules changes. Particularly with the constant flow exhaust, their argument is that the removal of these things will make the cars much less balanced, and therefore less safe. They have a point; F1 cars are remarkably sensitive to any changes in their aerodynamics. While unlikely, it's not impossible that, say, the Red Bull chassis (for example) will become flat-out dangerous without this extra downforce. Still the FIA is going ahead with it, and the teams much follow suit. Please note that the Renault's forward-facing exhaust is
not
included in this... though if they're running the constant flow technology through it,
that
is. The British GP might be even more interesting than normal.
This is going to be the first race where the hard tire will be the new medium compound rubber, which Pirelli has reformulated to last somewhat longer than it used to. As we've seen in the past, however, the hard tire is still trending around 1.5 seconds slower than the softer rubber. I suppose I really should use the phrasing that F1 uses to describe the tires: "Prime" for the harder tire and "Option" for the softer. It might make it less confusing to... well, just about everyone.
Just like in Canada, there are two DRS activation zones, but only one detection zone. The detection zone is, essentially, the bridge between Turns 9 and 10. The activation zones are from just after Turn 11 to Turn 12, then from 14 to 17. Once again, this means that someone can pass using DRS in the first stretch, then continue using the movable rear wing to create a bigger lead without fear of response. I'm sure you're wondering just why they don't have two detection zones... as are we all. Nobody knows for sure (and the FIA ain't tellin'), but the common wisdom appears to be that there's a problem on the FIA's end, either in the detection software or the actual computer. Guys, here's an idea... spring for another computer, maybe a nice quad-core with more than a gigabyte of RAM.
Quals in the morning, see you then!
Posted by: Wonderduck at 07:53 PM | No Comments | Add Comment
Post contains 841 words, total size 5 kb.
June 20, 2011
F1 on TV!: Europe 2011
Their short North American sojourn completed, the F1 Circus returns to the Mother Continent this week with the 2011 Grand Prix of Europe. The European GP has always been a way to get a second race into whatever country has the popular driver at the time... which is why Germany had two races during the height of the Schumi Years. These days, it's HWMNBN... or at least, it was when the contracts were signed... which is why Spain now gets two races. To accomplish this feat, Spanish organizers built an all-new track in Valencia, a street circuit! And oh, did our hopes soar... only to be splatted to the ground like Icarus flying too close to the sun. A fly being nailed by a flyswatter. A
X
being
Y
'd by a
Z
(enter your own lousy analogy terms). Let's take a look at this hope-crushing circuit: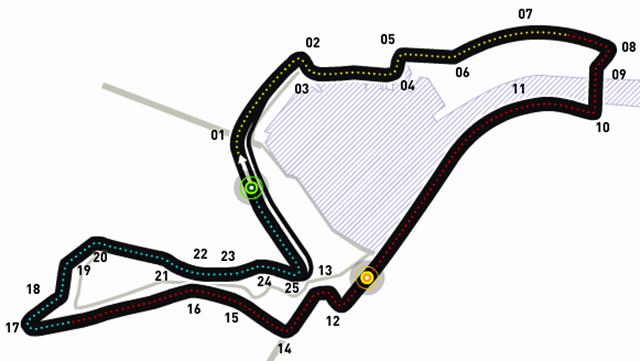 By all rights, a layout like that looks like this should be exciting... like Monaco, but with substantial high-speed sections. Unfortunately, it hasn't turned out that way. What we've discovered is that there's just too
many
turns in just the wrong places. For example, look at Turn 12: right at the end of the fastest part of the track, should be a great place to pass... except it's followed immediately by Turn 13, turning it into painfully slow chicane. Anybody passing on the inside of 12 winds up on the
outside
of 13, where they usually get scraped off by the car being passed... except nobody actually tries passing there, because they know what'll happen. And that's the problem all around the circuit: almost all the supposedly good passing points are actually soul-destroying chicanes!
At least, that's the way it
used
to be. As we've learned this season, the KERS/DRS combination makes even the dull circuits at least mildly interesting. Throw in the knowledge that Valencia is very wide for a street track and things are looking at least mildly hopeful again. Pirelli is thinking that tire wear will be high due to the combination of the number of turns (the most in F1), a rough track surface, and the predicted high air temperatures. They're bringing the Medium and Soft compounds this time around.
Of course, it's hard to forget the "highlight" of last year's race, and I'm not talking about Seb Vettel winning. I'm talking about his teammate's unexpected peregrinations.
Yup, this is the circuit where Red Bull Air first took flight. That was also the race that earned Kamui Kobayashi his nickname of "Gandalf." So it's not been without excitement, it just hasn't been really
racing
-related.
We'll be treated to the lovely dulcet tones of the Legendary Announce Team as usual. Alas, we'll be getting the race on tape-delay via FOX... but we'll get to that in a moment. Coverage begins with live streaming of Friday's 1st Practice from 3am to 430am. Practice 2 will be live on SPEED from 7am to 840am. Saturday's 3rd Practice will be streaming as well, from 4am to 5am. The all-important Quals session comes to us live on SPEED from 7am to 830am.
Finally, the race will be airing on your local FOX affiliate from 11am to 1pm, some five hours after it really begins. All times are Pond Central, of course.
F1U! will be all over the race weekend, like a
X
is all over
Z
, with a side helping of
µß
. We'll see you then!
Posted by: Wonderduck at 06:33 PM | Comments (6) | Add Comment
Post contains 576 words, total size 4 kb.
June 14, 2011
Seat Swap: Hamilton vs Stewart
Every now and again, something
particularly
cool will trickle out of the motorsport world. Some years ago, SPEED ran a TV show called "
Tradin' Paint
." The concept behind it was simple: take two racers from different series and put them in the other driver's car. In that one-hour event, they got what might have been the two most dissimilar drivers in the world, plunked 'em down on the Indianapolis Motor Speedway's International Circuit, and let 'em loose. The two drivers? From NASCAR, Jeff Gordon. And from Formula 1, Juan Pablo Montoya (aka "The Pope"). Neither driver did particularly well in the other car, it must be said: Gordon spun the 2002 Williams FW24, and Montoya never quite got the hang of the awful brakes on the Chevy; at one point, he flatspotted his tires so badly that the canvas backing was visible on the front-left corner. Still, both drivers loved the experience, Montoya so much that a few years later, he quit F1 and jumped to NASCAR.
Today, it happened again. The show was called "Seat Swap," and featured a pair of champions. From the world of NASCAR, 2002 and 2005 champion Tony Stewart. And from F1, 2008 World Driver's Champion Lewis Hamilton.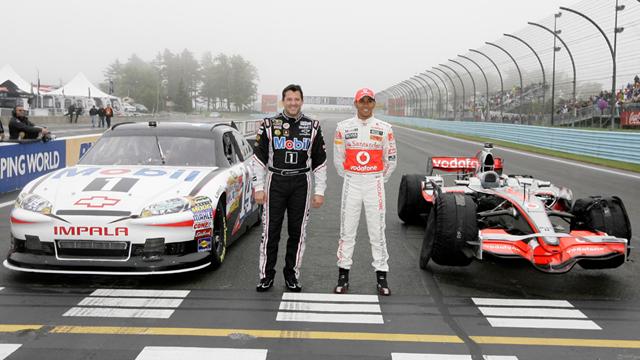 The venue was New York's
Watkins Glen International Raceway
, once home to the US Grand Prix, now a stop on NASCAR's calendar. Stewart has won five times at "The Glen", though never on the full circuit (NASCAR does not use "the Boot" during their race).
Hamilton, of course, has never driven at The Glen before... F1 stopped coming to the circuit five years before he was born. The machines couldn't have been any more different. Stewart brought the road-race version of his 2011 Chevy Impala, and McLaren brought the MP4-23. In case you're not up on your history, that's the 2008 chassis, the car with which Hamilton won his Championship. The weather was iffy, to put it mildly. As a result, the F1 car was using the full wet tires, and the NASCAR had rain tires, I assume from the Nationwide Series as the Sprint Cup won't race in the rain. You'd think this would mean that Hamilton would have something of an advantage, but you'd be incorrect. Stewart might be the best American racer of his generation. Along with his two NASCAR titles, he's also won a championship in the Indy Racing League, midget cars, sprint cars and USAC Silver Crown cars. In other words, he's got plenty of experience in open-wheel racing, and Indy cars are about as close to F1 cars as you'll find here in the US. By contrast, Hamilton had never raced with a roof over his head.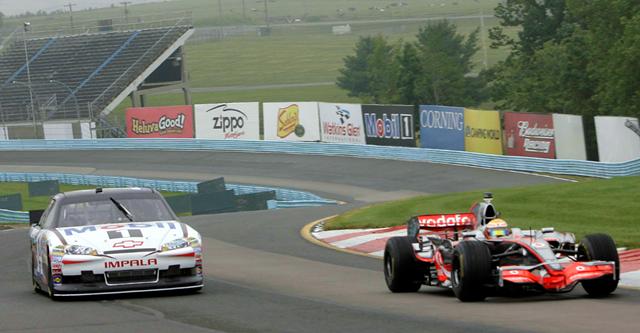 Fortunately for everybody, when the time came for the two to switch rides, the track had dried off substantially. I don't know if the two of them were kidding or what, but both drivers wanted to put on slick tires and go back out after their respective runs. As it was, Stewart probably did a better job in the MP4-23 than Hamilton did in the Impala, but Lewis seemed to have had more fun. Indeed, at one point during his laps, he was actually giggling into the radio as he proclaimed the stock car "
Wicked
!" On his last lap, Stewart's crew called him into the pit lane. Hamilton promptly said something to the effect of "Sorry, didn't hear you!" and turned another lap. He then finished up with a respectable couple of donuts and a cloud of smoke.
Stewart on the other hand either couldn't figure out where the radio button was on the McLaren's steering wheel or was waaaaaay too busy actually driving to talk. Either way, he was quite impressive behind the wheel of the F1 car, turning laps that would probably be competitive to other F1 drivers on this circuit... or, at least, not embarrassingly slow. HRT or Virgin-level speed, let's say... not bad for only five laps' worth of experience in a F1 car. Alas, no burnouts or donuts for Smoke. I for one really wanted to see him try it. An 18000 rpm burnout would be something to behold, particularly when the engine jumped out of the car and made a bid for freedom. Hamilton's mechanics probably threatened him with painful painful things if he gave it a shot.
Both drivers had huge grins on their faces, both said things like "...the most fun I've had other than driving in (insert race series here)." Stewart went one step farther, though... he invited Lewis Hamilton to partake in his annual charity race, The Prelude To The Dream. That's a late-model dirt track race run before the NASCAR season kicks off, and he said that if Lewis wants to do it, there'll be a brand new car waiting for him.
I wanna see
that
. Make it happen, Lewis, make it happen!!!
Posted by: Wonderduck at 09:24 PM | Comments (3) | Add Comment
Post contains 815 words, total size 6 kb.
June 12, 2011
Now THAT Was A Race!
The Canadian GP had just about everything you could possibly have in one race!
I need a cigarette! Was it good for you?
F1U! coming tonight... this is gonna be a long writeup.
Posted by: Wonderduck at 03:09 PM | Comments (6) | Add Comment
Post contains 38 words, total size 1 kb.
Montreal Monsoon
Less than an hour before the 2011 Canadian Grand Prix and it's pouring down rain at the Circuit Gilles Villeneuve. Of course, it may stop before the race, but the track'll still be damp. Ladies and Gentlemen, we've got ourselves a wet race!
UPDATE: Forgot to mention the little detail that, as long as anybody on-track is using galoshes, DRS is disabled entirely.
Also, Custard d'Ambrosio has been permitted to take to the grid for the race. The stewards decided that, since he needed to have a backup car built for him after his wreck on Friday (the monocoque was broken!), his pace was acceptable in Quals. He'll start 24th.
More after the race with F1 Update!
Posted by: Wonderduck at 10:20 AM | Comments (3) | Add Comment
Post contains 119 words, total size 1 kb.
June 11, 2011
F1 Quals: Canada 2011
Leaden, heavy skies awaited the F1 Circus as Quals for the 2011 Grand Prix of Canada got underway, but would the rain come? Or would the galoshes come out for the first time this year? Let's take a look at the provisional grid:
Okay yes, Seb Vettel is on pole for the sixth time in seven races, and yes, his lap was the fastest this track has seen since 2004 when F1 was in the middle of a tire war, used V-10 engines and had huge wings. But the two Ferrari drivers made him work for it. Indeed, both Felipe Massa and HWMNBN were on pole at various times in Q3. Vettel actually had to come out for a second hot lap, something he hasn't done for a couple of races... meaning that he won't have that unused set of super-soft tires in pocket tomorrow. Tracks like Montreal don't really suit the Red Bull chassis, which performs better on low speed circuits. I think this pole lap was probably Vettel's best of the season; he looked so smooth and controlled out there, like he wasn't under any pressure whatsoever.
Yet Ferrari very nearly took the front row from him. Both look strong, but whether that's because the car works well on a low fuel load or if it can truly duel with the Red Bull, we won't discover until tomorrow.
And what of the McLarens? The two of them have to be running a lot of rear wing, for they were dreadfully slow through the speed trap (~190mph, when the Force Indias are over 200). That's great for traction, but then why did they still look twitchy through the chicanes? I can only assume they are running a wet setup on Hamilton's and Button's cars. It's a gamble, but if the rains come they'll be in the catbird seat. And the weather forecast suggests it will rain at some time during Sunday's race.
Further down the grid, bonus points to Pete Rose for making it to Q2. He was given roughly 10 minutes to get ready going into P2, it took the team over an hour to modify the cockpit to fit him (he's nearly six inches taller than the driver he's replacing), he'd never been in the 2011 Sauber challenger, and they didn't even have a Sauber firesuit for him. Yet he
still
made it out of Q1. Pretty spiffy, that.
Unfortunately, it looks like we'll only have a 23-car grid. Custard d'Ambrosio just couldn't figure out the Circuit Gilles Villeneuve and his time falls below the 107% mark. Unlike in Monaco where HRT was allowed to race because their pace in P3 was faster than their Quals time, Custard hasn't been fast all weekend. Look for him to be on the sidelines when the lights go out on Sunday.
We'll see you then!
Posted by: Wonderduck at 02:18 PM | Comments (1) | Add Comment
Post contains 639 words, total size 17 kb.
June 10, 2011
F1 Practice: Canada 2011
To say that this was a weird practice session today in Montreal would be something of an understatement. The dominant color of the day would have to have been red. Red for the three flags brought out for crashes by Red Bull's Seb Vettel, Sauber's Gandalf Kobayashi, and Custard d'Ambrosio's Virgin. And red for the color of the fast car of the day, HWMNBN's Ferrari. P2 in particular was a sloppy, stop-and-start affair that really prevented the teams from getting data on long runs.
Sauber is probably the big loser in P2. Of course, Gandalf power-sanded the right side of his car into dust against the wall. Then, they learned that Sergio Perez won't be racing this weekend, as he's still recovering from the concussion he suffered in Quals at Monaco. Before today, he had been cleared for action by the FIA's medical staff, and he gave it a shot with some twenty laps in P1. There's just no way to predict how someone will react to the real-life stresses of racing a F1 car at top speed, what with the g-loading that wants to rip your head off. After P1, he went to the team and said that he couldn't do it, he wasn't feeling 100%. Smart move by the rookie, that. Unfortunately, Team Sauber don't have their third driver, Esteban Gutierrez, in Canada this weekend. Would have been interesting to see the kid, but that's the way it goes. In Perez's stead, Sauber has asked McLaren for permission to borrow their test driver for the rest of the weekend, and McLaren assented. His name? Pedro de la Rosa. That's right everybody, Pete Rose is back again!
They're expecting rain both Saturday and Sunday... last race saw our first Safety Car of the year. Will we get our first glimpse of the wet tires this week?
In other news from the F1 world...
Bahrain, which was a no-go, then a go-go, is now a no-no. The screams of protest from the drivers (led by Mark Webber), the Formula One Teams Association (FOTA), and the fans were all set to be completely ignored by both Birdy Ecclestone and the FIA... but then Bahrain race organizers pulled the plug on the race this year. Seems they couldn't guarantee the safety of the drivers... or something like that. Color me surprised.
Then there's Virgin Racing. For the entirety of their short existence, their cars have been designed by Nick Wirth. Wirth is F1's leading proponent of designing using computer simulation only... no wind tunnels for Nick's cars, no sirree! Well, Virgin has decided that being the worst team on the grid is getting kinda old and bid Wirth farewell.
Quals aren't until the afternoon on Saturday; we'll be here immediately thereafter! Don't forget that this is the weekend for the 24 Hours of LeMans, my favorite race of the year... yes, it's not all F1 around Pond Central!
Posted by: Wonderduck at 07:46 PM | Comments (2) | Add Comment
Post contains 490 words, total size 3 kb.
June 06, 2011
F1 on TV!: Montreal 2011
Ah, Canada. A place where they put gravy on french fries and call it a delicacy. Where maple syrup would be the national beverage if they didn't have Labatts. A land where bacon isn't bacon. Where death by moose is a serious possibility, even in your living room. A nation whose best restaurant is Tim Hortons. Their football is played on a 110-yard field, their baseball is played indoors, and their greatest cultural icon is Celine Dion.
*
But damn, do they have a helluva Formula 1 track! Let's take a look at the map for the Circuit Gilles Villeneuve: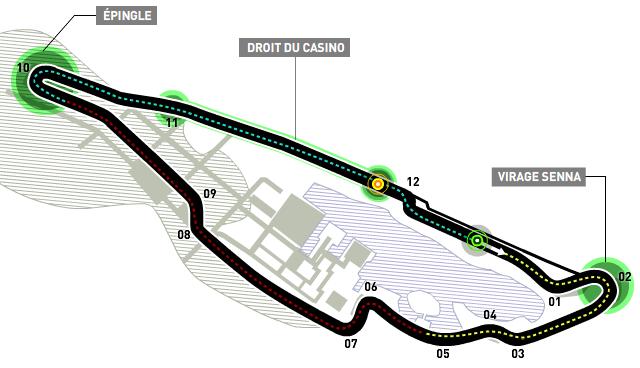 Built on a man-made island in the Montreal section of the St Lawrence River, the track is 2.71 miles long, very fast, and brutal on both brakes and tires.
Brakes suffer here because of the abrupt stop-and-go nature of the circuit. On this layout, you're either going ridiculously fast (200+ mph is the norm here) or ridiculously slow (see Turn 10 or Turn 6/7). That's hard on the brakes for two reasons: first, there's just the effort required to slow the car down from 200mph to 50mph or less; that takes its toll on the carbon/carbon material. Second, the brakes tend to glaze here. The brake material heats up to the point where the very top layer begins to melt... then is rapidly cooled by the unending straights. This makes the brakes less efficient, meaning they need to work even harder and get hotter and melt more... then they rapidly cool off. Rinse and repeat for 70 laps. You don't see explosive brake failure very often in F1, but when you do, it's undoubtedly going to be here.
Tires die miserable deaths here due to a tarmac that has the odd properties of being abrasive, yet not particularly grippy. This lack of surface grip is why Pirelli is bringing the same tires as the ones used in Monaco: the softs and super-softs. Nowhere is that need for grip needed more than at Epingle, better known as the Hairpin. Not only because of the tight bend and the need to decrease speed in a hurry, but because of the ever-present danger of Marmots. Like this one in 2007:
Or this one the following year:
Or this one:
Oh wait, that one isn't a marmot at all, but a Japanese track worker trying to run in front of Seb Buemi during a fundraiser in Japan for the victims of March's Earthquake/Tsunami. Believe it or not, the doofus is fine. So is the guy who tried to cross the track in front of a F1 car.

Anyway, the nicest part of the Grand Prix of Canada is that it's run here in North America. None of that "getting up at 4am" crap for this race! It all kicks off with live streaming coverage of Practice 1 on Friday morning, from 9am to 1030am! Then Practice 2 is also live, this time on SPEED, from 1pm to 240pm.

Saturday brings streaming coverage of Practice 3 from 9am to 10am, followed by live coverage of Quals on SPEED, again from 1pm to 230pm.
The 2011 Grand Prix of Canada will be Sunday, live from 12noon to 2pm... on your local FOX affiliate. Yes, that's right, it's that time of year again. At least the Legendary Announce Team will be on hand to do the honors.
And so will the F1U! team! See you then!
*
I kid the Canadians... but only because I know they're too polite to actually complain about it. Ha!
Posted by: Wonderduck at 07:14 PM | Comments (2) | Add Comment
Post contains 591 words, total size 4 kb.
June 03, 2011
Bahrain A Go-Go
The FIA, in their infinite wisdom and uncanny powers of reasoning, have decided that there'll be a Grand Prix in Bahrain after all this season. It will be taking over the weekend the Indian Grand Prix was scheduled for, October 30th. India will now be the
last
GP of the season, running on December 11th. Not only will this be the longest F1 season in terms of number of races, now it'll be the longest in terms of calendar time as well.
As one can imagine, this is
not
going over well. The deputy director of Human Rights Watch said "It seems like a highly questionable decision by Formula One. (Teams and drivers) now have to make a decision influenced by financial reasons and personal feelings." The
Guardian
is essentially calling for teams to boycott the race. Mark Webber, who has been the most outspoken driver regarding a return to Bahrain,
tweeted "When people in a country are being hurt, the issues are bigger than sport. Let's hope the right decision is made."
Former world champion Damon Hill came out against the decision, saying F1 "will forever have the blight of association with repressive methods to achieve order." And the head of F1 Update! here at The Pond said "This is a ridiculous decision by the FIA. If the championship has been decided by Bahrain, look for teams to not even show up." As much as it pains us, the F1U! team actually agrees with former FIA Fuhrer Max Mosley's view that advertisers are going to run screaming from the public relations fiasco that will occur.
If you have any questions about exactly why the decision was made to race in Bahrain, one needs look no further than this article on
F1 Fanatic
. Formula One Group, the corporation that owns the rights to the promotion of F1, is set to generate almost $1.8
BILLION
in revenue this year. Money makes the sport go 'round.
Which also explains the other news that came out of the FIA today: the calendar for next year has 21 races on it. The inaugural US Grand Prix on the new circuit in Austin, TX, will be June 17th, 2012. One year to get the track ready... cross fingers, folks!
Posted by: Wonderduck at 08:05 PM | Comments (6) | Add Comment
Post contains 377 words, total size 3 kb.
106kb generated in CPU 0.0215, elapsed 0.0903 seconds.
54 queries taking 0.0742 seconds, 284 records returned.
Powered by Minx 1.1.6c-pink.