May 29, 2009
Budget Cap Resolved? (UPDATED)
Reports are beginning to trickle out that there may have been a minor breakthrough in the whole F1 Budget Cap argument. Ferrari and most of the other teams are expected to sign up for 2010, with a 100million Euro cap replacing the 40million proposed by Max Mosley.
I say "most of the other teams," as Williams has already signed up for the season (and gotten suspended from the Formula One Teams Association for doing so). Toyota, however, is expected to announce that they are withdrawing from F1 at the end of this season.
The full participant list for the 2010 season is scheduled to be released June 12th.
More later as details come out.
UPDATE
: Unsurprisingly, the media appears to have gotten it wrong. All 10 current F1 teams, including Toyota, have been confirmed as being conditionally registered for next season. The current agreement between FOTA and FIA (called "The Concorde Agreement") expires on June 12th, and it has to be resigned or the teams will withdraw
en masse
.
The other condition is a bit more encouraging:
"The basis of the 2010 regulations will be the current 2009 regulations, amended in accordance with proposals that FOTA has submitted to the FIA. All FOTA teams' entries for the 2010 FIA Formula One world championship have been submitted today on the understanding that (a) all FOTA teams will be permitted to compete during the 2010 Formula One season on an identical regulatory basis and (b) that they may only be accepted as a whole."
Meaning, of course, the rules won't change very much and there's a level playing field. I sure can live with that, and obviously the teams can, too.
Now for the REALLY interesting stuff. Along with the current 10 teams, there were four new teams applying to be on the grid: the American team USF1, Prodrive (who was approved for the grid a couple of years ago, and may be running under the Aston Martin marque), Campos Racing (a Spanish Formula 3 team), and one of the legendary names from F1's past, Lola.
Now comes the June 12th deadline, when the FIA will announce which teams have been accepted for the grid. Y'see, there's only 26 cars allowed... which means one of the new teams won't make the cut. Unless they allow them all and the two slowest cars in quals aren't permitted to start! Bring back the DNQ!
Posted by: Wonderduck at 12:17 AM | Comments (5) | Add Comment
Post contains 404 words, total size 3 kb.
May 23, 2009
F1 Quals: Monaco 2009!
Bizarro Season continues with two teams setting significant firsts, a fascinating back of the grid, and slow cars suddenly becoming fast. It's Monaco, it's Quals, and here's the provisional lineup:
Not a common view.

Defending winner Lewis Hamilton lost it in Mirabeau, smacked the wall and broke his rear suspension in Q1, but look at the other four who didn't make it out of Q1: both BMWs and both Toyotas! In fact, this is the first time ever that neither BMW made it out of Q1. Toyota's performance might be the most surprising thing, though. Or lack of performance... a team that started out so hot, that looked so good in Australia has slowly become backmarkers. It's nuts, but it's also Bizarro Season in F1. For heaven's sake, both Force India drivers made it out of Q1,
also
for the first time ever.
The rebirth of Ferrari appears to be in full-force. Kimi Raikkonen turned the fast lap of the day in Q2, averaging over 100mph on the slowest circuit on the calendar. That's pretty darn fast around Monaco. That Q3 times only went up about half-a-second suggests that everybody up front ran light on fuel in their bid for the all-important pole.
Which, for the fourth time in six races, is won by BrawnGP's Jenson Button. Right behind him on the grid is the aforementioned Raikkonen, and Button's teammate Rubens Barrichello. Sebastian Vettel's RedBull, after sitting on provisional pole for most of Q3, ended up fourth, followed by Kimi's teammate Felipe Massa.
So supposedly slow cars up the grid, allegedly fast ones down the grid, and the current Monaco master (Hamilton is acclaimed as the best Monaco driver active) sitting low. Should make for a fascinating race on Sunday, and of course F1 Update!'ll be right here.
See ya then.
UPDATE
: Fuel weights have been released, and it's not looking good for anybody not driving a Brawn. Button's weighing in at 647.5kg, Barrichello's at 648kg, everybody else in the top eight is at least 4kg lighter. Monaco's a different type of track, but one thing doesn't ever change: having more fuel than anybody and still being the polesitter is a
good
combination.
Posted by: Wonderduck at 10:22 AM | Comments (5) | Add Comment
Post contains 499 words, total size 12 kb.
May 22, 2009
Seen At Monaco
Compensating for something?
Posted by: Wonderduck at 08:36 PM | No Comments | Add Comment
Post contains 6 words, total size 1 kb.
May 21, 2009
F1 Practice: Monaco 2009!
Let's get this started off with a bang, shall we?
Robert Kubica goes "Kablammo!"
Things just go from "bad" to "goatse.cx" for BMW. Not only have they been miserable all season, but brake problems pretty much kept them out of 1st Practice... and you can see what happened to Koobs at the beginning of his first flying lap in 2nd Practice.
Which is a bleedin' shame, because
my prediction
of the slow cars having a shot this year seems to be coming true. Lewis Hamilton's McLaren was 3rd fastest in P1 and 2nd in P2. Felipe Massa wasn't far behind in his Ferrari, being 2nd in P1 and 5th in P2.
As usual, you probably shouldn't draw any inferences from practice times, but a lot of drivers were pushing hard today. They need to; there just isn't enough time on track to loaf around in Monaco.
Not that that stops Vijay Mallyia, team owner of Force India. He's throwing a party every night on his yacht... his
300 foot long
yacht. Oh, did I mention that there's a $30000 berthing fee for the race? For every boat in the harbor? No matter the size? My god... money may not solve everything, but I'd love to give it the good ol' college try.
One last bit of racing news that didn't surprise me. Instead of the usual "two-spot difference in tire compound", for Monaco they're only having a one-spot difference. Bridgestone has brought the super-soft and soft compounds to the track. This is good... there's no grip to begin with, what with the public roads making up the circuit, and throw in the small rear wing and it's miserable out there. Every car at nearly every turn was fishtailing, and at one point it looked like Nelson Piquet Jr was actually
drifting
through Mirabeau. While it WOULD have been exciting to see the medium tire compound on the cars, it also would have been an excitement that didn't last long. Perhaps all the way to Massanet, perhaps not, but it would have been exciting.
Qualifying on Saturday... see you then!
Posted by: Wonderduck at 08:29 PM | Comments (5) | Add Comment
Post contains 353 words, total size 2 kb.
May 19, 2009
A Lap Of Monaco
With running commentary from Nico "Wonderboy" Rosberg. Yeah, this track is a little narrow.
Posted by: Wonderduck at 07:06 PM | Comments (5) | Add Comment
Post contains 18 words, total size 1 kb.
May 18, 2009
F1 on SPEED: Monaco 2009!
The glamour. The stars. The money. The crown jewel of the F1 season. The Grand Prix of Monte Carlo.
Also the shortest track, the slowest track, the tightest circuit, the one with the most elevation changes and the fewest straightaways. In fact, you're hard-pressed to find anything
straight
anywhere on the circuit. But, oh, it is
glorious
if you win!
The track map:
You start in the front "straight", from Anthony Noghes to Sainte Devote, and begin going uphill more or less the entire way to Casino. From there, it's downhill all the way to Portier. Along the way you have to crawl through Loews (turn 6), the tightest turn in F1 (if not the world of auto racing), at 30mph.
After Portier, you hit the highest speeds in the run through the Tunnel (oh, and you're nearly blind in the process) to the Chicane, the whole way along the harbor packed with pleasure boats worth more than some F1 teams. You scream through Tabac (well, inasmuch as any car "screams" on the Monaco circuit), run past the Swimming Pool (aka Piscine), slam on the brakes in time to hit La Rascasse, avoid the parked Ferrari of Michael Schumacher at Noghes, and then you do it all again... 78 times.
Meanwhile, the fans are behind Armco barriers mere inches away from the action while sunbathers lie on the rooftops of the five-star hotels that dot the circuit. If it wasn't for history, there's no way Monaco would be on the calendar. There's no runoff area except for short escape areas near Sainte Devote and turn 13. Everything else? Armco everywhere. A slight mistake means your race is over, your suspension shattered, your front wing skittering down the road without the rest of your car.
Famously described as "trying to bicycle around your bathroom" or "flying a helicopter in your living room," Monaco is one of the three wins in racing's unofficial Triple Crown (Monaco, the Indianapolis 500, and the 24 Hours of LeMans). Now-NASCAR driver Juan Pablo Montoya is the only current driver who has won two of them, and only
Graham Hill
has succeeded in accomplishing the task.
Last year's race was a wild one that saw Force India's Adrian Sutil with a shot at the podium late, until Kimi Raikkonen ran into him from behind on a wet track, and McLaren's Lewis Hamilton taking the win. This year, who knows? With all the technical changes, cars that are slower on other circuits may very well be favorites here! That's the beauty of Monaco, and the good folks at SPEED will be bringing it all to us (more-or-less) LIVE!
It all kicks off on
Thursday, May 21st, from 7am to 840am
, with the 2nd Practice session. Again, that's Thursday, not Friday as is usual; yet another of Monaco's quirks. Friday is an off-day, but then everything kicks off again on
Saturday, May 23rd with Quals from 7am to 830am
, plausibly live. At this track, if you ain't up front at the beginning of the race, it'll take a miracle (or a crash) for you to have a chance, so you'll see drivers pushing harder than normal... and crossing their fingers.
Finally,
Sunday, May 24th, from 630am to 9am
, brings us live coverage of the Grand Prix of Monaco, with a replay from 430p to 7p. A wonderful start to the racing fan's unofficial holiday (Monaco in the morning, the Indianapolis 500 during the day, then NASCAR's Coca-Cola 600 at night)!
See you then!
Posted by: Wonderduck at 09:11 AM | Comments (1) | Add Comment
Post contains 589 words, total size 4 kb.
May 15, 2009
FIA Blinks?
After today's failed meeting between the FIA and FOTA, and Ferrari's subsequent threats to lower the legal boom on the Federation,
Autoweek.com
is reporting that Max Mosley is confirming that the "two-tier" (aka "Salary Cap") system is being abandoned, but only if
all
the teams agree to the $60 million dollar limit.
Which is better, I suppose, than having the two-tier plan, but not by much. Talks will continue in Monaco on Friday, May 22nd, which is an off-day during the GP of Monaco race weekend.
Ferrari has filed an injunction with a French court to stop any attempt by the FIA to put a cap in place. So, really we're still where we were before the meeting today, which took place without Ferrari President (and FOTA chairman) Luca di Montezemelo. He was forced to withdraw from the meeting due to the passing of his father overnight... and our best wishes go out to the di Montezemelo family.
Where do we go from here? The longer it takes, the more likely armageddon occurs. Let's hope for a resolution next weekend.
Posted by: Wonderduck at 07:53 PM | Comments (10) | Add Comment
Post contains 182 words, total size 1 kb.
May 14, 2009
Battle Lines Have Been Drawn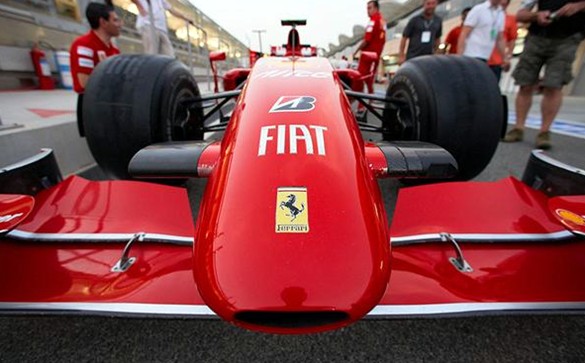 As we all know, the FIA has decided that there will be a $61 million spending cap for F1 next year. Teams that stay below that cap level will be allowed to do things differently than the teams that go above the limit. Unlimited revs on the engines and a bigger KERS power boost are a nice bonus, but having fully adjustable wings, both front and rear, would be a true boon. Forget about having to worry about a track being "low downforce" or "high downforce"... being able to adjust between high and low (or anywhere in-between)
at any time
, as often as you like, would be an incredible advantage to a car. So would unlimited offseason testing, another bonus given to the teams under the cap.
Of course, some of the current teams have a problem with this. Renault, not the most devoted F1 team to begin with (even when they were winning championships, they talked about withdrawing from the sport), has said that if the cap is put in place, they'll pull out of the championship. Toyota, perhaps thinking that this is the perfect way out of the money sinkhole they've created in their failed attempt to win just one race, has also said they're out when a cap becomes official. Fraternal twins Red Bull and Toro Rosso, both up-and-comers, have said the same.
However, it's the most popular team in F1 that drew the biggest line in the sand. No less a team than Scuderia Ferrari themselves has gone on record as saying that they're out if the cap is put in place... and with a May 29th deadline just a few weeks away, for now they're sticking by their guns.
Max Mosley, FIA supremo, says that F1 can survive without Ferrari, and he's probably right. As much as I, a professional Ferrari-hater, hate to admit it, F1 wouldn't be the same without the Prancing Horse.
There is an ugly battle coming here... and to be honest, for once I can't tell who will win and who will lose. Rest assured, there
will
be a loser. Either Ferrari's unbroken string of 60 years in the greatest motorsport series will end, or Max Mosley will be shown to be a conniving, yet sniveling, opportunist whose already weakened Presidency will surely be burned to the ground.
If a cap exists, five big teams will retire to the pits. That shouldn't be allowed to happen. Mosley
must
back down, or as the good folks at Planet-F1.com put it, "Mosley's legacy to F1 would be... no F1."
I'm betting on the teams. The Formula One Teams Association (FOTA) have a meeting with Mosley scheduled with Mosley this week, and I suspect something will shake loose then. Cross your fingers.
Posted by: Wonderduck at 10:03 PM | Comments (9) | Add Comment
Post contains 463 words, total size 3 kb.
May 09, 2009
F1 Quals: Spain 2009!
There's no question that F1's knockout qualification format is uniformly exciting, but this one was
amazing
. Let's take a look at the provisional grid:
For the second time in five races, Ferrari screwed up in Q1, their hubris pissing away one of their driver's race. Kimi Raikkonen was sitting P5 with about five minutes left in Q1 when the team decided that he was a lock to advance. Two minutes later he was P8. Another minute, he was P12 and everybody watching knew what was going to happen. When the session ended he was P16 and eliminated... unnecessarily. As readers of The Pond know, I'm no fan of the Red Team, but this is just sad. Farce India might be slow, but they're acting more professionally in a lot of ways than the greatest team in F1 history.
Q2 was the usual speedfest, with a twist. The previous lap record for the Circuit de Catalunya was set in 2008, by Kimi Raikkonen, at a 1:21.670.
Every car in the session broke that record
.
In Q3, it looked like Seb Vettel had the pole wrapped up, nearly a half-second faster than everybody else. Rubens Barrichello and Felipe Massa both turned in fast laps as the clock hit zero, but couldn't quite match his pace.
But Jensen Button was still on track, though only barely. Any laps begun before the clock hits zero count, and the best teams try to get their drivers across the line for their final hotlap as late as possible. Brawn almost held Button in the pits too long when he had stopped for his new tires. When they released him, they realized that he only had 1:24 to get around. Four seconds to spare, no problem. About halfway through his out lap, however, Robert Kubica's BMW was catching up on him. Button, thinking that Kubica was on a timed lap, slowed down to let him pass. Kubica had actually finished his last hot lap and was heading to the pits on a fuel-burning run. His pitcrew yelling in his ears to push hard, Button goosed his car and crossed the line for his final timed lap with less than a second to spare. He then ripped off a stunning lap, snatching pole from Vettel and throwing a bucket of cold water over the Red Bull pitcrew.
With the fuel loads reported, it turns out that Button is about 5kg lighter than Vettel. That's not good news for Button, but even worse for the top three is that the Ferrari of Felipe Massa, sitting in 4th, is 5kg heavier than Vettel... and he has KERS.
Should be an exciting run down to the first turn for sure! See you here for F1 Update! on Sunday!
Posted by: Wonderduck at 12:58 PM | Comments (3) | Add Comment
Post contains 594 words, total size 12 kb.
May 08, 2009
F1 Practice: Spain 2009!
So, the Legendary Announce Team assures us that there have been upgrades aplenty to the various cars, but there was only one that was truly visible. The good burghers at BMW have decided that their nose was the cause of all their problems, so they decided to do something about it.
First, the "old" nose style: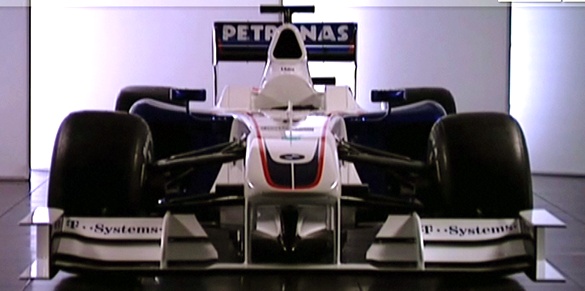 ...and now, the new nose style: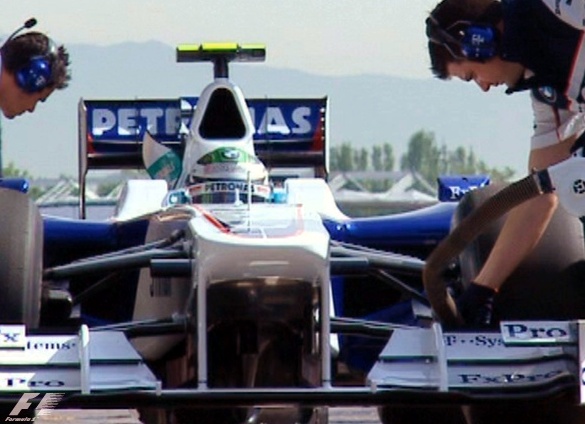 Higher and flatter, will this be the difference between backmarker and front row?
Well, in a word, "no." The BMWs were 16th and 17th in today's second practice, and that's out of 19 (Adrian Sutil never made it on-track, due to a fuel system issue that forced the team to disassemble his car from the air scoop back).
Other than that, Ferrari has brought out a whole new chassis, reportedly 12-15kg lighter than the "old" body. As tech guru Steve Matchett pointed out, supposedly the Ferrari engineers had designed the F60 to be as light as possible to begin with, which means that they must have started to whittle away at the base structure of the chassis. That means the body
must
be weaker than it was, carbon fibre notwithstanding. This could lead to the chassis body flexing in the turns under g-loading. This is not optimum.
Unless, of course, the team's designers overengineered the thing, in which case their slow pace is self-inflicted. Raikkonen, driving the new F60b, ended up 10th. Massa, in the "old" F60a, wound up 15th, almost a third of a second behind his teammate.
Quals tomorrow... and who knows what tomorrow'll bring?
Posted by: Wonderduck at 07:39 PM | Comments (2) | Add Comment
Post contains 263 words, total size 2 kb.
May 04, 2009
F1 On Speed!: Spain 2009!
With the Grand Prix of Spain, the F1 Circus returns home in a sense. All of the teams have their bases in either England or Europe, and Spain begins the European leg of the 'world tour', so to speak. In fact, most teams consider the first race in Europe to be the
real
start of the F1 season.
Look for a lot of new modifications to appear on the cars during Friday practice. Teams have been working on them for weeks, but instead of lugging them halfway around the world, they've waited until they've gotten home to bring them to light. Be it a new diffuser, a revised front wing, or something as simple as a different livery, they'll always start to appear in Europe. Of course, if the teams thought it'd make a huge difference, they'd've brought them out much earlier (winning is more important than costs in F1), but that's the way things work sometimes: you never know for sure what'll make a car a winner... or a dog.
Let's take a look at the Circuit de Catalunya in Barcelona ("Que?"):
It's a bumpy track, the surface is abrasive, a lot of high-speed corners at one end and slow bends at the other... and the drivers know the place like the back of their hands, since a lot of offseason testing is done here. As is usual, the best place to pass is turn 1, followed closely by turn 10, but a brave driver should be able to force the issue anywhere but turns 3 and 16... three is too long to be able to keep the car in the groove for a pass, and sixteen too important (blow the turn even a little bit and you'll ruin your run down the straight... and your whole next lap). It's basically a medium-to-low downforce track... if your car has good mechanical grip on the chassis, you go low downforce for that straightaway. If you don't have good grip normally, you crank on the wing for the tight twisty bits and hope it doesn't hurt you too badly down the straight.
This is HWMNBN's home track, for what that's worth, so expect to see a lot of him on the TV this weekend... even if he's 18th and three laps down, he says hopefully.
And at least here in the US, if he's on TV, he'll be on SPEED, where the Legendary Announce Team will be bringing us their usual sterling coverage, beginning with LIVE coverage of
Friday's Second Practice
from
7am to 840am
.
Saturday
brings us plausibly LIVE coverage of
Quals from 7am to 830am
. Will BrawnGP continue their polesitting domination, or will the new fiddlybits on their rivals make enough of a difference to wrest the top of the grid away from the newbies?
Finally,
Sunday
dawns bright with the
Grand Prix of Spain live from 630am to 9am
. There'll be a replay from 1230pm to 3pm as well, if you forget to set the VCR or whatever it is the kids use these days.
Of course, F1 Update!'ll be here with all the gnus you can use! See you then...
Posted by: Wonderduck at 06:36 PM | No Comments | Add Comment
Post contains 528 words, total size 3 kb.
May 01, 2009
That Terrible Weekend.
It was the San Marino Grand Prix, 1994.
First, it was rookie Rubens Barrichello, the protoge of
Ayrton Senna
, the best F1 racer at the time. Hitting the curb in the Variante Bassa at around 180mph,
Barrichello's car was launched
nearly over the tire barrier and into the catchfence. His car was then ejected from the fence and tumbled two or three times, coming to rest upside down.
He had suffered a broken nose and arm, and was knocked out. His tongue blocked his windpipe, and only quick action by the track workers kept him from death.
On Saturday during qualifying, Roland Ratzenberger, in his first year as a F1 driver (though experienced in LeMans-style racing) ran over a curb in the Acque Minerali chicane. Unbeknownst to him, his front wing was probably damaged. A lap later, he could not make it through the Villenueve kink and slammed into a concrete barrier nearly head-on at 200mph.
While the cockpit area was undamaged, the force of the impact caused a basal skull fracture (the same type of injury that killed Dale Earnhart Sr), killing him instantly.
Amazingly, on Sunday the race went on. When the lights went out, JJ Lehto's Benneton car stalled on the grid and was run into from behind by an accelerating Pedro Lamy, bringing out the safety car. For the next few laps, the field circled behind it, tires cooling and losing grip. The safety car went off, and two laps later, came another accident.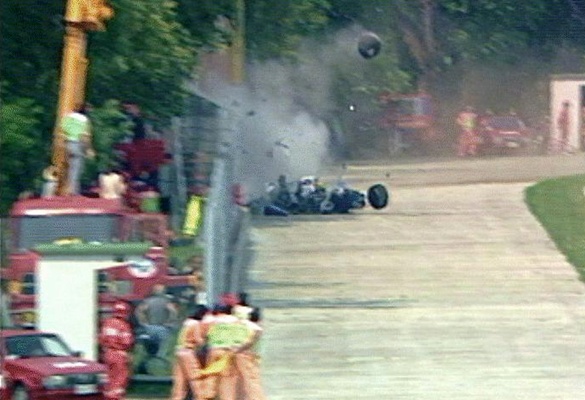 Ayrton Senna left the track at Tambourello, and crashed into an unprotected concrete wall at around 130mph. The right side of the car hit the wall at a shallow angle, breaking the suspension and shearing off the tires. It was not a devastating accident by any means. However, the front right wheel was launched into the cockpit, then high into the air. The tire had slammed into Senna's helmet, shoving his head back against the headrest with such force that he suffered severe skull fractures. In addition, a piece of the suspension still attached to the wheel punched through Senna's visor just above his right eye. Either injury would have been fatal on their own.
In the cockpit of Senna's car was an Austrian flag, which he had planned to fly after the race in tribute to Roland Ratzenberger.
The day was April 30th, 1994. Fifteen years ago.
As a result of that terrible weekend, many now-common safety rules were instituted by Formula 1. The predecessor of today's HANS device. Higher sills on the cockpits to prevent tires from striking the drivers. Wheel tethers. Improved crash barriers (and no more exposed concrete walls). Redesigned tracks to lower speeds. Higher crash tolerances for the cars.
No Formula 1 driver has died during a race weekend since.
Senna was given a state funeral in Sao Paolo, Brazil, and three days of mourning were declared. The majority of the F1 community was in attendance, along with a half-million Brazillians.
Max Mosely, the president of the FIA, was not. Instead, he attended the funeral for Roland Ratzenberger two days later. In an interview 10 years after, he said one of the few genuinely good things I've ever heard him say: "I went to his funeral because everyone went to Senna's. I thought it was important that somebody went to his."
Rubens Barrichello has since set the record for career starts in Formula 1. He has no memory of his accident.
Posted by: Wonderduck at 10:10 PM | No Comments | Add Comment
Post contains 578 words, total size 4 kb.
108kb generated in CPU 0.0269, elapsed 0.3216 seconds.
53 queries taking 0.3022 seconds, 298 records returned.
Powered by Minx 1.1.6c-pink.