July 28, 2008
F1 On SPEED: Hungary!
Ahhhhh, it's nice to be done with the races being on Fox... I almost missed Smarmy Windsor's gridwalks. Almost. Still, having the half-hour pre-race show back is worth the short exposure to Smarmy.
In 2007, the Grand Prix of Hungary became the first F1 race I'd missed since I started watching again in earnest... Monaco, 2004. Heavy thunderstorms overnight knocked out The Pond's satellite signal completely; I wound up recording three hours of blue-screen. By all reports, I didn't miss much. That's the problem with Hungary, I'm afraid. Much like Mangy-Curs in France, the Hungaroring is a "processional" track:
With only one real passing location (turn 1), no long fast runs other than the front straight (which is only 700m long), and a plethora of slow turns, the Hungaroring is actually similar to the twisty circuit at Monaco. Indeed, the lower-budget teams run the same car that they did at that street circuit (except for the special front suspension). It's a high downforce circuit, in other words. You need the grip bonus more than you need top speed here. In fact, there's only one true high G-force turn here, turn 1, and it doesn't even hit 4.0g, more or less.
In other words, potentially a yawner of a race. However, in
2006
, the rains came. The result? Jenson Button won his first (and so far, only) race, HWMNBN lost a wheel when a lugnut fell off, Kimi Raikkonen plowed over Vitantonio Liuzzi for no good reason whatsoever, and rookie Robert Kubica debuted, replacing Jack Newhouse, and finished 7th before he was "excluded" because his car was 2kg underweight. A wild race, and one we can hope will be repeated this year. Without traction control, we might even get that sort of result WITHOUT the rain.
On
Friday
, SPEED brings us live coverage of 2nd Practice, from
7am to 840am
. We'll start to see just how the cars perform here without TC... and if McLaren can continue their charge and close the gap to Ferrari in the Constructor's Championship.
Saturday
, we get to see just where everybody is on the all-important grid, with plausibly live coverage of Quals from
7am to 830am
. Unless we've got rain, it'll likely be one of the two Ferraris or Lewis Hamilton on pole. I suppose it's possible that BMW might sneak into the pole position, but I wouldn't bet on it.
Finally,
Sunday
brings us the Hungarian Grand Prix LIVE from
630am to 9am
. Will we get a Zsolt Baumgartner sighting? Please? We miss Zsolt. SPEED will replay the race from 130pm to 4pm in case you can't drag yourself out of bed at 630am... like me.
Good news, however! It's looking like Vaucaunson's Duck, long-time friend, will be visiting The Pond for the race. This will delay the F1 UPDATE!, but that's the way it goes. Seeing a friend I've not seen in about a year takes priority. Stay tuned for more info on Hungary as it becomes available!
Posted by: Wonderduck at 10:07 PM | Comments (1) | Add Comment
Post contains 499 words, total size 3 kb.
July 19, 2008
F1 Quals: Germany 2008!
Something weird happened in Q3 today: Kimi Raikkonen gave up on a qual lap after grabbing P2. 2nd sounds pretty good, no? The problem was, there were still a bunch of other cars on track in the middle of hot laps. The result? Well, let's look at the provisional grid:
1

Lewis Hamilton
McLaren-Mercedes

1:15.218

1:14.603

1:15.666
2
Felipe Massa
Ferrari
1:14.921
1:14.747
1:15.859
3
Heikki Kovalainen

McLaren-Mercedes
1:15.476
1:14.855
1:16.143
4
Jarno Trulli
Toyota
1:15.560
1:15.122
1:16.191
5
HWMNBN
Renault
1:15.917
1:14.943
1:16.385
6
Kimi Räikkönen
Ferrari
1:15.201
1:14.949
1:16.389
7
Robert Kubica
BMW Sauber
1:15.985
1:15.109
1:16.521
8
Mark Webber
Red Bull-Renault
1:15.900
1:15.481
1:17.014
9
Sebastian Vettel
STR-Ferrari
1:15.532
1:15.420
1:17.244
10
David Coulthard's Chin

Red Bull-Renault
1:15.975
1:15.338
1:17.503
11
Timo Glock
Toyota
1:15.560
1:15.508


12
Grizzly Nick Heidfeld
BMW Sauber
1:15.596
1:15.581


13
Nico Rosberg
Williams-Toyota
1:15.863
1:15.633


14
Jenson Button
Honda
1:15.993
1:15.701


15
SeaBass
STR-Ferrari
1:15.927
1:15.858


16
Kazoo Nakajima
Williams-Toyota
1:16.083




17
Nelsinho Piquet
Renault
1:16.189




18
Rubens Barrichello
Honda
1:16.246




19
Adrian Sutil
Force India-Ferrari
1:16.657




20
Giancarlo Fisichella
Force India-Ferrari
1:16.963
Yep, that's right. From the 1st row to 3rd in just a few seconds. Reports indicate that Ferrari just can't get the car dialed in when there's more than a little bit of fuel in it. That's just not good, and it's going to be a loooooong night for the boys from Maranello.
In other surprises, Jarno Trulli jumped from P10 to P4 on his last run, seemingly from out of nowhere. He didn't show ANY signs of that happening this session, so one must wonder just how much fuel he's got in the Toyota. The other big surprise is Sebastian Vettel's Toro Rosso making it into Q3. Very unexpected, though he's been quick all weekend. He's making Red Bull's decision to give him David Coulthard's Chin's seat in the Big Team next year look good.
Kubica was 14th at the end of Q1; both BMW-Saubers are having problems recently, and there's no obvious reason why. Well, we'll see what happens.
The weather forecast is still a coinflip for race day. About the only thing the forecasters are sure of is that it won't snow. They think.
Interestingly, McLaren is running asymmetric radiator side vents this race. I'll try to get a screenshot of it tomorrow. See ya after the race!
UPDATE
: The good folks at
F1technical.net
made a nice composite pic of the vents: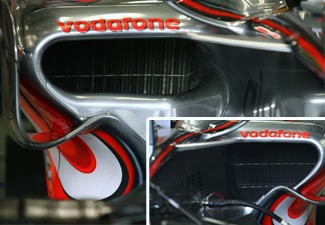 In case you're wondering, it's to cut down on drag. Normally, they wouldn't be able to get away with this, because the engine needs to be cooled and the air getting into the vents are the only cooling they can get. Cutting down on the size of the vents means the engine is going to be running warm, except for one thing: it's been a cool weekend at Hockenheim. Apparently, they first ran the this during Silverstone testing; again, a cool weather track. No way they could try this at, say, Bahrain.

Posted by: Wonderduck at 05:38 PM | Comments (2) | Add Comment
Post contains 502 words, total size 11 kb.
July 18, 2008
F1 Practice: Germany 2008!
I'd really wanted to write about the today's practice sessions at Hockenheim, but just like last year's German Grand Prix, it was rainy. As a result, every time I sat down to start typing, I
Lewis Hamilton discovering he's not at Silverstone anymore.
Whoops. I kept
Rubens Barrichello tests the Honda Watercolor F1.

...like I was trying to say, I kept getting
"Call that a crash? I KNOW crashes, and this much of ain't one," said Robert Kubica afterwards.

*sigh*
...I said, I kept getting interrup
Wheelie bars? On Glock's Toyota? Inconceivable!

Y'know what? You get the idea. Quals tomorrow. Maybe someone'll be able to complete a lap then.
Posted by: Wonderduck at 06:53 PM | Comments (3) | Add Comment
Post contains 113 words, total size 1 kb.
July 15, 2008
F1 on TV: Germany!
Once upon a time, Hockenhein was one of
those
courses. The type that could make a brave driver shuffle his feet around nervously before he got into the car. The type that made worms out of the less brave. It was the track that killed the man that may have been the greatest driver F1 had ever seen, Jim Clark, in a worthless Formula 2 race
(for those readers who don't know, F2 was essentially a feeder league for F1, much as the Nationwide series is for the NASCAR Sprint Cup series... and, just as in Nationwide today, the guys from The Show often raced in the junior series).
Then Hermann Tilke got a hold of it. Now it's just another track, and they don't even race at it every year; the last time F1 visited Hockenheim was 2006. Still, there are some decent bits to it:
Like most Tilke tracks, it's got fast parts followed by flow-wrecking kanoodling bits. The main straightaway, aka "Parabolika", isn't really straight at all, which makes drafting a bit of a challenge. Like Silverstone, the first turn (the Nordkurve) is usually taken close to flat out, which makes turn 2 the real bottleneck on the opening lap. The Stadium Complex (turns 12-17) requires a lot of grip, which makes getting the balance between low downforce (high speed) and high downforce (high grip) a very tricky thing for the teams to handle. Turns 16 & 17, while separated by a short chute, are usually treated as one big double-apex turn by the drivers.
The bit that'll make this really interesting is that, other than last week's test session, none of the teams have really run here in the new-spec cars. In 2006, engines were screaming at 20000 rpms, there was traction control, and so on and so forth. Now, though, no TC and engine limiters have probably changed the way the teams look at the circuit. It was tough on tires to begin with, for example, but now? Well, there's a reason Bridgestone is bringing the Hard and Medium compounds to the track.
On the TV front, this is the last time this season we'll have to suffer through the race being on FOX. Coverage first begins on
Friday, from 7a-840a
, with SPEED showing Practice 2 live.
Saturday
brings us Quals from
7a-830a
, plausibly live on SPEED.
Sunday
will be a teeny bit different, however. SPEED is going to be doing their normal pre-race show from
1130a to Noon
. Then you have to switch over to FOX for the German Grand Prix, from
Noon to 2pm
.
As is normal for FOX broadcasts, SPEED will be replaying the race on
Wednesday
from
1130a to 130p
. They may show the pre-race show as well, so tune in at 11a to be sure.
And to see what Hockenheim used to be like before Tilke got his claws into it, click
more...
Posted by: Wonderduck at 11:43 AM | Comments (3) | Add Comment
Post contains 558 words, total size 4 kb.
July 10, 2008
July 05, 2008
F1 Quals: Britain 2008
There's no other way of putting it: this was a
weird
quals session. The winds were howling, and some ominous clouds were racing for the track. Q1 started out dry, then it rained, and then it was bone dry again. Everybody was out on track to get a time in before the rains came, at which point nobody dared venture out. The second the rains stopped, though, we saw a few cars head back out, and we saw that the water was completely gone.
Q2 was normal (or as normal as knockout qualifying can be), except for one thing: the Ferraris were both down towards the bottom of the list of advancers.
Then all hell broke loose. Massa had the slowest time in Q3 of anybody who took to the track, perhaps due to his shunt in Practice 2. Robert Kubica never turned a lap, having suffered some mysterious problem with the back of the car. Lewis Hamilton went offroading in sector 3. Even Kimi Raikkonen's Ferrari looked like it was dragging a boat anchor around Silverstone. Then Mark Webber (MARK WEBBER?!?!?) in the Red Bull, who must have four ounces of fuel on board, leaped to pole... and held onto it for the last minute or so, which is an eternity in Q3.
But Heikki Kovaleinninninnie, driving like his hair was on fire, snatched the pole away from Webber... by
over a half-second
! Even the McLaren pit wall was amazed, getting on the radio and saying "you've got the pole by a mile... or a half second, in real terms." While it wasn't the Glare With Wheels the British fans wanted to see at the front of the grid, they still went bonkers.
The Provisional Grid:
Pos
Driver
Team
Q1
Q2
Q3
1
Heikki Kovalaininnie

McLaren-Mercedes

1:19.957

1:19.597

1:21.049
2
Mark Webber
Red Bull-Renault
1:20.982
1:19.710
1:21.554
3
Kimi Räikkönen
Ferrari
1:20.370
1:19.971
1:21.706
4
Lewis Hamilton
McLaren-Mercedes
1:20.288
1:19.537
1:21.835
5
Grizzly Nick Heidfeld
BMW Sauber
1:21.022
1:19.802
1:21.873
6
HWMNBN
Renault
1:20.998
1:19.992
1:22.029
7
Nelson Piquet Jr.

Renault
1:20.818
1:20.115
1:22.491
8
Sebastian Vettel
STR-Ferrari
1:20.318
1:20.109
1:23.251
9
Felipe Massa
Ferrari
1:20.676
1:20.086
1:23.305
10
Robert Kubica
BMW Sauber
1:20.444
1:19.788
no time
11
David Coulthard's Chin

Red Bull-Renault
1:21.224
1:20.174


12
Timo Glock
Toyota
1:20.893
1:20.274


13
SeaBass
STR-Ferrari
1:20.584
1:20.531


14
Jarno Trulli
Toyota
1:21.145
1:20.601


15
Kazuki Nakajima
Williams-Toyota
1:21.407
1:21.112


16
Rubens Barrichello
Honda
1:21.512




17
Jenson Button
Honda
1:21.631




18
Nico Rosberg
Williams-Toyota
1:21.668




19
Adrian Sutil
Force India-Ferrari
1:21.786




20
Giancarlo Fisichella
Force India-Ferrari
1:21.885


This was Kovalaininninninnie's first pole, and Red Bull's first front-row start ever. It's also the first time that Kubica has been outqualified by his teammate, Grizzly Nick Heidfeld, all season.
Y'know, if you had told me that the front row would be Heikki and Webbo, I would have laughed at you... and you would have agreed, simply because
nobody
would think that a Red Bull would be up that high unless something really weird happened.
And it did.
As if all of that wasn't enough to make this an interesting race, the forecast for the race is for rain... which might be why Massa is so far down the grid. Since the instant the light turns green for Q1 the cars are in
parc ferme
conditions (meaning that the mechanics can't perform any adjustments other than tires to the cars), could Ferrari have set Massa's car up for wet conditions? If so, they very nearly blew it, almost not making it out of Q2. Of course, if it DOES rain, he'll be in the catbird seat.
Well. We shall see, won't we?
Posted by: Wonderduck at 01:23 PM | Comments (1) | Add Comment
Post contains 610 words, total size 12 kb.
July 04, 2008
F1 Practice: Silverstone!
For once, a relatively interesting practice session this morning... if for all the wrong reasons.
The most important thing to come out was the dreadful news that, beginning in 2010, the British Grand Prix will no longer be held at Silverstone. Instead, it'll be held at
Donington Park
, a track which will need some serious renovation to be ready for F1. Indeed, the Legendary Announce Team were frankly skeptical that it could be done in time for the race. They also said that $100 million was earmarked for the renovations... which might be enough to bring the track up to the current level of Silverstone.
Darth Ecclestone has won.
Coming close on the heels of that bombshell came the announcement that David Coulthard's Chin will be hanging up it's helmet at the end of the season.
While this doesn't come as a surprise, it's still not something the F1 UPDATE! crew is jumping up and down about. In fact, to use a term we learned from The Chin, we think it's bloody
Pants
. Well, we still have half-a-season to enjoy his cantankerous old grump act... get off his damn lawn, you whippersnappers.
Now, in ON-TRACK news from Practice 2, there were quite a few incidents that may have bearing on the race. Foremost amongst them was Felipe Massa just destroying his Ferrari in P1. He drove through an oil slick left by HWMNBN at high speed and just punished the tirewall. Damage was so severe that Ferrari wrote off the car immediately and began to build up another from the spare chassis. Much to my surprise (as well as that of the Legendary Announce Team), Massa managed to get back out on track in P2 in the new car, just a few hours after the accident. Say what you want about the team (heaven knows I surely have!), their mechanics really know their stuff. Unsurprisingly, the new car was not handling well, but the team has plenty of time before Quals to get the setup right.
More scary, Jarno Trulli's Toyota crashed in the same place that Massa wrecked, but for a much different reason: his rear wing fell off.
Yes, you read that right: his rear wing fell off. At one of the fastest parts of the circuit. One minute, the car is fine. The next? "Hmmm... the handling's gone bad." In an interview with Smarmy Windsor afterwards, Trulli said that the whole rear of the car was wrecked, but the engine should be fine. We'll see, but that's not what they should be concerned about... they should be concerned about WHY the wing fell off.
Finally, we discovered that Montreal is not the only F1 track with a 'wildlife' difficulty level, courtesy of Sebastian Vettel:
"I knew I should have taken that left turn at Albuquerque..."
Bugs up there set a better lap time than either Honda.

Quals tomorrow.

Posted by: Wonderduck at 09:43 AM | Comments (8) | Add Comment
Post contains 484 words, total size 3 kb.
68kb generated in CPU 0.0184, elapsed 0.0808 seconds.
51 queries taking 0.067 seconds, 263 records returned.
Powered by Minx 1.1.6c-pink.