July 27, 2013
F1 Quals: Hungary
Look, I haven't watched Quals yet, I don't know if I'm going to get a chance to due to this computer kerfluffle. There WILL be a F1Update! tomorrow, and here's the provisional grid for the race, but either this computer is going to work or I'm buying a new one very soon.
Here's the grid:
I gather that Shiv took pole at the very last moment from Hannibal, and that Mark Webber had serious car trouble all day, which is why he didn't set a time in Q3.
Right, everybody back on your heads!
Posted by: Wonderduck at 01:27 PM | No Comments | Add Comment
Post contains 249 words, total size 14 kb.
July 22, 2013
F1 On NBCSN: Hungary 2013
It's been three long weeks since the Grand Prix of Germany, and after this weekend, we'll have a full four weeks off for the annual F1 summer break. So what single race do they give us to make us hungry for more? What historic track do we get to make us long for the days of races on consecutive weekends? Ladies and Gentlemen, I give you... the HUNGARORING!
A slow, high downforce circuit, it's called "Monaco without the glamour." Which is a total lie, if you think that dusty and hot are glamourous. For whatever reason, though, the Hungaroring is Hungary's #3 tourist attraction, behind the Danube and Lake Balaton, but ahead of Budapest.
Which says something about Hungary, I think. For heaven's sake, this is one of the few tracks that doesn't rubber in as the weekend goes on... the dust comes on too quickly for that! They seriously need to talk to the folks at Bahrain about using their "sand binder" thingy to keep the dust down.
Okay, let's be honest here. I hate this place with a passion. The only time this place coughs up a good race is when it rains, and then Jenson Button wins. This is the place where Felipe Massa took a spring upside the helmet, and lost his mojo (and nearly his life) in the process. This is the place where, many years ago, the Legendary Announce Team had their heads superimposed over those of people going down a waterslide that's just beyond the track... and that was the highlight of the race.
Well, it's only one weekend a year. Surely I can muster up the enthusiasm for this one outstanding Formula 1 race?
The good news is that it's back to normal for the TV broadcasts.
FRIDAY
Practice: 7a - 830a live
SATURDAY
Quals: 7a - 830a live
SUNDAY
2013 Grand Prix of Hungary: 630a - 9a live
All broadcasts are on NBCSN. We'll be watching... will you? See ya then!
Posted by: Wonderduck at 08:05 PM | No Comments | Add Comment
Post contains 335 words, total size 2 kb.
July 07, 2013
I Just Lost A Nearly Completed F1U!
I am
very
annoyed with FireFox right now.
Posted by: Wonderduck at 06:23 PM | Comments (5) | Add Comment
Post contains 15 words, total size 1 kb.
July 06, 2013
F1 Quals: Germany 2013
As with Friday Practice here at the Nurb Jr, once again there were no issues with tires pretending to be bombs, for which we are eternally grateful. There
was
, unfortunately, another issue with a Williams KERS unit pretending to be a campfire. About two hours before Practice 3, the KERS unit for Maldonado's car burst into flames in the Williams garage area. With the help of Force India mechanics, who were practicing pit stops at the time, the fire was extinguished with minimal damage. One would think that the Williams drivers will be somewhat skittish about pressing the "go fast" button tomorrow in the race, that's for sure. Speaking of which, let's take a look at the provisional grid for the 2013 Grand Prix of Germany:
Shiv Hamilton was the last guy on track and shot down Hannibal Vettel's pole-sitting time with a blisteringly hot lap, depriving the German the pole for his home race... again. Meanwhile, Hamilton's teammate Nico Rosberg was bounced out of Qualifying in Q2 in what was just a simple case of overconfidence. See, Rosberg had set a perfectly reasonable time on his first run in the session, the team brought him in for a new set of tires, pulled him into the garage, as is normal, to perform little adjustments, get the fuel level exactly where they wanted it... and there he sat, in the car, waiting to go out for his second run. And he sat. And sat. Then, once it was too late for him to do an out lap and get around to the start/finish line to begin a hot lap, times began tumbling. He fell from, if memory serves, 2nd on the time sheet to tenth with only one car left on track: Kimi Raikkonen, at the time sitting in 14th. Yep, that didn't work out for Rosberg at all. Raikkonen jumped above Rosberg, bumping him out of the session. Rosberg, ever the gracious driver, later threw the team under the bus, blaming them for the mistake and whining that he's got no chance to do anything in the race now.
The Force India boys just sneered at him.
If there's a team to watch out for in the race, it's Ferrari. Everybody ahead of them are starting on the soft tire, which are expected to last
maybe
10 laps. The red cars, however, are on the medium rubber, which seem to run for 25 or so before giving up the ghost. They're also maybe a second a lap slower. IF, and that may be a big "if", Ferrari can stay close to the front group, they'll be able to make up the time in the pitstops.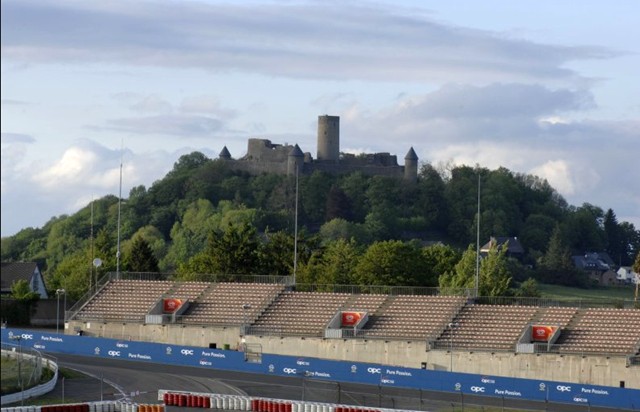 The race is Sunday morning, and F1U! will be along sometime afterwards. See you then!
Posted by: Wonderduck at 08:38 AM | No Comments | Add Comment
Post contains 618 words, total size 16 kb.
July 05, 2013
F1 Practice: Germany 2013
Normally, I will say that nothing occurred during Friday Practice, and it'll sound world-weary and jaded. I mean, I've seen literally hundreds of practice sessions, and nothing of importance occurs in the vast majority of them... of course I'm going to sound somewhat beaten down and bored by the whole thing. You've seen one practice session, you've seen 'em all. Truly, there's very little in this world more depressing than the sight of a jaded, world-weary duck.
However, today's practice sessions at The Nurb Jr were somewhat different. Today, nothing important or dramatic occurred,
and that's

exactly

what we wanted
. There were no wild tire blowouts, there were no drivers boycotting the race due to safety concerns, no Pirelli executives being strung up by their wheel nuts, nothing like that at all. For this race, the tire company from Italy has a Kevlar-backed tire, as in 2012, just with 2013's rubber compound bonded to it. Which, coincidentally, is what they wanted to bring to Silverstone last week, but such a massive change needs to have unanimity from the teams to be approved. Three teams (Lotus, Force India, and another that I can't find right now) refused to allow the change, saying "we built our cars to work with these tires, if the others didn't, that's their lookout."
Well, after the issues at Silverstone, the FIA stepped in and said "make the changes, Pirelli." They also made mandatory a number of things that Pirelli could only suggest the teams do: run the tires at a certain PSI level, limit negative camber amount, prevent teams from reversing tire sides, so on and so forth. Methinks Jean Todt, current President of the FIA, is running for reelection. So that's where we stand on the tire issue for this race... there'll be a new tire altogether at the next race in Hungary. I suspect it'll be made out of wire-wrapped armor plating dipped in cyanoacrylate... no
way
it'll come apart.
Oh, and Marussia's Jules Bianchi had an upset tummy today and missed P1 and most of P2. I can't tell if the foam padding has been lightly browned or not...
Quals in the morning... see you sometime thereafter!
Posted by: Wonderduck at 04:08 PM | No Comments | Add Comment
Post contains 368 words, total size 3 kb.
July 02, 2013
F1 On The NBC Networks: Germany 2013
It is called by many names. Nordschleife. The Ultimate Track. Nurburgring. The Toughest Circuit In The World. It is best known, though, by the name Jackie Stewart gave it in 1970:
The Green Hell
. 12.93 miles long. 154 turns. Over 1000 feet of difference between the lowest and highest points on the track. Man and machine race here. Man and machine die here: somewhere between three and 12 drivers are killed on the Nordschleife, or "North Loop" every year. A modern Formula 1 race here would be roughly 12 laps long, and be the most exciting spectacle we've ever seen. Which is why they don't race F1 there anymore. Instead, for the Grand Prix of Germany, they race on the purpose-built F1 track, which has many names of its own: GP-Strecke.
Green Party Ring
. Ersatzring. Or, as we here at F1 Update! call it, Nurb Jr. Let's take a look at this massive letdown, shall we?
This circuit has two strikes against it right from the start. First, it actually has a turn named after Slappy Schumacher. Second, it's not the Nordschleif. It was, however, the site of one of my favorite moments in F1 history, the
2007 Grand Prix of Europe
. Everybody and their brother started the race on dry-weather tires, and by the time the Thundering Herd reached Turn 4, the skies had opened up and most of the North Sea had deposited itself upon the track. Many, many cars went slithering into the kittylitter at Turn 7, including Vitantonio Liuzzi going down the hill to 7 backwards to gently end up nuzzling a mobile crane. Meanwhile, Marcus Winklehock, in his first and last F1 drive, had started the race on full wets and had a thirty-second lead on the field... in a SPYKER, no less... when the red flag was thrown. Ah, good times, good times.
But I digress. This year's excitement will be all because of tires. Specifically, Pirelli tires that seem to have a propensity to explode... at least, if you ask the teams, they do. If you ask Pirelli, the tire failures are down to the teams using them the wrong way. Now how, I hear you asking, can they be using
tires
the wrong way? Well, it's easy if you're in Formula 1. F1 tires are "handed," if you like: they're designed to be run one way and one way only. If a tire is made for the right-rear, that's where it's supposed to be put. Some bright spark discovered that if you switch sides with the rears, they last a little longer, and you might get a little bit of speed bonus, too. So you've got a bunch of teams running around with their rear tires on the wrong sides, with tire pressures too low (16 - 18psi is normal), and then they run over the backside of a curb and they're shocked that the tires fail? But it's Pirelli's fault.
Drivers were talking about boycotting the race. Teams were rumbling ominously about being cross with Pirelli... even though if they had agreed to the proposed changes that Pirelli suggested a few races back, these tire failures probably wouldn't have occurred. And on and on. In the end, I'll be shocked if Pirelli willingly comes back next year. "A pox on all of you."
Speaking of poxes: due to the interference from the Tour de Drug Dealers, the race weekend is again all a-jumble. All I know for sure is that the 2013 Grand Prix of Germany will be on CNBC at 630am on Sunday. Oh, and that F1U! will be watching everything. See you soon!
Posted by: Wonderduck at 07:49 PM | Comments (5) | Add Comment
Post contains 611 words, total size 4 kb.
67kb generated in CPU 0.0434, elapsed 0.2221 seconds.
46 queries taking 0.1885 seconds, 251 records returned.
Powered by Minx 1.1.6c-pink.