November 23, 2013
F1 Quals: Brazil 2013
Rain. Rain is the great equalizer. Rain mushes up the playing field, makes everything harder and slower. Rain during Qualifying can put backmarkers on pole and champions into the wall. Rain Is Good.
It rained during Quals today. Here's the provisional grid for the 2013 Grand Prix of Brazil:
It rained, and it still doesn't matter. In fact, it was only in the closing stages of Q3 that Rosberg cut the gap to Vettel to under a second. Let me repeat that: Vettel was going to take pole by over a second. In the rain. Guess what it's going to do on raceday? If you said "rain," you're right. Hopefully not as much as we had today, when Q3 had to be delayed nearly 45 minutes, but rain.
With the race on NBC, I wounder how they'd handle a major delay? Guess we might just find out! See ya at 10am Pond Time for the final Grand Prix of 2013.
Posted by: Wonderduck at 01:04 PM | Comments (5) | Add Comment
Post contains 315 words, total size 13 kb.
November 20, 2013
F1 on NBCSN: Brazil 2013
I hate the Brazilian Grand Prix (that's a lot of grands prix!). I always have. I've pretty much realized that it's irrational and left it at that. Here's the track map of Interlagos, home of the 2013 Grand Prix of Brazil:
There's no reason for my hate. This isn't a bad circuit, actually. Oh, I could do without the technical section in the middle, sure, but other than that it's pretty good. Lots of elevation change... it's downhill from Turn 1 to the end of Turn 3, and then it's back uphill from Juncao to Turn 15. Hell, this is the site of the most exciting moment in recent F1 history, the end of the
2008 Brazilian Grand Prix
, when Lewis Hamilton won his driver's championship... and
Felipe Massa had it taken away
.
But I don't care. I dislike Interlagos intensely. Always have, always well. The hell of it is that I'm basically alone in my dislike... it's a popular track for drivers and fans alike. Oh well.
Here's the broadcast schedule for this weekend, with the Legendary Announce Team!
FRIDAY
Practice 2: 10a - 1130a live
SATURDAY
Quals: 10a - 1130a live (on CNBC)
SUNDAY
2013 Grand Prix of Brazil: 2p - 430p
...and then this season will be over.
Posted by: Wonderduck at 10:47 PM | Comments (6) | Add Comment
Post contains 216 words, total size 2 kb.
November 17, 2013
About That US Grand Prix Thing...
I may have a problem watching it. There's wave after wave of thunderstorms and squall lines coming through the area. High wind warnings are posted until 4pm, pretty much all of Illinois is under a tornado watch, except for some parts that have tornado warnings.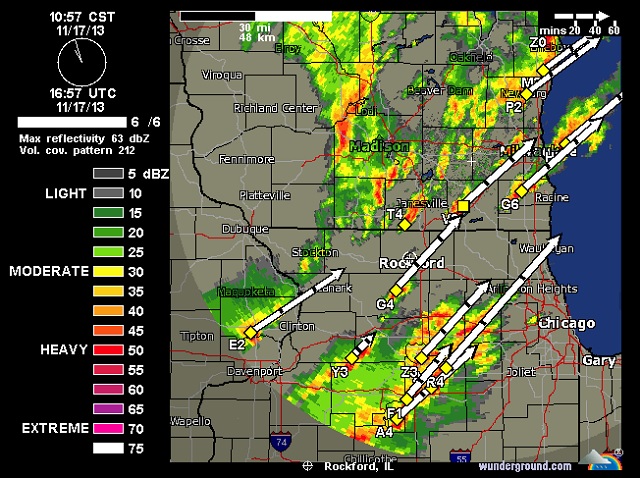 It goes without saying that this sort of thing plays hob with satellite reception... and that storm marked "G4" is aimed right at Pond Central. There's a Bears game at Soldier Field at noon, and they're preparing for the worst. 61000 people in an outdoor stadium when a bad storm rolls through? Not pleasant.
So we'll see what I get to see... stay tuned, I guess, though if my satellite goes out, there's every chance in the world my internet'll go out, too.
UPDATE
: Eep.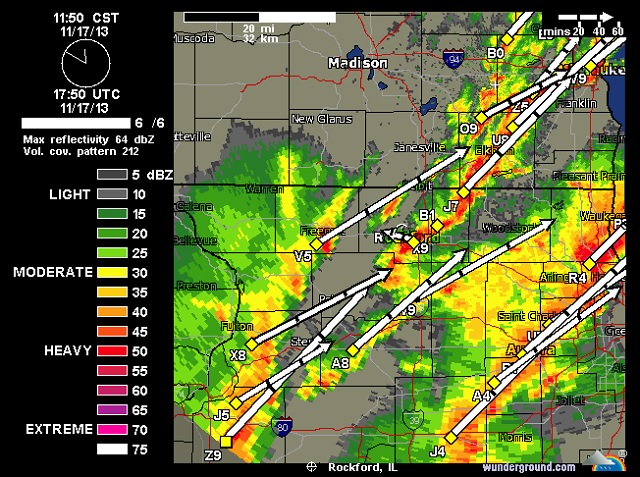 Squall line going over pretty much as we speak. Zero satellite feed.
UPDATE
: Satellite feed is back a half-hour from the race start. Too damn bad the station is breaking in every five minutes with weather updates. To be fair, things are nasty just south of Pond Central... there's been a tornado on the ground about 50 or so miles south of here, for example. We seem to be clear up here, though. I mean, it's going to rain, yeah, and thunderstorms, but the weather nabobs are saying that Duckford should be safe from the severe weather.
UPDATE @ 1236pm
: They just temporarily suspended the Bears game, and the fans are being evacuated into the recesses of Soldier Field. I heard Gene Steratore, the head ref for the game, say "tornado warning" and "heavy lightning". Great googly moogly.
Posted by: Wonderduck at 11:08 AM | No Comments | Add Comment
Post contains 274 words, total size 2 kb.
November 16, 2013
F1 Quals: United States!
It was a much nicer day than we had on Friday for practice. Then, first practice was delayed, then shortened by a half-hour, because of fog. It was thick enough to prevent the medical helicopter from flying. Eventually the fog lifted, P1 started, then after about 15 minutes it was red flagged... because people noticed that the medical helicopter wasn't actually there yet. Oops.
But that was yesterday. Today, there were some clouds overhead, but the big thing was the wind. The Legendary Announce Team said it was gusting up to 30mph, and it was playing hob with the cars all session. It was bad enough that when the cars were going one direction, aero grip was boosted, but the other? Shiv Hamilton was complaining that the front end of his Mercedes felt light and twitchy. To be sure, the cloudy sky also meant that it was cool-ish and the track surface never warmed up... meaning the tires didn't have as much mechanical grip as they should, either. So what does all this mean for the race tomorrow? Well, here's the provisional grid for the 2013 United States Grand Prix:
Yeah, yeah, Vettel still gets the pole. But Nico Hulkenberg ahead of Hamilton? Valtteri Bottas as high on the grid as 3rd in Q3 until slipping down to 9th? BOTH Saubers in Q3? Massa 15th? Rosberg in 14th? Really? Heikki Kovalainninninnie in 8th, despite not having driven the Lotus until yesterday? What sort of weirdness IS this, anyway? It's
Austin Weird
, of course, though I suspect the proprietor of that website frowns upon F1.
So we've got a... let's call it a "blended" grid, which should make for an exciting first couple of laps while the faster cars make their way up towards the front... or leave little pointy pieces of carbon fiber scattered all over the track, one of the two.
As far as penalties go, Button got a three grid-spot penalty for passing under the red flag on Friday, while ToothPic gets a five spot for a gearbox change, and thus will be starting from somewhere near the Balcones Canyonlands National Wildlife Refuge.
So the race is on NBC at 1pm Pond Central time, but there'll be an one-hour pre-race thingy at noon, also on The Big Network. You have no excuse to miss this one, and it should be worth watching... except for the whole "Vettel streaking off to another victory" thing.
See ya after!
Posted by: Wonderduck at 03:55 PM | Comments (4) | Add Comment
Post contains 564 words, total size 16 kb.
November 11, 2013
F1 on TV: 2013 United States Grand Prix
They say "be it ever so humble, there's no place like home." Well, home it may be, but "humble" isn't a word that applies to the Circuit of the Americas, home of the 2013 United States Grand Prix! Let's take a look at the track map:
Ah yes... who can forget this beauty? The run up Phil Hill to Turn 1, followed by a junior-sized version of Suzuka's "S-Curves", then a whole buncha fund stuff leading to a slightly smaller version of Turkey's Quad-8 (here, 16-17-and-18, aka "Faux-8"). Easily the best Tilke track ever, perhaps because he didn't actually design it. Instead, TilkeCorp simply built the place... and we are all better for it.
Last year's first race was won by Shiv Hamilton, who tracked down and passed 4Time Vettel for the lead late in the race. At the time, it added extra suspense to the final race of the year, as there was still a fight for the championship. Not so much this year, and who knows how this year's race'll work out? I certainly don't, but I wouldn't bet against Vettel.
One driver I won't bet on is Kimi Raikkonen. He's going to miss the last two races as he recovers from back surgery. Convenient, that. I'm also not going to bet on Felipe Massa, just because. However, good news for all of us, as Massa will be on the grid next year! It was announced on Monday that he's signed with Williams for 2014, taking the seat of NoJokeHere Maldonado and his Venezuelan Government backing.
But that's all next year. We still have this season to finish up... and I'm actually going to complain about NBCSN. This is arguably the channel's biggest event, and what's happening? Quals are being tape-delayed so English Premiere League soccer can be broadcast. The hell? Here's the broadcast schedule as I know it:
FRIDAY
12noon - 230pm: Practice 2
SATURDAY
530p - 7p: Quals
SUNDAY
12noon - 330pm: 2013 United States Grand Prix live (one hour pre-race) on NBC.
F1U! will be annoyed by this all weekend, but we'll be here! See ya then.
Posted by: Wonderduck at 11:00 PM | Comments (2) | Add Comment
Post contains 360 words, total size 2 kb.
November 02, 2013
F1 Quals: Abu Dhabi 2013
Well, it's nearly 830pm, I've only just gotten home from work, and I'm not going to get to watch Quals... which is a shame, because it appears to have been interesting! Here's the grid:
The big news is, obviously, Jules Bianchi being hit with a five-grid-spot penalty for an unfortunate gearbox change.and will thus be starting from somewhere near Umm al-Quwain. No, okay, I'm joking of course. The sharper-eyed amongst you will have seen the dreaded "DSQ" next to Kimi Raikkonen's name. He qualified in fifth place, his best performance since the summer break... and then his car failed scrutineering afterwards. The FIA says that the floor of his car deflected too much in the usual tests, while Lotus said that was because the piece they were testing was broken on a curb during the session. This explanation was not accepted, which means that Kimi Raikkonen was duly excluded from Quals altogether and will be starting from the back of the grid.
Considering the news that came out yesterday that he has not been paid by Lotus at any time this season, one has to think that Kimi is more than a little peeved.
Me, I'm more than a little tired. Race in the morning, though considering the whole time change thing, I have no idea when. See you sometime tomorrow with a F1U!
Posted by: Wonderduck at 07:51 PM | Comments (2) | Add Comment
Post contains 385 words, total size 16 kb.
84kb generated in CPU 0.0284, elapsed 0.1056 seconds.
50 queries taking 0.0922 seconds, 264 records returned.
Powered by Minx 1.1.6c-pink.