April 25, 2011
F1 Tids and Bits
While we wait for another 12 days and a few hours to pass before the next race, here's some news from around the F1 world...
First off, excellent news! Robert Kubica was released from the hospital today, some 10 days earlier than was expected. While still using a walker from all reports, he's progressing so well that the doctors decided that the best thing for him was to go home for a few days before beginning a new round of therapy. It was just short of three months ago that he suffered the hideous crash that shattered his right leg, ruined his right elbow, and nearly severed his right hand. It's still too early to tell if he'll ever be able to get behind the wheel again, but hey, he's walking and his hand is still attached... that's pretty amazing right there.
There's some serious discussion occurring amongst the teams about banning the movable rear wing, aka Drag Reduction System (DRS), for the Grand Prix of Monaco. This actually makes a great deal of sense. There really isn't a straight on the circuit worthy of the term, after all. Further, the layout is so cramped that it's only just barely wide enough for two cars. Considering that Monaco is pretty much nothing but slow, tight turns, DRS would seem to be flat-out dangerous. I wonder if they're considering taking KERS out of the mix, too?
The organizers at Abu Dhabi are making some changes to the circuit prior to the race in November. Amongst other things, they're combining the two left-hand turns 13 and 14 into one big sweeper, widening the chicane at Turns 5/6 so as to allow different lines through the curves, and they're changing the camber on Turn 9. This is a big one as originally the camber ran opposite the way it should, i.e., the outside of the turn is lower than the inside. Now Turn 9 is going to be much more of a traditional banked turn, allowing drivers to drive around the outside without losing grip. Using my Crazy MS Paint Skillz, I've mocked up what the trackmap might look like.
Okay, maybe not, but you get the gist. Should give us a couple more passing areas, that.
Finally, Pirelli is telling us that if we thought the tire wear problems were bad now, just wait until we hit Turkey! According to the manufacturer, the Istanbul Otodrom's surface is made out of 2-grit sandpaper and broken glass, and the tires will last even fewer laps than normal. I guess that means the soft tires will last maybe six laps, the hards a dozen, and the super-soft tires would explode the moment the Pirelli trucks reach the paddock.
More as events warrant!
Posted by: Wonderduck at 06:35 PM | Comments (1) | Add Comment
Post contains 461 words, total size 3 kb.
April 21, 2011
Trading Paint II: Coming This Summer
Some years ago, NASCAR driver Jeff Gordon and then-F1 pilot Juan Pablo Montoya got together at the Indianapolis Motor Speedway... and
threw each other their car keys
. Gordon wound up giddy as a schoolgirl, Montoya wound up moving to NASCAR.
A month ago, it was announced that there's going to be a sequel this Summer. From NASCAR, Tony Stewart. From the F1 Circus... Lewis Hamilton.
And this time, they're going to be at a real circuit: Watkins Glen. No word if they'll be running the NASCAR layout or the full F1-grade track (my guess is the truncated one), but either way, it's gonna be fun. I predict that Hamilton will suck, and that Stewart will be in F1 inside of three years.
*
As you can imagine, I'll be all over it as soon as it occurs... probably around the time of the GP of Canada.
*
note: not really, but I've wanted him, Earnhardt Jr or Kyle Busch to drive in F1 for years, just to set foreign relations back a few centuries.
Posted by: Wonderduck at 10:25 PM | Comments (1) | Add Comment
Post contains 178 words, total size 1 kb.
April 16, 2011
F1 Quals: China 2011
Well,
that
was interesting. A cloudy, chilly day greeted the teams as they got ready for the all-important Quals session at Shanghai. That'd make getting heat into the tires a challenge, something the Ferraris have been having problems with anyway. So how'd it work out? Let's take a look at the provisional grid for the 2011 Grand Prix of China:
The obvious shocker here is that Mark Webber was knocked out in Q1. He'd been having electrical problems during Saturday's 3rd practice session, his KERS system failed (again) in Q1, and he only used hard tires during the 20 minute session. Despite that, he should have been able to do better than 18th, but there he is. The cold temps never allowed his tires to heat up sufficiently, I guess. On the bright side, he'll have three untouched sets of soft tires for the race.
Then Quals got exciting for a different reason. With about three minutes left in Q2, Vitaly (The Red Menace) Petrov turned in the fourth-fastest time of the session when his gearbox suddenly contained nothing but neutrals and hate. Unable to get his car off the circuit, Charlie Whiting had no choice but to throw the red flag with 2:02 left in the period. Back in the paddock, consternation reigned. You see, a number of teams had kept their cars in the garage to conserve tires... including Petrov's teammate, Grizzly Nick Heidfeld. Felipe Massa also hadn't turned a lap yet. When the circuit was reopened, pretty much everybody other than the McLarens and Seb Vettel, all of whom were secure in their positions, poured out for one desperation hot lap. When it was all over, Grizzly Nick was on the outside looking in, unable to get his tires to heat up sufficiently.
Q3, of course, belonged to Vettel's Red Bull while his teammate fumed in the garage. After Vettel's lap, Button and Hamilton turned one hot lap each, then parked to conserve tires for the race... almost like they were conceding they couldn't catch the young German and the race would be for second place.
That's concerning. If the team with the best chance of catching Red Bull just gives up, what's to keep the season from turning into a complete rout? Eesh.
Race tomorrow, and F1U!'ll be all over it. See you then!
Posted by: Wonderduck at 09:20 AM | Comments (3) | Add Comment
Post contains 551 words, total size 16 kb.
April 15, 2011
F1 Practice: China 2011
In the past, whenever there's been a Grand Prix approaching in Shanghai, the Chinese authorities have made the various factories in the area shut down. This year, that didn't happen.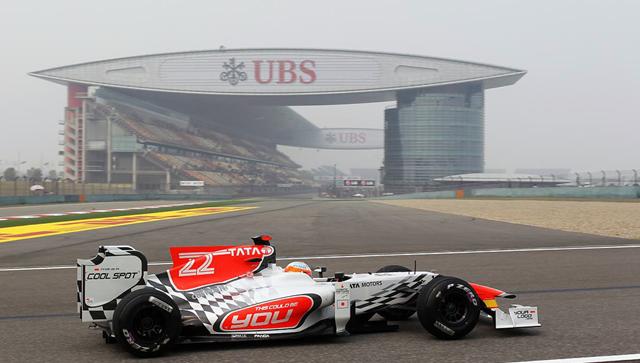 That's not fog making things in the distance look all hazy and indistinct, it's air pollution. I can only imagine what it'd be like to breathe that when you're pulling 5Gs around a track... and what about the engines? They're normally aspirated, I'd assume that there's some small loss of performance involved.
Pray for rain, ere Vettel run away again. In P1, he was a half-second faster than his teammate Mark Webber... and
two seconds
faster than anybody else. In P2, he was only a couple of tenths faster than the McLarens.
I don't have a whole lot to say about the practice sessions, truth be told. Cars drove around, Grizzly Nick Heidfeld crashed his Renault twice (once each session), the tires look to be failing even faster than they did in Malaysia, and the smog makes it look like the racetrack was built on a moor.
Oh wait, it was. Well, swampland at least. As we've learned from tracks like Interlagos, when you build on or near water (i.e., filled swamp), you have problems with the track surface. I gather that they had some problems with subsidence over the past year, as there are new sections of asphalt scattered all over the circuit. Didn't seem to be causing any problems, though.
The tires seem to have picked up a new, unpleasant, trait: the rears seem to work great... right up until the point where they lose grip and snap the cars in random directions. We were seeing that all day; it looked like the drivers had no idea if or when they were pushing too hard. The first indication they had was when the car suddenly was pointing against the direction of traffic. Yeek. And, like in Malaysia, the soft tires may as well just be jelly-donuts after a couple of laps. The hard tires aren't much better. I suspect that Pirelli is gonna be hearing even more complaints right quickly.
Quals tomorrow.
Posted by: Wonderduck at 09:18 PM | No Comments | Add Comment
Post contains 358 words, total size 2 kb.
April 11, 2011
F1 on SPEED!: China 2011
From Kuala Lumpur, Malaysia to Shanghai, China is 2307 miles, or roughly a six hour flight. That's just a hop, skip and a jump for the F1 Circus, and that's why we've only got our first back-to-back races of the season. This weekend sees them racing at Shanghai International Circuit, yet another of the interminable Tilke tracks. Let's take a look at the map, shall we?
Last year
, I was somewhat... rude during the "F1 on SPEED" entry, but was forced to eat my words (or lack of them) after
the actual race
, a chaotic affair that earned the honorable mention for Race of the Year in the
2010 F1U! Awards
. It brought us both the Move of the Year
and
the Mooooo-oove of the Year as well. Amazing what a little rain can do... it can turn even a Tilke track into one of the most exciting layouts!
Okay, I'm done gushing. The last three races here have all been run in the wet; this made them exciting, but that's in spite of the track, not because of it. Fortunately, the forecast is for rain this time around, too... just like Malaysia. *sigh* I dunno, flip a coin and let me know how it turns up, okay?
Of course, the good people of SPEED will be providing all LIVE coverage for this race... no more "plausibly live" coverage of Quals anymore! It all starts Thursday night from 9pm to 1030pm, with streaming coverage of 1st Practice... maybe we'll get another locked wheel or something exciting like that! P2 comes along from 1am to 240am Friday morning on SPEED itself. P3 is streaming from 10pm to 11pm Friday night, in preparation for Saturday's Quals session from 1am to 230am.
Then comes the big one, the 2011 Grand Prix of China, live from 130am to 4am Sunday morning! There's probably a replay, but I can't be arsed to find out when it is. Heh.
Of course, all times are Pond Central. Add an hour if you're in Atlanta, subtract two if you're in San Francisco, and if you're on the Moon, add 1.29 seconds (assuming your base is directly over either The Pond), more or less. Hope you have a lot of oxygen bottles. Drop me a line, will ya, I'd like to hear from The Pond's first off-planet reader!
Posted by: Wonderduck at 08:44 PM | Comments (1) | Add Comment
Post contains 394 words, total size 3 kb.
April 09, 2011
F1 Quals: Malaysia 2011
In Australia, Seb Vettel and Red Bull blew the rest of the field away on his pole lap to the tune of 8/10ths of a second. He then went on to run away and hide from everybody during the race. But could he continue that dominance in Malaysia, or could McLaren, Ferrari or even the resurgent Renaults kick the World Champion in the shins? Let's look at the provisional grid for Sunday's Grand Prix of Malaysia:
All Skate, ladies and gentlemen, everybody All Skate! Not only did HRT make the field, but even Kittylitter made it with nearly a second to spare. Vitantonio Liuzzi was actually closer to the Virgins than he was to his own teammate. A rousing round of applause to the tiny team from Murcia, everybody... HRT has officially joined the 2011 F1 season! This bodes well for the rest of the season, at least as far as having a full grid goes.
Now for the important stuff. Yes, Seb Vettel took pole position, but the difference has been much reduced. .104 of a second is a much more manageable margin to deal with for the rest of the field to deal with in comparison to the sound thrashing handed out at Australia. I think we're seeing a repeat of the Red Bull RB6 with this year's RB7: great in the corners, great under braking, but not quite as fast on the straights. For you WWII buffs out there, the RB6 was the Mitsubishi A6M Zero of the F1 world: nimble, but not as fast as, say, the F6F Hellcat. Australia isn't the fastest circuit in the world with no true high-speed zones to speak of, and so would play right into the RB7's strengths. Malaysia, with its two gigantically long straights, would be more to the favor of the McLarens of the world.
However, there is an ominous side to all of this for the rest of the field. Vettel only put in 12 laps for the entirety of Quals. In comparison, Hamilton did 19, Webber 17, Button 15, and HWMNBN 14. On a circuit that's proving to be murder on the new Pirellis, those laps not turned on his tire allotment might make a small but crucial difference in the race.
Oddly, or perhaps not so oddly, the top five spots on the grid fall exactly the same way they did in Australia. Heck, even the sixth spot is held by a Renault, just like in the first race of the year, though this time driven by Grizzly Nick Heidfeld rather than The Red Menace.
So there you have it, folks. We might just have ourselves a race tomorrow, depending on who makes it to Turn 1 first, and how much of a lead he has. F1 Update! will be here Sunday... see you then!
Posted by: Wonderduck at 11:07 AM | Comments (4) | Add Comment
Post contains 632 words, total size 16 kb.
April 08, 2011
F1 Practice: Malaysia 2011
Nothing particularly exciting to report from the 2nd Practice session, to be honest, so it's time to discuss some goings-on in the F1 world while I wait for P3 to begin streaming.
First up, if you didn't believe your eyes when you saw the picture of Renault's massive flat spot, when Grizzly Nick Heidfeld had a brake lock-up on him, here's more proof: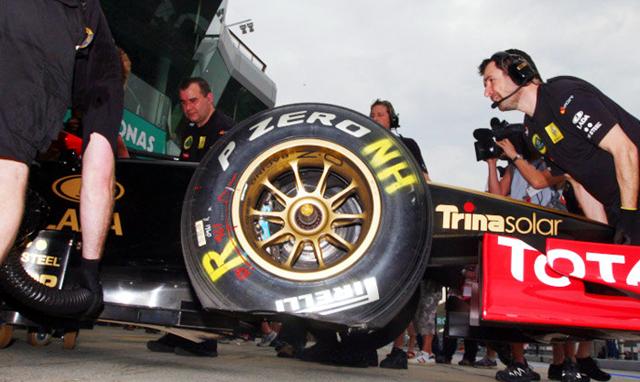 Would have ground the tire down even farther if the bottom of the car hadn't've stopped it. It turns out that the both Renaults had the same problem: defective uprights. The upright is the part that lets the wheel assembly attach to the suspension. It's what the brakes mount to, it's where the wheel hub sits, etc etc etc. On a street car, the wheels mount to the axle; on a F1 car, the point of contact is the upright. Renault thinks they had a bad manufacturing batch, which is why both cars had the same type of failure on the same day. It manifested itself differently, of course (Heidfeld's caused the brake to lock, Petrov's was more severe, causing a high-speed failure of the suspension), but the same part was to blame. Replacements were tested, installed, and both cars were back on track late in P2.
Custard d'Ambrosio's suspension failure was tracked to a
clevis bracket
that attached one of the suspension's rods to the body of the car. The damage done was severe enough that he never got into P2.
What I thought was a transmission problem for Ferrari early in P1 turned out to not be so. The team was doing aerodynamic testing of some piece or another, and required the cars to circulate at a specific speed all the way around the track... ergo, no upshifting. Allegedly.
Narain Kittylitter's smoking HRT turned out to be nothing more than a really bad oil leak. No blown engine, which is good news for the team. When Vitantonio Liuzzi's car came to a halt on track in P2, nobody was quite sure why. Turns out his gearbox got a little cornfuzzled when he took a curb a little too enthusiastically. That sort of thing can happen to any car at any time... the shock transmitted itself to the gear selector and in lieu of trying to engage two gears at once (bad, leads to a gearbox full of neutrals) it decided to engage nothing and go into petulant child mode (not great, but a lot better than a handful of metal shavings).
The tires really are having problems at this track. At one point during P2 track temps were well above 120°F, which improved grip but accelerated wear. The abrasive surface at Sepang is also causing the tires to wear faster; look for three stops for sure, barring weather. Speaking of weather, everybody is expressing surprise at the lack of rain so far, while commenting that every day the teams have been in Malaysia, it has rained at 4pm local time. Both quals and the race will be in progress at 4pm on their respective days.
Quals tomorrow morning, see you then!
Posted by: Wonderduck at 11:21 PM | Comments (1) | Add Comment
Post contains 520 words, total size 3 kb.
April 07, 2011
F1 Practice 1: Malaysia 2011 (LIVE)
Well, this is turning out to be more exciting that I thought! I brought up
speedtv.com's live streaming feed
of Practice 1 from Malaysia, wanting to get reacquainted with the circuit and hoping to catch a glimpse of the HRTs maybe making their first laps of the 2011 season. And indeed, HRT brought out Narain Kittylitter 19 minutes into the session.
That went well.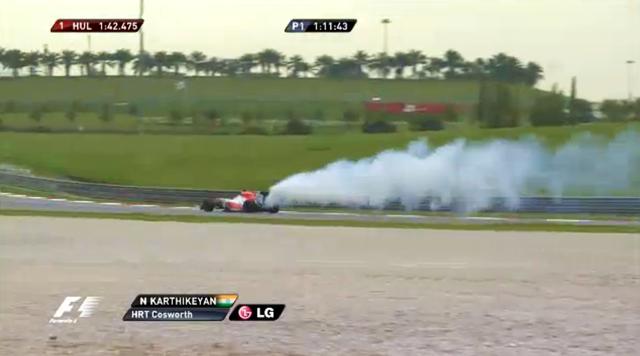 Okay, oops, blown engine, right? It's worse than that: the engine was smoking like it had just elected a Pope as he pulled out of his pit stall. Now, it's not uncommon for a F1 engine to squirt a little oil onto the exhaust or some other hot thing in the back of the car, particularly at the start of a session (Mark Webber's Red Bull did just that at... the Aussie GP? in 2010, for example... race began, he began to move, and poof! Big cloud of smoke.). But this time, the HRT kept on smoking as it rolled down the pit lane, into Turn 1, through Turn 2, around Turn 3... you get the picture. Eventually, Kittylitter called back to the pit wall: "There's a lot of smoke." Pit wall, sounding depressed: "Switch it off, Narain." A few minutes later, Vitantonio Liuzzi came out, put in an installation lap (to make sure everything worked), then went right back in. So we might be seeing a HRT in Quals, and the chances are good that there won't be a single insect anywhere near the track afterward!
Then Felipe Massa brought out his Ferrari. It all sounded fine until he hit fourth gear (maybe 5th)... then he started bouncing off the rev limiter and couldn't shift up. Into the pits he went, and out came HWMNBN... who had the same thing happen, in the exact same place on the track. As of this writing, with 33 minutes left in the session, neither has re-emerged from the pits.
Then Grizzly Nick Heidfeld brought his Renault out onto the circuit.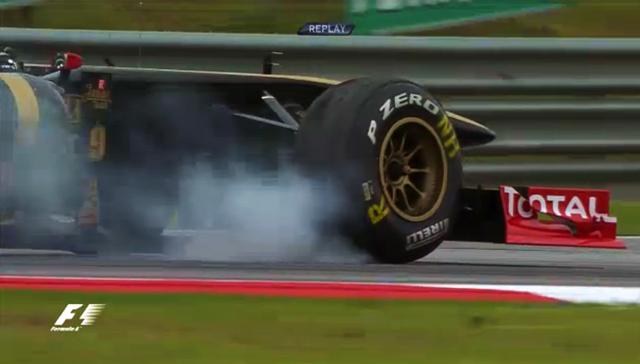 "Okay," I hear you saying, "he locked up a tire going into a turn, so what?" One little problem: that's not a braking zone he's in. There's no commentary from the Legendary Announce Team (or anybody else, for that matter), so I can only speculate, but it sure
looked
like one of his brakes just decided to clamp on unbidden... and stay on. For almost an entire lap.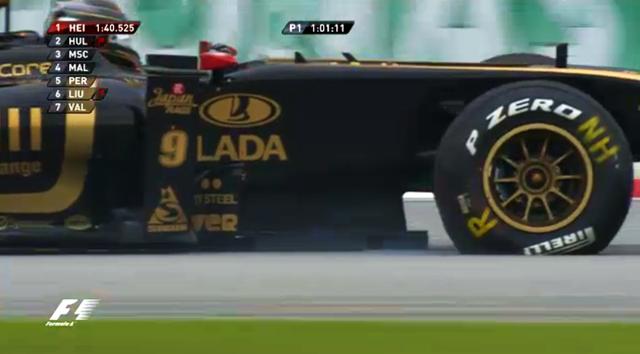 Yup, now
that's
a flat spot. That screencap is from towards the end of the lap, after a good portion of the tire has been ground away. Note the position of the "R" and "NH" on the sidewall in the two pictures... that tire hasn't moved a whit. By the time The Grizzly One made it into the pits, he was leaving a trail of sparks and debris behind him as the FIA legality plank was quickly rendered into its component atoms and carbon fiber began to be shed. Eesh.
Vitantonio Liuzzi just posted a timed lap in his HRT! Okay, yes, it was seven seconds slower than the fastest of the session, but he put in a timed lap! Actually, seven seconds off the pace isn't so terribly bad, all things considered...
More tomorrow evening.
UPDATE
: No sooner had I typed that last sentence than Renault's Vitaly Petrov set off on a hot lap... and had a little tire problem of his own.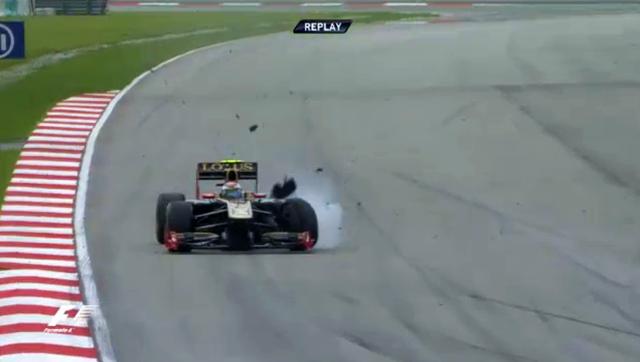 He did say on the radio that "the suspension, it was break (sic)," so take that for what it's worth.
More if someone else has something go bad.
ANOTHER UPDATE
: No sooner had I typed that sentence than Virgin's Custard d'Ambrosio had a suspension failure of his own.
One begins to notice a trend occurring, doesn't one? I'm beginning to wonder if there's something wrong with this batch of Pirellis... I suppose an imbalanced tire could cause suspension damage, but you'd think the teams would have noticed that. Guess we'll have to wait on that one.
The session is over now, so I won't have the chance to cause any more incidents by saying "I'll have more tomorrow." Yeesh...
Posted by: Wonderduck at 09:12 PM | Comments (2) | Add Comment
Post contains 689 words, total size 5 kb.
April 04, 2011
F1 on SPEED!: Malaysia 2011
Leaving the season opener in Australia in the rear-view mirror, we head northwest a couple thousand miles to Malaysia this weekend. Let us take a look at the track map before we get to the good stuff: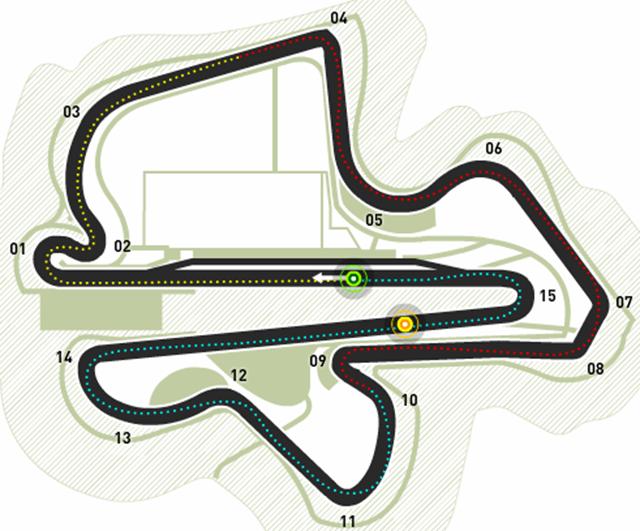 As one can see, the Sepang International Circuit is dominated by two massive straightaways that should allow the Drag Reduction System to really show what it can do, unlike Australia's too-short straight. There is one factor that is even more important to any race here than the track layout itself, and that's the weather.
For Australia, the weather was surprisingly cool, sunny but only around 65°F. The forecast for the race weekend in Malaysia is temperatures around 90°F, very humid, and a
lot
of rain every day. The heat and track surface will cause the Pirelli tires to wear faster. Indeed, the tire manufacturer is predicting four stops, instead of three for Australia. Of course, they didn't exactly get that right in some cases, so who knows? And then there's the weather. If indeed it's raining during the race, just how will the Inters and Wets hold up? Earlier this year, "the rain in Spain falls mainly on test days" was the mantra, but the number of laps turned were rather low... nobody
really
knows what the wear will be. They might be longer-lived than the dry tires for all we know.
Another thing we don't know is what will happen if we get rain during Quals. Throw everybody into a cocked hat, pick a name at random, and there's your polesitter. Well, except for Virgin and HRT, of course. One thing we did learn during practice at Australia is that, if anybody is on-track with wet weather tires, the DRS is turned off and nobody can use it. Probably won't mean anything, but you never know if that'll make a difference.
Fortunately, we've got our usual sterling coverage coming from the good folks at SPEED. To start with, we get Friday's first practice session, streaming live at speedtv.com, from 9pm to 1030pm on Thursday night. Practice 2 will also be live, though that'll be on SPEED itself, from 1am to 240am Friday morning. P3 will be streamed live on Friday night, from 11pm to 12midnight. Will HRT make an appearance this time around, or will they merely be spectators again? They say they'll be on-track, but they said that two weeks ago, too.
The all-important Quals session will be plausibly live from 3am to 430am on Saturday morning... no way the F1U! crew will be awake for that, uh-uh. Finally, it all comes down to the Grand Prix of Malaysia, live from 230am to 5am on Sunday morning. There will be two replays, from 130pm to 4pm on Sunday afternoon, and from 11am to 130pm on Tuesday, April 12th.
Of course, F1 Update! will be all over it as much as we are physically able! See you then!
Posted by: Wonderduck at 06:14 PM | Comments (4) | Add Comment
Post contains 491 words, total size 3 kb.
88kb generated in CPU 0.0215, elapsed 0.6104 seconds.
52 queries taking 0.5971 seconds, 264 records returned.
Powered by Minx 1.1.6c-pink.