November 29, 2011
F1 News Flash: ...And Mumbles Makes Six!
Big news from Renault today as it was announced that they had signed former World Drivers Champion Kimi ("Mumbles") Raikkonen for the 2012 season. His return from self-imposed semi-exile means we'll have a record SIX different Drivers Champions on the grid next year as he joins Seb Vettel, Lewis Hamilton, Jenson Button, Slappy Schumacher and HWMNBN.
We last saw Mumbles driving for Ferrari in 2009, after which he left the sport to become another in a long line of Finnish rally drivers. He then drove a limited schedule in the NASCAR Camping World Truck Series (driving the #15 Perky Jerky Toyota Tundra) and one race in the Nationwide Series, the Triple-A league of NASCAR.
Raikkonen is probably best known for being the sole Ferrari driver I could actually stand, even when he won his Championship in 2007. Unfortunately, his signing comes hard on the heels of the announcement that Robert Kubica, injured in a rallycar accident before the 2011 F1 season began, will not be ready to drive for the beginning of 2012. That probably means that he's out of F1 permanently, I'm afraid, as Renault
really
wanted him back.
It seems likely that both of Renault's 2011 drivers, Bruno Senna and The Red Menace, will be kicked to the curb, with Lettuce Grosjean taking the second seat. The Red Menace does come with a metric farkton of sponsorship money, however, so that's not for sure yet.
In his introductory press conference today, Raikkonen said "Rmbmbmbmbmbbmmbm mrnmrbmmrmmbbmbr mrrrbrmmrbml."
Posted by: Wonderduck at 07:50 PM | No Comments | Add Comment
Post contains 255 words, total size 2 kb.
November 26, 2011
F1 Quals: Brazil 2011
The year was 1991. Operation Desert Storm liberated Kuwait from the Iraqi military. The New York Giants beat the Buffalo Bills in Super Bowl XXV. Boris Yeltsin was elected President of Russia. Red Grange passed away. Mount Pinatubo erupted, killing 800. The first Sonic the Hedgehog game was released by Sega. The Warsaw Pact came to an end. Danny Thomas passed away. Jeffrey Dahmer was arrested. The Super Nintendo was released. Linus Torvalds first reveals the Linux kernel on Usenet. Rajiv Ghandi was assassinated by the Tamil Tigers. The Minnesota Twins defeat the Atlanta Braves to win the World Series. The
Halloween Blizzard
catches a Grad School student named Wonderduck by surprise. The Soviet Union officially dissolved. Freddy Mercury, Dr Seuss and Gene Roddenberry all pass away. And a 21 year old Brazilian named Rubens Barrichello starts his first Formula 1 race. In 1992, the very next season, Nigel Mansell set a record earning 14 pole positions in that season. Today, Rubens Barrichello may be qualifying for his final Formula 1 race, and Seb Vettel has a chance to break Mansell's record. But did he? Let's look at the provisional grid for the 2011 Grand Prix of Brazil:
It wasn't even close. Not only was Seb Vettel the only driver to break 1:12.000, his 1:11.918 time was only a half-second off the Interlagos course record. That time was set in 2004, when the cars had unrestricted V10 engines and could have all manner of bargeboards and winglets to increase downforce. Further, a tirewar was in progress between Michelin and Bridgestone, thus providing wildly grippy (though grooved) tires. So yes, Seb Vettel blew the field away with a lap that looked like he was on rails. Everybody else, even his teammate Mark Webber, seemed to be having problems with grip, sawing at the steering wheel to correct and recorrect their paths through turns. On the other hand, Vettel's pole lap looked like he was just on a casual drive through the country. Amazing, simply amazing. We've seen something here today we may never see again, unless Vettel happens to the 2012 season as well.
As far as the race tomorrow goes, there's a high expectation of rain during the race. If that happens, it's a crapshoot as to who'll win. No way I'd bet against Vettel though, no matter the weather conditions.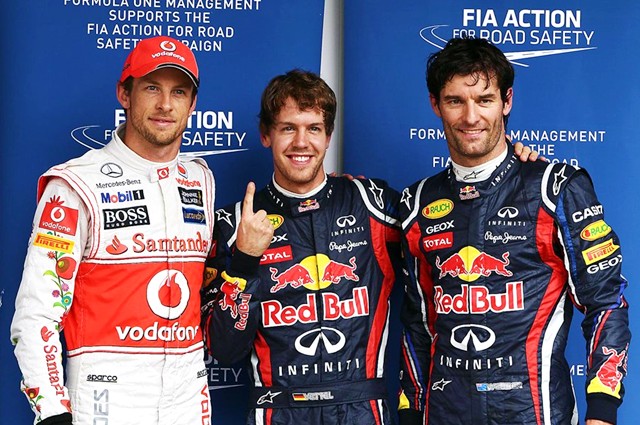 I hope he appreciates what's going on. The race is Sunday, see ya then!
Posted by: Wonderduck at 12:50 PM | Comments (7) | Add Comment
Post contains 571 words, total size 17 kb.
November 21, 2011
F1 on SPEED!: Brazil 2011
After 18 races across 17 countries, the F1 Circus pitches their tents for one last time for the final race of the season. This time, we find ourselves in the Brazilian city of São Paulo, racing on the track formally known as Autodromo Jose Carlos Pace, but more commonly known as Interlagos. Let's take a look at the track map:
It's no secret that I dislike the circuit at Hungary, nearly to the exclusion of all others. The one track I despise more than the Hungaroring is paradoxically one of the more popular races amongst the F1 drivers... this one. To be honest, my dislike of this circuit has nothing to do with the track itself. Indeed, this is the sort of layout I would quite like normally. A lot of elevation change (the run from Turn 1 to the end of Turn 3 is all downhill, and from Turn 12 aka Juncao to Turn 15 is all uphill), fast sweeping turns, a "technical" section that is relatively inoffensive... it's a challenging track, and one that's really quite appealing.
Except I hate it. It's completely irrational for me to dislike Interlagos, but there's an emotional aspect involved. As I've mentioned in the past, it always feels gray on race day (even when it isn't). The racing line for Turn 15 goes right through the pit-in, and with the positioning of F1's cameras at Turn 1, looking all the way down the front straight, it always looks like cars are going to crash into the pit lane barriers at 170mph. The pit out is the longest in F1, too. Furthermore, the track is positioned between two man-made reservoirs that provide water to São Paulo, leading to the name "interlagos," literally "between lakes." The pressure of the water has caused the surface of the track to wrinkle, leading to a very bumpy surface. A resurfacing in 2007 did not entirely solve the problem. All of these things make this a track I really don't like.
The fact that it's the final race of the season might have something to do with it, too.
Still, this is what we've got this week and it's not a Tilkedrome, that's gotta count for something. Pirelli is bringing a new soft tire compound to the race, one that they say is less conservative than the previous rubber. The medium compound will be the "hard" tire this time around. Interlagos isn't a particularly hard track on the tires, so expect the softs to last for a while... unless Pirelli has put the razor blades back into the compound like they did back at the beginning of the season.
Whatever way it works out, the good people at SPEED! will be bringing us the Legendary Announce Team all weekend long! Let's take a look at the broadcast schedule, shall we?
Friday:
6a - 730a: Practice 1, streaming
10a - 1140a: Practice 2, LIVE
Saturday:
7a - 8a: Practice 3, streaming
10a - 1130a: Quals, plausibly live
Sunday:
930a - 12noon: 2011 Grand Prix of Brazil, LIVE. There's also a replay from 11a-130p on Monday.
And then that's it until January, when we'll start to see F1 Pr0n with the rollouts of the 2012 cars. Of course, F1U! will be all over this weekend, with a desperation born of the end of the year. It helps that the whole weekend is at times where I can actually watch it live! We'll see you then!
Posted by: Wonderduck at 08:09 PM | Comments (1) | Add Comment
Post contains 580 words, total size 4 kb.
November 12, 2011
F1 Quals: Abu Dhabi 2011
Now THAT'S how you do a qualifying session. Let's get right to it; here's the provisional grid for the 2011 Grand Prix of Abu Dhabi:
Pole #14 on the season for Seb Vettel, tying the record held by Nigel Mansell. That's impressive enough, but how he did it today was the real story. To be blunt, this should have been Lewis Hamilton's pole. He had been fastest in two of the three practice sessions and in the first two quals periods. When Jenson Button crossed the line on his final hot lap in Q3, Hamilton was just a few seconds behind him on the track. It came as no surprise when Button's pole time fell to Lewis, though the .009 second time differential did cause some raised eyebrows and amazed chuckles here at Pond Central. And then the cameras cut to Seb Vettel.
Red Bull had gotten him out last for the final run to pole, and he had clear track in front of him. While he'd been quick in Q1 and Q2, it wasn't the normal Red Bull Dominating Performance
®
... you never got the feeling that he had something in reserve. It seemed like Vettel had been getting the most out of his car could give today, and for whatever reason it just wasn't as good as the McLarens.
But then Vettel began his final hot lap. The first two sectors were good, but nothing that would put him on pole. Third, maybe. In the previous two races at the Yas Marina Circuit the Red Bull chassis always stood head and shoulders above everybody else in the final sector, but not this year. The McLarens had been trading purple numbers between themselves for Sector 3 all weekend. Everything pointed to Vettel having no chance to be on pole. And then Vettel was perfect. That's the only way to describe that final sector... the perfect line, catching just the right amount of curb, putting just the right amount of pressure on the brakes and gas pedals, the absolute minimum of steering input used, gears changed at exactly the right moment. When he entered Sector 3, he was nearly .2 of a second behind Hamilton's pace. When he exited, he had pole by .141 seconds. Truly astonishing, and after seeing it I wondered how he didn't have 18 poles this season. However, and this is an important note, his pole lap was still slower than Hamilton's fastest lap in Q2. The McLaren and the Red Bull cars are, for all intents and purposes, equal. It should come down to the best driver between Hamilton, Vettel and Button for the race... and I'm not sure that doesn't mean Jenson Button won't win. We'll find out on Sunday!
You'll note that Rubens Barrichello did not turn a timed lap in Q1. He had an oil leak in his Cosworth engine, his seventh of the season's allotment of eight. The team wants him to have a fresh engine for Brazil, so to protect the seventh engine they decided not to put any extra avoidable stress on it. This decision brings up an interesting statistical note. Barrichello has made 330 starts in his F1 career, far and away the most in F1 history... and tomorrow will be the worst starting position he has ever had, either 23rd or 24th, depending on if he is placed ahead of, or behind, his teammate Vicar Maldonado who has a 10-spot grid penalty. Rubens has driven for some truly, epically bad teams: Honda, Jordan, Stewart. In some of those years, there were 28 cars on the grid. He's never been this low at the start ever.
In any case, we might just have ourselves something of a race tomorrow. F1U! will be all over it, see you then!
Posted by: Wonderduck at 12:17 PM | Comments (2) | Add Comment
Post contains 797 words, total size 18 kb.
November 11, 2011
F1 Practice: Abu Dhabi 2011
A sunny early evening at Abu Dhabi greeted the F1 Circus as they took to the circuit for Friday's second practice, and it appears that something unexpected has occurred. The combination of Pirelli tires and a race run in both day and night may not be the most awesome thing ever. Everything was fine and dandy while the sun was up and the track was warm... but when night fell and the asphalt began to cool, the Pirellis just sort of surrendered any vestige of grip they may have had.
First, Mark Webber looped his Red Bull underneath the hotel. Then his teammate, the reigning Driver's Champion Seb Vettel, lost it heading into Turn 1, sliding all the way across the vast expanse of runoff area until he gorked his car into the SAFER-like barriers. He was unhurt, but the right side of the Red Bull was toast. About ten minutes after this, HWMNBN came racing down towards Turn 1 and not only did he lose it just like Vettel, he wound up planting his Ferrari into virtually the same
place
as the Red Bull. In the Spaniard's case, he wound up going into the barriers backwards, causing untold amounts of damage to the hazard flasher. Throw in Felipe Massa nearly reaching the barrier in P1 and Lewis Hamilton nearly having an exciting moment in P2, and you start to notice a trend here.
Other than that little bit of data, the other interesting thing that crawled out of the Abu Dhabian desert is that neither Red Bull was particularly fast around the track today. Jenson Button lead the way in P1, Hamilton in P2... with the two Red Bullies ending up 5th and 6th. I've always said you can't trust practice times, and I'll stand by that statement, but you don't usually see a Red Bull a full half-second behind the leader in
any
session for
any
reason. I'll keep an eye on this, but for some reason I'm still expecting to see Sebby on pole after Q3 comes to an end on Saturday.
Meanwhile, we learned that Sauber's Pastor Maldonado is going to take a 10-spot grid penalty for Sunday's race. He's had to use a ninth engine on the season when you only get eight. Vaya con dios, Sauber and kiss that seventh place in the Constructor's Championship goodbye as Toro Rosso is looking awfully decent so far.
I mentioned earlier that the difference between 5th and 8th place in the Constructor's Championship is measured in the tens of millions of dollars. Oddly enough, the Legendary Announce Team was talking about that very topic today. While the actual numbers are shrouded in mystery and skullduggery, whispers suggest that last year, Red Bull was awarded some $85 million for winning the Constructor's Championship... and Williams' sixth place earned them a $60 million check from Darth Bernie's bank account. Some $660 million was paid out to all the teams in 2010. Understand this: $60 million would be enough to fund some
TEN
high-ranking NASCAR teams for an entire year. Yeah, there's some money floating around F1.
Quals in the morning, see ya then!
Posted by: Wonderduck at 10:46 PM | No Comments | Add Comment
Post contains 529 words, total size 3 kb.
November 08, 2011
F1 on SPEED!: Abu Dhabi 2011
The Driver's Championship is sewn up. First, second and third in the Constructor's Championship are locked in, and fourth may as well be. Ladies and Gentlemen, that is the exciting backdrop for this year's Grand Prix of Abu Dhabi! Let's take a look at the track map: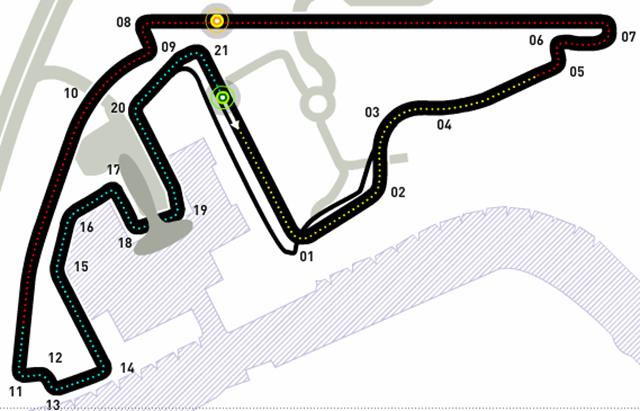 We've had two previous Grands Prix here, and to be honest neither of them were all that great. Oh sure, watching HWMNBN get stuck behind The Red Menace for the entire race when he needed to get past to have a chance at winning the Driver's Championship was...
satisfying
... but not exciting. But that was the past; with today's KERS/DRS combination, there will undoubtedly be
some
passing. It's just hard to get excited about this race, all things considered.
It IS desperately important Sauber, Toro Rosso, Force India and Renault, however. These teams are all racing to finish fifth in the Constructor's Championship, and all four have a decent chance for the "best of the rest" prize. Renault has the lead with 72 points, followed by Force India's 51. Sauber and Toro Rosso are tied on points with 41, but Sauber leads the Red Bull junior team by dint of better finishes. The difference between finishing fifth and eighth is measured in the tens of
millions
of dollars when Darth Bernie writes the checks at the end of the year, and you'd best believe all four teams would kill for that cash. Indeed, it could literally be the difference between life and death for a team like Sauber, the last of the privateers. We'll keep an eye on that during the race, for sure!
As will the good folks at SPEED, who are bringing us their usual great coverage for the race weekend! Here's when it all goes down:
Friday: 3a - 430a P1 (streaming), 7a - 840a P2 (live)
Saturday: 4a - 5a P3 (streaming), 7a - 830a Quals (live)
Sunday: 630a - 9a Grand Prix of Abu Dhabi (live), 2p - 430p race replay
F1U! will be all over it, too! It's the penultimate race of the season; as dull as the backstories may be, it's still F1, and the season is nearly over... gotta enjoy it while it lasts!
See you then!
Posted by: Wonderduck at 11:11 PM | Comments (3) | Add Comment
Post contains 378 words, total size 2 kb.
77kb generated in CPU 0.0457, elapsed 0.12 seconds.
48 queries taking 0.1102 seconds, 254 records returned.
Powered by Minx 1.1.6c-pink.