May 24, 2014
F1 Quals: Monaco 2014
Sitting on the pole, while sounding painful, is quite important in Formula 1. If you're on the pole (ow!), or one of the first four places, your chances of winning any race goes up exponentially. Nowhere is that more true than the small French fishing village that hosts the crown jewel of the F1 calendar, Monaco. The race is Sunday, so that means Qualifying was today... and how did they end up? Let's take a look at the (very) provisional grid for the 2014 Grand Prix of Monaco:
Well, what a shock, Mercedes with another front-row lockout. I never would have seen that coming. Once Q3 began, there wasn't any question that one of the Silver Arrows would be on pole, it was more "which one?" It turned out to be the guy who was raised and grew up in Monaco.
But. Nico Rosberg is currently under Steward's Investigation for an incident in the closing moments of Q3. He had set the fastest lap earlier in the session, but during his last run with about a minute left to go, he lost control of his car and skidded into the run-off area at Mirabeau. This brought out a local yellow, which meant that everybody had to slow in that section of the track... and all of the challengers for pole were also
behind
Rosberg on the circuit. So much for the race for pole!
Rosberg is proclaiming his innocence, and he's almost certainly right. Doesn't mean he didn't ruin the hot laps of everybody else... including, ohbytheway Lewis Hamilton his teammate... and therefore deserve a penalty. We'll see what the Stewards say; I'm glad I don't have to make the call on it! Penalties could range from his fastest lap in Q3 being invalidated to total exclusion from the race.
More as/if it comes in... we might know until raceday. See ya then!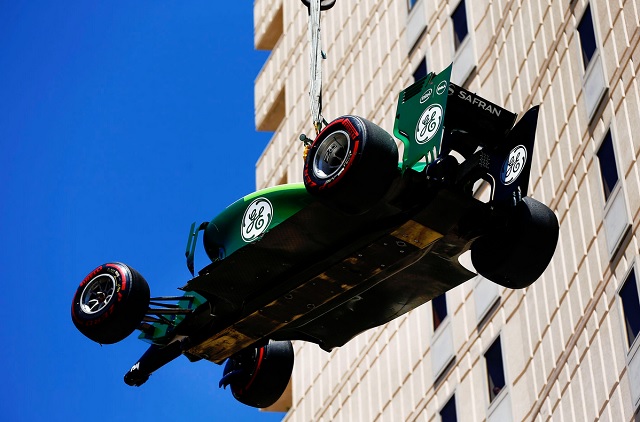 UPDATE: No action will be taken against Rosberg!
Posted by: Wonderduck at 10:25 AM | Comments (4) | Add Comment
Post contains 478 words, total size 17 kb.
May 22, 2014
F1 Practice: Monaco 2014
Rain. Rain is the great equalizer in Formula 1. Rain takes traction levels and sends them plummeting into the abyss. Cars with great grip become merely average, and cars with lousy grip become potential race winners... they're not affected as much. Rain makes any race better, and the right amount of rain can make any race a classic. Rain is always welcome.
Except this is Monaco, it's Thursday, and the rain hit just before Practice #2 got started. For the first half-hour, nary an engine was cranked nor a tire turned. Why? Because up until then, all a team could discover about their cars would be how fast it could be turned to scrap. Monaco is something of a low-grip circuit at the best of times, the rain made that even worse... then throw in the 2014 high-torque-low-downforce cars that are twitchy anyway? There isn't enough carbon fiber in the world.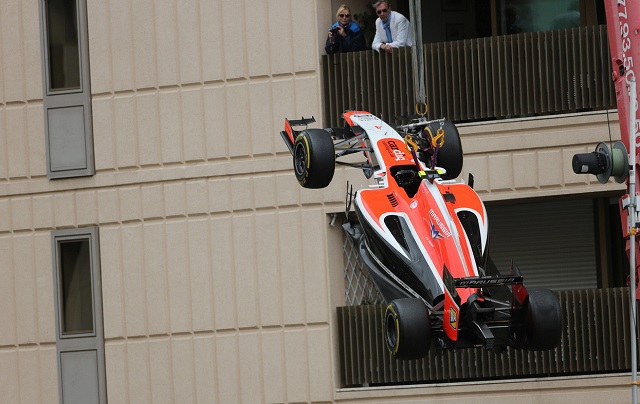 Eventually we did have cars on track, running awkwardly careful laps on Intermediate tires that were just barely capable of coping with the amount of water. It wasn't until about five minutes left in the session that teams started to bolt on the super-soft tires and let the drivers loose. Even then, we had squirmy slidy squirmyness all over the place. Even the man who wound up on top of the timesheet, HWMNBN, looked like his Ferrari was
this close
to trying to sneak into the casino without paying. Then everybody packed it in, breathed a sigh of relief, and got ready to take Friday off.
HAHAHAHAHAHAHAHAHA! No. There may not be any scheduled activities on Friday, but rest assured that the teams will be busy working on the cars. Anything they can do to make the run for pole that much easier, they will. We'll see which ones are successful on Saturday... come back then to find out!
Posted by: Wonderduck at 08:23 PM | Comments (12) | Add Comment
Post contains 314 words, total size 2 kb.
May 20, 2014
Racing Stuff On TV!: Memorial Day 2014
This is the weekend F1 fans live for. The glitz. The glamour. The stars. The circuit. This is where and when Formula 1 is everything people think of when they think "Formula 1". Let's take a look at the track map, shall we?
Oh, wait. That's the Indianapolis Motor Speedway, home of the 2014 Indianapolis 500! 2.5 miles of nothing but speed, speed and more speed. Ed Carpenter went a shade over 231mph to win his second consecutive pole position at Indy, and this year former F1 drivers Jack Newhouse, The Pope, SeaBass, ~TAKU!~, and... um... Justin... are in the field as well
*
. The flag drops on the American Classic at roughly 1212pm Central time on Sunday. But that's not the track map we're looking for today, no no.
Here's
the place:
Whoops, nope! That's Charlotte Motor Speedway, home of NASCAR's 2014 Coca-Cola 600! 1.5 miles of 24°-banked turns will see a full field of 43 cars, The longest non-enduro race in America starts at 5pm Central time, and will finish under the lights in one hell of a spectacle! But even that isn't what we've come here for...
this
is:
Ladies and gentlemen, allow me to present to you Monaco, the most insane top-of-the-league circuit in the world. "But Wonderduck," I hear you ask, and I've really gotta learn how you pull that trick off, "F1 doesn't go 231 mph, or have 43 cars on a banked-oval track, how is THIS insane?" Because, my sneaky voice-throwing friend, this race involves cars that are worth tens of millions of dollars, using the highest of high-end technology, and they're racing here:
...harborfront of a small French fishing village. It's the crown jewel of F1 races, and perhaps the only one where high speed really doesn't matter all that much. I mean, there are places at Monaco where the cars are going substantially slower than the maximum pit-lane speed for either NASCAR or IndyCar. It's a ridiculously narrow, cramped, bumpy, dangerous, silly place to have a race these days. But it is the one race most racers in the world would kill to win.
And this weekend, it's going to be live on the big network! Let's take a look at where and when the Legendary Announce Team will be located during coverage:
THURSDAY
P2: 7a - 830a live on NBCSN
SATURDAY
Quals: 7a - 830a live on NBCSN
SUNDAY
2014 Grand Prix of Monaco: 630a - 9a live on NBC
The Grand Slam of Motor Racing Fandom is this Sunday, folks... Monaco, Indy, the 600, all in one day. 1270 miles of racing... are you fan enough? I failed last year, missing about 75 miles of the NASCAR race (I was asleep). I'm not sure if I'm going to give it a shot... what about you?
*
That's Jacques Villeneuve, Juan Pablo Montoya, Sebastien Bourdais, Takuma Sato and... um.. Justin Wilson for all of you readers who don't remember my old nicknames for these guys. Except for Wilson; he drove in 2003, pre-Pond.
Posted by: Wonderduck at 09:02 PM | Comments (5) | Add Comment
Post contains 508 words, total size 4 kb.
May 10, 2014
F1 Quals: Spain 2014
It was a lovely day in Barcalounger as the cars jumped onto the circuit for Qualifying. Did anybody have the secret of hunting down the Silver Arrows? Let's take a look at the provisional grid for the 2014 Grand Prix of Spain:
Crashtor brought out a red flag in Q1 when he... you guessed it, crashed! Even better, since he didn't set a time, he races at the discretion of the Race Stewards. Oh please oh please don't let him on the track, he's a danger to himself and others.
In Q2, neither Jules Vergne's Toro Rosso nor Kevin Magnussen's McLaren turned a wheel... Vergne because he got distracted by a crater in Snæfell and wound up with a 10-spot grid penalty, and Magnussen because of the depression caused by not equaling his performance in Australia... or a problem with his ERS unit., one of the two.
But then an amazing thing happened: Mr Notappearinginyourpicture Vettel couldn't find second gear out of the pits, then couldn't find his gearbox shortly thereafter. He's going to take a 5-spot penalty while Red Bull scrapes the remains of his old one out of the chassis... which means he'll really be starting 15th. In the past, this would mean he'd have a long run up the field and end up in 2nd place, maybe. Not this year... probably.
Unamazing thing: the two Mercedes locked out the front row. Please note, however, just how much of a lead polesitter Lewis Hamilton had over third-place Daniel Ricciardo. Nope, your eyes don't deceive you, it really
is
over a second. Ladies and gentlemen, all the paprika in the world isn't going to make this paella taste any better come race day. Nevertheless, F1Update! will be all over it, even if we've never much cared for paella. See ya then.
Posted by: Wonderduck at 06:50 PM | Comments (4) | Add Comment
Post contains 461 words, total size 16 kb.
May 05, 2014
F1 on NBCSN: Spain 2014
The last of the first batch of flyaway races was China, two weeks ago. Now the season really starts in earnest, because now the F1 Circus gets to begin the European races. As is usually the case, the first of these all-important stops is the Grand Prix of Spain in Barcalounger! Here's the track map:
Its when the teams get home to Europe that the various upgraded implements of
destruction
downforce get bolted to the cars and sent off for their first real runs. For some teams, this means a return to dominance. For others, total failure. And nobody truly knows which is which until the cars begin running. It's all so exciting.
Okay, I exaggerate slightly. The thing about Barcalounger is that for many, many years, it was the home of F1 testing. Once upon a time, teams knew where every crack in the pavement was, how many layers of paint were on the curbs, where the asphalt changed composition, anything you could think of. As a result, the Grand Prix of Spain was almost always a processional: since everybody knew everything about the circuit, there would never be a surprise. And there would also never be passing.
DRS changed that, of course. And now the new tech regs promise to do it again. As I've said all season, I have no idea what the race will be like: it could be a parade, it could be another one-sided runaway, it could be a close-fought struggle. Fortunately, we'll have the Legendary Announce Team to describe it all for us on the following schedule:
FRIDAY
P2: 7a - 830a live
SATURDAY
Quals: 7a - 830a live
SUNDAY
Grand Prix of Spain: 630a - 9a live
F1Update! will be all over the race; it's the preliminaries that we're not sure of quite yet: we've got a big registration day on Saturday morning, and Finals begin in a week. Gonna be a long one for us here.
In any case... see ya here!
Posted by: Wonderduck at 09:24 PM | Comments (3) | Add Comment
Post contains 336 words, total size 2 kb.
May 04, 2014
mrmrmrbrlrmr mrrmrlrbrlmr mrrlrbrlrnrlrbrrlllrmrmrbr
So why is it that my F1 scribblings always describe Kimi Raikkonen as mumbling his way through interviews?
I don't know if you knew this or not, but English is not his first language. It's true!
Posted by: Wonderduck at 07:28 PM | Comments (1) | Add Comment
Post contains 39 words, total size 1 kb.
77kb generated in CPU 0.0187, elapsed 0.0989 seconds.
50 queries taking 0.0862 seconds, 270 records returned.
Powered by Minx 1.1.6c-pink.