September 28, 2016
F1 on NBCSN: Malaysia 2016
It often rains in Sepang, home of the 2016 Grand Prix of Malaysia. In the past, though, the track had been less than stellar at drainage. So the circuit owners had the bright idea to redo pretty much the entire track. Here's the map: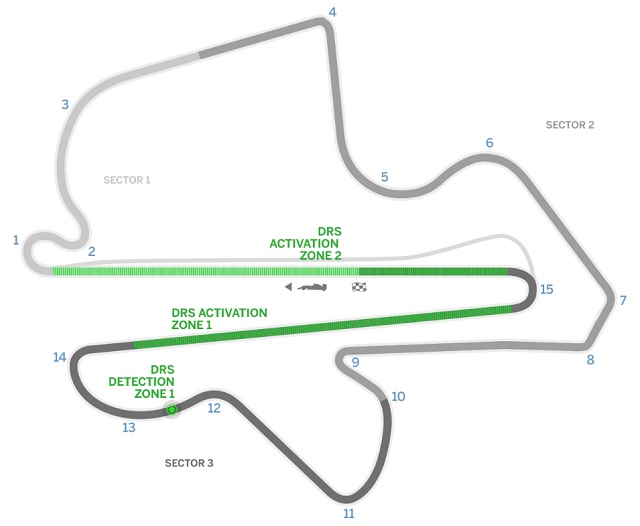 Mostly it looks the same. There's been a lot of subtle changes to the way the surface has been angled reportedly, so water will flow off faster. In doing this, many of the racing lines have probably changed. For example, the final turn, Turn 15, now has a fairly substantial negative camber... the inside of the turn is higher than the outside... so what's the fastest way through now? Nobody really knows, since F1 hasn't raced here since the resurfacing. And that's the story for most of the circuit now: it
looks
familiar, but looks can be deceiving. In truth, the place needed it; most of the braking zones were washboard-like from all the bumps that have formed over the years. That just can't be good when you're charging into a turn at nigh-on 200mph.
Sadly, none of this will matter a hill of beans. This track, where even the so-called "slow sections" are really quite fast, is tailor-made for Mercedes, which already has the best car on the grid. As more teams give up on this season... both Renault and Haas have stated that they've stopped development of their current chassis to concentrate entirely on 2017... the Mercs will either stay "just" as good or get better by comparison. Oh, great.
Well, can't say I didn't warn you. Want to know what the Legendary Announce Team thinks about it? Here's the broadcast schedule!
Friday
Practice 2: 1a - 230a live on NBCSN
Saturday
Quals: 4a - 530a live on NBCSN
Sunday
2016 Grand Prix of Malaysia: 1a - 4a? live on NBCSN
The questionmark at the end-time of the actual race is because my information sources are silent as to whether the race begins at 1a, or if that's the pre-race coverage. Check your local listings for times in your area. Post no bills. Burma Shave.
In other fairly important news, Formula 1 has new owners. The Liberty Media Group recently purchased a controlling share of F1 from CVC Capital Partners, with the rest of the shares to come down the pipe later. The deal is expected to be worth in the neighborhood of $4.5 billion. Bernie Ecclestone will remain as F1's CEO, but
Chase Carey's mustache
will be the Chairman. Please note the name of the company: Liberty
Media
. They've already said that they're going to be concentrating on how F1 is seen and consumed, with particular attention being paid to the United States. Expect advertising blitzes and at least one more race here in America sooner rather than later. Perhaps the
Grand Prix of Weehawken
will resurface...
See ya soonish!
Posted by: Wonderduck at 07:27 PM | Comments (3) | Add Comment
Post contains 482 words, total size 4 kb.
September 17, 2016
F1 Quals: Singapore 2016
This is the point where I would normally say "a warm, humid night greeted the assembled horde of the F1 Circus as they prepared for Quals for the 2016 Grand Prix of Singapore," but this race, there's a small problem. To whit... I haven't seen quals. And there's every chance in the world that I'm going to miss the race as well. The satellite feed from Pond Central's apartment complex is, apparently, on the fritz. Signal strength is... um... variable, leaning heavily towards the "signal unavailable" end of the spectrum. However, it's not consistent in any way: early last night I couldn't watch jack squat, but the DVR still (successfully) recorded Legacy 59 later. So who knows? Maybe maintenance will clear leaves off the master dish before then. Or retrieve it from the swimming pool. It's also possible that my receiver is dying, I guess. Either way, my race watching is threatened, and I won't know until it happens. So here's the provisional grid:
| Pos | Driver | Car | Q1 | Q2 | Q3 |
| --- | --- | --- | --- | --- | --- |
| 1 | Nico Rosberg | Mercedes | 1:45.316 | 1:43.020 | 1:42.584 |
| 2 | Smiley Ricciardo | Red Bull Racing | 1:44.255 | 1:43.933 | 1:43.115 |
| 3 | Lewis Hamilton | Mercedes | 1:45.167 | 1:43.471 | 1:43.288 |
| 4 | Embryo Verstappen | Red Bull Racing | 1:45.036 | 1:44.112 | 1:43.328 |
| 5 | Kimi Räikkönen | Ferrari | 1:44.964 | 1:44.159 | 1:43.540 |
| 6 | Carlos Sainz | Toro Rosso Ferrari | 1:45.499 | 1:44.493 | 1:44.197 |
| 7 | Kid Kvyat | Toro Rosso Ferrari | 1:45.291 | 1:44.475 | 1:44.469 |
| 8 | Nico Hulkenberg | Force India Mercedes | 1:46.081 | 1:44.737 | 1:44.479 |
| 9 | Fernando Alonso | McLaren Honda | 1:45.373 | 1:44.653 | 1:44.553 |
| 10 | Sergio Perez | Force India Mercedes | 1:45.204 | 1:44.703 | 1:44.582 |
| 11 | Valtteri Bottas | Williams Mercedes | 1:46.086 | 1:44.740 | |
| 12 | Retiree Massa | Williams Mercedes | 1:46.056 | 1:44.991 | |
| 13 | Leave of Absence Button | McLaren Honda | 1:45.262 | 1:45.144 | |
| 14 | Esteban! | Haas Ferrari | 1:45.465 | 1:45.593 | |
| 15 | Lettuce Grosjean | Haas Ferrari | 1:45.609 | 1:45.723 | |
| 16 | Sony Ericsson | Sauber Ferrari | 1:46.427 | 1:47.827 | |
| 17 | Kevin Magnussen | Renault | 1:46.825 | | |
| 18 | FelipeNot Massa Nasr | Sauber Ferrari | 1:46.860 | | |
| 19 | Jolyon Palmer | Renault | 1:46.960 | | |
| 20 | Pascal's Wehrlein | MRT Mercedes | 1:47.667 | | |
| 21 | False Esteban | MRT Mercedes | 1:48.296 | | |
| 22 | Sebastian Vettel | Ferrari | 1:49.116 | | |
Seb Vettel had a broken anti-roll bar (
sway bar
here in the US), with predictable results: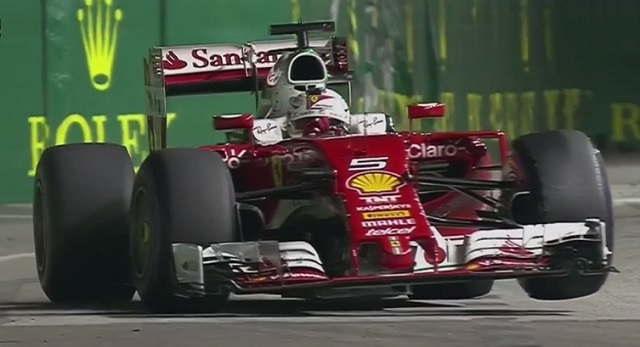 Every turn reportedly saw the inside front wheel coming off the ground with the attendant loss of traction. That 1:49.116 really was the best he could do, and the team couldn't get him repaired before Q1 ended.
The big news is the performance of the Red Bulls, both of whom will be starting on the Super-soft tires. They were nearly as quick as the Mercedes, who will be starting the race on the Ultra-softs. At least on paper, advantage Red Bull, as their tires will last longer. If they can stay in touch with the silver cars, it'll be a very interesting race indeed.
Let's just hope I'll get to see it. The F1Update! is thus in doubt... if I get the race, we're golden. If not... well. We'll just have to play that by ear, won't we? See you whenever!
UPDATE: Just found out about this! Y'know how in Canada we had the Montreal Marmot Massacre? Apparently, Singapore has its own problems, as Embryo Verstappen discovered tonight:
Yes, really.
Posted by: Wonderduck at 10:13 AM | Comments (7) | Add Comment
Post contains 520 words, total size 18 kb.
September 13, 2016
F1 on TV: Singapore 2016
Singapore. The world's only island city-state. The world's only nation to have independence thrust upon them unwillingly. The only Asian nation to have had an AAA credit rating for the past decade. The centerpiece of the Royal Navy's strategy in the Pacific right up until WWII began, home to what was at the time the largest drydock in the world (in case you're wondering, the largest now is owned by Mitsubishi Heavy Industries, at Koyagi/Nagasaki. At 900 meters long, it's three times the length of Singapore's).
And it's the home of the 2016 Grand Prix of Singapore, too. Here's the track map:
Being an island nation that's essentially one big city, there wasn't any room for a purpose-built FIA Class 1 circuit, so they went ahead and did a street circuit. And, since it's halfway around the world from Europe, it was decided to make it the first night race on the calendar as well.
While there's been a couple more races added that run when the sun goes down, they start when the sun is still up. Singapore is a helluva track that hasn't coughed up much in the way of great races, to be honest. There's always a threat of heavy rain, but it's never occurred. Actually, the weather in Singapore is pretty much the worst the drivers have to deal with all year: always hot, and always really, really humid. Guys that can do whole races at Spa-Francopants and still look fresh as a daisy come get out of the cockpit in Singapore looking like they've spent the past two hours in a sauna... in a swimming pool... underwater.
Fortunately, we don't have to worry about that, for the Legendary Announce Team will be doing their usual great coverage while we sit in air-conditioned luxury (your local conditions may vary). Here's the broadcast schedule:
Friday
Practice 2: 830a - 10a live on NBCSN
Saturday
Quals: 8a - 930a live on CNBC
Sunday
2016 Grand Prix of Singapore: 6a - 9a live on NBCSN
All times are Pond Central, your mileage may vary. Of course, F1Update! will be along after the race... a race where we might actually see a team other than Mercedes on the top step. The German team has been making noises that they aren't thrilled with their cars here. Further, Ferrari and Red Bull both prefer these twisty tracks, where raw speed isn't quite as important as nimbleness. We'll see about that, of course, but... well.
See ya then!
Posted by: Wonderduck at 06:27 PM | No Comments | Add Comment
Post contains 420 words, total size 3 kb.
September 03, 2016
F1 Quals: Italy 2016
Oh, hey, hi there, wow look at the time, will ya? Almost like I lost track of the clock or something and next time I look up,
whoa
but it's late! Quals was over ages ago, what were you doing, you crazy duck you! Honestly, the answer is "nothing of consequence." Sorry about that... not that we're missing anything, really... here's the provisional grid for the 2016 Grand Prix of Italy:
Pos

Driver
Q1
Q2
Q3

1

Mercedes

1:21.854

1:21.498

1:21.135

2

Mercedes

1:22.497

1:21.809

1:21.613

3

Ferrari

1:23.077

1:22.275

1:21.972

4

Ferrari

1:23.217

1:22.568

1:22.065

5

Williams Mercedes

1:23.264

1:22.499

1:22.388

6

Red Bull Racing TAG Heuer

1:23.158

1:22.638

1:22.389

7

Red Bull Racing TAG Heuer

1:23.229

1:22.857

1:22.411

8

Force India Mercedes

1:23.439

1:22.922

1:22.814

9

Force India Mercedes

1:23.259

1:22.951

1:22.836

10

Haas Ferrari

1:23.386

1:22.856

1:23.184

11

Williams Mercedes

1:23.489

1:22.967




12

Haas Ferrari

1:23.421

1:23.092




13

McLaren Honda

1:23.783

1:23.273




14

's Wager
MRT Mercedes

1:23.760

1:23.315




15

McLaren Honda

1:23.666

1:23.399




16

Toro Rosso Ferrari

1:23.661

1:23.496




17

Toro Rosso Ferrari

1:23.825






18

Sauber Ferrari

1:23.956






19

Sauber Ferrari

1:24.087






20

Renault

1:24.230






21

Renault

1:24.436






NC

MRT Mercedes

DNF





First, the important stuff. Esteban! has brought Haas their first appearance in Q3, and by a goodly margin at the time to boot... he was 7th in Q2, for heaven's sake. Of course he couldn't do anything in Q3 when it absolutely mattered, because that's when the BIG teams get serious, but it's still quite a nice sight, don'tchathink? On the exact opposite end of the spectrum, Manor's False Esteban! had engine problems in third practice. The team thought they had it fixed, but when he went out in Q1 to set a time, he made it all the way to the end of the front straight before it died again. Disappointing, considering where his teammate ended up.
Now for less amusing news: two drivers announced their retirements this week. Felipe Massa is hanging up his helmet after the season. He racked up 11 wins and 41 podiums for three teams in his 15-year career, the highlight (or lowlight, depending on how you look at it) was 2008, when he nearly won the Driver's Championship, only to have it
snatched from him on the last turn of the last lap of the last race of the season
. The following year, he was very nearly killed when
he took a damper spring to the helmet in Hungary
. He never regained his winning ways after that, but still proved to be a viable racer worthy of respect on the track.
The other driver to retire is Jenson Button. Actually, he's only "stepping down from his race seat" for 2017 while continuing to work for McLaren. He's not against driving again in 2018 however. His 17-year career included 15 wins, 50 podiums and one Driver's Championship, for BrawnGP in 2009. Interestingly, his was the last
single
championship we've had for quite some time... Mercedes now, Red Bull before that, then BrawnGP, McLaren, and Ferrari had one year runs, preceded by Renault. Before them were the Red years of Ferrari and Schumacher. I've always considered Button to be the type of driver that can get the most out of a good car and make it great, but can't outdrive a mediocre or bad car. No shame in that, and there are very few drivers that have accomplished what he's done. He'll retire as having participated in the second-most F1 races ever, behind only Rubens Barrichello.
Race is in the morning, see ya then!
Posted by: Wonderduck at 04:46 PM | No Comments | Add Comment
Post contains 643 words, total size 23 kb.
73kb generated in CPU 0.0287, elapsed 0.1309 seconds.
46 queries taking 0.1139 seconds, 247 records returned.
Powered by Minx 1.1.6c-pink.