August 30, 2016
F1 on NBCSN: Italy 2016
Speed. Turns and curbs to the contrary, speed is what F1 should be all about. Go fast, turn fast, fast, faster, fastest. But we all know and understand that F1 doesn't
do
raw straightline speed, not like IndyCar or NASCAR or that most quintessential of American motorsport, drag racing. Their tracks are designed to allow their cars to go as fast as possible and devil take the hindmost. Oh sure, both IndyCar and NASCAR throw in a couple of road circuits as a filip to those who think that turning right is important, but we all know that racing on a ginormous oval is the One True Way to speed. The stereotypical F1 fan (aka almost all European F1 fans) sneer at ovals as too simplistic, too easy, too... American... for something as difficult as Formula 1.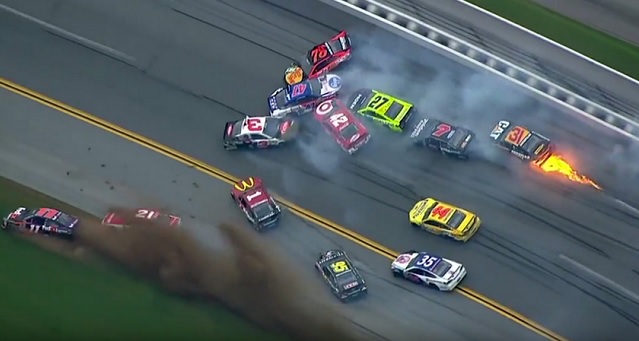 You can hear lips curling in a sneer all the way across the Atlantic.
And then there is
La Pista Magica
, The Magic Track. Officially known as Autodromo Nazionale Monza, this has been the home of the Italian Grand Prix essentially forever. And this legendary circuit is where all the sneering and talking down goes away, because Monza is about nothing more than speed. Here's the track map:
Yes, there are a few turns thrown in. For the most part, they are recent additions. Why, Monza even had a high-banked oval portion to boot. They would never admit it, but F1 fans know that Monza is an American track at its heart: raw oomph and no finesse anywhere. One's right foot is to the floor for 80% of the lap, after all... and when it isn't on the floor, it's still pretty darn close to it. The teams will be breaking 200mph at the end of the front straight, after coming off Parabolica (Turn 11) at about 170mph. Oh, sure, the track in Mexico is now technically the fastest in F1, but that's all from one long straightaway. After that, it's twisty and curvy and turny... none of that for Monza. It's fast
everywhere
. Brakes are for other circuits.
Yes, I exaggerate for effect, but it's not that far from the truth. Teams bring the minimum amount of downforce possible to this place, because downforce slows the cars down and ain't nobody wants that.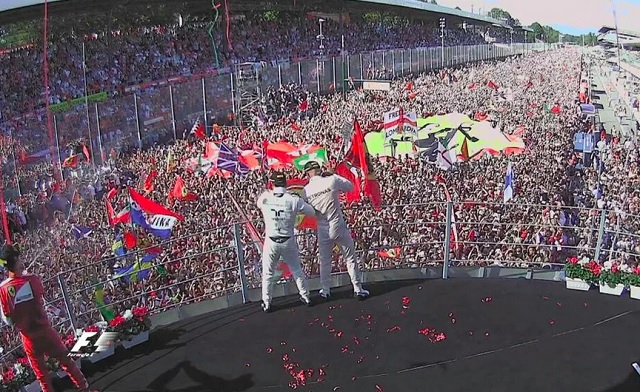 The only thing more ridiculous than the speeds at this Italian circuit are the Italian fans that show up... the rabid
tifosi
. Loud, passionate, and not afraid to nick everything team related up to and including tires, cars, and drivers probably. And woe betide the world if Ferrari ever wins here again... the crowd reaction can only be topped by fans of the Cubs when they win the World Series.. They're what makes Monza such fun... they start cheering before the race starts and doesn't shut up until a few days after the race is over.
It's that unique experience the Legendary Announce Team means to bring us with their usual on-air flair and panache. No idea if The Varsha will be in Leigh Diffy's seat again, guess we won't know that until P2! Here's the broadcast schedule:
Friday
Practice 2: 7a - 830a live on NBCSN
Saturday
Quals: 7a - 830a live on NBCSN
Sunday
2016 Grand Prix of Italy: 630a- 9a live on NBCSN
All times, as usual, are Pond Central Time. Check your local listings for times in your area. F1Update! will be along after the race... not that we're expecting anything more than another Merc domination. But we will see, won't we? Stay tuned!
Posted by: Wonderduck at 08:50 PM | Comments (2) | Add Comment
Post contains 594 words, total size 4 kb.
August 27, 2016
F1 Quals: Belgium 2016
Well, this is a fine kettle of pork. Here's the provisional grid for the 2016 Grand Prix of Belgium:
Pos

Driver
Q1
Q2
Q3

1

Mercedes

1:48.019

1:46.999

1:46.744

2

Red Bull Racing TAG Heuer

1:48.407

1:47.163

1:46.893

3

Ferrari

1:47.912

1:47.664

1:46.910

4

Ferrari

1:47.802

1:47.944

1:47.108

5

Red Bull Racing TAG Heuer

1:48.407

1:48.027

1:47.216

6

Force India Mercedes

1:48.106

1:47.485

1:47.407

7

Force India Mercedes

1:48.080

1:47.317

1:47.543

8

Williams Mercedes

1:48.655

1:47.918

1:47.612

9

McLaren Honda

1:48.700

1:48.051

1:48.114

10

Williams Mercedes

1:47.738

1:47.667

1:48.263

11

Haas Ferrari

1:48.751

1:48.316




12

Renault

1:48.800

1:48.485




13

Haas Ferrari

1:48.748

1:48.598




14

Renault

1:48.901

1:48.888




15

Toro Rosso Ferrari

1:48.876

1:49.038




16

MRT Mercedes

1:48.554

1:49.320




17

Sauber Ferrari

1:48.949






18

MRT Mercedes

1:49.050






19

Toro Rosso Ferrari

1:49.058






20

Sauber Ferrari

1:49.071






21

Mercedes

1:50.033






NC

McLaren Honda

DNS





Okay, so the first thing that leaps out at you is that Rio Rainbow Gate is no longer on the grid. It was announced over the summer break that his Indonesian backers hadn't paid Manor in a while, so he was given the boot. Esteban Ocon will forever be reviled by The Pond as a result.
Okay, no, the real first thing that leaps out at you is that Lewis Hamilton is 21st. There's a good reason for this, and it involves one of the slicker cases of rules lawyering I've seen in a while. Here's what's going on. Hamilton has had a bad case of engine problems this season, to the point that he's already burned through the five sets of power unit components he's allocated, yet has half the season remaining. That means he automatically gets a 15-spot grid penalty for each new engine he uses for the rest of the year... and the engine in his car now is well-used. So what some bright spark at Mercedes did is sit down with the Technical Regulations and found a loophole: you get a penalty for each new engine, but the rules don't
specifically
prevent you from using multiple engines in a race weekend. That's probably what the spirit of the rules were, but not the word.
"I'll take three... and throw in a pair of sunglasses for my dog." - Lewis Hamilton, probably.
So Hamilton used a new engine in P1, P2, and P3. In doing so, he racked up 55 grid spots in penalties... and there's nothing stopping the team from dropping
another
engine in before the race tomorrow, giving him in effect four free engines. And Mercedes is doing it at a circuit where they are ridiculously strong, so Hamilton is likely to score points despite starting from somewhere near the Spa-La Sauveniere Airport. It makes Fernando Alonso's 35 spot penalty look weak... he's had engine problems all weekend.
Really, the rest of the grid looks more or less normal. While Embryo Verstappen looks racy, he's going to be starting on the supersoft tires, while polesitter Nico Rosberg is on softs. This is going to be a major tire race: most teams chose to load up on the supersofts, with Ferrari using half of their tire allotment on the supersofts, and only bringing one set of mediums to boot. However, it's been flat-out hot at Spa-Francopants this weekend, high 80s / low 90s... which is practically unheard of for race weekend. That's disastrous for the supersofts, which weren't even capable of surviving a full qualifying lap before they began to die. If the weather tomorrow is hot, with the cars carrying a full load of fuel, I expect the supersofts to fail by Turn 1.
In other news, the Ringleader of the Legendary Announce Team, Leigh Diffey, has been absent from P2 and Quals coverage, as he reportedly has a case of diverticulitis. While Steve Matchett and David Hobbs did a good job in his absence, particularly Matchett, it's clear they need someone to keep control of the conversation. Which is why NBCSN has a fill-in for the race:
The Varsha. Ladies and Gentlemen, the Original Legendary Announce Team is back together again. I'm actually giddy.
Race in the morning.
Posted by: Wonderduck at 03:32 PM | Comments (4) | Add Comment
Post contains 740 words, total size 24 kb.
August 22, 2016
F1 on TV: Belgium 2016
Well. The alarm has gone off, sun is shining through the window, coffee has been imbibed, and no matter how many ways you try to deny it, summer break is over and it's time for the F1 Circus to get back to work. And that means yours truly has to actually attempt to be clever and witty about something he's covered for 10 years or more. Fortunately, it's easy to write about this race, for it's the Grand Prix of Belgium, and that means we're at Spa-Francopants! Here's the track map for this longest of F1 circuits:
It's only 7km long, a mere pittance to the original 15km brute that had a nasty habit of killing the men racing on it. You sorta have to expect that, what with the "track" actually being public roads, and the only barriers were the occasional haybale. And trees. Lots and lots of trees. Also houses. While it's be awe-inspiring to see a 2016 F1 car on the old layout, much of the awe would come from wondering just when the driver was going to die.
The chances of that result, it must be said, increases as the quality of the weather decreases... and as Spa-Francoamerican is located in the Ardennes Forest, home of its own little microclimate. Rain is common, often on one part of the circuit while the opposite side is bone dry. Makes for fun tire choices, that.
Speaking of fun, the good Walloons of the Legendary Announce Team will be doing their usual level best to bring us their swell coverage. Here's the broadcast schedule:
Friday
Practice 2: 7a - 830a live on NBCSN
Saturday
Quals: 7a - 830a live on CNBC
Sunday
2016 Grand Prix of Belgium: 630a - 9a live on NBCSN
Of course, all times Pond Central. I leave it up to the reader as a test of their mental acuity to figure out how to manipulate the times for their location. Post no bills. Of course, some time after the race, the Legendary Crew of F1 Update! will present their usual writeup of variable quality. Look forward to it, why don't you?
See ya then!
Posted by: Wonderduck at 09:21 PM | Comments (3) | Add Comment
Post contains 364 words, total size 2 kb.
55kb generated in CPU 0.0152, elapsed 0.5284 seconds.
47 queries taking 0.5185 seconds, 244 records returned.
Powered by Minx 1.1.6c-pink.