February 23, 2013
Disaster At Daytona
On the final lap of today's NASCAR Nationwide series race at the Daytona Superspeedway, there was a terrible wreck. Kyle Larson, in the middle of the pack coming out of Turn 4 and heading for the tri-oval/start-finish line, got tipped sideways and as often happens at any superspeedway race, The Big One happened. There were cars going every which way, but Larson went nose-first into the wall, snapped over, and got airborne. HIGH.
The entire front of his car, back to the firewall, was torn off as he pinwheeled over the SAFER barrier and into the catch fence. The catch fence did its job: it kept the #32 out of the stands. Mostly.
You may notice the man with the orange hat. Directly above him in that picture is the engine of the #32; the fire you might notice is from fluids draining from it. Unfortunately, that's not the only thing that got through the fence, and what got through was worse than an engine.
At least one 120lb tire/wheel/brake rotor combinaton made it into the stands, working its way through the spectators until it came to a halt some 15-20 rows up. Around thirty people are known to have been injured. 15 were taken to the track's medical facility for minor cuts and bruises and were released. Conflicting reports say 14 to 16 were taken to two hospitals near the track. At least one was reported to have a serious head injury and was in emergency surgery. Having said that, NASCAR officials just had a press conference, and they said that everybody at the hospitals were in "stable" condition, so take that emergency surgery report with a grain of salt.
Racers know that what they do is dangerous. They understand that every time they climb into their car, be it NASCAR, F1, IndyCar, dragsters, LeMans or motorcycles, they could be injured or killed. But no fan expects to see a tire flying at their face, and it's troubling every time a fan is hurt.
With luck, everybody injured will be okay. Ironically, the drivers involved are all just fine. As of right now, Sunday's Daytona 500 will go on as planned, with Danica Patrick on pole.
Let's hope.
Posted by: Wonderduck at 06:59 PM | Comments (3) | Add Comment
Post contains 372 words, total size 3 kb.
February 16, 2013
A Thousand Words?
If you think about Formula 1 history, 1994 is pretty much considered the grimmest year ever. That's because of that horrible weekend at Imola which saw the death of Roland Ratzenberger and Ayrton Senna, and the near-fatal wreck of then-rookie Rubens Barrichello. What often goes uncommented upon in that year was the incredibly fortunate escape of the Benneton team at the Grand Prix of Germany.
1994 saw the reintroduction of refueling, banned since 1983 from the sport. Even before the season began, teams were concerned about the pressurized fuel rigs to be used. The rigs could fill an empty tank in just a matter of seconds, but everybody was concerned about the consequences of a spill or malfunction. Through the first eight races, there had been no incidents, and perhaps the teams were feeling a little more comfortable now. On lap 15 of the German Grand Prix, Benneton's Jos Verstappen brought his B194 in for a regular pit stop: tires and fuel. Unbeknownst to the FIA, the team had tinkered with their refueling rig, removing a fuel filter and in the process upping the flow by an additional 10%. Everything seemed to be going fine, until the man on the hose moved it around slightly. The nozzle seemed to pop out of the fuel tank, spraying an estimated four liters of gasoline around the car in an instant. It took no time at all for the inevitable to occur.
Just as quickly as it happened, it was over. While a few of the mechanics went to the hospital, nobody was seriously injured; Verstappen, caught in the middle of the whole thing, suffered a burn to his nose when some fire got into his slightly-opened visor. Steve Matchett, one of the voices of SPEED's Legendary Announce Team, was the rear jack man for Benneton at the time. His burning firesuit was extinguished by members of the McLaren team, and he suffered no injuries. The fire did give us one of the truly outstanding photographs, not just of F1 or motorsports, but perhaps of all photography.
1994 was a terrible year for Formula 1, but it could have been so much worse.
Posted by: Wonderduck at 09:49 PM | Comments (5) | Add Comment
Post contains 363 words, total size 2 kb.
February 15, 2013
The Moment Taki Inoue Became Famous
Taki Inoue was, to put it bluntly, not a good F1 driver. In 1995, he drove for the hysterically bad Footwork team (note: they had a podium that year... in the Australian Grand Prix; only eight cars finished that race, all but the winner at least two laps down. That's a podium that only just barely counts), but only because he had very very deep pockets behind him. While that was enough to earn him a seat, it didn't mean that he could do anything with it. He drove a F1 car like you or I would: badly. Very badly. In 17 races that year, he retired from 12 of them; his best finish was 8th at Monza, when only 10 cars finished.
In short, he was kinda embarrassing to the sport, but because he wasn't out-and-out
dangerous
to himself or others on the track, the FIA couldn't kick him out. That should have been all, a blip in the ether, Inoue in, Inoue out, g'bye. But two weird things happened to him. First, during the first Qualifying session at Monaco, he was sitting in his dead car being towed back to the pits, when the safety car ran into him. The Footwork was pushed into the barriers and flipped over. Inoue had a concussion and a chunk taken out of his helmet, but he still raced the next day: a gearbox failure ended his Monaco GP.
While that's curious, the moment that Taki Inoue became famous came at the Hungarian Grand Prix. On Lap 14, his engine when kablammo and the Japanese driver brought his car to the side of the track, where it sat, steaming and unhappy. The track marshals were less than enthusiastic in their efforts to help him; after gesturing furiously, he ran to the armco and grabbed a fire extinguisher himself. He turned around, took a couple of strides towards his car, and...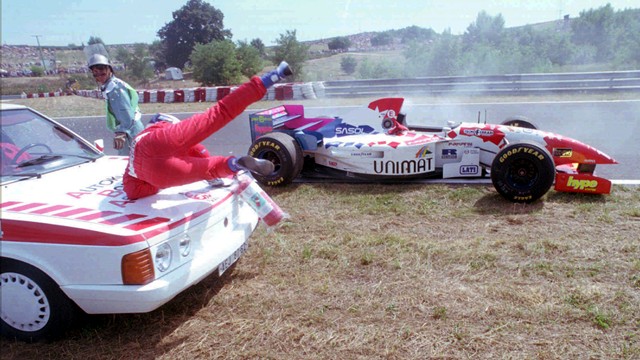 ...he was run over by the medical car. And thus, a legend was born.
Here's the video
.
Today, Inoue is considered something of the Clown Prince of F1, via
his twitter account
. He knows what he was, and has fully embraced it. Good show, Mr Inoue!
Posted by: Wonderduck at 09:45 PM | Comments (5) | Add Comment
Post contains 370 words, total size 2 kb.
February 11, 2013
This Is Simple!
So you wanna be a F1 driver, bunky? You think you got the skills to take one of the 22 most technical cars in the world out onto the racetrack and go head-to-head with the likes of Seb Vettel, Mark Webber, HWMNBN, Shiv Hamilton and all the others? Okay! Here's your steering wheel.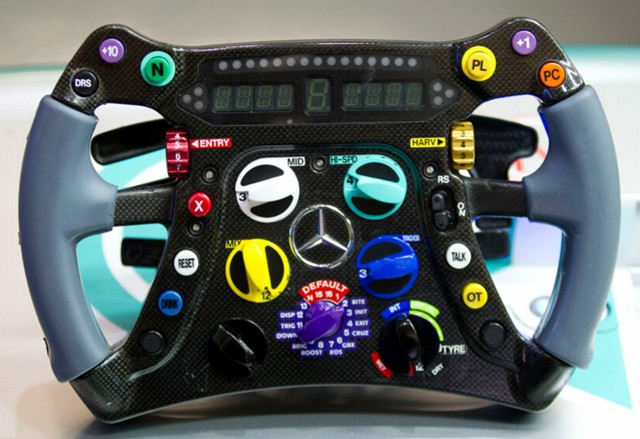 ...and here Hamilton thought he had gotten away from Button(s).
Hey, where you going? I thought you wanted to be a F1 driver! You've only got to be able to negotiate tracks like Spa, Austin, Montreal and Monaco at nearly 200mph, with other cars mere inches away, while being able to operate your steering wheel, often without looking. Here's the kicker: this is Shiv Hamilton's wheel,
after
he asked Mercedes to simplify it for him.
Oh, and it cost somewhere around $50000 or so. Enjoy!
Posted by: Wonderduck at 08:23 PM | Comments (9) | Add Comment
Post contains 141 words, total size 1 kb.
41kb generated in CPU 0.014, elapsed 0.0817 seconds.
48 queries taking 0.0729 seconds, 259 records returned.
Powered by Minx 1.1.6c-pink.