September 29, 2011
F1 Distances
A short while ago, I was speaking to Ph.Duck about the Grand Prix of Singapore. As is usually the case when I get to talking about Formula 1, my brain (shriveled and vestigial as it may seem at times) actually made an interesting observation, one that I'd never thought of before.
Formula 1 has the weirdest way of calculating distances ever. No, not the distance on track, that's all in miles or kilometers or hogsheads or bushels or rods or something like that. No, I mean the distances
between races
.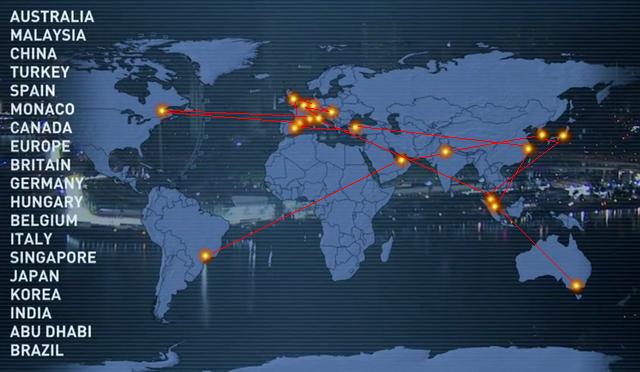 Unlike the rest of humanity, F1 seems to measure such things in weeks. As one would expect, this results in a somewhat skewed view of the world. For example, from Yas Marina Abu Dhabi to Sao Paolo Brazil is roughly 7200 miles. The distance between Spa Belgium and Monza Italy is roughly 500 miles. Yet to F1, they're the exact same distance apart: two weeks.
In fact, most of the racing world is two weeks distant from any other point in F1-land. There are exceptions to this, of course. It takes a full four weeks to get from Budapest to Spa, for example. Oddly, the time it takes to go from Kuala Lumpur Malaysia to Shanghai China (one week) is the same as Barcelona to Monte Carlo.
I'm not entirely sure where I was going to go with this incredible realization, but imagine if it took the same amount of time for the rest of humanity to go anywhere. Going to work? Better pack a lunch, it'll take you a week to get there. Heading to the loo? Two weeks, minimum. God help you if you go on vacation, it'll be time for you to come home by the time you get there.
Looks like I wasn't going anywhere.
Posted by: Wonderduck at 09:54 PM | Comments (2) | Add Comment
Post contains 301 words, total size 2 kb.
September 24, 2011
F1 Quals: Singapore 2011
Well, that was an interesting result. I don't know that I've ever seen this before. Before we get into it, let's take a look at the provisional grid for the 2011 Grand Prix of Singapore:
Q3 was
very
weird. First, Seb Vettel went out, turned one hot lap then parked it, in effect saying "take your best shot, kids." Of course, nobody could touch him... or at least, nobody handicapped by their teams' mistake. Lewis Hamilton put up a decent time, good enough to put him second, was pushed into the garage for tire changes and strategy... McLaren was going to send him out at just the right time, so he'd be the last man on track.
Except... um... they forgot. As the clock ticked down to 2:00 remaining, Hamilton was sitting in his car, waiting to go back out. There was no urgency in the garage, until people realized "hey, it takes 1:44 to do a hot lap, what'll it take to do an out-lap?" Whoops. As the clock ticked past 1:50 remaining, Lewis ripped his gloves off angrily and exited his car, any chance he had to improve his time gone. Immediately, his teammate beat him for second, then Mark Webber shoved them both down to the second row.
But at least he protected his tires. Slappy Schumacher can't even say that. Mercedes sent him out for his only run, but too late. The session clock expired when he was entering sector three, with about half a lap left to go. So no time for Slappy and a set of tires with unneeded wear... good jorb, guys!
The Force India team got both their cars into Q3 for the first time this season, then promptly said "we can't really do any better than this" and kept their cars in the garage. While they were probably right, it still seems... unseemly... to do that. Still, strategery goes a long way in F1.
The part that I was surprised by, however, was the uniformity of the top 10: each row is a different team! Red Bull on row 1, McLaren on row 2, Ferrari makes up row 3, Mercedes holds row 4, and Force India row 5. While I'm sure that's happened before, I can't recall when.
Oh, and Red Bull's sweep of pole position for the season continues. That's 11 for Vettel, three for Webber, 14-for-14. If Vettel wins and HWMNBN finishes off the podium, Seb gets his second Driver's Championship.
F1 Update! will come along tomorrow afternoon sometime; see you then!
Posted by: Wonderduck at 10:33 AM | Comments (3) | Add Comment
Post contains 591 words, total size 17 kb.
September 23, 2011
F1 Practice: Singapore 2011
The
day
night
dawned
fell clear and dry as the F1 Circus prepared to take to Singapore's Marina Bay Circuit for Friday's 1st Practice session... and then the teams waited. And waited. And waited some more. What was going on?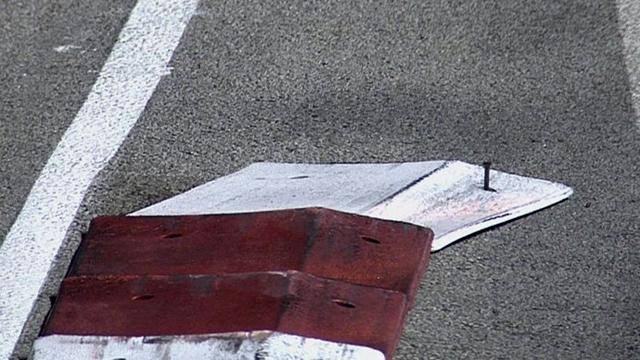 The curbs installed around the track were coming up! Before the practice began, a support series session brought the problem to light. As a result, Practice 1 was delayed a half-hour as the marshals attempted to rectify the situation, then gave up and completely pulled the curbing off the track at four different turns. Then the F1 guys took to the streets of Singapore... and it happened again. Felipe Massa straddled a curb and... well, the above picture was the result. Out came the marshals, off came that curb as well. This is just a weird situation. It's the fourth time the Singapore GP has been run, and there's never been a problem like this before. Oh sure, the drivers complained about the height of the curbs after the first race (with Massa describing them as "little tortoises that would wreck the car"), but having them come up? Never before. What's going to happen overnight is that the marshals will remove the curbing at Turns 3 and 7 altogether, paint a white line where they were and the drivers will be told that crossing the line will be seriously frowned upon. At Turn 14, the entry curb is to be removed entirely. Finally, at Turns 10 and 13, they intend to repair the problem and make sure it doesn't happen again. Whatever it was; nobody has said what caused it in the first place. I'm sure the drivers are all super-confident now.
There were no repeats in P2, though the curbing did manage to catch out Gandalf Kobayashi.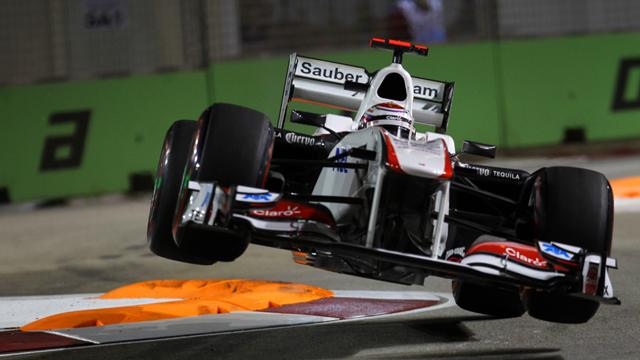 One does tend to lose grip when the tires aren't on the track surface. Amazingly, this little maneuver did not end in a pile of carbon fiber and tears. Somehow. It did point out how little margin for error there is around this circuit, however. There are no runoff areas around this place, and precious few escape roads at the end of the fastest portions of the track. You make a mistake at, say, Turkey, you have miles of asphalt to go before you hit anything. Here, you make a mistake and there's a wall right
there
, all set to eat you... which happened a couple of times today.
Surprise surprise, Seb Vettel was fastest in P2, go figure. He was two-tenths of a second faster than the King of Singapore, HWMNBN (two wins and a third place in the three races here). Lewis Hamilton was third, with Massa fourth. Mark Webber was 5th, .891 seconds behind Vettel. Everybody else was at least two seconds slower. Now of course this is practice, which means you can't really pay any attention to the times, but yeesh.
Quals start at 9am Pond Central time on Saturday... we'll see you here right afterward, okay?
Posted by: Wonderduck at 08:49 PM | Comments (1) | Add Comment
Post contains 503 words, total size 3 kb.
September 21, 2011
F1 on SPEED!: Singapore 2011
Take the narrow, confined layout of Monaco, then mix in the hot and humid atmosphere of Malaysia. That's what racing on the Marina Bay Street Circuit at Singapore is like for the drivers. Oh, but there's a unique twist, too... let's take a look at the track map for the 2011 Grand Prix of Singapore!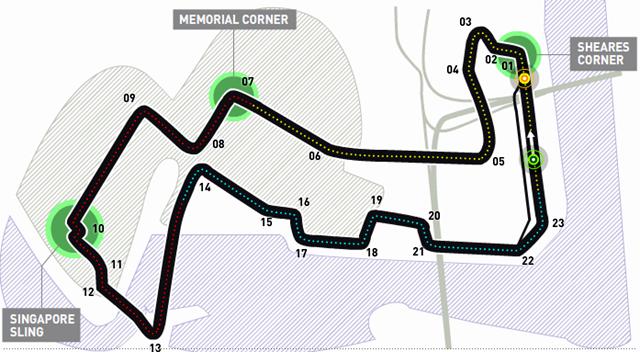 The unique twist? The whole race is run at night under the lights, adding another layer of stress and headache to the drivers' experiences. Then there's the fact that, unlike Monaco, the city doesn't shut down for the race. As you can see from looking at the map, there are highways that fly over the circuit at a couple of points. All of that lends itself to a visual spectacle unmatched in Formula 1.
It also creates a completely unheard-of problem. At one place on the track, a length of subway runs under the circuit. In the past, Red Bull's gearbox has suffered malfunctions from the electrical impulses coming from the trains! Other teams may have had similar difficulties, but haven't mentioned them. Because of all of this, many drivers have been quite outspoken in their dislike for Singapore. Lewis Hamilton and Felipe Massa in particular have been harsh in their assessments of the layout.
However, it looks great on TV. What else can we ask for? Well, how about something that's never occurred in the long history of F1? We've never had a wet night race before, but that's what we're looking at this weekend. All three days of the race weekend are forecast to be occurring under stormy skies. At least the teams will get plenty of practice on how their cars behave in such conditions. We're still going to have a ton of retirements if it rains, though.
We'll get to see it all thanks to the good burghers at SPEED, thankfully! Here's the weekend schedule:
Friday: 1st Practice: 430a-6a streaming; Practice 2: 830a-1010a live.
Saturday: 3rd Practice: 6a-7a streaming; Quals: 9a-1030a live.
Sunday: 2011 Grand Prix of Singapore 630a-9a live; 2p-430p replay
Of course, we'll be all over it all, right here at The Pond! See ya then, see ya here!
Posted by: Wonderduck at 07:42 AM | Comments (3) | Add Comment
Post contains 365 words, total size 2 kb.
September 10, 2011
F1 Quals: Italy 2011
Monza. Where speed is king, and everything else is just rubbish. Would the Red Bull boys continue their sweep of the pole position? Or would someone... anyone... knock them off? Well, let's check! Here's the provisional grid for the 2011 Grand Prix of Italy:
Nope. Red Bull makes it 13-for-13, and Seb Vettel becomes only the second driver in F1 history to have at least 10 poles in a season more than once (he did it last year, too). The performance was so dominating that both McLarens aborted their final runs at pole position, though to be honest Hamilton backed off because he screwed up a chicane, smoking a tire in the process.
Then just to add insult to injury, Vettel finished his final lap even though he knew both McLarens had given up... and made the final difference an even half-second. Yeesh.
Even though the best he could do was fourth, HWMNBN and Ferrari have to call this one a win. They fully expected their best to be the third row of the grid. There's a lot of pressure on the Red Team; it's their home race, after all, and "Italy expects...". Last year, HWMNBN brought the tifosi a win. This year? I'll be stunned if anybody can catch Vettel, but as they say, "that's why they run the races."
The race is tomorrow... see ya then!
Posted by: Wonderduck at 10:15 AM | No Comments | Add Comment
Post contains 391 words, total size 15 kb.
September 09, 2011
F1 Practice: Italy 2011
Practice sessions are only rarely interesting, and on those occasions when they are it's rarely because of what's happening on track. I mean, I've stated that the only reasons I watch Practice 2 is to get myself refamiliarized with that race's circuit (after all, we only see the tracks once a year) and in case something odd happens, for good or ill.
Well, during today's Practice 2 session, the "odd" happened. For the first session, and the first hour of the second, everything went according to plan... except for the two McLarens being much faster than everybody else, to the tune of 1.5 seconds. Despite some astonished reactions from websites and individuals, there's nothing we can really take from this. Never trust anything you see in Practice, speed-wise, since we haven't the faintest what teams are actually trying to accomplish. For example, it's quite possible that, say, Red Bull, were doing fuel runs the entire session, trying to get good mileage estimates for the race, while McLaren were doing full speed runs.
In P2, Lewis Hamilton looked to still have the fastest car during that first hour. Speculation is rife that the Glares On Wheels are running more rear wing than their competitors. This would give them a huge amount of downforce (in comparison) in the turns while not costing them in the least over the rest of the track during Practice and Quals, when the DRS can be used at any place on the circuit. During the race, this could come back to haunt them as they'll be quicker through the turns, but slower on any non-DRS straightaway (there will be two independent DRS zones at Monza... I guess Bernie coughed up the cash for another Dell!).
Then, with sixty minutes gone in the session, the odd things began to happen.
more...
Posted by: Wonderduck at 08:33 PM | Comments (1) | Add Comment
Post contains 504 words, total size 3 kb.
September 05, 2011
F1 on SPEED!: Italy 2011
Speed. Either one has it, or one doesn't. A car can be nimble, a car can be quick, a car can
jump over a candlestick
make lightning starts, a driver can wring the most possible out of a car... but when it comes to racing, ultimately if it can't go fast, it's rubbish. In Formula 1, nowhere is that basic tenet more true than at "La Pista Magica". The Magic Track. Monza.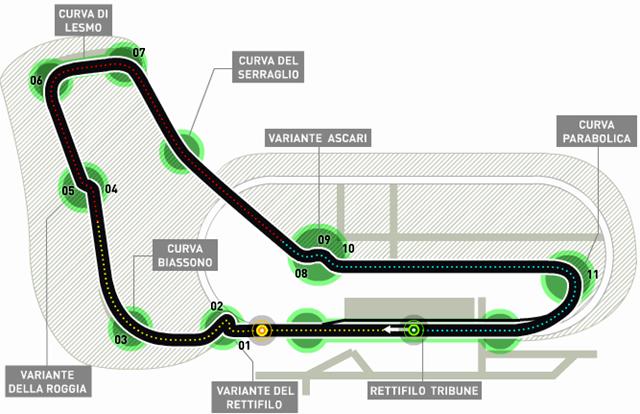 I have often joked of "The Church of Speed" here on The Pond, with its patron saint, Fangio The Quick. If such a religion existed, Monza would undoubtedly be its Holy Land (the NASCAR schism would surely designate Daytona as theirs, with St Earnhardt the most important figure. Woe be unto them, for they know not the true meaning of Speed). Possessing the fewest turns in F1, seven of which were added solely to slow the cars down (blasphemy!), Monza is the ultimate in low-downforce, low-drag setups. The fastest ever recorded F1 lap (162.949mph) was set here in 2004. It is the crucible all F1 chassis must go through: if you can't be fast here, you can't be fast... period.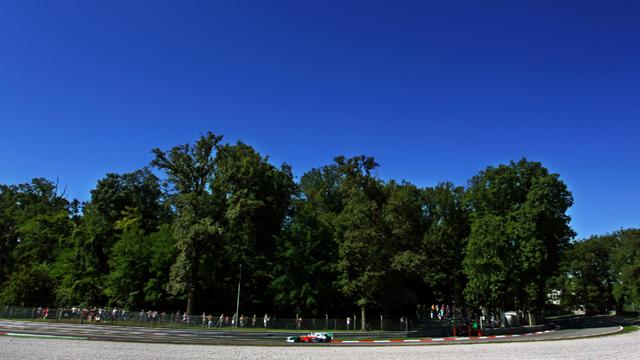 Yet Monza is also one of the prettiest tracks you'll ever find as well. Set into a national park, trees line the sides of the circuit in many places. It's this location that is also one of the dangers inherent to Monza. Since it
is
in a national park, there's a limit to what modifications can be made. Extra runoff area is impossible to come by since that would mean cutting down trees. Many turns (such as Parabolica, above) still have kittylitter instead of safer asphalt runoff zones. But then, it wouldn't be Monza if it was totally safe.
However,
you
can be perfectly safe at home watching the 2011 Grand Prix of Italy, thanks to the good offices of the Legendary Announce Team at SPEED, who as always will be bringing us live coverage of the race weekend's action. Here's the lineup:
Friday: Practice 1: 3am to 430am streaming. Practice 2: 7am to 840am live
Saturday: Practice 3: 4am to 5am streaming. Quals: 7am to 830am live.
Sunday: 2011 Grand Prix of Italy: 630am to 9am live. 330pm to 6pm replay.
Of course, F1U! will be all over the race like kittylitter in a graveltrap. See ya then!
Posted by: Wonderduck at 07:40 PM | Comments (2) | Add Comment
Post contains 396 words, total size 3 kb.
76kb generated in CPU 0.0181, elapsed 0.6058 seconds.
50 queries taking 0.5929 seconds, 255 records returned.
Powered by Minx 1.1.6c-pink.