May 29, 2008
Monaco By Air
I have nothing of particular interest to blog about at the moment, so instead, I'm going to react to something reader Buttons said in the comments:
"

I would like to thank the FIA World Feed Director for turning on Rosberg's On-Board camera while it was being lifted off the track, quite a view!

"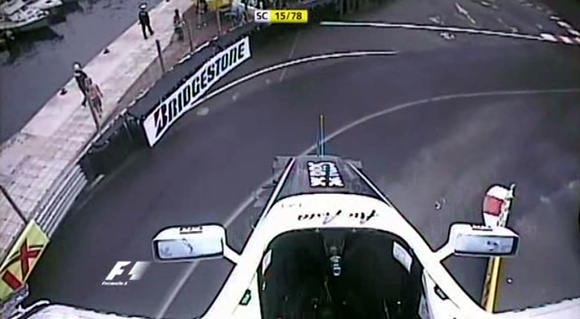 Yes, quite the spectacular view indeed. Only way it would be better is if there were some cars going by underneath!
Posted by: Wonderduck at 09:31 PM | No Comments | Add Comment
Post contains 81 words, total size 1 kb.
May 27, 2008
Fishing at Monaco
Well,
that's
something you don't see every day...
UPDATE
: Steven asks why they're using cranes to carry the cars away. I try to explain in the comments, but I'm not sure I did the best job in the world. Here's a view of the accident area:
Not the most accessible location on the track, and without pulling the armco down, a truck is out of the question.
Good question, Steven!
Posted by: Wonderduck at 11:55 PM | Comments (4) | Add Comment
Post contains 78 words, total size 1 kb.
May 26, 2008
Harder than Chinese Algebra?
So, you've read all my joshing and poking fun at the drivers in Formula 1, and you think to yourself, "what's so difficult about this, it's just a car, right?"
See what Top Gear's Hamster, Richard Hammond, a not-inexperienced driver himself, thinks when he settles into the Renault R25.
Best quote: "I AM GOD!!!"
Posted by: Wonderduck at 01:25 PM | Comments (1) | Add Comment
Post contains 58 words, total size 1 kb.
May 24, 2008
F1 Quals: Monaco 2008!
"I don't like Monaco," says Felipe Massa. "I never have. But I'm beginning to like it a little bit more." Kimi Raikkonen's view on the matter? "Obviously, I would have preferred to be on pole and there's no point denying it, but two Ferraris ahead of the rest is a great result for the team."
Yes, the unexpected result of an all-Ferrari front row-- on the track that McLaren historically dominates-- has really thrown the Grand Prix of Monaco into a cocked hat. 44 of the past 54 races at Monaco have been won from the pole, which would suggest that Massa is going to run away with this one, except for one little thing:
...rain.
There is an 80% chance of rain during the race, which takes everything in that cocked hat and dumps it into a gutter. All bets are off when it rains at Monaco; F1 Update! officially goes on the record as saying that we have no clue who's going to win on Sunday.
The provisional grid:
| | | | | | | |
| --- | --- | --- | --- | --- | --- | --- |
| Pos | | Driver | Team | Q1 | Q2 | Q3 |
| 1 | | Felipe Massa | Ferrari | 1:15.190 | 1:15.110 | 1:15.787 |
| 2 | | Kimi Räikkönen | Ferrari | 1:15.717 | 1:15.404 | 1:15.815 |
| 3 | | Lewis Hamilton | McLaren-Mercedes | 1:15.582 | 1:15.322 | 1:15.839 |
| 4 | | Heikki Kovalainen | McLaren-Mercedes | 1:15.295 | 1:15.389 | 1:16.165 |
| 5 | | Robert Kubica | BMW Sauber | 1:15.977 | 1:15.483 | 1:16.171 |
| 6 | | Nico Rosberg | Williams-Toyota | 1:15.935 | 1:15.287 | 1:16.548 |
| 7 | | HWMNBN | Renault | 1:16.646 | 1:15.827 | 1:16.852 |
| 8 | | Jarno Trulli | Toyota | 1:16.306 | 1:15.598 | 1:17.203 |
| 9 | | Mark Webber | Red Bull-Renault | 1:16.074 | 1:15.745 | 1:17.343 |
| 10 | | David Coulthard's Chin | Red Bull-Renault | 1:16.086 | 1:15.839 | no time |
| 11 | | Timo Glock | Toyota | 1:16.285 | 1:15.907 | |
| 12 | | Jenson Button | Honda | 1:16.259 | 1:16.101 | |
| 13 | | Nick Heidfeld | BMW Sauber | 1:16.650 | 1:16.455 | |
| 14 | | Kazuki Nakajima | Williams-Toyota | 1:16.756 | 1:16.479 | |
| 15 | | Rubens Barrichello | Honda | 1:16.208 | 1:16.537 | |
| 16 | | SeaBass | STR-Ferrari | 1:16.806 | | |
| 17 | | Nelsinho Piquet | Renault | 1:16.933 | | |
| 18 | | Sebastian Vettel | STR-Ferrari | 1:16.955 | | |
| 19 | | Adrian Sutil | Force India-Ferrari | 1:17.225 | | |
| 20 | | Giancarlo Fisichella | Force India-Ferrari | 1:17.823 | | |
You may note that The Chin made it into Q3, but was unable to turn a lap therein. That's because at the very end of Q2, he slammed into the inside wall just out of the tunnel, probably due to a zorched tire.
Assuming the team doesn't have to change his engine or gearbox, he'll be starting 10th.
Oh, this is going to be good, this is going to be good...
Posted by: Wonderduck at 02:03 PM | Comments (4) | Add Comment
Post contains 381 words, total size 12 kb.
May 22, 2008
F1 Practice: Monaco 2008!
Nobody in the harbor today in P2, but both of the Renaults managed to derange their rear wings at Saint Devote, with HWMNBN actually losing his altogether...
...a pity, that.
Lewis Hamilton set fast lap for the entire day in the low 1:15s, which would have put him on the pole (by nearly a half second!) last year, AND would have been the fast lap of the race last year to boot.
There's something about Monaco that makes the viewer at home realize just how difficult it is to drive a F1 car... probably because the track is so narrow, but it just feels like any car at any time is going to turn itself into carbon fibre shards and scrap metal. Instead, the driver (usually) manages to keep
at least
three inches away from the armco barriers... a small amount to us, an infinity of room to the wellbeing of a car.
The loss of traction control did cause some lurid slides today, including one by Hamilton in... Rascasse, I think it was, where his rear suspension was saved from being turned to toothpicks only because of the race curbing. As it was, he got his left-rear MAYBE an inch away. Yep, that close.
But wait! As if that isn't going to be exciting enough, rain is expected both during quals AND during the race. I've never seen a rain race at Monaco, but in 1996 the race was held in the wet. Three cars survived to take the checkers, and the car that took third was in the pits when the race ended.
Could be interesting... could be interesting indeed.
Posted by: Wonderduck at 06:32 PM | No Comments | Add Comment
Post contains 276 words, total size 2 kb.
May 19, 2008
F1 on SPEED: Monaco 2008!
As races go, it usually isn't all that much. But there is no brighter jewel for a F1 driver to have in his crown than the Grand Prix of Monte Carlo. David Coulthard's Chin owns a hotel in Monaco, a few drivers (and Spanky Mosley, too) live there. And it's the only street circuit in Formula 1 (at least until the Singapore race), to boot. Only Monaco lets you nibble some expensive cheese while a multi-million dollar high-tech whizwagon flies by, merely feet away.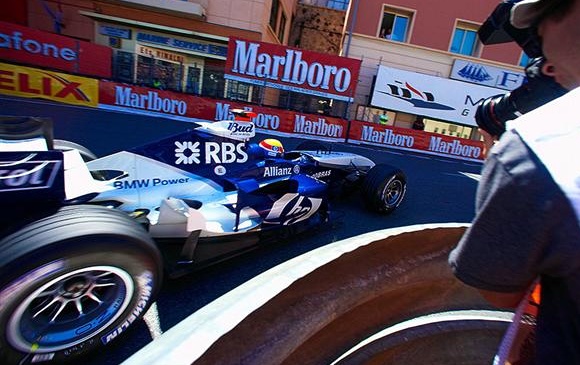 Of course, you have to be very rich or very lucky to have a shot at being THAT close to the track. Even if you're not one of the megabuckers, though, the grandstands around the track are still closer than any other on the F1 calendar.
Monaco is well-known as the tightest track on the calendar, with absolutely no room for error. In the past, traction control could keep most cars off the armco barriers, but this year? Even the slightest fishtail will spell doom, particularly at
Sainte Devote
,
Tabac
and
Anthony Noghes
. Of course, the Hairpin is the tightest turn in F1 (over 180 degrees, to be exact) and requires special suspensions for the cars to be able to even attempt it. With a normal suspension, the inside of the front wheels would actually mill their way through the suspension arms.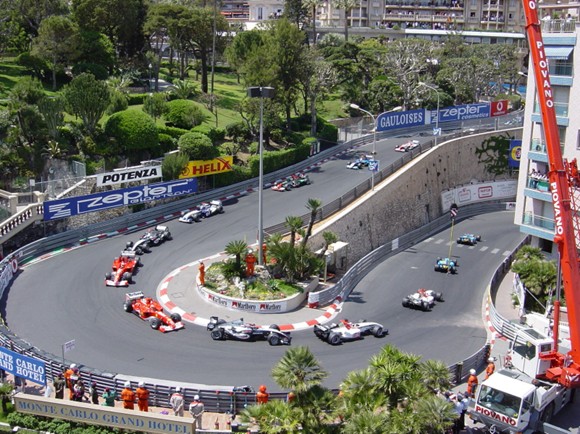 Thankfully, our friends at SPEED will be bringing us all the action from Monaco!
Coverage begins on
Thursday
, May 22nd, from 7am to 830am, with live coverage of Practice Session 2. Note that this is different from every other race on the calendar; usually this is on Friday, but Monaco plays by its own rules. There's a replay on Friday from 1130a to 1p.
Saturday, May 24th brings us Quals from 7a to 830a, plausibly live. In the past, Monaco has been known for being a processional, rather than a race, so your qualifying place is tremendously important here. Of course, with TC missing, who knows?
Sunday, May 25th is the real deal, the Grand Prix of Monte Carlo, from 630a to 9a, LIVE. See if we get a car into the harbor this year! There's a replay from 4p to 630p, too, in case you want to watch that
other
race...
Of course, F1 UPDATE! will keep you up to date on what's happening all week long!
Posted by: Wonderduck at 06:22 PM | Comments (4) | Add Comment
Post contains 399 words, total size 3 kb.
May 11, 2008
Now THAT'S A Car...
Why do I like to watch ITV's coverage of F1?
Jimmy Clark
's Lotus 49, still drivable 40 years on. A fuel tank with an engine and a steering wheel. No seatbelt. Dangerous to drive.
And one of the coolest looking beasts ever.
Posted by: Wonderduck at 11:21 PM | No Comments | Add Comment
Post contains 46 words, total size 1 kb.
May 10, 2008
F1 Quals: Turkey 2008!
Ho-hum, another race, another pole for Felipe Massa. His third in a row, Massa ripped off what would be a surprisingly quick lap at the end for anybody else, but we're coming to expect that sort of thing from the Ferrari driver. He nipped McLaren's Heikki Kovelainenninninnie for pole at the last second. It's still the first time Heikki's been on the front row.
Heikki's teammate, Lewis Hamilton, managed to bring his steed into third on the grid, beating Kimi Raikkonnen of Ferrari out by .13 seconds, who in turn shoved Robert Kubica into 5th on his last lap of Q3.
An interesting strategy for the two RedBull drivers, who were only on track long enough to turn one hot-lap each. Mark Webber managed 6th place, but David Coulthard's Chin couldn't get off 10th. Still, one has to expect that they've got a bunch of fuel in the tanks, and they didn't use much of it at all, so expect them to get a longer run than might be common. Whether it'll work or not remains to be seen. HWMNBN, Jarno Trulli, and Nick Heidfeld, who had been having troubles coming to grips with his BMW all day, finish up the top 10.
The provisional grid:
| | | | | | |
| --- | --- | --- | --- | --- | --- |
| 1 | Felipe Massa | Ferrari | 1:25.994 | 1:26.192 | 1:27.617 |
| 2 | Heikki Kovalainen | McLaren-Mercedes | 1:26.736 | 1:26.290 | 1:27.808 |
| 3 | Lewis Hamilton | McLaren-Mercedes | 1:26.192 | 1:26.477 | 1:27.923 |
| 4 | Kimi Räikkönen | Ferrari | 1:26.457 | 1:26.050 | 1:27.936 |
| 5 | Robert Kubica | BMW Sauber | 1:26.761 | 1:26.129 | 1:28.390 |
| 6 | Mark Webber | Red Bull-Renault | 1:26.773 | 1:26.466 | 1:28.417 |
| 7 | Fernando Alonso | Renault | 1:26.836 | 1:26.522 | 1:28.422 |
| 8 | Jarno Trulli | Toyota | 1:26.695 | 1:26.822 | 1:28.836 |
| 9 | Nick Heidfeld | BMW Sauber | 1:27.107 | 1:26.607 | 1:28.882 |
| 10 | David Coulthard | Red Bull-Renault | 1:26.939 | 1:26.520 | 1:29.959 |
| 11 | Nico Rosberg | Williams-Toyota | 1:27.367 | 1:27.012 | |
| 12 | Rubens Barrichello | Honda | 1:27.355 | 1:27.219 | |
| 13 | Jenson Button | Honda | 1:27.428 | 1:27.298 | |
| 14 | Sebastian Vettel | STR-Ferrari | 1:27.442 | 1:27.412 | |
| 15 | Timo Glock | Toyota | 1:26.614 | 1:27.806 | |
| 16 | Kazuki Nakajima | Williams-Toyota | 1:27.547 | | |
| 17 | Nelsinho Piquet | Renault | 1:27.568 | | |
| 18 | Sebastien Bourdais | STR-Ferrari | 1:27.621 | | |
| 19 | Giancarlo Fisichella | Force India-Ferrari | 1:27.807 | | |
| 20 | Adrian Sutil | Force India-Ferrari | 1:28.325 | | |
The track at the Istanbul Otodrom is driving much different for this race than in the past two. Part of that, surely, is because of the lack of traction control, but a good portion of the reason is the weather. In the past, this race has been in August and the ambient air temps have been pushing 95
o
F, with the track temps well over 110
o
. Today, the temps were thirty degrees cooler, and it had rained earlier to boot. While no rain is expected for the race, the air is supposed to be cool-ish, which is making Bridgestone very nervous: the "soft" tires they've brought to the track (actually the medium compound) aren't very good in cool air. There's already been reports that they've suffered severe cases of graining.
So, how the teams make their tire choices might be even more important than normal on Sunday. We'll find out...
Posted by: Wonderduck at 05:52 PM | Comments (2) | Add Comment
Post contains 490 words, total size 11 kb.
May 09, 2008
Friday Practice: Turkey 2008
I'm sure it was a fascinating practice session and all that. I hear that Mark Webber bent his car, which might have been interesting; considering how fragile the Red Bull is, the thing probably shattered into a gazillion pieces.
(
UPDATE
: here's a screencap...
Hm. Hard enough to blow the suspension apart, but not hard enough to crumple the nose? How does
that
work?)
Unfortunately, the audio/visual team over here at the F1 UPDATE! headquarters bollixed up the recording session, so I got to see a grand total of zero minutes and zero seconds of Friday's Second Practice session.
Oops.
However, all is not lost! I did find this: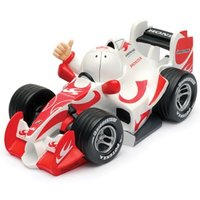 ...and how could anybody NOT like a chibi SuperAguri racer?
Posted by: Wonderduck at 09:28 PM | No Comments | Add Comment
Post contains 122 words, total size 1 kb.
May 06, 2008
Super Aguri Is No More (UPDATED)
It's official:
SuperAguri has withdrawn from this season's World Championship
. More to follow after I get back from work.
UPDATE:
The Pond is hereby declaring that it is no longer openly rooting for any team on the grid. This is a sad state of affairs. When I became a real fan of the sport in 2004, I was drawn to the travails of Zsolt Baumgarter and Minardi. When Minardi was sold to Red Bull and became Toro Rosso, I shifted my allegiance to the newest team on the grid, SuperAguri.
Honda originally created SuperAguri for one reason only: to give Japanese driver Takuma Sato a drive. In 2006, driving a modified 2002 Arrows chassis (one of which came from a display in the Melbourne Airport) to begin with, and a newer body later, the team performed like you would expect a starter team to: badly. Their best finish was 10th in the final race of the year. While Sato started every race, the other seat was passed between three drivers: "Fast" Yuji Ide (who was so bad he had his provisional SuperLicense revoked after the fourth race of the season), Franck "The Barber" Montagny, and Sakon "No Clever Nickname" Yamamoto. Nobody expected what would happen in 2007.
The first shock of the 2007 season came in the opening round, when
Takuma Sato managed to get into Q3, with his new teammate Ant Davidson qualifying 11th
. The next shock was when Sato earned the team's first championship point by
finishing 8th at the Grand Prix of Spain
.
But the greatest moment in team history had to be the
Canadian Grand Prix,
where Sato finished 6th, and but for a botched pitstop could have finished as high as fourth. However, even better than the points was Sato passing both reigning Driver's Champion HWMNBN (earning the "Move of the Race" and drawing crazy cheering from the F1 UPDATE! crew) and eventual 2007 Driver's Champion Kimi Raikonnen for position on track.
That proved to be the highwater mark for the season, as neither driver would finish higher than 11th ever again. Honda began to withhold car updates (at one point, "accidentally" forgetting to send the team the updated nose construction). The team's primary sponsor, SS United Group Oil & Gas Company, defaulted on sponsorship payments, forcing the team to lay off 30 workers. Still, the team showed that it could compete with the big teams, despite having 1/4th the budget and 1/6th the staff of some.
2008 started with financial woes, but things looked hopeful when it was announced that the Magma Group would buy into the team. That hope died when the deal fell through for reasons unspecified. Honda, who already had sunk massive amounts of money into the team with no hope of ever recouping its debt, bailed the team out for the Spanish Grand Prix, but then said no more.
And thus, Super Aguri passed into F1 history, joining such teams as Minardi, Midland, Jordan, Tyrrell, Lotus, and dozens of others. As of this writing, it is unknown what will happen to the team's drivers, though it would not be surprising for them to be picked up as testers by someone.
Goodbye, SuperAguri. You will be missed.
R.I.P. 2006-2008
"Made In Japan"
Posted by: Wonderduck at 07:01 AM | Comments (3) | Add Comment
Post contains 547 words, total size 4 kb.
May 05, 2008
F1 on SPEED: Turkey 2008 (and a SuperAguri update)
The best of the new tracks is on the docket this week, with the third running of the Turkish Grand Prix at the Istanbul Otodrom. Gotta love the four-apex Turn 8! Of course, our friends at SPEED will be bringing us everything live-ish.
To start with, we get LIVE coverage of Practice 2 on
Friday, May 9th from 7am to 830am
. Will Super Aguri be allowed to run (see below)? Will we get another car trying to hit the Quad-8 retaining wall (which is nearly 100 feet from the track)? We'll find out, won't we?
Saturday, May 10th from 6am to 730am
, is (plausibly) LIVE coverage of the Quals session! How will McLaren recover from their disaster in Spain? Will Heikki Kovaleinininninnie be in the driver's seat, or will his concussion open the door for Pete Rose (Pedro de la Rosa) to step in? Will BMW put both cars at or near the front? Or will the Red Cars continue their dominance?
Finally,
Sunday, May 11th from 630am to 9am
, will bring us the Grand Prix of Turkey, LIVE and in living color. Many questions will be answered, many more questions will be raised... that's the beauty of F1! There will be a replay from 1230pm to 3pm as well for those of you without recording devices.
Now, onto the latest news regarding the SuperAguri situation. As you remember, the Little Team That Could was bailed out at the last minute by Honda, so they were allowed to race in Spain. Since then, however, the team has been in talks with The Weigl Group, based in Germany. Honda, however, has doubts that they can adequately fund a F1 team, so has been reluctant to allow the sale to go through.
The result of this is that, first, the SuperAguri "mobile home" and team trailers had to DRIVE to Turkey, instead of taking a ship. F1 teams have been VERY leery of driving to Istanbul for fear of hijacking (a very real fear, reportedly). Fortunately, the various semis and other support vehicles made it without a snag... only to discover a horrible problem when they reached the track:
They weren't allowed into the paddock.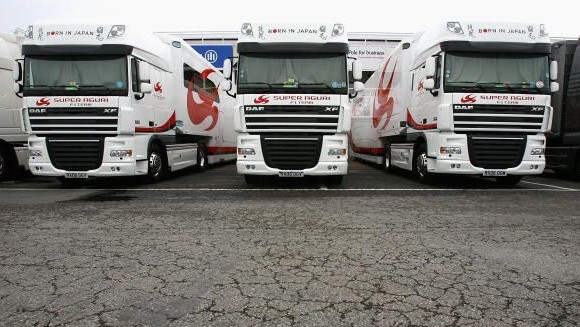 It seems that Nick Fry, Honda Racing CEO, called FOM (Formula One Management, the group that actually runs the events for the FIA) and said, in effect, that SuperAguri won't be racing because they don't have engines, and don't let them in. This is actually a face-saving move for Honda; if the team's vehicles don't enter the paddock, there won't be a scene if/when they have to LEAVE.
And so the team vehicles sit outside the track, waiting for permission to enter which may never come. Talks are ongoing with Weigl, and there should be some results to report on Tuesday... one way or the other. Part of me wants to think that Honda is stabbing SuperAguri in the back for embarrassing the factory team so badly last year; another, more logical, part of me knows that SA owes Honda a bunch of money already, and why throw more at them? The real answer probably is somewhere in the middle of the two extremes.
Personally, I think we've seen the last of the "Super Best Friends", as Legendary Announce Team member Steve Matchett insists on calling them. No more SuperSato, no more Ant, no more Montreal Marmot Massacres, no more banzai charges and kamikazi dives into the RedBulls...
...dammit.
Posted by: Wonderduck at 10:36 PM | Comments (1) | Add Comment
Post contains 581 words, total size 4 kb.
May 02, 2008
Not So Much, Instapundit...
Glenn Reynolds, the Instapundit his own bad self, had a
F1-related post today
:
DANICA PATRICK going Formula One?
Now, while I appreciate any attention paid to F1 by someone here in the US, the Good Perfesser is in
my
territory here, so lets look at what this really means.
What Danica is being considered for is a test. Generally this means plunking someone into a F1 car (maybe not even the current chassis) and letting them run a couple dozen laps or so, to see what happens. In many ways, a test session is F1's version of being invited to Spring Training. You might not be expected to "go north" with the Big Team, but sometimes good things happen. In the usual best case, the team would give the driver an extended look... probably as the team's Test Driver.
With Honda, that's a pretty decent gig, as Rubens Barrichello is approaching the end of his career, though he probably has another year or two of decent driving in him yet. The current test driver for Honda, Alex (Man-Mountain) Wurz, is a top-flight racer in his own right, highly praised for his technical knowledge and his ability to describe a car to the team's engineers. Of course, he has five seasons of actual F1 racing under his belt as well (last year with Williams, earlier with Benneton and McLaren). This makes him, at least as valuable to Honda F1 as their two race drivers, Barrichello and Jenson Button.
Button is Danica Patrick's "in" with the team, by the way. The two drove together in the British Formula Ford series, and were, at the time, friendly, though Button made some... unpleasant... comments regarding women drivers in 2005.
If Danica does well enough in test run with Honda F1, it's certainly possible that she could be signed as an actual race driver. Sebastien ("SeaBass") Bourdais tested with Toro Rosso in the off-season, and now is the team's (nominal) second driver, along with Sebastian Vettel, so it's hardly unheard of. Of course, SeaBass had a LOT more success in US open-wheel racing than Patrick, so that worked in his favor, too.
There is some question as to whether she's physically strong enough to drive a F1 car. It's common for a F1 driver to experience 5
g
s under braking, and 4
g
s or more in the corners. The problem is that, truthfully, nobody knows if a woman can handle a F1 car because its never been done before. I suspect she can, but it is a valid point.
So, Danica "going F1" really means that she might have the opportunity to turn a few serious laps in a F1 car. After that, it's anybody's guess, though currently there's no real opening at Honda.
Personally, I would love to see Danica get a F1 drive. The attention it'd garner here in the US would be great for the sport, and it'd have to stick in Bernie Ecclestone (F1 supremo)'s craw after HIS deplorable comments regarding women drivers.
And there's no way that'd be bad.
Posted by: Wonderduck at 11:48 PM | Comments (2) | Add Comment
Post contains 511 words, total size 3 kb.
80kb generated in CPU 0.0459, elapsed 0.1309 seconds.
52 queries taking 0.0956 seconds, 274 records returned.
Powered by Minx 1.1.6c-pink.