July 30, 2011
F1 Quals: Hungary 2011
Over the past six years, only once has the Hungarian Grand Prix been won by the polesitter. So qualifying isn't that important, right? Well, those other five races were won by the driver sitting second... so yeah, kinda important. Let's see the provisional grid:
Yep, Vettel's back on pole, his eighth of the season. But it wasn't until the final hot lap of Q3 that he had shown any real sort of pace, and he was still slower than #2 Lewis Hamilton in the Hungaroring's first and third timing sectors. Then you have Jenson Button located right behind Vettel on the grid? I'd say McLaren's back on the pace, yes.
Meanwhile, Mark Webber has to be wondering which Elder God he's pissed off
this
week. Sixth? That's the best he could do? When his teammate took pole? C'mon, Mark... you're a likable guy, you're the underdog on your own team, you've got five-sixths of the world pulling for you, and this is the best you could do? Perhaps more surprising is Felipe Massa coming home fourth... and beating HWMNBN in Quals for the first time this season.
You may notice Sergio Perez sitting there at 10th didn't set a time during Q3. My suspicion is that he saw the true heavy hitters (McLaren, Ferrari, Red Bull) out there throwing haymakers at each other and decided, "y'know, I think I'll just save my tires." For most of the session, it looked like the two Mercedes drivers and Adrian F'n Sutil felt the same, cowering in their garages while the big boys engaged in their own private war. It wasn't until the last minute possible that they came out, which makes me wonder why they even bothered. Is Rosberg
really
going to make a difference from seventh, for example? I don't understand exactly what they're doing there, but I'm not a F1 team strategist; it's probably something really deep and... um... strategery-like.
Race is on Sunday, and F1U! will be along sometime thereafter. See you then!
Posted by: Wonderduck at 10:20 AM | No Comments | Add Comment
Post contains 501 words, total size 17 kb.
July 29, 2011
F1 Practice: Hungary 2011
Welcome to the Hungaroring, the circuit of milk and honey!
No, I can't do it. There's just no way I can keep up the happy-go-lucky attitude about the Hungarian Grand Prix. It's slow, it's twisty, there's only one passing point, argh. There was even less going on in 2nd Practice than normal. We did get a look at the new version super-soft tires from Pirelli, and they do seem like they'll last slightly longer than the six or eight laps they used to do. Yay?
McLaren's Lewis Hamilton led both practice sessions on Friday, second practice with a 1:21 and change. If my math is correct, the 107% rule would take out four cars: O'Glockenspiel, d'Ambrosio, Ricciardo, and Liuzzi. In other words, both Virgins and both HRTs. Which is weird, because slower tracks like this one should be better for the slower teams, not worse... unless the miserable twistybits are just kneecapping the less-than-nimble new teams (minus Lotus, of course). While you've gotta go slow to go fast, there's such a thing as going too slow. We'll find out the ultimate result during Quals on Saturday morning, of course.
In other news, Jarno Trulli is back in the Lotus after a one-race vacation, and shock of shocks, he's praising the team for the improvements they've made to the power steering! Of course, this has
nothing
to do with his incessant complaining earning him that one-race vacation.
Unfortunately, it looks like we're to have a dry race on Sunday. Alas.
In other important news, F1 has released a revised calendar for the 2012 season. Instead of the 21 races originally scheduled, it's now going to be 20 as Turkey is to be axed. That's a shame, because it's a fun circuit, but nobody ever went to the race and rising fees seem to be pricing the race out of F1. The good news is that the United States Grand Prix has been moved. No longer are they going to Austin Texas at the end of June/beginning of July! Now it'll be November 18th, which makes MUCH more sense: it won't be 215 degrees during race weekend. For what it's worth, that removes the second biggest obstacle to F1U! taking a fieldtrip (the biggest obstacle is fundage).
As mentioned, Quals in the morning, we'll see you then!
Posted by: Wonderduck at 08:18 PM | Comments (7) | Add Comment
Post contains 389 words, total size 2 kb.
July 25, 2011
F1 on SPEED!: Hungary 2011
Ah, Hungary. Beautiful, glorious Hungary. My favorite circuit in Formula 1. Let's take a look at the track map:
It's glorious, isn't it? It's been described as "Monaco without the glamour." But that's a good thing! Without the glitz and glamour, all that's left is to concentrate on the racing. Set into a natural bowl, most spectators can see the majority of the track from their seats. It has little altitude change, but is bumpy due to being built on relatively sandy soil. The twisty layout makes passing difficult, emphasizing driver skill over speed.
Like Monaco, the Hungaroring is a high-downforce low-speed track, where maneuverability outweighs grunt. Since the Grand Prix is pretty much the only race run on the Hungaroring, the track is usually dusty and "green" at the start of the weekend, but traction improves while the various sessions are run and the circuit rubbers in. Rain can wash that rubber off of course, but there's only been one wet race in the 25 year history of the Hungarian Grand Prix, in 2006. That race was Jenson Button's first win, in fact.
As the race is run in late July, it's always hot and humid here. The natural bowl keeps a lot of the daytime heat, meaning there's little relief. This makes keeping the cars cool an exciting challenge for the mechanics, and you'll often see various pieces of bodywork removed around the engine area to promote airflow.
Ah, Hungary. To be in Budapest in the summertime, watching the Grand Prix... is there anything better? Fortunately for those of us who can't experience the wonderment, the Legendary Announce Team will be bringing us everything with their usual talent and aplomb... and even better, it'll all be back on SPEED! Let's take a look at the schedule:
Friday: 3am - 430am Practice 1 (streaming), 7am - 840am Practice 2 (live)
Saturday: 4am - 5am Practice 3 (streaming), 7am - 830am Quals (live)
Sunday: 630am - 9am Grand Prix of Hungary (live)
So whip up some bundáskenyér with körözött, settle in on the couch, pop open a Soproni, and hope for a Zsolt Baumgartner sighting! We'll see you then!
more...
Posted by: Wonderduck at 08:27 PM | Comments (3) | Add Comment
Post contains 426 words, total size 3 kb.
July 23, 2011
F1 Quals: Germany 2011
Another gray day at the Nurb Jr. for the 2011 Grand Prix of Germany's Qualifying session. No rain, but constant clouds and a strong breeze combined for a surprisingly cool day as well (53 degrees), making it difficult for the drivers to get heat into their tires. But would that make a difference today? Or would the threat of rain on race day play a part today? Let's take a look at the provisional grid:
For the first time in 14 races, Red Bull's Seb Vettel will not be starting a race from the front row. If you think about it, that's a pretty darn amazing stat. And gosh, he must be miserable with ending up a pitiful
third
.
Two years ago, Vettel's teammate Mark Webber started this race from pole... and got his first ever F1 win. Today, he said that his time was the best he could have possibly done, that there wasn't another hundredth left in the car. McLaren's Lewis Hamilton, on the other hand, was pleasantly surprised with the speed of his steed. After Friday's practice sessions, he was moaning that there was no chance to fight for pole, the car was too slow, yadda yadda yadda. Instead, he's less than a tenth of a second behind. Not too shabby for a "crappy" chassis.
Meanwhile, Hamilton's teammate is complaining. "Something isn't right," said Jenson Button. "The pace isn't there. It was there this morning, so I don't know where it has gone." I have a suspicion as to where it is... I suspect that McLaren is hedging their bets for Sunday. Y'see, there's a halfway decent chance of rain sometime during the Grand Prix and I'd almost put money on Button having a wet-weather setup. If so and the team's gamble pays off, look for him to be on the podium, if not the top step. If not? Let's not think of that. I'm thinking that perhaps Red Bull has Vettel set up the same way, with the difference in position coming down to relative car quality.
You may have noticed that next to Seb Buemi's name, the number "16" is missing. That's not a typo. After Quals were completed, the Toro Rosso driver's car failed the mandatory fuel test. It violated regulation 19.8.3, meaning that the chemical makeup of the sample taken after Quals did not match the reference sample taken before the weekend. As a result, Buemi has been excluded from Qualifying. Since he officially didn't set a time, he could have been prevented from racing, but instead he'll be starting dead last. In their defense, the team says that they had to replace Buemi's fuel pump system (which is why he didn't appear in P2), and that the new system must have had some residual chemicals (lubricants, perhaps) in it that contaminated the fuel inadvertently. Oddly enough, I'm inclined to believe them, particularly since NKOTT's fuel passed muster.
Race at 11am Pond Central time... see you here for F1U! sometime afterwards!
Posted by: Wonderduck at 02:41 PM | No Comments | Add Comment
Post contains 663 words, total size 17 kb.
July 22, 2011
F1 Practice: Germany 2011
A gray day in the Eifel Mountains, which isn't unusual. Friday's practice sessions went the way they usually do... cars went out on track, ran laps, came back in, rinse, repeat. Nothing particularly exciting, which also isn't unusual. Except for Seb Buemi's wild ride in P1...
that
was exciting.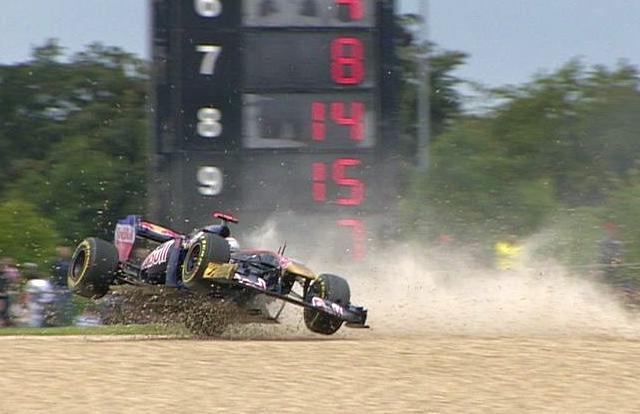 The Toro Rosso got sideways and went airborne twice... first when he hit the curbs, then again when the car landed, slid across some grass and an access road, then bounced in the kittylitter. It could have been a big wreck, but wasn't. Buemi got right out, though I'll bet his back'll be sore in the morning; F1 drivers sit directly on the floor of the chassis, and they don't exactly have much in the way of shock absorbers either.
In other news for the race weekend, Jarno Trulli has been quite vocal of late, criticizing his car's power steering up hill and down vale. For at least four or five races, he's been complaining about how it just isn't working right... which is not-so-veiled criticism of his team, as well. There's almost certainly been discussions behind closed doors between Lotus and Trulli, asking him to keep the complaints
behind
closed doors. For example, if there's been a problem on Heikki Kovaleinninninnie's chassis, we haven't heard about it. Yet Trulli has continued to moan and whine in public. Well, Lotus has reacted. Jarno is getting the weekend off, no reason given. In his place, F1U! is happy to announce that Cowboy Karun Chandok is back in the saddle! It's been over a year since he's been in a F1 race, but we have no doubt that he'll repeat his excellent performances on Sunday.
Meanwhile, more and more regulations for 2014 have been released. As we've already heard, the inline four-cylinder turbo engine is dead, replaced with a new V6 that'll be limited to 15000rpm. What's very new is that the engines will have to have an onboard starter! That's right, F1 cars will now have to do the same thing that road cars have been able to do for decades. Another interesting rule is that, when a car is in the pit lane, it will be allowed to run on electric power only. I assume that's between the speed limiter lines, but it may mean anywhere related to the pit lane... such as pit-in. We'll see. I'm neither excited nor offended by this; it's just the FIA being the FIA. As usual.
Speaking of the FIA, the marshals have done it again.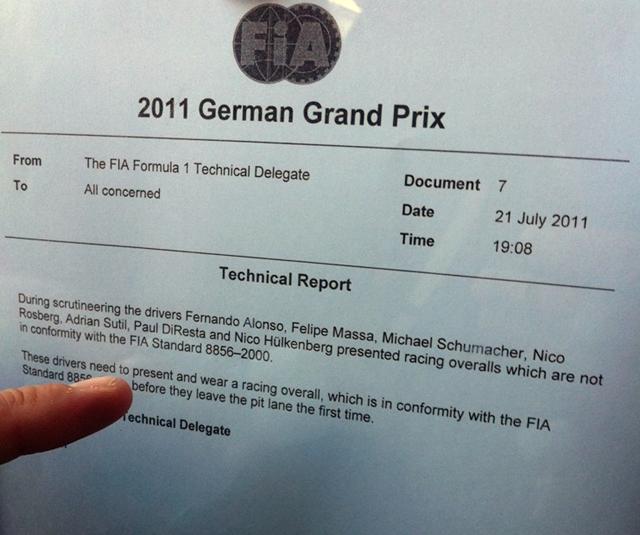 Good to know that they've solved all the other problems in F1.
Quals in the morning. See ya then.
Posted by: Wonderduck at 08:27 PM | Comments (7) | Add Comment
Post contains 444 words, total size 3 kb.
July 21, 2011
I Knew This Was Coming...
...but it doesn't make it any easier.
That's just darn annoying, is what that is.
Posted by: Wonderduck at 07:21 PM | Comments (5) | Add Comment
Post contains 20 words, total size 1 kb.
July 19, 2011
F1 on TV!: Germany 2011
Once upon a time, there was a track called "The Green Hell." 12.9 miles long, with 154 turns, it was the
ne plus ultra
of the racing world. The toughest, most demanding purpose-built track in the world, and quite possibly the most dangerous as well. If you could win a race here, you had done something truly special. It was more correctly known as The Nurburgring, and despite the similar name it is
not
where the 2011 Grand Prix of Germany is being held. Let's take a look at the Nurburgring track map where we'll be racing this weekend: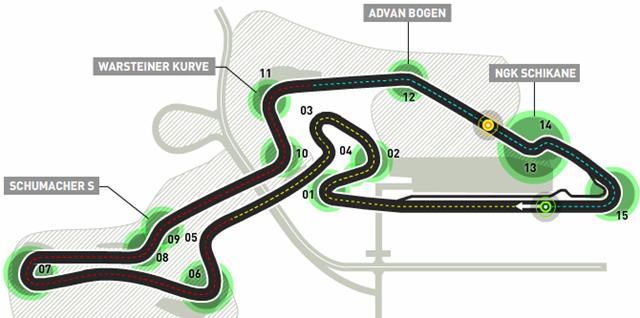 Correctly known as the Nurburgring GP-Strecke, I prefer to call it "Nurb Jr.", though a local nickname, "Ersatzring", is pleasing as well. It's shorter, less challenging (though trying to thread a needle while driving a F1 car would also be less challenging), and infinitely safer. It's a high-downforce circuit, with a generic level of tire wear. It also alternates with Hockenheim on the F1 calendar, so the last time we were here, BrawnGP and Jenson Button were winning everything in sight. Of course, that means that such things as the quick-wearing Pirelli tires, DRS-enabled rear wings, blown diffusers and constant-flow throttle, and the crazy-go-nuts Red Bull chassis haven't been here, so it'll all be new and fresh.
"But wait just a minute Wonderduck," I hear you saying. "You've wasted hundreds of words over the past few races trying to describe what effect the removal of the constant-flow throttle and blown diffuser would have. It's gone, the FIA took it off the cars!" Smugly, you sit back, sure that you've caught the head of F1U! in a mistake.
Yes, well, the FIA apparently had their fingers crossed when they said all that about things being taken off the cars. Effective immediately, teams can go back to "Valencia"-spec setups... including the blown diffusers.
T'anks
, FIA! In 2012, though, all that stuff'll be gone again.
But we've still got this race weekend to get through, and as usual, the Legendary Announce Team will be there to call all the action. As I'm saying the same thing every race, I'm just going to list the times now.
Friday - Practice 1: 3a-430a (streaming), Practice 2: 7a - 840a (live on SPEED)
Saturday - Practice 3: 4a - 5a (streaming), Quals: 7a - 830a (live, SPEED)
Sunday - GP of Germany: 11a - 1p (tape delay, FOX)
This is the last race of the year on FOX... hurray! We'll see you then!
Posted by: Wonderduck at 08:12 PM | Comments (7) | Add Comment
Post contains 421 words, total size 3 kb.
July 13, 2011
Top Gear S17E03
I greatly enjoy watching
Top Gear
. Clarkson, May and
Hamster
Hammond play off each other incredibly well, leading to great hilarity, at times reaching
Monty Python
levels of humor quality. Then of course, there's the cars, and the envy... after all, they've got the greatest job in the world, and they know it, and they don't take it for granted.
Which makes the "highlight" of this past Sunday's episode so excruciating to talk about. You see, this week they put a F1 Star in the (old) Reasonably Priced Car. In the past, they've had Mark Webber, Lewis Hamilton and Jenson Button, amongst others, hop into the Suzuki Liana and turn a few laps on the Top Gear Test Track. The last F1 driver to appear was Rubens Barrichello, and
we all remember what happened
that time... and the
t-shirts he had made
up. But this time, there was a different feeling in the studio... a feeling of dark menace.
Which turned out to be entirely appropriate, for when he was younger he cavorted and gamboled with Slappy Schumacher itself.
He is now a couple of years older, and instead of a kart, he now drives this: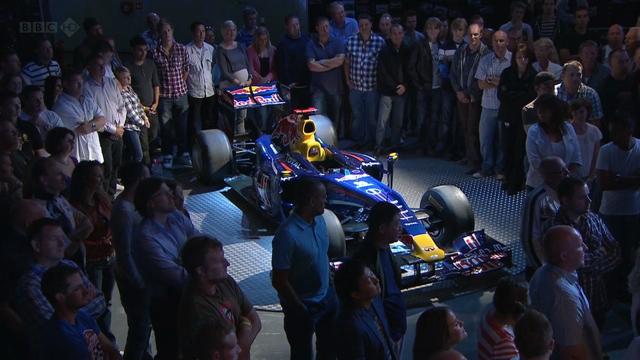 ...and I began to weep. Can I never escape from the menace of...
more...
Posted by: Wonderduck at 09:28 PM | Comments (1) | Add Comment
Post contains 430 words, total size 3 kb.
July 09, 2011
F1 Quals: Britain 2011
Rain clouds above Silverstone for the Qualifying session for the 2011 Grand Prix of Great Britain are a normal sight, but the storm clouds in the pit lane gave hope that perhaps, just maybe, the Red Bull dominance may have been broken by the blown diffuser ban. So, was it? Here's the provisional grid:
Nope. Time to face facts: nothing is going to stop Red Bull, short of land mines and anti-tank weaponry. Even the lousy weather helped Red Bull today, as it began drizzling in Q3, just as people were beginning their last-ditch attempts to knock Webber and Vettel off the front row. When you're taking some of the turns at Silverstone at 160mph, suddenly having a puddle in front of you tends to (excuse the pun) dampen the spirits of the drivers.
I can't believe I'm saying this, but I'm hoping that the Ferraris can do something on Sunday to gore the Bulls... maybe Massa will be ordered to go to ramming speed heading into Turn 1. Because that's about the only way we're going to hear something other than the Austrian anthem being played on the podium for the winning constructor.
Well, that or rain. One of the two. Fortunately, we've got a chance of the wet stuff for Sunday. See you then!
Posted by: Wonderduck at 10:43 AM | Comments (4) | Add Comment
Post contains 381 words, total size 15 kb.
July 08, 2011
F1 Practice: Britain 2011
Ah, to be in England in the summertime... just don't forget your umbrellas, raincoat and galoshes. Other than a fifteen minute long stretch in P2 right at the end, what we had was the textbook definition of a wet track at Silverstone. Very wet. Nearly "boat racing" levels of wet.
While watching the most highly skilled drivers in the world look like they've never even heard of a car, let alone actually
drive
one, was mildly entertaining, it did nothing to answer the burning question of the day. That being, of course, what effect will the Open Throttle ban have on the myriad racers and particularly the nigh-on unbeatable Red Bulls? Since the heavy rain made even the relatively simple task of keeping the cars on track nearly impossible, nobody knows what's going to happen once they have a dry track under them.
There's been a clarification of the ruling from the FIA. It turns out that the ban isn't actually a
total
ban. Instead, the teams can keep the throttle open about 10% instead of at full force. Legendary Announce Team tech guru Steve Matchett did a great job explaining how this trick works. In essence, when the driver takes his foot off the "make noise" pedal, thereby closing the throttle, the engine changes modes. Instead of burning fuel in the classic "suck-squeeze-bang-blow" routine of the internal combustion engine, when the throttle is closed the engine becomes a highly efficient pump, accelerating nothing but air through the exhaust pipes and over the diffuser, thereby keeping the downforce at a constant. Just
how
the teams accomplish this neat trick is an exercise for the tech nobbins out there. That also explains just why the FIA declared the trick a violation of the "movable aerodynamic device" rule. The pistons are moving, after all!
Now that the FIA has taken 90% of the benefit away, the teams are screaming that they should be allowed to have 20% of the trick. Or 25%. Or whatever number that's greater than 10% that they feel like throwing out there. It's all somewhat farcical, except the teams actually have something of a point here. As I mentioned before Valencia, the cars that use the Constant Throttle trick were designed with it, meaning that it's required to keep the cars stable and safe. At least, that's how their argument goes. The fact that they can make this change without rebuilding the entire rear end of their cars makes me think that perhaps it isn't as critical as the teams would like us to think.
Or maybe it is. In P1, Gandalf Kobayashi got his Sauber a little squirrely on some of the astroturf edging the front straight. He got sideways, hit a bump, and once again we discovered that, under the right conditions, F1 cars really can fly. Short distances, and not well, but they can. Alas, when he returned to earth, the right-side wheels dug in, and this resulted:
To me, there's no worse accident than one where a F1 car gets upside down, unless it's one where the car is tumbling, and that's very nearly what we got here. Would the increase in blown diffuser downforce had made a difference here? No, as Gandalf had his foot down as hard as he could given the conditions, given that he was accelerating off the final turn. Just mere luck kept him from the grim tumble.
Quals in the morning, maybe it'll be dry then!
Posted by: Wonderduck at 09:58 PM | Comments (3) | Add Comment
Post contains 582 words, total size 4 kb.
July 06, 2011
Top Gear S17E02
So there's this little British motoring show you might have heard of called
Top Gear
. On the show, the three presenters, Jeremy Clarkson (the big one), Richard Hammond (the small one) and James May (the slow one), are allowed to get their mitts on some of the world's most exciting cars and do things with them that would make most people soil themselves with fear or excitement. Or both. It's been around for 17 seasons, and amongst other things they've attempted to launch a
Reliant Robin
into space (and failed), driven a rocket-powered Mini down a ski jump, tried to destroy a Toyota Hilux (and failed), driven to the North Pole (the first to do so in history), taken a Bugatti Veyron Super Sport to 258mph, discovered that a Ford Fiesta make a good Higgins Boat, and created a blender powered by a V8 (it can blend bricks!).
All of which sounds like something of a good time. But in their most recent episode, which aired this past Sunday July 3rd, the lads got to do something any racing fan would give up body parts for. Y'see, for this episode they were testing "hot hatchbacks" in their usual fashion: each chooses a car, then they do some ridiculous challenge or two, this time in a small Italian town.
This, they accomplished with their usual level of humor. Then to test how their cars drove in real-life situations, they were told to motor from this little Italian town to a small French fishing village. Which you may have heard of.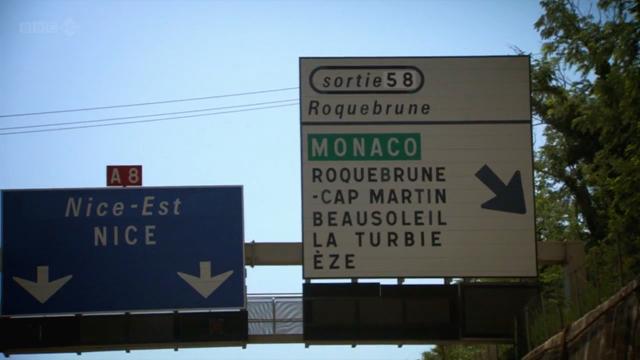 As they were in the hills above Monaco, an eerie, almost spectral moan could be heard emanating from the town below. Clarkson got on his radio to the other two with "Lads... I think the race is on!" Hammond: "What race?" Cue Clarkson wanting to strangle his two co-workers.
Their next challenge was fairly simple: turn three racing laps on the Monaco Grand Prix circuit (on Friday, the "quiet day" of the Grand Prix weekend). Clarkson, a long-time F1 fan, immediately tracked down David Coulthard's Chin, Mark Webber and Rubens Barrichello for advice on how to best drive around the circuit.
Hammond and May, neither of whom are F1 fans in the least (despite Hammond having driven a F1 car and calling the experience "mind-blowing"), spent the day and most of the night at a party located here: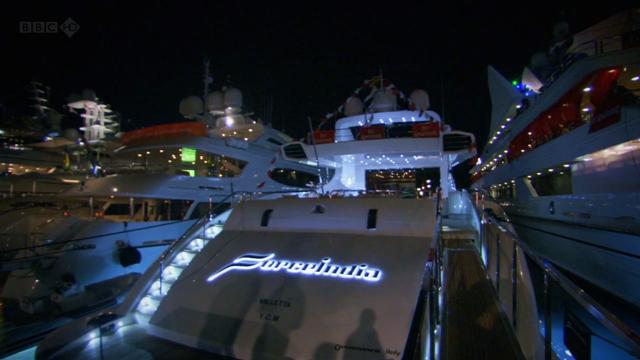 ...and not finding out anything at all about the circuit. They did speak to a very nice driver named Tim O'Glock, though.
Finally, their moment on-track came.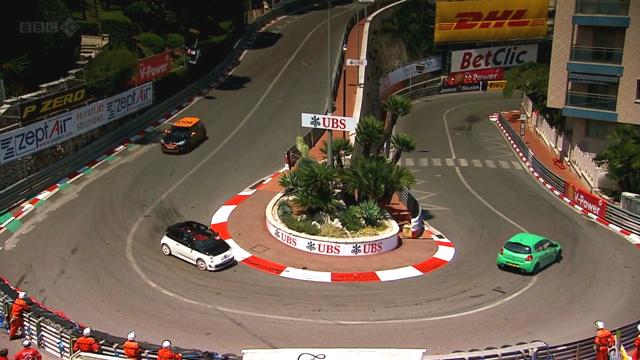 I hate them so very much, as do pretty much all right-thinking motorheads. After all, they had the entire Monaco circuit to themselves for 10 minutes or so. Bastards.
Seriously though, if you're a F1 fan, you owe it to yourself to track down a copy of this episode. It's really quite special. As
Top Gear
is the world's most downloaded TV program, it shouldn't be hard to find.
Posted by: Wonderduck at 10:26 PM | Comments (1) | Add Comment
Post contains 496 words, total size 3 kb.
July 05, 2011
F1 on TV!: Britian 2011
If Monaco is the glamorous soul of Formula 1, and Monza the basic essence of Formula 1, Silverstone Circuit, home to the 2011 British Grand Prix, is Formula 1's beating heart. Let's take a look at this, the track where the very first official F1 race was held:
There's been some changes made since that bright day in 1950 when Giuseppi Farina brought his Alfa Romeo 158 across the line for the first ever F1 victory. Heck, there's been some changes since last year, when they debuted the new "Arena Circuit". Take a look:
You see the change? They've moved the start/finish line! Before, Copse was Turn 1, now Turn 1 is Abbey, which leads into the new part of the layout. Of course, they've moved the pit lane and the speed trap as well. Actually, moving the speed trap makes sense: it's now at the fastest part of the track, the Hangar Straight, just before braking for Stowe. It'll be a bit confusing now, I expect. For years, you came out of Woodcote, one of the faster turns in F1, for the blast to the finish line... now you're coming out of Club, which is
not
one of the faster turns in F1. Copse used to be the best first turn in F1 save for Spa's La Source. Now it's the "just" the lead-in for my favorite sequence of turns: Maggots-Becketts-Chapel. I'd kill to have a good camera and a position right where the number "13" is located on the 2011 track map... oh, the pictures one could take.
But I digress... and I note that I'm accidentally repeating my comments from last year's F1 on TV! entry for Silverstone. That's the problem with this sort of preview... I've been doing it for nearly six years, eventually you run out of original things to say about a circuit.
Well, the Legendary Announce Team is paid to say original things! They'll be bringing us their usual sterling coverage of the race weekend, starting off with Friday's 1st Practice session, streaming on speedtv.com from 4am to 530am. P2 will be live on SPEED itself from 8am to 940am.
Saturday brings us streaming coverage of P3 from 4am to 5am, leading up to the live broadcast of Quals on SPEED, airing from 7am to 830am.
Finally, the race itself will be on your local FOX affiliate from 11am to 1pm. All times are Pond Central, of course, so add a hour for those of you who live in Jersey, subtract one hour for people who live on top of the Rocky Mountains, and take away two hours for those of you near the Pacific Ocean.
Of course F1U! will be proving that you don't have to be witty or clever to provide writeups about a Formula 1 race weekend! See you then!
Posted by: Wonderduck at 09:14 PM | Comments (6) | Add Comment
Post contains 476 words, total size 3 kb.
125kb generated in CPU 0.0251, elapsed 0.1128 seconds.
54 queries taking 0.0941 seconds, 297 records returned.
Powered by Minx 1.1.6c-pink.