December 16, 2014
Around F1: 2014 Postseason
Though we're almost a month past the final race of 2014, there's still news being made by the F1 Circus. Shall we take a look at some of the more interesting bits?
*McLaren finally set their 2015 driver lineup
. As was expected, HWMNBN was tabbed to occupy one of the seats. This officially puts his nickname in danger; if the team he screwed over has welcomed him back, how can I still hold a grudge? As it turns out, pretty easily. Fernando Alonso will remain HWMNBN until further notice, but it's getting harder and harder to grump at him. His teammate will be returning driver Jenson Button. The surprise was that it took a very long time to announce that decision; it was only made a few days ago, much to the consternation of Button fans everywhere. While I personally believe that it should have been a slam-dunk decision, I can't fault McLaren for taking their time. Kevin Magnusson is a young up-and-coming driver who flashed brilliance at times during the 2014 season (see
Australia
), while Jenson is on the far side of his career. Still, I think they made the right choice.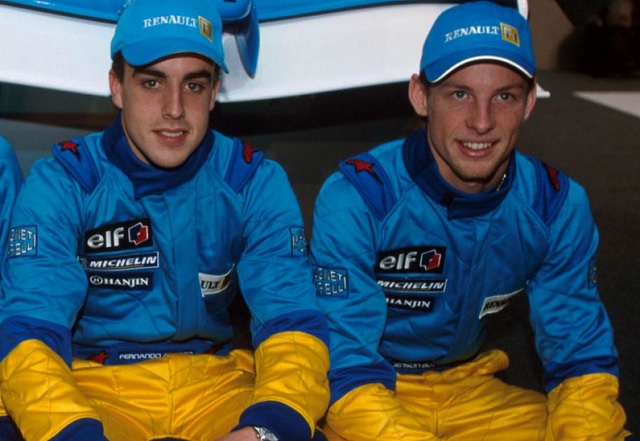 *Possibly more exciting news
occurred in the first offseason test as the worldbeating combination of McLaren and Honda returned to the sport. Honda will be returning to F1 as an engine manufacturer in 2015, powering McLaren exclusively. While the Yas Marina test sessions didn't go all that well, with the 2014 chassis/2015 engine lashup only managing five laps in two days, that's also to be expected. Remember, Red Bull was having similar problems at the beginning of 2014 testing, too.
*Marussia is now officially gone
. Tuesday was the first day of the liquidation auction of the team. There's another day of auction on Wednesday, but almost all the interesting stuff went today. Multiple complete chassis were auctioned off, in the 2012 and 2013 configurations, with the 2014 cars being sold either at the end of December or early January (the 2014s are in Ferrari hands at the moment, having their engines removed). Apparently, Haas F1, the American start-up team that'll take to the grid in 2016, bought one of the chassis, and this is a smart move. They now have a guaranteed working testbed to run pieces on, and of recent construction as well. Compare this to Caterham, HRT and even Marussia iteself (as Virgin F1), who had no such crutch when they joined three seasons ago. I'd be surprised if one or both of the 2014 chassis didn't end up in Haas hands to boot. Other things auctioned off were all the spare parts, basically everything you would need to race-run a team, except for engines and tires. Wednesday's auction includes the actual factory fittings and equipment: cordless drills, CNC machinery (I don't think Haas will be needing any of those), computer chairs, big-screen TVs, that sort of thing. Oh, and the team's transporters and hospitality "mobile homes." Something tells me Haas F1 will be looking at those, too.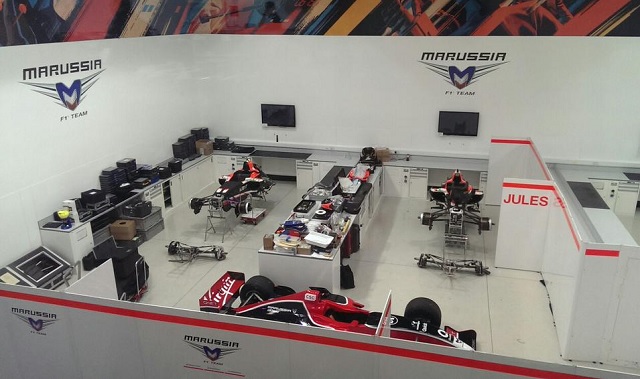 *Also from Marussia, mixed news about Jules Bianchi
. A few weeks ago, he was taken off the ventilator and removed from the medically-induced coma. He was also transferred from the hospital that he's been in since the
horrible accident
at the
Japanese Grand Prix
, and is now in hospital at home in France. However, he's still in a coma, and remains in intensive care.
*Eye-rolling news from Red Bull
. Last week, news came from the team that some bandits ran a car into their office/factory complex and stole some 60 of their trophies, causing thousands of dollars of damage in the process. Heaven knows I'm no Red Bull fan, but for whatever reason this annoys me to no end. It's not like the thieves could fence them or anything, unless its to some secretive F1 fan who won't ever display them to the world. News came out this morning that 20 of the trophies were recovered by police from a nearby lake.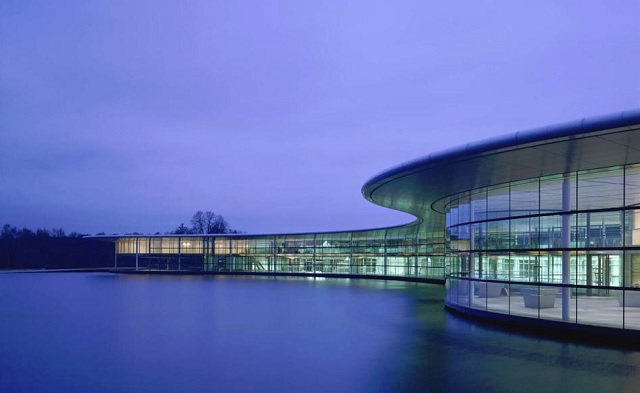 Y'know, the McLaren Technology Center is near the Red Bull factory, and it has a lake... I'm just sayin'.
More news as it happens, or as I'm motivated to write about it!
Posted by: Wonderduck at 11:59 PM | Comments (4) | Add Comment
Post contains 701 words, total size 5 kb.
27kb generated in CPU 0.0118, elapsed 0.31 seconds.
45 queries taking 0.3019 seconds, 235 records returned.
Powered by Minx 1.1.6c-pink.