September 29, 2018
F1 Quals: Russia 2018
Oh look, here's a surprise, we've never seen that front row before. *eye roll* Here's the provisonal grid for the 2018 Grand Prix of Mother Russia:
Pos
Driver
Q1
Q2
Q3

1

Mercedes

1:32.964

1:32.744

1:31.387

2

Mercedes

1:32.410

1:32.595

1:31.532

3

Ferrari

1:33.476

1:33.045

1:31.943

4

Ferrari

1:33.341

1:33.065

1:32.237

5

Haas Ferrari

1:34.078

1:33.747

1:33.181

6

Force India Mercedes

1:34.290

1:33.596

1:33.413

7

AMX-30
Sauber Ferrari

1:33.924

1:33.488

1:33.419

8

Force India Mercedes

1:34.084

1:33.923

1:33.563

9

Haas Ferrari

1:34.022

1:33.517

1:33.704

10

Sauber Ferrari

1:34.170

1:33.995

1:35.196

11

Red Bull Racing


1:33.048

No Time




12

Red Bull Racing


1:33.247

No Time




13

Toro Rosso


1:34.383

No Time




14

Renault

1:34.626

No Time




15

Renault

1:34.655

No Time




16

Toro Rosso


1:35.037






17

McLaren Renault

1:35.504






18

Williams Mercedes

1:35.612






19

McLaren Renault

1:35.977






20

Williams Mercedes

1:36.437





Yeah, welcome back to Mercedes being unstoppable in Quals again. Yes, you might be saying that the track here in Sochi is particularly well-suited to the Mercedes, and you'd be right. I suspect, however, that's its more than that... that Mercedes has caught up to a Ferrari chassis that, to be honest, was the best in the first half of the year. Certainly they managed to make their car and tires work today. The Ferraris looked... clumsy... around the turns today, like more "point and squirt" than "smooth arc". That can work at some circuits. Not, apparently, here.

The only saving grace of Quals was that Bottas beat his teammate to pole. The Finn apparently just loves this track, always doing well... heck, he won last year. He's also never been outqualified by his teammate here ever. Some drivers have tracks they love... Valterri Bottas loves Russia.
You may note a LOT of "No Time" listings there in Q2. Renault, looking like dogmeat around here for whatever reason, decided to not waste rubber in a futile attempt to do... something. As a bonus, they get to choose what tire they'll start with, so they've got that going for them. Which is nice. Both Red Bulls and Ghastly's Toro Rosso have taken new engines/power units/whatever, as since they've all gone over their season limit of three engines/power units/whatever, they all get dropped to the back of the grid. Again, what you're seeing above is the provisional grid, the real lineup for the last 10 places will be different.
Race in the morning, F1U! sometime thereafter. Pray for a good race.

more...
Posted by: Wonderduck at 09:17 PM | No Comments | Add Comment
Post contains 453 words, total size 20 kb.
September 28, 2018
F1 on TV: Russia 2018
Nope, didn't forget, just never got around to it! Here's the track map for the 2018 Grand Prix of All The Russias:
The only race in which the winners get bottles of vodka and the grid girls wear track suits. Really, this race has been cursed from the beginning. 2014 was the first race after Jules Bianchi had his wreck and nobody wanted to be there. 2015 saw a truck dump a load of diesel fuel onto the racing surface in P1, heavy rain in P2, and Carlos Sainz going under the tecpro barriers and partially through the armco in P3. 2016 had a wacky wreckfest in Turn 2 of the first lap, which claimed Seb Vettel. And 2017 was just bad.
So I'm not exactly expecting a great race on Sunday. Maybe we'll get lucky! Quals in the morning!
Posted by: Wonderduck at 10:08 PM | Comments (1) | Add Comment
Post contains 145 words, total size 1 kb.
September 15, 2018
F1 Quals: Singapore 2018
As usual, the night was warm and humid at the Singapore street circuit. Despite it being 9pm, it was still in the mid-80s with high humidity. Not for nothing do they say that this is the hardest race physically for the drivers. So who faced down this sweaty monster? Who conquered its 23 turns? Here's the provisional grid for tomorrow's Grand Prix of Singapore:
Pos
Driver
Q1
Q2
Q3

1

Mercedes

1:39.403

1:37.344

1:36.015

2

Red Bull Racing

1:38.751

1:37.214

1:36.334

3

Ferrari

1:38.218

1:37.876

1:36.628

4

Mercedes

1:39.291

1:37.254

1:36.702

5

Ferrari

1:38.534

1:37.194

1:36.794

6

Red Bull Racing

1:38.153

1:37.406

1:36.996

7

Force India Mercedes

1:38.814

1:38.342

1:37.985

8

Haas Ferrari

1:38.685

1:38.367

1:38.320

9

Force India Mercedes

1:38.912

1:38.534

1:38.365

10

Renault

1:38.932

1:38.450

1:38.588

11

McLaren Renault

1:39.022

1:38.641




12

Renault

1:39.103

1:38.716




13

AMX-30
Sauber Ferrari

1:39.206

1:38.747




14

Sauber Ferrari

1:39.366

1:39.453




15

Toro Rosso

1:39.614

1:39.691




16

Haas Ferrari

1:39.644






17

Toro Rosso

1:39.809






18

McLaren Renault

1:39.864






19

Williams Mercedes

1:41.263






20

Williams Mercedes

1:41.334





On a night where the preferred tires were taking two laps to warm up, and where the fastest tires would die if you pushed them hard for an entire lap, Ferrari spit the bit. Going in, there was no reason to think that at least Vettel would be on the front row. Instead, Red Bull discovered that if you press the right-hand pedal, the car goes faster.
And then, there was Lewis. After nearly failing to making it out of Q1 due to a Mercedes tactical error, he turned in a Lap For The Ages. Where it came from is unknown... even the team was baffled. "Magic," said Lewis. "Sprinkled with stardust" was team principal Toto Wolff's description. "F*ck off and die," was Seb Vettel's take. And it came on his first hot lap, too. It was just left there, waiting for someone to knock it off. Nobody did. Nobody
could
.
How astonishing was this lap? Of course it's a new lap record, that's been happening all season. But it was better than THREE SECONDS faster than last year's pole time. All this in a car that, frankly, had looked a little dog-like this weekend.

The grid does look awfully entertaining however... and look who's sitting in the second spot: DH Verstappen. Last year his presence led to both Ferraris crashing out, essentially on the first turn. And here we see an increasingly desperate appearing Seb Vettel in third, knowing that with seven races left he needs very badly to outrace Hamilton if he wants a chance to win the championship. I'm almost expecting a lot of red and pewter carbon fiber to be spewed in the first corner.
Race is in the morning, see ya afterwards!

Posted by: Wonderduck at 03:54 PM | Comments (1) | Add Comment
Post contains 503 words, total size 21 kb.
September 13, 2018
F1 on TV: Singapore 2018
Gotta be quick about this one, I have to be back at work too soon. So here's the track map for the Original Night Race, Singapore!
Last year's race saw rain for the first time in history, and the classic wreck of both Ferraris on the first lap. Rain is NOT expected during Quals or the race this year, but that's what they said last year, too. We shall see.
In more important news, the Silly Season hit its climax recently when Ferrari announced that Charles AMX-30 will be paired with Seb Vettel in 2019, leaving Kimi Raikkonen out in the cold so to speak. Until about 15 minutes after the announcement, that is. At that point, the Finn announced he'll be driving for Sauber in 2019 and 2020. So essentially the teams swapped drivers. Makes sense, it's not like Sauber uses Ferrari engines or anything.
On the face of it, Kimi's getting a demotion. Being the #2 driver at Ferrari is pretty much better than being the #1 driver at anywhere else but Mercedes and (maybe) Red Bull. However, a closer look reveals some interesting things to think about. It's clear that Raikkonen is still a good driver, if maybe not as fast as his first Ferrari go-round. On the other hand, Sauber hasn't had a knock-down Ace of a driver since 2009 when Robert (the stupid idiot moron) Kubica was in the car (back when they were BMW-Sauber). Further, they haven't had THIS GOOD of a driver for a full season since 2005, when Jack Newhouse was on the team. I don't know if the 2019 car is going to be any good, but having an experienced driver like Kimi helping them with development has no downside whatsoever.
And of course he's still the laff-a-minnit Finn we've always known. In today's driver interviews, he was asked if he still had "the hunger to race." His response? "
No, actually! I'm just playing head games with you guys, deciding to sign for two years and not be happy!
" Also someone asked "It wasn't your decision to leave Ferrari but it was your decision to go back to Sauber, just tell us why?" "
Why not?
" Comedy gold right there.
Right, Quals on Saturday, race on Sunday, see you 'round Space Cowboy!
Posted by: Wonderduck at 11:22 PM | Comments (1) | Add Comment
Post contains 385 words, total size 3 kb.
September 10, 2018
Where We're Going, We Don't Need Rules
The closest the motorsports world has come to a truly open racing series was the original Can-Am, which ran from 1966 to 1974. When I say "open", I mean that the tech regs regarding the cars consisted of the following:
1) The car must have two seats.
2) The car must have enclosed wheels.
3) It must meet required safety standards (pretty minimal, considering the time period).
And that was it. After that, it was anything goes.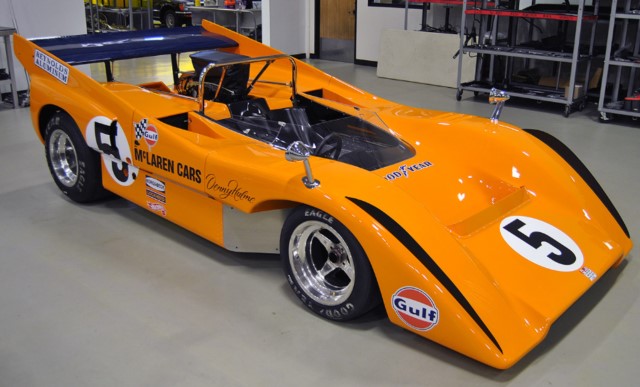 And that meant "anything." Can-Am series cars were the first to use titanium, ground effect of all sorts, wings of types never before seen (and rarely after), hell, cars that
were
wings, cars that used fans from a friggin' tank engine to create downforce, and in one case a car that put out 1580hp.
However, it was Can-Am's main selling point that led to it's demise. "No rules" also means "no limits". That let manufacturers like McLaren and Porsche throw insane amounts of money at their cars, which basically priced out anybody else.
But when it was in its heyday, Can-Am had cars that were faster than F1 cars, some that were able to win endurance races like the 24 Hours of Daytona, and loud enough to shake the fillings out of your head. Nowadays the cars show up at Goodwood or various classic car races fairly regularly.
But there's one reason I'll always have a spot in my cold, dead heart for Can-Am: I'm pretty sure I attended the original series' very last race, at Road America in 1974. Yes, I was only six, but I have memories of being there.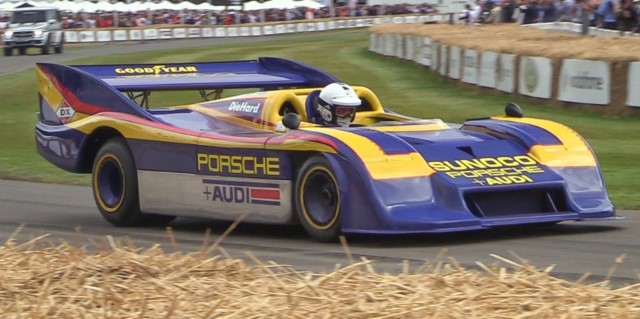 Can-Am. We will never see its like again.
Posted by: Wonderduck at 10:11 PM | Comments (4) | Add Comment
Post contains 299 words, total size 3 kb.
September 01, 2018
F1 Quals: Italy 2018
It looked like rain. The official FIA Weather Clowns gave it an 80% chance of rain during Qualifying. For once, being underneath the giant Ferrari banner in the main grandstand didn't seem like it'd be all that bad. But did it rain? Or did we get full speed, athletic-spheroids-to-the-dividing-structure action like we hoped, for Monza is the one track on the calendar where rain takes away from, as opposed to adding to, the spectacle. So which was it? Here's the provisional grid for the 2018 Grand Prix of Italy:
Pos
Driver
Q1
Q2
Q3

1

Ferrari

1:20.722

1:19.846

1:19.119

2

Ferrari

1:20.542

1:19.629

1:19.280

3

Mercedes

1:20.810

1:19.798

1:19.294

4

Mercedes

1:21.381

1:20.427

1:19.656

5

Red Bull Racing


1:21.381

1:20.333

1:20.615

6

Haas Ferrari

1:21.887

1:21.239

1:20.936

7

Renault

1:21.732

1:21.552

1:21.041

8

Force India Mercedes

1:21.570

1:21.315

1:21.099

9

Toro Rosso


1:21.834

1:21.667

1:21.350

10

Veruca
Williams Mercedes

1:21.838

1:21.494

1:21.627

11

Haas Ferrari

1:21.783

1:21.669




12

Williams Mercedes

1:21.813

1:21.732




13

McLaren Renault

1:21.850

1:22.568




14

Renault

1:21.801

DNF




15

Red Bull Racing


1:21.280

DNF




16

Force India Mercedes

1:21.888






17

AMX-30
Sauber Ferrari

1:21.889






18

Toro Rosso


1:21.934






19

Sauber Ferrari

1:22.048






20

waffle
McLaren Renault

1:22.085





See that 1:19.119 up there? That works out to an average speed of 163.785mph, which makes it the fastest lap in Formula 1 history. Please note that both Vettel and Hamilton also broke the lap record in qualifying, but the Finnish driver pipped them both. Sadly, the SKY announcers couldn't sound excited if you set them both on fire. At least, not in any way that makes you feel it. Yes, I'd still much rather have the Legendary Announce Team broadcasting my F1.
If you look closely at the top 10 places on the grid, you'll see they are occupied by cars from
eight
different manufacturers. I personally cannot remember the last time I saw that. Only McLaren and Sauber are absent. But the Swiss team has a very good reason for their performance today...
"Hi, I'm Sony Ericcson. *record scratch* Yep, that's me.

You're probably wondering how I got myself into this situation..."
In Friday's Practice 2, Ericcson was approaching Turn 1 at somewhere around 210mph or so, nothing out of the ordinary at all. Unbeknown by him his DRS flap had actually over-opened, meaning that it was stuck that way when it came time to apply the brakes. Doing so is supposed to automatically close the DRS flap, thus increasing downforce and allowing the car to do things like slow down or turn in a controlled manner. Instead, the Sauber immediately speared to the left, giving the armco a 15G hit. Then the right side tires dug into the rain-softened grass and dirt, sending the car into a tumbling, spinning, somersaulting ride that reportedly covered some 700meters. The video is terrifying to watch in its violence:
During this gymnastic routine, he pulled 28Gs. Once it ended however, he just stood up and walked away. The trip in the medical car that followed was required by the regulations; any time a driver suffers an impact that sensors record as being over a certain g-force level, they're going to the medical center whether they're hurt or not.
Sauber immediately called Charles AMX-30 into the pits, only to discover that his DRS equipment had the same problem, it just hadn't happened yet. Ericcson's car had to be rebuilt from the ground up... even the chassis was ruined. So while Sauber is usually kinda slow, they had a good excuse this time.
You'll also note the two "DNF" entries in Q2. Both Smiley Ricciardo and Nico Hulkenberg had massive gridspot penalties... Hulkenberg for his causing of the massive crash at the start of the Belgian Grand Prix, and Smiley for engine component changes. Both knew there was no point to going out and burning tires when they were going to end up at the back anyway, so neither did more than an installation lap and back to the pits.
So, it'll be a fast race tomorrow... and a fast one, too, if you know what I mean! F1U! will be along sometime thereafter. See ya then!

Posted by: Wonderduck at 07:22 PM | Comments (3) | Add Comment
Post contains 736 words, total size 22 kb.
98kb generated in CPU 0.0271, elapsed 0.324 seconds.
49 queries taking 0.305 seconds, 251 records returned.
Powered by Minx 1.1.6c-pink.