October 29, 2011
F1 Quals: India 2011
It's always a point of pride to be the first ever to score a pole at a new track, but it's not like that's the only thing up for grabs here. Red Bull could set a single-season record with a pole, and Seb Vettel could continue his chase to tie a record. And, of course, everybody else would like to prevent that from happening. So how did it shake out? Let's take a look at the provisional grid for the 2011 Grand Prix of India:
Well, it was hardly unexpected. As he has all season, Seb Vettel blew away the field to earn his 13th pole position. In doing so, Red Bull won their 16th of the year, a new single-season record. Surprisingly, there was no drama to Q3 at all. Vettel went out, set a lap that was good enough for pole and let everybody else take their shots. When McLaren's Lewis Hamilton came close to bumping him on the first run, Vettel returned to the track. In the middle of his second run, Felipe Massa brought out the yellow flags when his suspension broke going over a curb.
This rather abrupt loss of grip sent him nose-first into a wall in a style reminiscent of his 2009 Hungary wreck. Fortunately there were no springs flying around this time, and the Brazilian got out of the car unscathed. Behind him, however, were all the drivers who had any possibility of beating Vettel's time: Jenson Button, HWMNBN and Mark Webber. While Button was having difficulties some difficulties with his tires, he had a decent looking lap going. All three were badly hurt by the yellow flags, which required them to slow down in the vicinity of Massa's wreck. Lewis Hamilton, who was ahead of Massa on the track, aborted his second run for pole when it became clear that he wasn't even going to match his first flying lap. So instead of a tense shootout, it became a
fait accompli
. Nico Rosberg's Mercedes never really had a chance, and the two Toro Rossos never even left the garage. The Force India of Adrian Sutil turned an installation lap to the delight of the Indian fans, but returned to the garage to preserve his tires for the race.
At the back of the grid, we have an official changing of the guard. For the first time ever, both HRTs qualified ahead of both Virgins. It's been coming for a while now, but it's now obvious that the Virgin F1 team is now the slowest on the grid. Tim O'Glockenspiel barely turned a timed lap before his gearbox decided to grenade itself. He will be allowed to start dead last.
Finally, there are FIVE separate drivers dealing with grid spot penalties. Lewis Hamilton and Sergio Perez both lose three spots for their ignoring yellow flags at the end of P1, sending Hamilton to fifth and Perez to 20th on the grid. The Red Menace got a five-spot penalty for causing an accident (with Slappy Schumacher) in Korea, dropping him to 16th. Finally, both HRT drivers received penalties as well: Kittylitter for impeding another driver, which drops him to 23rd; and Daniel Ricciardo gets a five-spotter for having to change a gearbox before Quals. He'll start 22nd.
So, that's the news from the first Indian quals! The race is in the morning, and F1U! will duly follow. See you then!
Posted by: Wonderduck at 05:32 PM | No Comments | Add Comment
Post contains 735 words, total size 17 kb.
F1 Quals: India report delayed
Don't have time to post the report right now. I'll do it sometime this afternoon. Sorry about the delay!
Posted by: Wonderduck at 09:57 AM | No Comments | Add Comment
Post contains 24 words, total size 1 kb.
October 28, 2011
F1 Practice: India P2
Another 90 minutes of running on the new Buddh International Circuit is in the books, and the character of the track is starting to show up, at least to this observer. If I had to describe the place, it's Abu Dhabi with hills. This is not a good thing.
To be sure, the two layouts couldn't be more different. Yes, they both have a very long straightaway, but other than that, the two tracks have little in common. Yet they
feel
the same to me. Maybe I'm wrong. I
hope
I'm wrong. But that's how I'm seeing it right now.
The drivers, on the other hand,
love

the place
. "Awesome," "fantastic," "good fun," "really nice," "challenging," and "interesting" are just some of the words drivers have used to describe the place. Well, good, I'm glad they like it. Hopefully it makes for awesome, fantastic, interesting and really nice racing come Sunday!
Of course, the drivers are still deciding on how best to drive the course. Turn 10 has gone from having to two racing lines to one, though it's a wide line. Nobody seems to have a handle on the correct way to handle the Turn 6/7 pair; the grass on the inside of 7 is getting seriously rough treatment, and a lot of it is ending up on the racing surface, having been dragged there by cars returning to the track. And both ends of the pit lane are a little squirrely, though nowhere near as bad as Korea.
On the plus side, I'm loving Turn 1/2/3. It's like Hermann Tilke finally figured out how to make a series of turns flow together naturally. Of course, they feed right into that 4000' long rollercoaster of a straightaway, which is now the longest in F1, if not the world.
In off-track news, both Lewis Hamilton and Sergio Perez have been handed matching three grid-spot penalties for the race. At the end of P1, Pastor Maldonado turned his engine into so much scrap metal, bringing out a full-course yellow and a recovery vehicle to carry his car away. Of course, track workers doing their job "over the wall" calls for double-yellow flags to be waved in that section of track. Drivers are to slow way down in that situation for the protection of the workers, and the stewards believe neither Hamilton or Perez did that sufficiently. For Hamilton, this is actually
good
because he could have been given a reprimand, his third for the season. Three reprimands in a season carries a FIVE grid-spot penalty. If both Perez and Hamilton were given reprimands, Perez would have escaped clean and Hamilton penalized. I think at that point Lewis would have climbed the nearest clock tower and start gunning down anybody wearing the FIA logo.
F1 Update!'s decision to use the designation "soft" and "hard" tires during our race writeups may go against the more traditional "prime" and "option" terms, but at least for this race it's going to prove to be less confusing! Generally, the designated option tire is the softer of the two compounds, but at the Indian Grand Prix, the option tire has been declared to be the
harder
tire. The prime tire is the soft. So, hurray for us, I suppose.
Finally, everybody please join F1U! in wishing Darth Bernie Ecclestone a happy 81st birthday, born October 28th 1930.
Quals Saturday morning, see you then!
Posted by: Wonderduck at 09:58 PM | Comments (1) | Add Comment
Post contains 570 words, total size 4 kb.
October 27, 2011
F1 Practice: India P1 Liveblog
(PRE-SESSION) Hello,
namaste
and welcome to the second ever F1-related liveblog here at The Pond. Tonight is our first real glimpse of the new Buddh International Circuit in India. As with last year's liveblog of the debut of Korea's track, I'll be using time remaining in the session as a reference... if you see 1:15:07, that means there's one hour, fifteen minutes and seven seconds left in P1, not that it's 1:15am.
My broadband connection seems to be running quick tonight, but if last year's liveblog of Korea is any judge, I have the speed to stream video or update the blog... but not
both
at any given time. I'll probably be doing two or three entries at a time, just to keep myself from going insane. Any pictures will be screencaps from the SPEED streaming feed, which you
can find right here
.
Reports are that the track is very dusty. Well, yeah, that figures... it's still a construction site. Some people on-site are saying that not every bathroom has running water, electricity is being provided by generators when it's provided at all, and on and on. That's as may be, but the asphalt is down, the curbing is installed, and we're going to see a new track! I fully expect to see the two Indian drivers, Cowboy Karun Chandhok, who's only driving for Lotus in P1, and Narain Kittylitter, who's taking Vitantonio Liuzzi's seat at HRT for this race, out first... both to play streetsweeper and to say "hey, the first official cars on track were piloted by Indians!" We'll find out soon enough.
1:30:00 - And... the stream isn't working? What the heck?
?:??:?? - Well, crap. I'm going to reboot my computer. I gather the session has been red-flagged anyway, due to stray dogs being on the track. Force India was the first to get on track, surprise surprise, and Chandhok got the first official timed lap.
?:??:?? - I'm not the only one; over at F1 Fanatic's Live coverage, there's a bunch of people having the same problem.
?:??:?? - Peter "Smarmy" Windsor (there's a name we haven't heard in a while!) is apparently working for SPEED again in some capacity. He just tweeted that the live feed isn't working quite yet. Yay us.
?:??:?? - Still nothing, after a half-hour. I'm shutting this down for the night. I'll have full coverage of P2 on Friday. See you then!
40:24 - It's up, and this is the first thing to appear:
Cool shot, that.
37:27 - The track is either very dusty, or there's a metric farkton of smog in the air. It's hideous!
35:45 - HWMNBN comes to a halt at the side of the road, dead engine.
33:30 - Yo dawg, I hear you like F1, so I put some F1 in your F1 so you can watch F1 while you F1!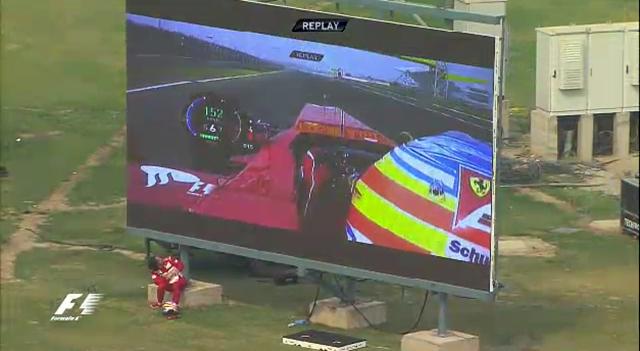 29:15 - Track is very dusty and slippery. Lots of people going off all over the place.
26:54 - My heavens, that big Turn 10 just goes on and on and on, doesn't it? That's gonna kill more front-left tires than anything, right there.
24:50 - Facilities look complete. Place seems a lot more done than Korea did last year... or even this year, come to think of it.
23:18 - Just to give you an idea of the amount of smog/dust/fog/whatever in the air, take a look at this: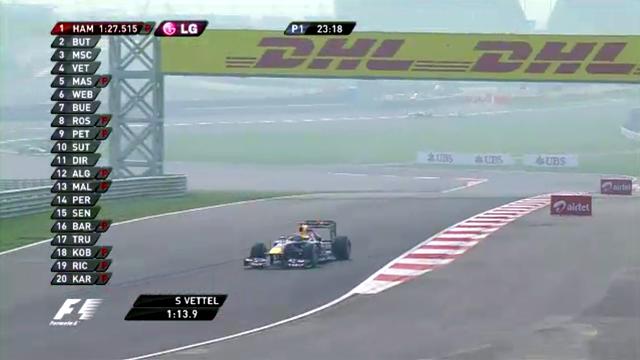 One winces at the thought of that getting pulled into an 18000rpm engine... and it was worse earlier.
17:00 - I like the circuit, but it doesn't seem to have much of an identity yet. Maybe because I'm grumpy about the live stream not starting until half the session was already done? Perhaps. Or maybe it's because this is the first time we've ever seen cars on it. Still, other than that big big turn, the place seems flavorless.
12:00 - A Lotus just spun out... in the pit lane. Practicing a getaway, just looped it. Whoopsie!
10:40 - I'll say this: lots of elevation change. I'm surprised we haven't seen a driver ralphing into his cockpit yet. Up and down, up and down, here's a turn, up and down, rinse, repeat.
8:50 - DJ Squire stuffs his Toro Rosso into a wall.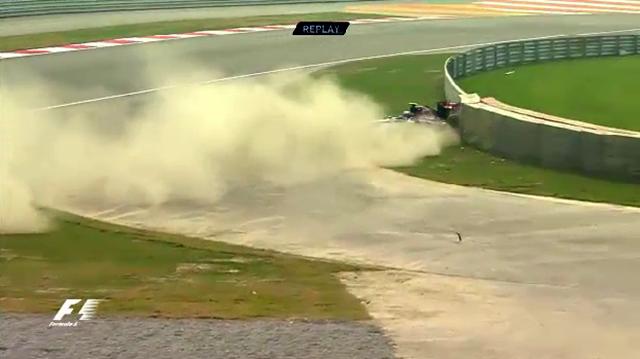 Dust? What dust?
6:00 - And Pastor Maldonado blows his lump. NTTAWWT.
3:00 - Definitely two racing lines through Turn 10. When was the last time we saw that at a F1 track? Indy? Maybe not even there.
0:00 - Session over. Lewis Hamilton has the fastest time (1:26.836), followed by Vettel, Webber and Button. I'm withholding judgment on the circuit until I actually see people race on it, and maybe after the F1 TV Director stops popping the greenies. Good lord, he was changing camera angles every other second, like he was paid by the cut or something. I'm inclined to like the track, though. Seems promising, but so did Valencia and we know how that one has panned out. Very wide racecourse, I noticed. Some places, you could probably go four abreast and still have plenty of room.
Full coverage of P2 will be later Friday! Thanks for sticking around for this abbreviated liveblog!
Posted by: Wonderduck at 10:06 PM | Comments (1) | Add Comment
Post contains 872 words, total size 6 kb.
October 25, 2011
From Zero To Two In Two Years!
It was a struggle. For five years, us F1 fans here in America had no races that we could call our own. Oh, we could wander up to Canada, but it wasn't a US Grand Prix. It was just a race that was nearby. Last year, that changed with the announcement of the Grand Prix of the Americas in Austin, Texas, which begins next year.
Well, today... today we suddenly have have a wealth of choices as American F1 fans, because this afternoon in Weehawken, NJ, it was announced that a second American GP would begin running in 2013! Called "The Grand Prix of America," it will run through Weehawken and West New York on four-lane highway... with the New York skyline in the background, just across the Hudson river from Manhattan.
It's to be a clockwise track, with a nearly 300' vertical elevation change to add to the excitement. Even better, it's a street circuit running along the New Jersey Palisades. The following elevation map is a screencap from today's announcement, so my apologies for the quality. The checkered flag is the probable start/finish line.
According to the track map, it's to be around 3.20 miles long. The cities and various powers-that-be that are involved have signed a ten-year agreement with Birdie Ecclestone. Let me say repeat that one more time:
A TEN YEAR AGREEMENT
! Holy crap, we've got at least one US Grand Prix for the next decade
at the very least
! This could only be better if it was in Chicago!
One thing... you might have noticed the yellow circle at the upper-right corner of the top-view track map. That circle marks the rough location of the West New York Sewerage Treatment Plant. I hereby declare that hairpin turn shall be, from this moment forward, solely known as "Pooh Corner."
So say we all.
Wonderduck's personal reaction: EEEEEEEEEEEEEEEEEEEEEEEEEEEEEEEEEEEEEEE!!!!!
Posted by: Wonderduck at 04:32 PM | Comments (11) | Add Comment
Post contains 322 words, total size 2 kb.
October 24, 2011
F1 on SPEED!: India 2011
Do you remember that feeling you got as a young child when Christmas was just a few days away? When the tree was beautifully trimmed, all aglow with lights and shiny ornaments and perhaps some tinsel? And underneath you can see a big box with your name on it. Remember what that felt like? The anticipation, the excitement, the almost intolerable feeling of anticipation? And then when Christmas came along sometimes you got exactly what you wanted (Red Ryder B-B gun!), sometimes you didn't (dress socks?), but either way the leadup was nearly as good as the day itself. Remember all that?
For fans of Formula 1, there is a similar time. It's when the great Circus heads to a brand new circuit, one that the teams have never turned a tire upon ever. It's a time of great hope and speculation: will this new track become legendary? Will it fade into the mists of time, unloved and unmourned? This is where we find ourselves today, as the Formula 1 teams, big and small alike, will be racing for the first time on the Buddh International Circuit in Greater Noida, Uttar Pradesh, India! Let's take a look at the track map for this first Grand Prix of India: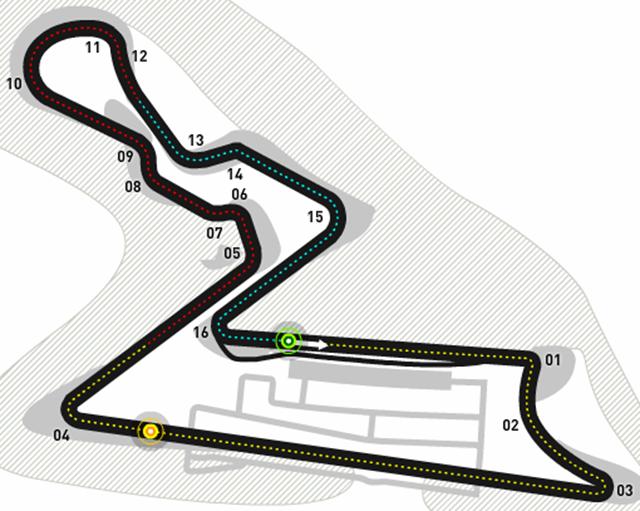 At first glance, it's clearly the work of the fevered claws of The Evil One himself, Hermann Tilke. Straightaway, tight turn, hairpin, straightaway, tight turn, twisty bits, back to the start to do it all over again. We've seen it a dozen times before from the Tilkemonster, and pretty much only one of his circuits (Turkey) has proven to be any good, with Korea's coin still flipping in the air.
But a closer look at Buddh International Circuit shows us that it has something that Malaysia, Abu Dhabi, Bahrain and the other generic Tilkeisms lack: elevation change. It goes uphill from Turn 1 to Turn 3, then it goes back downhill to the halfway point of the long straightaway. At that point, it goes back uphill to Turn 4... and then it's a fairly steep plummet down to Turn 5. Turns 3 and 4 are about 50 feet above the level of the main straight, more or less, which on a Tilke track is like the difference between the top and bottom of the Grand Canyon. But he's not done there, oh no. The Turn 10/11 complex, a greater-than-180°, ever-changing-radius loop, not only climbs but is also
banked
. No idea how substantial the banking is, though I think I'm safe in saying it's no more than 10 degrees, and probably quite a bit less. Still,
any
banking is unfamiliar territory for F1; not since the Circus raced at Indianapolis have they seen any turn that wasn't billiard-table flat. But even then, the roller coaster isn't finished. There's yet
another
climb from Turn 13 to Turn 15, then another steep dive to the final turn.
The track's promotional team is already saying that it'll be the "second-fastest circuit in the world," with an expected average speed of nearly 140mph. I can only assume they're referring to "road" circuits, since pretty much every oval in the US is faster than that. If it
really
is nearly as fast as Monza, that'll be quite a feat. Another feature that the powers-that-be are trumpeting is that the trackplan was run by the F1 teams for their input on what would make for better racing. As a result, it was made wider in some places (Turn 10, for example) to allow multiple racing lines and easier passing.
Pirelli says that they expect tire wear to be nothing out of the ordinary, but they're being quite conservative in compound choice for the race. They're bringing the Hard and Soft compounds, the first time we've seen the hard rubber since the British Grand Prix, and at that rainy race only one driver (Paul di Resta) ever actually put them on. There's expected to be a two-second delta between the two tire types, so don't expect there to be much running on the hards. Still, Pirelli made a good call here; while everybody
expects
the soft tires to last a reasonable amount of laps, they won't
know
that until they start running in earnest.
That earnest running will begin late Thursday night, all of which will be brought to us by the good folks at SPEED! Here's the scoop:
Thursday: Practice 1 goes from 1130pm to 1am, streaming live. Be aware that I'll be doing the second-ever liveblog of this session right here at The Pond, so stop in and be entertained!
Friday: 330am to 510am is Practice 2, live on SPEED. In contrast, this is too late/early, even for me.
Saturday: 1230am to 130am is Practice 3, streaming live. I'm undecided if I'm going to liveblog this; a lot will depend on how things go in the other two sessions. Quals is from 330am to 5am, live on SPEED. Again, waaaay too early for me.
Finally, Sunday brings us the first ever Grand Prix of India from 4am to 630am, live on SPEED. No real chance that I'll be able to get up that early I'm afraid. There's a replay from 2pm to 430pm as well.
Sharp-eyed readers might notice that there's something odd going on with the start times of each event: they're all beginning on the half-hour, as opposed to the top of the hour like normal. That's because of a peculiarity of India. India Standard Time is GMT +5:30, for a reason that I can only assume is because of the immense size of the country. Perhaps Ph.Duck would be kind enough to explain the actual reason to us!
So that's it! The Grand Prix of
Christmas
India schedule, liveblogging, I'm even taking Friday and Monday off so I can concentrate on this brand new track (and sleep, don't forget about sleep)! How's
that
for your F1 fanservice, huh? We'll see you then!
Posted by: Wonderduck at 09:38 PM | Comments (2) | Add Comment
Post contains 992 words, total size 6 kb.
October 20, 2011
F1 From The Driver's Perspective
Back in 2008 at Brazil, David Coulthard's Chin mounted a camera to his helmet, somewhere in the vicinity of his mouth, to give viewers at home the first ever taste of what it's like to be in a F1 car at speed in a race. He was promptly wrecked in Turn 2 of the first lap. So much for that.
Until now.
This is Lucas di Grassi doing an installation lap in the old Toyota TF109 at Barcalounger, Spain. He lost his seat with Virgin at the end of last year, but he's now the official test driver for Pirelli... and he probably turns more laps than any two or three drivers
combined
nowadays. He's the guy who tests all of Pirelli's rubber compounds, after all. Modify the softs to make them a little more durable? Let Lucas find out if it worked! Introducing a new super-super-soft? Let Lucas find out if it'll last more than a quarter-lap! Figured out a new tread pattern for the Intermediates? Give Lucas a raincoat and let him drive! Except for the whole "threat of instant flaming death" thing, it's nearly the perfect job he's got.
Recently, he strapped on two cameras; one to the top of his helmet, the other right at eye level. The top of helmet-cam is nothing we've not seen before... heck, if you've ever played a racing videogame, you know what it looks like. But the eye-level cam is new. And, if you talk to di Grassi, it's not one that'll catch on, since it actually blocked his vision out of one eye. That's right, he drove the lap using just one eye.
No wonder he lost out at Virgin. But a cool viddy nonetheless!
Posted by: Wonderduck at 09:45 PM | Comments (5) | Add Comment
Post contains 291 words, total size 2 kb.
October 16, 2011
Dan Wheldon Killed
IndyCar driver Dan Wheldon was killed in a massive accident at today's Las Vegas 300. 15 cars were involved, which included two airborne at the same time. Wheldon's car was catapulted into the catch fencing, shearing off the rear wing, airbox and roll bar. Wheldon suffered injuries that was "unsurvivable", and passed away shortly afterward at a Las Vegas hospital.
After the announcement, the drivers that made it through the accident took to the track to run a five-lap tribute to the popular British driver as pit crews and track workers lined the circuit.
Wheldon was 33 and leaves behind a wife and two young children.
We here at F1 Update! extend our condolences to fans, friends and family, and our coverage of the 2011 Grand Prix of Korea will be delayed until Monday in tribute.
Posted by: Wonderduck at 05:51 PM | No Comments | Add Comment
Post contains 139 words, total size 1 kb.
October 15, 2011
F1 Quals: Korea 2011
The usual three drivers were sitting on the interview stand, but all was not well. One of them was in his normal good humor, but moods of the other two were substantially different. But what caused this reaction? Let's take a look at the provisional grid for the 2011 Grand Prix of Korea:
The streak is over! For the first time this season, someone other than a Red Bull driver will be on pole on Sunday. Of course Seb Vettel was more subdued than his normal smiling self; one would expect that under the circumstances. Jenson Button had his normal smile in place, looking full pleased with the grid slot he held. You'd expect Lewis Hamilton to be nigh on vibrating in place from joy and excitement, but to be honest, he looked more like Felipe Massa had just run over his dog... twice. It was so obvious that the english-language interviewer asked him about it. Hamilton's reply was a flat, nearly monotone "No, I'm happy. I'm really happy." One gets the feeling that Lewis can't wait for the season to be over.
The two Force India drivers elected to conserve their tires in Q3. While it was probably the correct move strategically (it's not like they really stood to gain more than one position, after all), it's still kind of sad. Farther down the grid, HRT's Daniel Ricciardo had a suspected water pump problem and never took to the track in Q1. He'll race only at the grace of the stewards, and it's anybodies guess whether they'll allow it.
I find that I'm less happy about the Red Bull pole run coming to an end than I expected. I've been wanting
someone
to do it all season, but now that it's over, I'm a little disappointed. It
would
have been cool to see Red Bull get all the poles in a season, something that's never happened before (the closest: McLaren took 15 of 16 in 1988 and 1989, and Williams did the same in 1992 and 1993).
For all the drama about the streak coming to an end, all in all this wasn't the most exciting Quals session ever. But that's okay too, because as both Hamilton and Vettel said, "It's what happens during the race that counts." I have this feeling that neither of them will win, and that Button will take his second race in a row. Some drivers are saying that the race will require five pit stops per car, which seems impossible. I guess we'll find out on Sunday! Stay tuned, this one might be a doozy.
Posted by: Wonderduck at 01:54 AM | Comments (5) | Add Comment
Post contains 600 words, total size 16 kb.
October 13, 2011
Sights From A Korean Practice (2011) (UPDATED)
The last we saw of the Korean Grand Prix was that it was raining. Seems appropriate that our next vision of the Yeongam Circuit is... that it was still raining.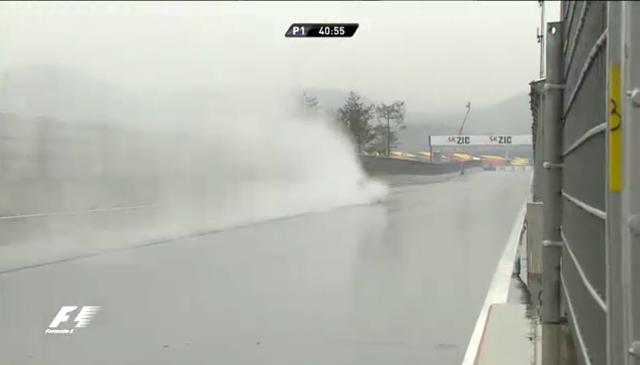 I'm going to have to assume that it
did
stop raining sometime in the past year. I think I would have heard something about 365 days of constant rain, no matter where it was. Be that as it may, what we got in first practice was lots and lots of rain, though not as much as the deluge that plagued the first ever Korean GP. Though it might have been because there wasn't as much water on the ground, the track seemed to handle it better too.
The same can't be said for the drivers.
While Cowboy's impressive ground loop was the most dramatic incident, seeing cars take to the run-off areas was a common sight, usually preceded by a moment of surprise squirrellyness and piscine twitching. The usual suspects looked good as they turned laps in the 2-minute range on the full wet tires, though even Driver's Champion Vettel had his share of moments.
However, for around 20 minutes it was raining so hard that nobody even thought about turning a wheel in anger on the soaked circuit... so the F1 cameras gave us "Rain Delay Theater," wandering around the grandstands and finding interesting vignettes.
Monsieur Jean-Eric Vergne is the Toro Rosso team's third driver for this race, and needs to learn Lesson #1 for all F1 Drivers: never
ever
look goofy while in the car.
There were dozens of other shots, mostly of Koreans staying dry or pointedly
not
staying dry, taking photos of other Koreans taking photos of other Koreans not staying dry, or even occasionally a F1 car in a garage. And then, from out of nowhere, came this:
...I'm not sure what to think of this.
I probably won't have a P2 report, though if something important happens I'll let you know. Unfortunately, The Pond is not a self-sustaining financial entity, so I have to be at work in the morning. There WILL be a Quals report as normal. See you then!
UPDATE
: The good news in P2 was that it wasn't as wet. The bad news was that it wasn't dry enough to run slicks. This means that the teams will be heading into "Saturday"'s Quals session with very little data on how the new Pirelli rubber behaves around Yeongam. A dry P3 is gonna be awfully important... fortunately for the teams, the rest of the weekend is supposed to be bright and sunny. The changing conditions caused one accident, between the Mercedes of Nico Rosberg and Toro Rosso's DJ Squire, and it pointed out the horribleness of Korea's pit lane. DJ Squire was coming out of the pits, which expels cars onto the track on the outside of Turn 1. Rosberg had just finished a hot lap and the wet tarmac robbed him of the traction needed to get whoa'd up in time. The result?
Rosberg's front wing wound up stuck under his front right tire, which must have made for an exciting lap, while DJ Squire's Toro Rosso got away with a couple of scuffmarks. As you remember, the pit-in is horribly placed as well, sited as it is on the inside of the final corner, a high-speed blind turn. SOMEthing bad is gonna happen here in the not-so-distant future, mark my words.
Posted by: Wonderduck at 09:23 PM | Comments (2) | Add Comment
Post contains 578 words, total size 4 kb.
October 10, 2011
F1 on SPEED!: Korea 2011
After Seb Vettel clinched the Driver's Championship at Japan, one might be inclined to think there's nothing else to race for. In NASCAR or the IRL, you'd be right. However, this is Formula 1, which has always been a Constructor's marque. Certainly it's nice to have the World Champion driving for you, but the Constructor's Championship is where the money is. The financial difference between finishing first and finishing second is in the tens of millions of dollars. So you betcha there's still something to drive for, and this weekend the F1 Circus heads to Yeongam, South Korea for the second Korean Grand Prix. Let's take a look at the track map:
As you may remember, last year's inaugural race was
mostly an aquatic affair
, and when it finally stopped raining the track never dried and the sun went away. It's hard to judge just exactly how this circuit runs, since we never saw any dry-weather racing the whole weekend. In practice and Quals, the track surface proved to be both slippery
and
abrasive at the same time... and that was on the more durable Bridgestone tires. With Pirelli bringing the soft and super-soft tires to the circuit, lord only knows how long the rubber will last.
Of course, "lord only knows" also describes how the track'll ride
this
year. In a move born out of desperation, the race organizers surfaced the track in a fast-curing asphalt that had a high oil percentage. This guaranteed that the course would be ready for race weekend, but also guaranteed that the surface would be permanently greasy. However, that was last year. The track has had a year to weather in, and while I doubt it'll be great, it'll probably be
better
.
One of the problems last year was that the heavy rain that fell had no way to drain. The long straightaway is lined with concrete walls, and those walls contained the water like a swimming pool. Everywhere else the problem was that the track is built on reclaimed swampland that's just a few feet above sea-level. It was like pouring water on a sponge; it can absorb to some level, but after that it just can't take any more. Fortunately, it looks like we're to have a dry race this year... maybe. Who knows?
That reclaimed land also began settling almost as soon as the asphalt was put down, leading to a rather bumpy surface in some very uncomfortable places... mostly braking zones and the apices of turns, it seemed. I doubt they could fix that, short of resurfacing the track... and they surely didn't do
that
.
So what this race preview comes down to is that we have no freakin' idea what the track will be like for this weekend's contest. Let's not even think about what sort of effect DRS will have! In any case, we'll find out thanks to the good folks at SPEED! As usual, they'll be bringing us coverage of every session of the weekend! Here's the lineup:
Thursday: Practice 1: 8p - 930p (streaming)
Friday: Practice 2: 12midnight - 140a (live), Practice 3: 9p - 10p (straming)
Saturday: Quals: 12midnight - 130a (live)
Sunday: 2011 Grand Prix of Korea: 1230a - 3a (live), 1030a - 1p (replay)
Along with the Legendary Announce Team, the F1 Update! crew will be all over the weekend as well! Hope you'll join us, exclusively at The Pond*!
*
no other place
wants us.
Posted by: Wonderduck at 07:50 PM | Comments (4) | Add Comment
Post contains 578 words, total size 4 kb.
October 08, 2011
F1 Quals: Japan 2011
A gorgeous day at Suzuka, Japan for the Quals session for the 2011 Grand Prix of Japan. Will the Red Bullies continue their stranglehold on the pole position for the season? Or will McLaren, who were the fastest in every practice session so far this weekend, finally kick them out of the top slot? Let's take a look at the provisional grid:
.009 of a second. That's the total difference between a potential clean sweep of the season's poles for Red Bull... and a pole for someone else for the first time this year. Seb Vettel just barely pipped McLaren's Jenson Button for first place, but could have lost it at the last moment. Fortunately for him, Lewis Hamilton either messed up the sector (most likely) or was balked by both Slappy Schumacher and Mark Webber (Hamilton's story in the post-quals interview), meaning that he didn't get across the start/finish line in time to take a last shot at pole. As this is being written (130am Saturday morning, just moments after the Quals session went off the air) there is nothing being said regarding penalties as of yet.
A nice moment in Japan was Gandalf Kobayashi pulling down the fastest time in Q1 to the delighted roars of his home crowd. He then managed to get through to Q3 for only the second time this season. When the lights went green for Q3, Kobayashi's Sauber went out on track... alone. For at least half a lap, his was the only car on track. The Legendary Announce Team called it a "parade lap" for the Japanese fans, and I'm sure that's right since he turned into the pits and parked it without setting a time. He
had
burned his soft tires already, so it's not like he could have done much else, but a nice gesture by the rest of the field to let him out alone... even if it was just the other teams waiting for the perfect time to get their guys out. Particularly when Sauber rolled out their newest modifications for this race: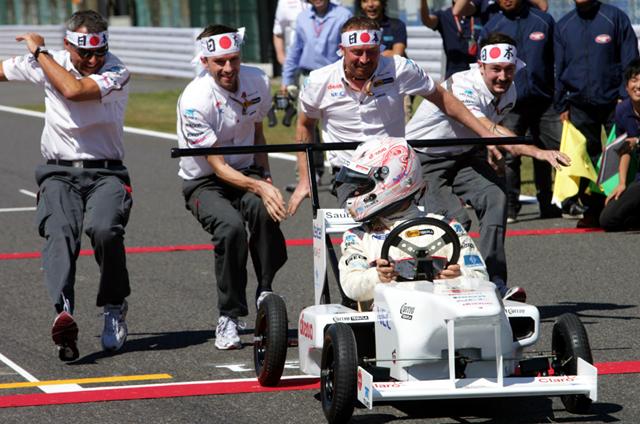 They may be under-funded, but they're still revolutionary as heck at the team from Switzerland.
In other news from Quals, Nico Rosberg's string of making it into Q3 at every race this year has come to an end, thanks to a hydraulic problem. He set no time in Q1, meaning that at least in theory he could be excluded from the race. That won't happen, but it could. Vitantonio Liuzzi's HRT had mechanical issues as well that didn't allow him to set a time. It's a little more likely that he'll be excluded, but still pretty much a long shot.
More if events warrant! The race is at 1am Sunday morning, Pond Central time, so your guess is as good as mine as to when the F1U! will be up. Sunday for sure. See you then!
Posted by: Wonderduck at 12:50 AM | Comments (1) | Add Comment
Post contains 653 words, total size 17 kb.
October 03, 2011
F1 on SPEED!: Japan 2011
Though the Driver's Championship is all but wrapped up, the Constructor's is still up for grabs, and
that
means there's still something to race for. Which is good, because this week the F1 Circus will raise their tents at what is almost certainly the best of the non-European circuits: Japan's Suzuka. Let's take a look at the track map, shall we?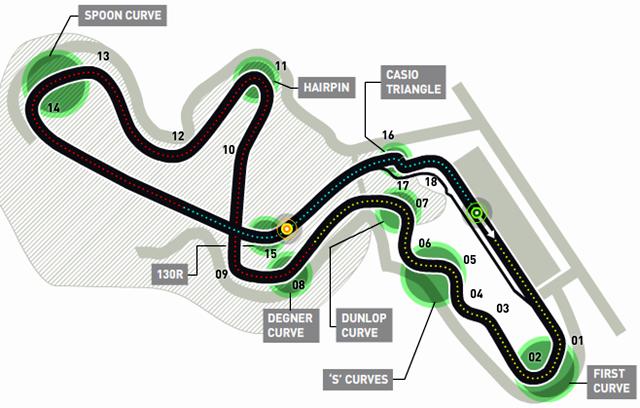 The first thing you notice about Suzuka is that it's a figure-of-eight layout, the only one in F1. Fortunately, or perhaps unfortunately if you're a redneck, the track doesn't really cross itself; the outbound part goes through a tunnel beneath the inbound. The next feature you notice are the "S Curves", a Gene Krupa-level rhythm section that determines your success on any particular lap of the circuit. Do it right, you've got a chance for a good time. Do it wrong, even a little bit, and you've ruined the lap completely and you'll have to fight to salvage what you can the rest of the lap. There's nothing quite like it anywhere else on the calendar.
It's a fast circuit that paradoxically is also a high-downforce track. Tires can take a beating around here from the high lateral loads suffered at places like the full-throttle 130R or the aforementioned S Curves. The track surface is variable; in 2009 some portions of the circuit were resurfaced, leading to changing traction levels depending on where you are in the lap. Pirelli is bringing the Medium and Soft compound tires this year, which should prove successful here.
As Suzuka is located on the eastern coast of Japan it tends to be somewhat damp around the circuit during race weekend. Indeed, the Great Suzuka Boat Races are something of a tradition in F1, and while they don't occur every year,
they certainly did in 2010
as Quals were actually postponed until just before the race on Sunday. It appears that this year, the weather forecast is for sunny skies.
Of course, the good folks at SPEED will be bringing us the whole weekend, as they usually do. Let's take a look at the schedule:
THURSDAY: 8pm to 930pm - Practice 1 (streaming)
FRIDAY: 1201am - 140am - Practice 2 (live), 9pm - 10pm - Practice 3 (streaming)
SATURDAY: 1201am - 130am - Quals (live)
SUNDAY: 1am - 330am - Grand Prix of Japan (live), 230pm - 5pm (replay)
As is usual, I'll be here with reports on the usual things, culminating with the F1 Update! after the race. Hope to see you here!
Posted by: Wonderduck at 12:04 PM | Comments (3) | Add Comment
Post contains 425 words, total size 3 kb.
134kb generated in CPU 0.0247, elapsed 0.096 seconds.
54 queries taking 0.0758 seconds, 290 records returned.
Powered by Minx 1.1.6c-pink.