April 26, 2010
A Lap Of The Green Hell
This viddy has been floating around the web for a while now, and been in my collection for almost as long, but I've never actually put it up here. Quite simply, it's in-car video of a lap of the Nordschliffe at the Nurburgring, aka 'The Green Hell,' aka the greatest circuit on the planet. Nearly 21km long, over 100 turns. At one time, F1 cars drove here though not 1976, the year Niki Lauda had his hideous accident.
Just sit back, turn up the volume, and marvel at the magic of Hans-Joachim Stuck and his BMW M3 GTR.
There may have been faster laps (in fact, someone just turned a lap in 6:58, driving a Ferrari 599XX), but none of them could be as wonderful as this one. The sound alone makes me feel kinda tingly.

Posted by: Wonderduck at 05:54 PM | Comments (13) | Add Comment
Post contains 142 words, total size 1 kb.
April 20, 2010
Kimi Raikkonen: The Exclusive F1U! Interview
That's right, we here at F1U! scored an exclusive interview with former F1 World Champion and current rally car driver Kimi Raikkonen! It's a stunning coup, and we're proud to bring it to you.
Q: Kimi, how does it feel to be out of Formula 1?
more...
Posted by: Wonderduck at 10:39 PM | Comments (2) | Add Comment
Post contains 61 words, total size 1 kb.
April 17, 2010
F1 Quals: China 2010!
This is starting to become boring. Let's take a look at the grid for tomorrow's Grand Prix of China:
For the fourth out of four times, Red Bull's Seb Vettel is on pole. If his car had managed to hang together in the first two races, I think there's a very good chance he'd be running away with the season. Fortunately for us fans the RB6 might be a delicate little flower.
Not as delicate as Seb Buemi's Toro Rosso, perhaps, but still fragile. No great suprises on the grid today; in fact, there wasn't much in the way of drama in any of the qualy rounds... no remarkable last-gasp heroics, no desperate clawing to get into the next round, no heavy-hitters leaving the pits with a tire blanket still attached.
Actually, I'd like to see that last one. Bet mechanical grip would be affected a bit.
I digress. The race is at 130am Pond time, set your VCR and we'll see you here for the F1 UPDATE!
Posted by: Wonderduck at 04:37 PM | Comments (1) | Add Comment
Post contains 329 words, total size 13 kb.
April 16, 2010
F1 Practice: China 2010!
There wasn't much news to report for the afternoon session, which is the one televised by SPEED, but hoo-doggie was there action in the morning!
It all started when Ferrari's HWMNBN blew an engine, which means he's now on his third of the year. With the eight-engine limit from last year still in effect, he could be in serious trouble down the road.
Then we discovered that, seven years ago, the Shanghai International Circuit was built on drained swampland... and not all of that was actually drained! Fast forward to today, and the waterlogged bedrock underneath the track is beginning to subside, creating some rather nasty bumps. How nasty? Bad enough that Timo Glockenspiel actually broke his Virgin's front wing going over one. THAT might be a problem.
It's also cold in Shanghai. How cold? Temperatures were in the 40s during the morning session; according to the Legendary Announce Team, to find the last time it was that cold on this date in Shanghai, you have to go back to the 1800s. That'll make the tires work weirdly, if at all... Adrian Sutil said it might take six laps or more to bring them up to race temps. That's not good at all!
But all of that pales in comparison to the sort of day that Toro Rosso's Sebastian Buemi had. Imagine what it's like to be on the highway and you get a flat tire. Well, Buemi was going around 180mph or so down the back straight when... well,
this
happened:
No, your eyes aren't deceiving you. Both his front wheels literally FELL OFF THE CAR at 180mph. Don't believe me? Here's another view: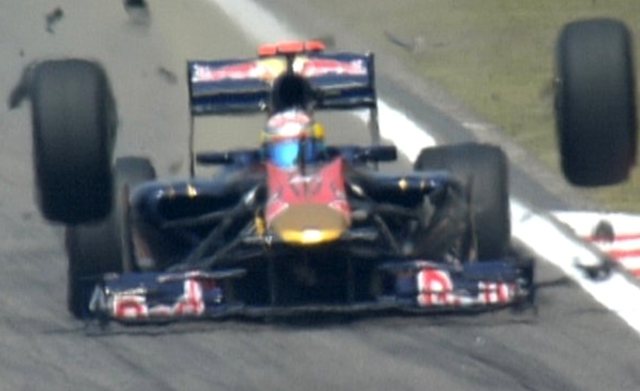 And, just for the heck of it, here's video of the incident:
The upright, which is what connects the wheel to the suspension, on the right front corner completely failed. This transferred all the weight of the front of the car to the suspension on the other side, which then exploded. Buemi was unhurt in the rather bizarre incident, but his car was pretty much ruined. Seems the uprights were made of a new material... which, of course, Toro Rosso has now thrown in the trash. Remember, this is Toro Rosso's first car as a constructor, so one might expect a little of this... though not, perhaps, quite so dramatically. The team is expected to have a new chassis built up in time for quals.
Speaking of which, we'll see you here tomorrow morning for those results!
UPDATE: Sebastian Buemi is now the early favorite in the Quote of the Year contest: "
From in the car it was not a problem. I just lost both wheels.
" Nope, no problem there.
Posted by: Wonderduck at 06:58 PM | Comments (4) | Add Comment
Post contains 449 words, total size 3 kb.
April 13, 2010
F1 On Speed!: China 2010
A long time ago, Momzerduck said to me "Hermann Tilke's house probably has one very long hallway, then lots of small twisty hallways coming off of it."
No, wait, it was the Official Overseas Reader of The Pond,
Flotsky
, who said that. Momzerduck said "if you can't say something nice about somebody, don't say anything at all." Looking back through previous "F1 On SPEED!" entries for China, I find that I just can't bring myself to say anything nice about Shanghai. So...
Here's the track map for Shanghai International Circuit.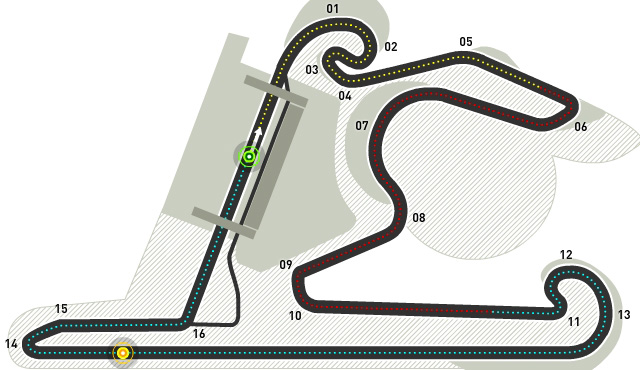 (insert two minutes of silence here)
The Varsha should be back at the helm of the Legendary Announce Team during SPEED's coverage of the Grand Prix of China, which begins with Friday's Second Practice from 1am to 240am. Quals will come to us almost live on Saturday from 1am to 230am. The actual race, however, is from 130am to 4am Sunday morning, with a replay from 1pm to 330pm later that afternoon.
See you then!
Posted by: Wonderduck at 07:19 PM | Comments (3) | Add Comment
Post contains 170 words, total size 1 kb.
April 12, 2010
"Green Racing" A Reality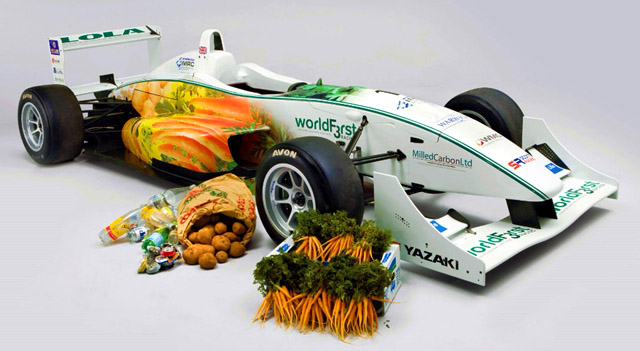 "Powered by chocolate. Steered by carrots." That's the humorous tagline for WorldFirst Racing, the first-ever "green" racing car.
WorldFirst is a
F3 car/team
. You can think of Formula 3 as being Single- or Double-A level in baseball's minor leagues, if you'd like: a major step in a pro career, but no guarantee of making the majors. Anyway, the car is made up of either recycled materials, such as the body (recycled carbon fiber... ever wonder what happened to wrecked F1 cars?), or organic stuff (the steering wheel is made out of a polymer derived from carrots and other root veggies). The engine is is a 2 liter turbodiesel, fueled by biodiesel. The front wing endplates are made out of potato starch and flax fiber. Heck, even the radiators are coated with a substance that "converts ozone to oxygen".
So, maybe not the "edible racer" that some suggested, but still a pretty good start.
A helluva lot better than the stupid Honda Earthdream car...

Yes, that's Jenson Button in the cockpit. Yes, I'm sure he'd rather we forgot about that year...
Posted by: Wonderduck at 06:53 PM | Comments (4) | Add Comment
Post contains 184 words, total size 1 kb.
April 03, 2010
F1 Quals: Malaysia 2010!
Well
that
was interesting. Looks like what is becoming the annual Ferrari brainfart is starting to spread... let's take a look at the grid!
Q1 started out with a firm drizzle as the cars took to the track... or should I say MOST of the cars. Ferrari and McLaren sat in their garages, their weather experts apparently telling them that the rain would stop. But it never did.
Button went out first, got a time fast enough to get to Q2, and when the rain became heavier, aquaplaned right into a graveltrap from which he could not escape. He sat on the timing-and-scoring bubble for a few anxious minutes, but managed to eke by. By the time Hamilton, Massa and HWMNBN began their flying laps, the rain was just heavy enough to make it impossible to set competitive laps, rendering their qualifying sessions moot. Serious, serious error by the big guys on the grid. Like most everybody else, they should have gone out ASAP... what do you have to lose? If it dries out, you come in, get new tires, and off you go. If it DOESN'T dry, you've still got times set in the same conditions as everybody else... like Lotus and Virgin, each of whom got a car into Q2 for the first time.
Meanwhile, it took nearly 15 minutes for Button's McLaren to be returned to the pitlane, too late for it to be checked over for damage, get the kittylitter out of the ducts, turned around and sent out for Q2.
Q3 was an adventure, to say the least. The rain started out hard, got even harder (which redflagged the session for a few minutes), and then the full-wet tires kicked in. With about two minutes left in the session, none other than Force India's Adrian Sutil sat on pole, setting fast lap after fast lap as the rain pelted down. Towards the end, however, Red Bull's Mark Webber somehow tore off a lap that was nearly 1.5 seconds faster than anybody else in the session. That's an amazing amount of time, and one that I'm at a loss to explain. He didn't have a drying track, the rain didn't let up at all. I suppose he just caught the sweet spot on the combination of rubber on the circuit, water on the ground, car setup, and tires in a perfect Golden Lap.
So, there you have it... your starting grid for the 2010 Grand Prix of Malaysia (swimming edition). The forecast is for more rain during the race, so it's entirely up for grabs.
UPDATE: It turns out that Webber turned his amazing lap in while running on Intermediates; everybody else was on full wet tires. Gutsy move, that!
Posted by: Wonderduck at 10:55 AM | Comments (5) | Add Comment
Post contains 616 words, total size 15 kb.
April 02, 2010
F1 Practice: Malaysia 2010!
Short update today, as I'm preparing for my Fantasy Baseball League auction on Saturday. It actually
didn't
rain during either session, but the second one ended before Sunday's race start time. According to locals, it always rains in late afternoon in April, so prepare for a wet race.
Anyway, the big news is that McLaren looked fast during both practices with Hamilton topping the timesheet for both and Button ending up 4th in P2, with Seb Vettel and Nico Rosberg ahead of him. Ferrari, on the other hand, did not look quick at all. The best HWMNBN could do was 7th, and Massa turned in a miserable 15th. As always, however, one should not put too much faith in Practice results, as we never know just what the teams are actually doing during these sessions. It's possible that McLaren was working on high-speed stretches, while Ferrari was doing heavy fuel loads to check wear on tires.
One thing we
can
count on, however, is that Red Bull will have technical problems. Mark Webber, using the same engine he's run at Bahrain and Australia, had it die on him early in P2. Well, no big shock there; there were only four drivers that
hadn't
had an engine change yet, but it's just another blow to the fast, but fragile, Red Bulls... that's track time the team didn't get, and track time is now more valuable than gold in F1.
One bit of off-track news. Those pitiable "outboard mirrors" that Ferrari and some other teams have been using have been banned.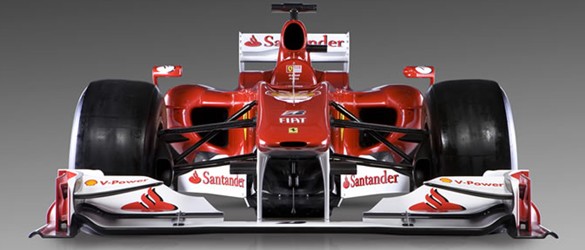 As you can see, "outboard mirrors" are actually mounted out on the sidepods, putting them a very long way from the drivers. Moreover, they're put on a spindly piece of bodywork, which means they're very very tiny. For comparison's sake, take a look at the ones on the
MP4-25
. By China, all teams must have their mirrors mounted directly to the monocoque.
UPDATE:
The deadline has been changed to Barcelona
.
Okay, I'm off to figure out the difference between Andy and Adam LaRoche (answer: none, really) and find the second-best left-handed relief specialist who pitches in the NL Central. Quals report will be up Saturday evening, like as not, as the league auction is at 1pm.
Posted by: Wonderduck at 08:21 AM | No Comments | Add Comment
Post contains 379 words, total size 3 kb.
April 01, 2010
Button Involved In Horrific F1 Accident!
Ugly, ugly scene. Hopefully everything will turn out okay.
Posted by: Wonderduck at 12:01 AM | Comments (5) | Add Comment
Post contains 15 words, total size 1 kb.
80kb generated in CPU 0.03, elapsed 0.6993 seconds.
52 queries taking 0.6416 seconds, 284 records returned.
Powered by Minx 1.1.6c-pink.