May 25, 2013
F1 Quals: Monaco 2013
Rain. Rain makes
everything
better. In Formula 1, rain is called "the great equalizer." When it rains, you throw everything you knew about the cars and throw it all into the wheeliebins. ANYthing can happen, and occasionally does. Now make it rain during qualifying at Monaco, and you can imagine what happened.
Let's take a look at the provisional grid for the 2013 Grand Prix of Monaco:
The rain came just as Q1 was about to begin, and you can see what it did to the times. It was quite a common sight to see names like Valtteri Bottas and Jules Vergne at the top of the timesheet, though eventually it settled down slightly. In Q2, a drying line started to form and the times dropped precipitously, leaving most of the usual suspects in Q3.
In Q3, on a mostly dry circuit, the expected Mercedes massacre occurred, with Nico Rosberg taking his third consecutive pole, and Shiv Hamilton locking up the front row for the German team. Red Bull holds the second row, and Hannibal Vettel looked like he wanted to kill someone in the interview room.
You may notice that Massa got a DNQ: he was involved in a terrible wreck in Saturday Practice, broke both ends of the car, and Ferrari just couldn't get it rebuilt in time for Quals.
Fun Qualifying... maybe we'll have rain for the race, too! That's Sunday morning, we'll see you afterwards!
Posted by: Wonderduck at 09:32 AM | No Comments | Add Comment
Post contains 396 words, total size 15 kb.
May 24, 2013
F1 Practice: Monaco 2013
Nothing too big to report on "today". Beautiful day, and other than Lettuce Grosjean scraping the left side of his car clean of any projections in Sainte Devote, nothing impressive occurred. Team Mercedes is being tabbed to take pole on Saturday, and people are saying that, since Monaco is so impossible to pass at, they've got a good chance to win. The famous "Get Pole, Be Slow" technique, I guess.
Maybe. I don't see it, but maybe. There's just way too many ways for that strategy to go wrong around Monaco. But then, that's why they drive and I commentate.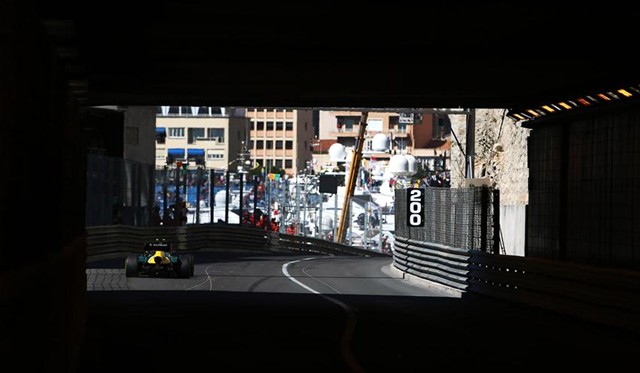 Well, that and I'm not rich and I weigh more than 140 pounds.
Quals in the morning.
Posted by: Wonderduck at 08:36 PM | Comments (4) | Add Comment
Post contains 121 words, total size 1 kb.
That's... Quite The Finish
So there was a 100 mile Indy Lights race at the Indianapolis Motor Speedway today, during the annual "Carb Day" festivities. Indy Lights is like the "minor leagues" of IndyCar, a feeder division into bigger and better. Being a spec series, all the cars are identical 450hp V8 Dallaras, so it's all driver skill. So the race... yeah, it had a close finish. How close?
THAT close. The gap from first to second? .0026 seconds or maybe six inches. The gap from first to fourth? .0443 seconds.
You can watch the actual finish here
.
Now if we can get Monaco to be that close...
Posted by: Wonderduck at 02:56 PM | Comments (5) | Add Comment
Post contains 108 words, total size 1 kb.
May 23, 2013
Monaco, Friday.
Okay, I'm making an executive decision here... I'm gonna do the Monaco Practice writeup on Friday instead of tonight. It's been a long couple of weeks, and I want a nap. While you're waiting, here's the newest trailer for
Rush
.
Me likey.
Posted by: Wonderduck at 07:23 PM | No Comments | Add Comment
Post contains 44 words, total size 1 kb.
May 20, 2013
F1 On The NBC Networks: Monaco 2013
If Silverstone is the birthplace of Formula 1, Monaco is its soul. The glitz, the glamour, the money, the casino, the royalty, it is everything that the sport could have possibly hoped it would become back in the old days. Let's take a look at the track map for this historic circuit:
The odd thing about this ultimate street circuit is, of course, that it would never be allowed on the calendar if it was proposed today. It's too narrow, there's no run-off area to speak of, it's immensely dangerous... and it is
glorious
. Win here, and you walk with the legends. If a team or a driver could only win one race in a season, it would be this one. It is the ultimate challenge to drive well.
For all that, it's not a great racetrack anymore. Cars are wider and faster than they used to be, so you often get a processional around here... unless it rains. Which, considering Monaco's location on the Mediterranean, happens fairly often and with only small amounts of warning. Anyway, while
individually
many of the turns are wonderful, the run past The Swimming Pool (13-14-15-16) in particular, as a whole it's probably the hardest track on F1 to drive. No mistakes are ever allowed, no slacking of attention. It's perhaps the only circuit in Formula 1 where driver skill can take priority over car.
In some ways, this is the
least
subtle circuit on the calendar. Downforce? As much as you can crank on the car, and more besides. The rules say you can't attach a barn door in place of the rear wing, but if you could, the teams probably would. Track speed? Slow. It's the lowest average speed of any race we'll come across on the calendar. Perversely, while there's no grip in the tarmac due to their everyday use as public streets, the circuit isn't gentle on tires... because there's no grip in the tarmac. The tires almost slide over the street surface, which isn't the way they're supposed to work. Take a pink eraser and rub it over the asphalt of your parking lot, see how much of it comes off... that's kind of the way tires work at Monaco. Both brakes and engines have cooling problems around The Principality as well; both require airflow, preferably high-velocity airflow which is in short supply here. So the brakes heat up and never really cool off... that's fine to start with, but when the carbon/carbon discs get too hot, they begin to glaze, reducing efficiency.
We're going to have something unprecedented this weekend: a European F1 race live on US network TV, and the Legendary Announce Team will be bringing it to us! Let's take a look at the schedule:
THURSDAY
Practice 2: 7a - 830a live on NBCSN
FRIDAY
(nothing)
SATURDAY
Quals: 7a - 830a live on NBCSN
SUNDAY
2013 Grand Prix of Monaco 630a - 9a live on NBC
As is tradition, there are no race-related activities on Friday, so as to let the multimillionaires and billionaires to come home from St Tropez or Moritz or Newark. Of course, F1 Update! will be all over the race as well... rejoice! See you then!
Posted by: Wonderduck at 06:18 PM | Comments (1) | Add Comment
Post contains 541 words, total size 4 kb.
May 11, 2013
F1 Quals: Spain 2013
We all know that it's important to be on pole for a F1 race. It keeps you clear of the thundering herd and all the little incidents that occur in the pack that can kill your race before it begins. There are some circuits where it's even more important than normal to be on pole. Monaco is the usual example, but one of those oddball stats that blindside you with its data came to light today... SPAIN, not Monaco, is the most pole-dependent race on the calendar. Eleven of the past 12 dry races at Barcalounger have been won from the pole... and the one oddball was Hannibal Vettel winning from second in 2011. So, yes, it's a little important to be on pole this week. So who just shot to the top of the bookies' sheets? Here's the provisional grid for the 2013 Grand Prix of Spain:
This is the second pole in a row for Nico Rosberg, and the third on the trot for Mercedes... which brings us a puzzling situation. What happens when the car that's on pole is great for single laps, but not so good over race distances? Last race, Rosberg started first and ended up ninth... not because of any strategy problems, or traffic woes, but because the car just doesn't like going more than three laps at a time. Should prove interesting to find an answer... except if the two Mercs don't win, it'll undoubtedly be Hannibal Vettel whose lap the race will fall into.
Dammit.
In other news, one year ago, Pastor Maldonado started the Spanish Grand Prix from pole and won Williams' first race in what seemed like forever. Tomorrow, he'll be starting 18th, with his Williams teammate in 17th. Yeesh. And speaking of "yeesh," McLaren's season is essentially over already; they're 86 points behind Red Bull in the Constructor's Championship... even if they start winning everything in sight, does anybody really believe that Red Bull wouldn't be right behind them? Nope, stick a fork in 'em, they're done. Even Force India has more points than they do (26 to 23). One wonders if they installed the throttle correctly or something. "Oh, silly us, we put the gas pedal on the LEFT side, not the right..."
Race in the morning, F1U! sometime thereafter.
Posted by: Wonderduck at 07:55 PM | Comments (5) | Add Comment
Post contains 542 words, total size 17 kb.
May 10, 2013
F1 Practice: Spain 2013
The first race back in Europe after the first overseas leg always brings us new and... interesting... modifications to the cars. New wings, new sidepods, new noses, lots of new stuff we can't see. And on the whole, nothing ever changes. The fast teams are still fast, the slow teams are still slow, its just the same with more money spent. Unless you're Caterham.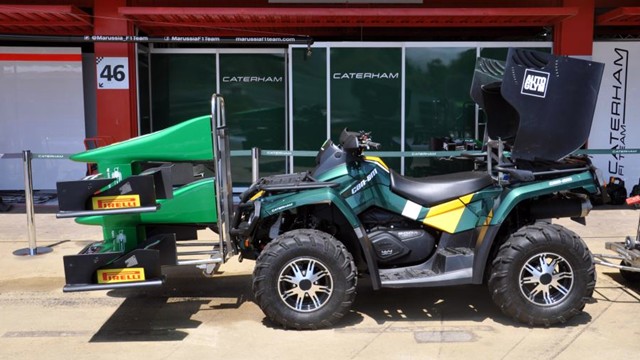 They're really pushing the edge of the rules with their latest chassis. I have no idea how it passed the crashtesting, but I'm not the FIA. Gonna have a helluva lot of downforce, that's for sure.
Seriously though, Pirelli has a problem on their hands. Take a look at what happened to Force India's Paul di Resta at the end of P2: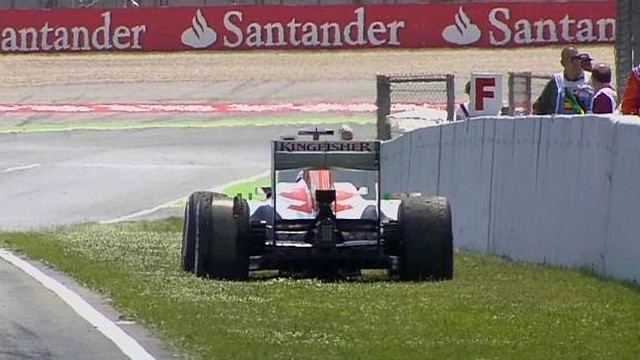 The left-rear tire completely delaminated. Fortunately the carcass stayed inflated, as it occurred as di Resta was on the front straight. He was able to keep the car under control and bring it to a stop just past pit-out.
I don't think I've ever seen that before. I've seen tires wear down to the canvas backing, sure, and of course we've seen plenty of blowouts where all you had left were the sidewalls, but I've never seen the rubber fall off the tire altogether. There is no way you can tell me that this is a good thing. I've been very calm with Pirelli, as they've just been doing what the FIA has asked them to do, tires running with short lifespans and all... but this just can't be allowed to happen.
Quals in the morning, Quals report sometime quite a bit later. See ya then!
Posted by: Wonderduck at 08:30 PM | Comments (3) | Add Comment
Post contains 276 words, total size 2 kb.
May 05, 2013
F1 On NBCSN: Spain 2013!
It has been a while since Formula 1 has graced the digital pages of The Pond, but the first long break of the season has come to an end and F1 is back! The high-horsepower Circus has made its way back home to Europe and what many consider the
real
beginning of the season. The first race on The Continent is, as always, the Spanish Grand Prix at Barcalounger. Let's take a look at the track map, shall we?
If there is an "average track" in Formula 1, this is it. The teams have tested here so much, they know it like the back of their hand. There are no surprises in store, nothing they aren't aware of, leaving it down to the cars, the mechanics and the drivers. Having said all that, it's
because
there are no surprises in store at Barcalounger that races here can often have the appearance of being a parade.
Not last year
, though, when Pastor Maldonado won his first race, Williams won their first race in years on Sir Frank's birthday, and then their pit garage exploded into flames. Yes, that counts as memorable.
The biggest news going into the race is that Pirelli folded under the pressure from Red Bull and has changed the tire compound on their Hards. It's now going to be closer to the 2012 rubber, longer lasting and ohbytheway, something that the Red Bull chassis loved. The rest of the compounds have not changed, but give it time. We'll find out just how much difference it'll make this weekend as Pirelli brings the Hard and Medium tires to Barcalounger.
As far as the race goes, the good folks at NBCSN will be providing their usual sterling coverage all weekend! Here's the broadcast schedule:
FRIDAY
Practice 2: 7a - 830a live
SATURDAY
Quals: 7a - 830a live
SUNDAY
2013 Grand Prix of Spain: 63a - 9a
As usual, NBCSN's schedule is online via the excremental Zap2It, so it should all be taken with a grain of salt the size of a salt lick.
As is also usual, F1Update! will be all over the race, and by "all over," we mean we'll watch it and give it the writeup it deserves. Because that's what we do now. See ya then!
Posted by: Wonderduck at 07:51 PM | No Comments | Add Comment
Post contains 384 words, total size 3 kb.
77kb generated in CPU 0.0289, elapsed 0.3684 seconds.
49 queries taking 0.3543 seconds, 263 records returned.
Powered by Minx 1.1.6c-pink.