February 21, 2011
Bahrain A No-Go
Bahrain, the scheduled first race of the 2011 F1 season, was postponed today. In a statement, the Crown Prince of Bahrain, Salman bin Hamad bin Isa Al-Khalifa, said:
"Although Bernie Ecclestone had graciously made clear that a decision on the race was entirely Bahrain's to make and was not yet required, we felt it was important for the country to focus on immediate issues of national interest and leave the hosting of Bahrain's Formula 1 race to a later date.
We felt it was important for the country to focus on immediate issues of national interest. Bahrain's priority is on overcoming tragedy, healing divisions and rediscovering the fabric that draws this country together to remind the world of the very best that Bahrain is capable of as a nation once again united."
Darth Bernie, who earlier this past weekend said that things looked good for the race before flip-flopping on that statement, said "
It is sad that Bahrain has had to withdraw from the race, we wish the whole nation well as they begin to heal their country."The hospitality and warmth of the people of Bahrain is a hallmark of the race there, as anyone who has been at a Bahrain Grand Prix will testify. We look forward to being back in Bahrain soon
."
The test session scheduled to take place this weekend in Bahrain has been moved to Barcelona, as expected. Surprisingly, the race has NOT been canceled, with various reports stating that November 6th may be a likely date for a makeup. If that date turns out to be solid, there would be some interesting scheduling problems; the Grand Prix of India is October 30th and Abu Dhabi November 11th. Three races in three weekends, all of them rather distant to boot, could cause no end of stress.
For what it's worth, it's F1U!'s opinion that the race should not be run this season. F1 can be as much about politics as it is about racing, and as the most watched seasonal sport in the world it has a responsibility to be sensitive to the Bahrani people. When you read such things as "
(the race) has been the prince's dream since he was a child. He wants to negotiate so he can fulfill this dream, and it makes me sad that his dream is more dear to him than the needs of his people. "There is a big connection between (the uprising) and Formula 1
," coming from the mouths of some of the protesters, it's clear what should and should not be done. Just do the right thing, Bernie.
The first race of the season will now be Australia, the way it should have been in the first place, on March 27th.
Posted by: Wonderduck at 08:19 PM | Comments (1) | Add Comment
Post contains 457 words, total size 3 kb.
February 19, 2011
Some More F1 News 'n' Tidbits
As test session #3 continues in Barcelona, a few more bits of news for us here on a Saturday.
First off, HRT has made an appearance! Not, alas, in their new car, but they were on track at Barcalounger. And behind the wheel? None other than The Fashion Victim himself, Vitantonio Liuzzi. Now we all know that HRT is the only team with an open seat for the 2011 season, and time is running seriously short. As much as I'm not fond of the guy, he'd be a fantastic pickup for the no-longer-rookie team. One of their biggest problems in 2010 was that they had two rookies driving for them, drivers who couldn't draw from past experience to say "this is wrong" or "don't touch that." Fielding a lineup of Liuzzi and Narain Kittylitter would be a huge step up from Cowboy Karun Chandhok and Bruno Senna...
Over in Bahrain, things are getting even messier. More dead in the streets, reports of anti-aircraft guns being fired "over the heads" of protesters, and perhaps most incredibly, helicopter gunships shooting clearly marked ambulances. In the wake of all this, the UK Foreign Office has issued a travel advisory for Bahrain, warning against all non-essential travel to the country and telling British nationals in the country to keep their heads down and not to go outside. Of course, many F1 teams are based in the UK, and there's a whole slew of Brits up and down the paddock. Unless there's a miracle of some sort, I think it's pretty much a given that the first Grand Prix of the season is going to be canceled.
On a lighter note, I went grocery shopping this afternoon and as I often do, I stopped in the toy section to see if they had any rubber duckies... they didn't, but they did had a huge display of Hot Wheels cars. Unfortunately, they were in a bin so you couldn't see what was on the bottom. Just for the helluvit, I reached in at random and pulled a car out... sometimes the designs are amusing, after all. Much to my amusement, this is what was in my hand:
Yup! It's the Hot Wheels version of the
Tyrrell P34
, my
favorite F1 car
of all time.
It's not a horrible rendition of the car, actually. The driver's hideously out-of-scale as are the front tires, but for all that, not too bad. For a dollar, you don't particularly expect slavish devotion to detail. The paint scheme is completely unrelated to anything the P34 was ever attired in, but not a horrible fantasy; there was a white upper/ dark blue lower paint scheme for the car. Apparently Hot Wheels did release a dark blue version of their car as well... I'll have to see if I can find one.
Posted by: Wonderduck at 02:51 PM | Comments (1) | Add Comment
Post contains 475 words, total size 3 kb.
February 17, 2011
Some F1 News 'n' Tidbits
Just a quick look around the world of F1 today:
Things are looking a little grim for the F1 season opening race in Bahrain as that country's citizens emulate the Egyptian revolution. The Circus is scheduled to be testing there March 3rd through the 6th, just ahead of the race weekend of the 11th through the 13th. There have been five killed in overnight rioting in the nation's capital, and earlier today the GP2 Asia series race, scheduled for this weekend, was canceled. The Bahrain International Circuit's permanent medical staff has moved to the local hospitals to help with the influx of injured. There are reports of foreign journalists being denied entry to Bahrain, which would be a major problem for a F1 weekend, obviously. It also appears that much of the rioting is taking place right outside the location of the hotels most of the F1 teams use. Indeed, many of the GP2 teams were told to stay at the racetrack instead of returning to their hotels last night, for their own safety. Darth Bernie is reportedly in talks with the Crown Prince of Bahrain, and Jean Todt, FIA Lord of the Sweaters, said before the GP2 race was canceled that the running of the F1 race might very well "depend on the GP2 race being run." We'll keep you updated as news breaks.
Robert Kubica had his (hopefully) final surgery yesterday, an eight-hour marathon session to repair his shattered right elbow. He's reportedly resting comfortably, though in an Intensive Care Unit, following the procedure, which by all reports was completed successfully. According to HWMNBN, who's known the Polish driver since their karting days 15 years ago and is often seen playing poker and hanging out with him, the injuries may have been worse than were let on. "It was not so clear he was going to survive," said the Ferrari driver. "I tried to drive to the hospital to find out exactly what his injuries were." Rare signs of the Spaniard actually having a nice side to him.
Kubica's team, Renault, named his replacement for the 2011 season while the Pole was in surgery yesterday. As predicted, Grizzly Nick Heidfeld will be taking the seat for the first race of the year, whenever that will be. Good choice, solid all-round driver and an adequate replacement for Koobs. Now, a lineup of Koobs and Grizzly Nick would have been even better...
Finally, it appears that there's going to be a lot more pitstops this year. The new Pirelli tires were intentionally designed to wear faster, to the point that the super-softs were reportedly useless after one lap! While I can't find the exact quote at the moment, Rubens Barrichello said something to the effect of "the tires lasted for the out lap and about 2/3rds of the hot lap. After that they were terrible." Some teams are predicting four pit stops for tires per race. Pirelli pooh-poohs this, saying in effect "we have no idea where the teams are getting that idea, they should be able to do a race in
three
stops." Oh, yes, big difference there. The tire manufacturer will be bringing the Hard and Soft compound tires to the first four scheduled races.
Posted by: Wonderduck at 06:29 PM | Comments (5) | Add Comment
Post contains 542 words, total size 3 kb.
February 10, 2011
Kubica Update (And Other News, Too)
As the second round of testing began at Jerez today, something rather cool took place. First there was Renault:
...then Sauber...
...McLaren...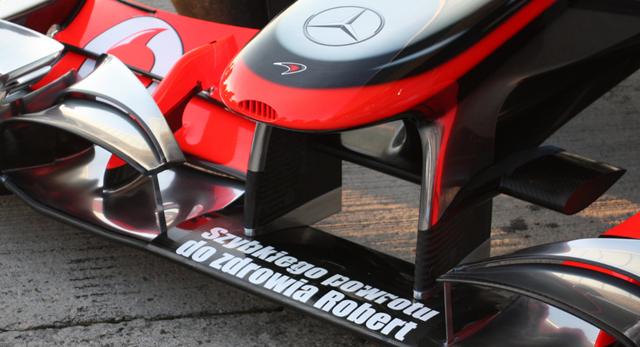 ...and all the rest of the teams, too. In case you don't understand Polish, the stickers all read "Get well soon, Robert!" While it often seems like the F1 teams despise each other and care only about winning no matter the costs, in truth everybody in the sport considers it something of a small fraternity. When one of their own is injured like Kubica was, or Felipe Massa two years ago, you see the teams tighten their ranks in support. Sure, on the track they'd slit each others throats to finish one spot closer to the top of the podium, but that's different; that's racing.
In more substantial news, Koobs left intensive care and was moved to a trauma ward at Santa Corona di Pietra Ligure hospital. He reportedly can move the fingers of his partially severed hand, and is doing well enough that the doctors have him scheduled for two surgeries on Friday. One is to fix the broken bones in his leg and ankle, then another on his right shoulder. Monday will see the docs go in to repair his shattered right elbow. Doctors are confident that he'll keep the hand, though they caution that such things are always in doubt. Good news indeed.
Renault has scheduled a mano y mano duel between Nick Heidfeld and Bruno Senna during this weekend's testing sessions to see who'll replace Koobs for the year. Senna, of course, drove for HRT last year... and drove down to the car's capabilities. Heidfeld drove for Sauber at the end of the 2010 season, but has 172 total starts under his belt. My money is on Grizzly Nick.
Finally, it appears that the old Ford/Ferrari enmity has burst back to the surface. It seems that the American auto maker didn't take too kindly to the Italian team's use of the "F150" name for their 2011 challenger. The name was chosen to celebrate the 150th anniversary of the unification of Italy, says Ferrari. Ford said "we don't care" and filed a lawsuit to protect their copyrighted "F-150" truck's branding, seeking for Ferrari to stop using the name and unspecified damages. The Prancing Horse immediately changed the name of the car to "F150th Italia."
Uh-huh. Yeah, that'll work. Nobody'll notice that.
Posted by: Wonderduck at 09:37 PM | Comments (2) | Add Comment
Post contains 402 words, total size 3 kb.
February 07, 2011
Robert Kubica Wrecks In Rally Race, Maybe Out For Year
Horrible news from the F1 world today, as Renault driver Robert Kubica is probably out for the entirety of the 2011 season following a massive crash during a rally race in Italy today. Driving a Skoda Fabia Super 2000, the Pole hit a wet patch of road and speared off into the side of a church. It rebounded from the wall and hit a roadside barrier, which is believed to have pierced the Skoda's footwell.
Co-driver Jakub Gerber escaped without serious injury. Kubica was lifted via helicopter to a nearby hospital with multiple fractures to his right arm and leg. The worst injuries were to his right hand, which was partially severed in the accident. He underwent seven hours of surgeries to reconstruct the hand, and was placed in a medically-induced coma to aid with the immediate recovery. All reports are that the surgery went well and that blood flow to the hand has been reestablished.
Doctors suggest that recovery will take about a year. However, depending on the damage he may still lose some use of the hand, which would almost assuredly end his F1 career. He may still lose the hand, as reattachment surgery is never a sure thing.
Obviously Renault is going to have to find a replacement driver for at least the start of the 2011 season. Bruno Senna and Lettuce Grosjean are the team's reserve drivers, though both are very inexperienced, and neither seem to be particularly good. Nick Heidfeld is still a free agent, as is Vitantonio Liuzzi. Nico Hulkenberg could probably be lured away from his reserve role with Force India, as well.
We here at F1 Update! hope for a smooth and quick recovery, and wish Kubica the very best!
Posted by: Wonderduck at 12:37 AM | Comments (5) | Add Comment
Post contains 298 words, total size 2 kb.
43kb generated in CPU 0.0188, elapsed 0.1118 seconds.
49 queries taking 0.0986 seconds, 253 records returned.
Powered by Minx 1.1.6c-pink.