February 13, 2009
The Rain In Bahrain Falls Mainly...
...in dreams. This off-season, a lot of F1 testing is being done at the circuit at Bahrain, thanks to the prompting of Toyota's Tech Chief, Pascal Vasselon. "The weather in Bahrain is perfect for testing. Never any rain, unlike Jerez, which always has rain."
So Toyota, Ferrari and BMW packed up and went to Bahrain, laughing at the poor suckers who were going to be rained on in Spain. Ha-ha-ha-ha-
haaaaaaa
! See, that's what they sounded like as they laughed.
But they forgot something. It doesn't rain in Bahrain, true, but it does get a little windy. And that, my friends, leads to...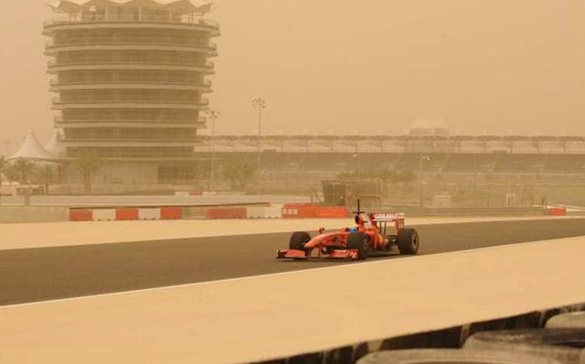 Yes, that's right: SANDSTORMS! For the past two days, Bahrain has been dealing with sandstorms, limiting each team to about 18 laps per car as the track has been closed.
Imagine having that sucked into a 19000 rpm engine...
Oh, and Jerez? The teams there are averaging about 110 laps/car. Whoops.
Posted by: Wonderduck at 12:26 AM | Comments (5) | Add Comment
Post contains 160 words, total size 1 kb.
25kb generated in CPU 0.0134, elapsed 0.1394 seconds.
45 queries taking 0.1311 seconds, 236 records returned.
Powered by Minx 1.1.6c-pink.