September 30, 2009
As If We Needed Another Reason To Hate HWMNBN, And Felipe Massa News
It's finally official: HWMNBN will be driving for Ferrari in the 2010 season. He'll be joined by Felipe Massa, and Giancarlo Fisichella will be the team's third driver.
Which means that Kimi Raikkonnen is out at Ferrari.
Of this, we shall speak no more, unless it is to heap derogatory comments upon it.
Speaking of Felipe Massa, however, he got back behind the wheel for the first time since his horrible accident in Hungary. Sure, it was in a Kart, but it's still the first step in getting back to F1 trim. He turned more than 60 laps on the kart track at his home circuit of Interlagos on Tuesday.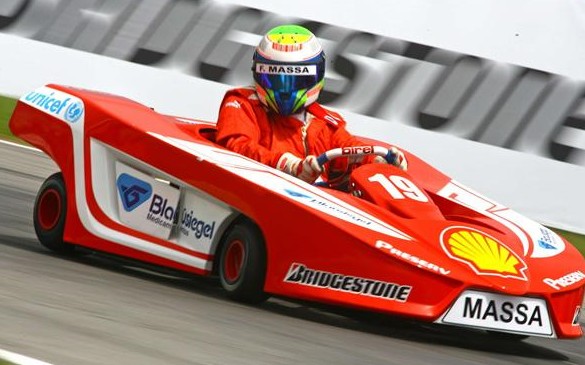 He did manage to beat Baby Yoshi and Diddy Kong, but lost to Mario.
Posted by: Wonderduck at 04:25 PM | Comments (10) | Add Comment
Post contains 137 words, total size 1 kb.
September 29, 2009
F1 on SPEED!: Japan 2009!
Three races left, and the F1 circus comes to the Land of the Rising Sun. But NOT the same track we've seen
the past
two years
! No more
Pole Position
jokes.
But that's okay, because the Grand Prix of Japan is returning to Suzuka!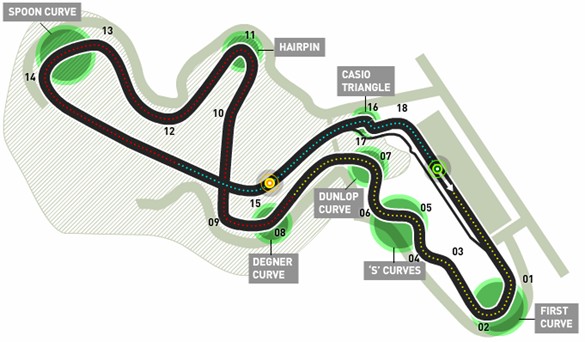 Understand, this is kinda like trading the Hungaroring and getting Spa in return. The Mt Fuji circuit is nice, but Suzuka is the one track that
every
driver loves. The only figure-of-eight layout on the calendar, it might have the best balance between manueverability and speed as well. The turns are challenging, but they're placed just right so they
don't
mickey-mouse the track.
Which is not to say the circuit is perfect. No, the powers-that-be took the Legendary Turn known as 130R and mangled it into Turn
14
15, now a double-apex left-hander. 130R (so-called for its radius of 130 meters) used to be, like Eau Rouge, a test of a driver's manhood: only the bravest could take it flat-out. In 2003, however, it was broken up into two separate turns for safety's sake, as it had been extremely dangerous.
Allan McNish's crash in 2002
turned out to be the final straw. While he walked away with minor injuries, everybody concerned knew that it was only luck that he wasn't killed. In a cruel twist of fate, motorcycle racer Daijiro Kato was killed in the reprofiled turn in 2003.
As a high-speed circuit, don't be surprised if we see a return to prominence by the Force India cars, by the way. While manueverability is important at Suzuka, it's high-speed manueverability we're talking about (unlike, say, Singapore or Monaco), and FI has shown that it can do that.
There's plenty of elevation changes through the length of the track, so the drivers feel like they're actually going somewhere, too. Downforce levels are expected to be medium-to-high.
SPEED'll be bringing us all the usual action, but NOT at the usual times. Yes, Japan is one of the few races we here in the US can actually watch live without waking up waaaaaaaay too early! Practice 2 comes to us from midnight to 140am Friday morning, with Quals starting at the same time and going until 130am on Saturday morning.
For the race, however, SPEED is pulling out all (well, most) of the stops. From 10p to 11p on Saturday night, we get to see "F1 Rocks!", a three-night concert during the Singapore GP. From 11p to 1130p, they'll show us "Inside Grand Prix," the promo show brought to us by Allianz ("Doing stuff with other people's money: Allianz") and Mr Snooty-Voiced Guy. Finally the race coverage proper begins at 1130pm and goes until 2am.
There'll be a replay from 9pm to 1130pm Sunday night. All times are, of course, Pond Central time. Add one hour for Eastern, subtract two hours for San Francisco time (you listening, Vauc? Maybe find a sports bar or something!), and minus several million hours if you're a time traveler.
This time around, I expect to provide my usual coverage, so we'll see you here!
Posted by: Wonderduck at 09:15 PM | Comments (3) | Add Comment
Post contains 516 words, total size 4 kb.
September 27, 2009
F1 UPDATE!: Singapore 2009!
Lightning near the track, stunning in the darkness... did we get the first wet night race in F1 history? THIS is
your
F1U! for the 2009 Grand Prix of Singapore!
*MCLAREN MASSACRE
: Lewis Hamilton got a gift pole on Saturday when Rubens Barrichello's crash brought out a red flag just as everybody was beginning their final runs. The McLaren driver took full advantage of his present, running away with the victory. The only time the reigning world champion didn't lead was when he was in the pits. If only their car had been this good at the beginning of the season, he'd be a legit contender now. Instead, he's just looking for as many points as he can get.
*BRAKES BOLLIXED
: Singapore's Marina Circuit is known to be hard on brakes. Lots of turns mean they got hot quickly, and essentially never cool down. As they get hotter and hotter, the carbon starts to fail, slowly sloughing away in ever-increasing clouds of brake dust. This has the effect of causing them to go into a death spiral: the loss of mass means they have less ability to radiate away the heat, causing them to fail faster, sending more dust into the air, and losing more mass. To make things worse, the carbon discs get so hot that the aluminum brake calipers actually begin to deform, meaning the drivers have to stomp on the brakes even harder to get them to work... and that increases the heat even farther. Today, both Toro Rosso chargers withdrew with brake problems, as did Renault's Lettuce Grosjean. Red Bull's Mark Webber saw his slim championship hopes disappear when his front-right brake disc exploded, sending him into the wall in a lurid skid. His teammate, Sebastien Vettel dialed his bias nearly all the way to the rear in an attempt to keep his front brakes from a similar fate. Championship leader Jensen Button had to slow down late in the race for the same reason. All of these cars use Brembo brakes. The other teams, users of Hipco or Carbon Industry brakes, certainly had brake wear but nowhere to the extent of the Brembos.
*BUTTON, BARRICHELLO BATTLE
: WIth his fifth-place finish, Championship leader Jensen Button added another point to his lead over teammate Rubens Barrichello, who finished in 6th. Increasing his total to 84, he's nearly eliminated Seb Vettel and his 59 points as well. With three races left, Rubens is 15 points adrift. As a team, BrawnGP has a 42.5 point lead over Red Bull for the Constructor's Championship as well.
*DRIVER OF THE RACE
: His career is in jeopardy. His team is desperate for a good result. Today, Toyota's Timo Glockenspiel announced that he needs to be looked at for 2010 by bringing his TF109 home with a strong 2nd place finish after starting 6th. He's proven that he's a good driver this season with repeated points-scoring results after starting waaaaay down the grid (and sometimes from the pit lane), and today it all came together.
*TEAM OF THE RACE
: No one team really distinguished itself today, so we'll give the award to BrawnGP. They finished 5th and 6th, and nearly clinched the Manufacturer's Championship in the process. Not bad for a first-year team.
*MOVE OF THE RACE
: None whatsoever. After the opening lap, if there was an on-track pass, we never saw it. Oh well. So, instead, we'll give it to the unnamed trackworker who braved oncoming cars to dash onto the circuit and remove a piece of bodywork from the racing line. A dangerous move indeed, despite the local yellow flags. Well done!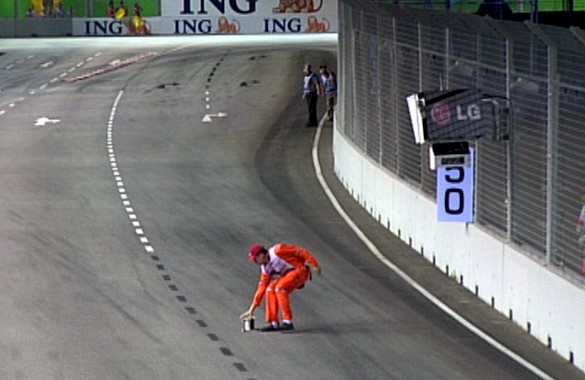 *MOOOOOOO-OOOVE OF THE RACE
: Force India's Adrian Sutil had been desperate to get past NKOTT for a few laps. He could get close, but couldn't quite make a move. On lap 21, however, he seemed to see something open up and made his try. It didn't work, and in an almost comical result the Force India performed a slow-speed pirouette as NKOTT continued on his merry way. Sutil, however, quite used to watching the world go spinning around his helmet, kept his foot on the gas pedal and kept the car rotating without coming to a stop and immediately began to advance back onto the track...
...right into the side of the BMW of Grizzly Nick Heidfeld.
Heidfeld was out on the spot. Sutil managed to limp back to the pits despite having the entire nose back to the suspension removed, though he would retire from the race four laps later. Whoops.
*DRIVER QUOTES OF THE RACE
:
more...
Posted by: Wonderduck at 03:31 PM | Comments (2) | Add Comment
Post contains 1088 words, total size 8 kb.
September 23, 2009
F1 On SPEED!: Singapore 2009!
F1 marches on.
This time around, we head to Singapore, a track with a difference. And what difference is that?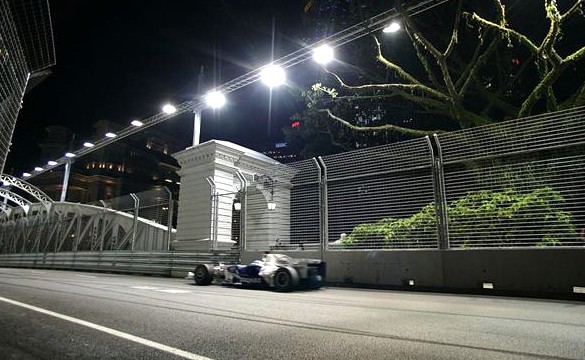 Yep, it's the only night race on the F1 calendar. Oh, make no mistake, Abu Dhabi will have part of their inaugural race at night, it's true, but Singapore is entirely without sunlight. Last year's race had some... um...
interesting

moments
in it, for which Renault received a two-year suspended ban, but will the second year match up? Let's take a look at the track map, shall we?
The street circuit at Singapore (and it is a
true
street circuit, unlike Valencia) is probably the most
interesting
track on the calendar to my eyes. Oh, don't get me wrong, it's not as fun as Spa, or as difficult as Monaco, or anything like that, but it's full of... um...
easter eggs
for the watcher.
The cars race past some interesting buildings, including the legendary
Raffles Hotel
and the Fullerton Hotel as well. There's a straightaway that's actually a bridge (between turns 13 and 14). It actually runs beneath the some grandstands in the short chute between 18 and 19. It passes under a highway near turn 1. There's a shorter bridge between 12 and 13. All in all, it's a fun track to look at.
To drive, however, not so much. To a man, the drivers decried the circuit, calling it dangerous and unforgiving. Felipe Massa called the curbs around the track "little tortoises that would wreck the car if you get something wrong." Lewis Hamilton said that it was twice as hard to drive as Monaco, particularly when you take into account the hot and humid Singapore weather. The release point for the pit lane was also a major accident waiting to happen, as it had cars rejoining the track just before the entry to the first turn. Some points of the track were also incredibly bumpy, to the point where drivers were concerned that their suspensions were at risk just from driving on the circuit.
Well, they can't do anything about the weather, but modifications to the circuit have been made for 2009. The pit exit has been repositioned to come after turn 1, and the entry is now before turn 22, instead of actually
in
the turn. The tortoises have been filed down, and some curbs have been repositioned to boot. As a result, the track has been slightly lengthened, from 5.067km to 5.073km. The turn 10 chicane, which was named "Singapore Sling" in a poll of local F1 fans, has been tightened up a touch, so as to slow it even more. Finally, the worst of the bumps in the street have been resurfaced.
As one would expect with a street circuit, Singapore is a high-downforce track, much like Monaco in that regard. It's also a very tough track for brakes, maybe as hard as the Canadian track (though in a different way). With 23 turns, they get hot fast, then stay that way for the whole race, meaning heavy wear. Canada has slow turns coming after long straights, meaning the brakes get too cool and don't work as well. That means they're used harder for those turns, meaning more wear.
The good folks at SPEED will be mostly bringing us their usual sterling coverage, of course. Friday's second practice comes to us live from 830am to 1010am. Saturday's coverage of Quals is scheduled from 9am to 1030am, but may be shortened by a half-hour due to conflicting coverage of the American LeMans Series "Petit LeMans" race, which begins at 10am. If that's the case,expect them to show only the last few minutes of Q1, if at all. The race comes to us LIVE on Sunday from 630am to 9am, with a replay from 130pm to 4pm.
A programming note: there will probably be no Quals post on Saturday here at The Pond, and any post on Practice will come very late, if at all. The F1 Update! will, however, arrive as usual on Sunday.
See you then!
Posted by: Wonderduck at 10:26 PM | Comments (2) | Add Comment
Post contains 677 words, total size 4 kb.
September 16, 2009
F1 News & Notes: Big Stuff Edition
With Renault's hearing on the whole
Nelson Piquet Jr crash at Singapore
last year coming up this Monday, it appears that the team is bracing for a bad result. Earlier today, executive director of engineering Pat Symonds and team boss Flavio Briatore left the team, though it is currently unknown if the two jumped or were pushed. However, there is this: Renault also announced that they "will not dispute the recent allegations made by the FIA concerning the 2008 Singapore Grand Prix."
In other words, someone at Renault, the company, has decided that someone high up in the Renault, the team asked Piquet Jr to crash, and has taken steps to try and minimize the overall damage. Since the two most likely candidates for the order have now left F1, the team is probably hoping that the World MotorSports Council (WMSC) will be lenient in whatever penalties they hand down.
Fortunately for us, a lot of evidence has been leaked to the media over the past few days. Everything from a copy of Piquet Jr's statement, telemetry data from his car during the crash (which shows that he accelerated through the crash, instead of braking as one would normally do when control is lost),
transcripts of Renault's radio conversations during the incident
, to a transcript of Symonds' interview with FIA investigators have all come to light, and it isn't a pretty picture for the team.
For example, here's a snippet from the Symonds' interview:
Investigator
: "Mr Symonds, are you aware that there was going to be a crash on lap 14?"
Symonds
: "I don't want to answer that question."
Investigator
: "Mr Piquet Jr says, having had the initial meeting with you and Flavio Briatore, you then met with him individually with the map of the circuit. Do you remember that?
Symonds
: "I won't answer. Rather not answer that. I don't recall it, but it sounds like Nelson's talked a lot more about it."
Investigator
: "Mr Piquet Jr also says that at that meeting, you pointed out a specific place on the circuit where he was to have the accident and said it was because it was the furthest away from any of the safety or lifting equipment, and gave the most likely chance of a safety car being deployed."
Symonds
: "I don't . . . I don't want to answer that question."
Ouch. Penalties could range anywhere from a slap on the wrist to full exclusion from the season.

In other news, Team Lotus is back in F1! They were awarded BMW's spot on the grid for 2010 since the German manufacturer withdrew from the sport after the
announcement of the three new teams
. The brand is currently owned by a Malaysian consortium, though the company itself is still based in Norfolk, England. For the time being, the team itself will stay in England until a new technical center is built at the Sepang raceway. In a statement, the team announced that "the car will be made in Malaysia by Malaysians," and will name their drivers by October 31st. They'll be using Cosworth engines, like the other three new teams.
Finally, BMW has been given the 14th spot on the grid. I can hear you thinking "huh? Didn't they quit the sport?" Well, yes, they did... but nobody wanted a F1 team that wasn't going to be allowed to actually
race
in F1, so the team duly reapplied to be accepted for the 2010 season. The FIA hasn't actually given them the right to race in 2010 yet, though. At the moment, the 14th slot only means that if any other team drops out of the Championship *coughRenaultcough*, the team that was BMW will get their spot. In addition, there is some speculation that the FIA will allow all 14 teams to run in 2010 anyway. At the same time, BMW announced that the team had been purchased by Swiss company Qadbak Investments, and it appears that the Sauber name will still be associated with the team.
So, there's the latest news from the F1 World.
Posted by: Wonderduck at 08:19 PM | Comments (3) | Add Comment
Post contains 683 words, total size 5 kb.
September 10, 2009
F1 Weekend Reports May Not Happen This Race
Okay, here's the deal. As you're all aware, Momzerduck has a poorly functioning liver. What I've been trying to not mention this past week is what's been going on.
This past Saturday, she went to the ER with terribly swollen legs... so swollen that they hurt quite badly, and they also had a bad rash (we thought). It turns out the fluid built up so much in her legs that they became infected; that was the rash-like substance.
She wound up staying in the local hospital until Tuesday afternoon, at which point the docs decided two things: A) she was going to be hospitalized at least through the weekend, and 2) she'd be better treated if she was moved to a hospital in Chicago, where her liver specialist was based... and the Transplant Board (the keepers of The List) was located.
She's doing okay there, though she's not getting anywhere near enough sleep (a common complaint of hospital patients everywhere... everytime they doze off, another doctor or nurse comes in). They've put her on a new medication, which is already starting to show some good results in regards to her legs, but she's going to be in the hospital at least through the weekend dealing with this.
I am going into Chicago to see her after work tomorrow, and the earliest I'll be back is Saturday afternoon or evening. I might be staying through Sunday, we dunno yet. As a result, there's no way in the world I can do Friday Practice coverage, and likely won't do Quals, either, unless it's just a quick blurb Saturday night.
I'll be recording Sunday's race, but there's no way of knowing when I'll get a chance to watch it... it might not be until Monday or Tuesday night.
So, just wanted to warn y'all.
Posted by: Wonderduck at 07:35 PM | Comments (5) | Add Comment
Post contains 311 words, total size 2 kb.
September 08, 2009
F1 on SPEED!: Italy 2009!
Monza. Flat-out, eyeball-watering, bury-the-pedal-and-hold-on speed. Nothing more, nothing less. And the Italian nation loves it.
Here's the map: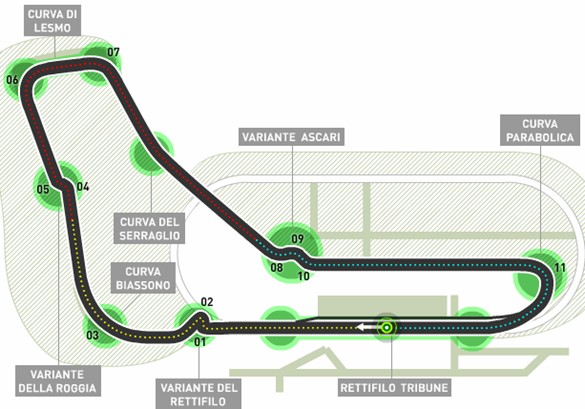 There was once a time when the various chicanes didn't exist, when a driver only had to move the steering wheel five times a lap. Those days are gone, sacrificed in the name of safety, and I think that's a good thing... though to be honest, I wouldn't mind seeing a F1 car go blasting around the circuit at full throttle. Still, Monza is the fastest track on the calendar.
In fact, it's so fast that the FIA has decreed that there's going to be new, higher, curbs at Variante del Rettifilo and Variante della Roggia this race, to prevent drivers from straightlining those chicanes. I'd also suggest landmines and deep pits with tigers at the bottom.
The Parabolica is the fastest turn in F1, nearly 180mph as you exit. You hit 210 just before the first chicane. Over three-quarters of a lap is done at full throttle. Just astonishing numbers in comparison to the rest of the season.
And SPEED'll be bringing us their usual coverage , starting on Friday with LIVE video from 2nd Practice from 7am to 840am. Saturday brings us Quals from 7am to 830am. The race itself is Sunday, from 630am to 9am, with a replay at 330pm (all times Pond Central).
Hopefully, I'll be bringing you the usual sterling reportage you've come to expect from F1 Update! on Sunday as well.
See ya then.
Posted by: Wonderduck at 07:19 PM | No Comments | Add Comment
Post contains 253 words, total size 2 kb.
September 04, 2009
Nelson Piquet Jr's Revenge
Hell hath no fury like Nelson Piquet Jr scorned.
Today, the FIA officially charged Piquet Jr's former team, Renault, with 'fraudulent conduct' in relation to the 2008 Grand Prix of Singapore. In that race,
you may remember
, HWMNBN pitted early in the race (lap 14), and almost instantly after he exited the pit lane in 15th place, Piquet Jr spun and crashed, bringing out the safety car.
Even at the time, it seemed an odd crash.
When the pit lane opened two laps later, everybody went in for fuel and tires, leaving HWMNBN in first place, a position he would never relinquish as he garnered Renault's first win of the season.
The charges levied against Renault stem directly from evidence provided by Piquet Jr, and read (in part): "
The team representatives have been called to answer charges, including a breach of Article 151c of the International Sporting Code, that the team conspired with its driver, Nelson Piquet Jr, to cause a deliberate crash at the 2008 Singapore Grand Prix with the aim of causing the deployment of the safety car
to the advantage of its other driver, (HWMNBN)

."
Article 151c reads as follows: "
c) Any fraudulent conduct or any act prejudicial to the interests of any competition or to the interests of motor sport generally."


This is the same section the FIA used to hit McLaren with the
Death Penalty back in 2007
, by the way. In that case, the World Motor Sport Council essentially said that, while they could find no evidence that McLaren used any of Ferrari's designs in their car,
they didn't need to have proof
. McLaren was fined $100million, and the team was excluded from the results of the 2007 season.
While that penalty seemed harsh at best, and draconian at worst, I would have to assume that the FIA is looking at a similar penalty now for Renault. Unfortunately, they have only the word of a disgruntled ex-employee to go on... but they need nothing more, apparently.
If, in fact, Renault is excluded from the remainder of the season, don't expect to see their cars on the grid for the rest of the year. Unlike the McLaren Penalty, where the drivers were cleared of any wrongdoing in the matter, one would have to assume that HWMNBN would be slammed, since he benefited directly (and may have even come up with the idea) from the team's orders. Since Piquet Jr is already out of F1, the team's other car will probably be yanked by the FIA out of anger or spite.
The rest of the fallout could be even worse. Considering the rumblings coming out of Renault as of late (and, in fact, for the past few years), there's every chance that the team would officially withdraw from F1 and shut down.
I find it...
interesting
... that HWMNBN is involved with both of these cases. Unsurprising, but interesting. There's a reason HWMNBN is called HWMNBN, after all, and it all stems from the 2007 McLaren Debacle. He's already proven that he's not above trying to screw his teammate for an advantage, and with the backing of team principal Flavio Briatore, who knows what mischief he'd be capable of brewing.
Also interesting is the question of what will happen to Piquet Jr now? Will he be hailed as a whistleblower who got bent over by his more powerful teammate, with his driving suffering as a result? Or will he be forever known as a mediocre racer who ratted out the team that paid him megabucks while getting crap performances from him?
Time will tell, and we'll find out the result of the FIA's hearing on September 21st... ironically, the Monday before this year's Grand Prix of Singapore.
Posted by: Wonderduck at 08:05 PM | Comments (6) | Add Comment
Post contains 624 words, total size 4 kb.
September 03, 2009
Filling For Felipe, Fisi Flees F.I. For Ferrari
Sometimes rumors really
are
true, I suppose. Giancarlo Fisichella, who's driven for the up-and-coming Force India team for the past two seasons, was today released from his contract by team owner Vijay Mallya. He was then signed by Ferrari to fill the injured Felipe Massa's seat for the rest of the season.
Fisi celebrates Force India's crowning moment of awesome.
"We have chosen Fisichella because we can expect him to make a valuable contribution in this final part of the season," said Stefano Domenicali, team principal for Ferrari. "Giancarlo has shown, throughout his long career, that he is fast and competitive and we are therefore proud to be able to run an Italian driver in our home race."
"I'm in seventh heaven," said Fisichella in an interview with
Ferrari.com
. "I still can't believe it that the dream of my life comes true and I want to thank Ferrari and Chairman Luca di Montezemolo. Over the last week some really incredible things happened to me: the pole position and then second place at Spa and now I'm called by Ferrari to race the last five races of the season for them. I'll give my best to recompense the Scuderia for this great opportunity they gave me: I know that it won't be easy, but I'll give it everything to gain the best possible results." He then wiped the drool off his chin.
I suppose I don't blame Fisi. If I was handed my dream job on a silver platter, I'd likely quit whatever place I was working at so fast, I'd burn stripes in the carpet on my way out the door. Still, his incredible enthusiasm about leaving Force India for Ferrari seems... I dunno, unseemly.
Vijay Mallya said, "
For Force India, this sport is a team effort and removing one part, even a major one, will not significantly affect our performance. The competitiveness of the team seen in Belgium was a result of hard work in the factory and wind tunnel and we have further developments coming for the final races, so we are confident this momentum can be sustained. We are now looking forward to a strong finish to the season."

There are rumors that Force India still owes Ferrari some four million dollars from last year's engine contract. Mallya (personal net worth: $1.4billion) denied, however, that there was any financial settlement between the teams for Fisi. Take that for what it's worth, I suppose.

And while I've been quite hard on him over the past two races, spare a moment's thought for Luca Badoer, the man Fisichella is replacing in the cockpit. Sure, Badoer was brutally slow during his two-race span for Ferrari, but he served the Scuderia well over the past 10 years as the team's primary test driver. He had an almost impossible task in front of him, being dropped into the seat of a F1 car that he hadn't driven and was expected to perform well when he hadn't driven in a race since 1999. When he, an Italian, got a chance to drive for the legendary Italian team, he peed the opportunity right down the leg of his firesuit, just in time to miss out on driving at his home track of Monza.

That's gotta hurt, and hurt bad. I hope Ferrari keeps him on as their test driver; he deserves

that

, at least.

Meanwhile, Force India has yet to name their replacement for the departed Fisichella. It's expected that

their

test driver, Vitantonio Liuzzi will be tabbed. He last drove in F1 during the 2007 season; Liuzzi was replaced at Toro Rosso by the now-fired SeaBass.

So... there you have it.

Posted by: Wonderduck at 06:25 PM | Comments (1) | Add Comment
Post contains 616 words, total size 4 kb.
September 01, 2009
Our Friend Zsolt
I need to set this up. The year is 2004. The race is the United States Grand Prix. The broadcaster is Hungarian. The subject is Zsolt Baumgartner, three laps behind the eventual winner (Slappy Schumacher). 11 of the 20 cars in the race have retired, leaving Zsolt in 9th place, behind only Giancarlo Fisichella... who is about to have a malfunction.
Zsolt the Bolt is about to earn his first and only point, and the only point ever earned by a Hungarian driver in F1. Enjoy the broadcasters!
This may have been the happiest I have ever been in my years of being a F1 fan.

Posted by: Wonderduck at 08:03 PM | Comments (4) | Add Comment
Post contains 109 words, total size 1 kb.
79kb generated in CPU 0.0195, elapsed 0.0824 seconds.
53 queries taking 0.0698 seconds, 285 records returned.
Powered by Minx 1.1.6c-pink.