June 30, 2014
F1 on TV: Great Britain 2014
There was once a time when I would wax grandiloquent about Silverstone, the home of this week's stop on the F1 calendar, the Grand Prix of Great Britain. I would praise the Maggotts-Becketts-Chapel complex as my favorite stretch of track in F1. I would speak warmly about its prior life as a bomber training base in World War II. I'd even gush over the classic names given to locations on the circuit: the Hangar Straight. Stowe, Woodcote, Copse, Abbey, and all the rest. I would then end my gushing by proclaiming that Silverstone is probably my favorite of all F1 tracks. Oh, and here's the track map:
I suspect I've gotten jaded in my years of F1 watching. Or it may just be because
the changes made to the circuit a few years ago
were like covering a pretty girl with ugly tattoos, and probably just as necessary. What I'm saying is that it's not my favorite anymore. Oh, I'll always hold a place in my heart for the beautiful circuit of my dreams, but she's been supplanted. If I'm still doing this gig when we reach the new Favorite Circuit, I'll let y'all know.
Frightening thought: this is going to be the tenth GPGB I've done here at The Pond. Just go click on "July 2005" and it's right there... and at 924 words, it's nearly as long as the F1U's I do now. Funnier, too.
So, yeah, Silverstone! This is going to be one of the races that NBC moves around for whatever reason, so this "on TV" bit is particularly important this week... pay attention!
FRIDAY
Practice 2: 8am - 930am live on NBCSN
SATURDAY
Quals: 7am - 830am live on NBCSN
SUNDAY
Grand Prix of Great Britain: 630am - 9am live on CNBC
F1U! will be watching... will you?
Posted by: Wonderduck at 09:19 PM | No Comments | Add Comment
Post contains 309 words, total size 2 kb.
June 21, 2014
F1 Quals: Austria 2014
It's always exciting when the Circus comes to a new racetrack, and so far it seems like everybody and their sister loves the RedBullRing. At least, not a single driver has said a negative word about it where an ink-stained wretch from the media could hear it, which is not the same thing. The assembled reportage staff speak of the Media Center in the same hushed, reverent tones that you might hear used when referring to the Sistine Chapel. In short, Dieter Materschitz has spent his energy-drink money wisely. But all of that is mere water under the bridge if the race stinks, and the first step to stinky racing is Quals. So how'd those go today?
Last race, we saw Mercedes dream of a clean sweep of wins go by the wayside. This time around, it's the pole position sweep gone, and from a highly surprising source no less. It's Williams with the front row lockout, and Felipe Massa taking the honors of place. You could have knocked me over with a feather.
A lot of the reason for this stunning upset was the FIA putting their foot down and saying "if you run wide at Turn 8, if all four tires cross the white line delineating the border of the track, your lap will be excluded. No arguments allowed, the track border is the track border." Reportedly half the field had at least one lap nixed during the Qual sessions today, the primary sufferer being Lewis Hamilton. His first timed lap in Q3 would have ultimately put him third on the grid, but was disallowed. His second attempt ended early after a big spin at Turn 2. Force India's Nico Hulkenberg also had his one flying lap killed by a track violation.
The big shocker, though, has to be 4Time Vettel not even making it to Q3. His final try to get up into the Top 10 at Red Bull's home race came to a swift end when he ran wide at Turn 3. Even your sleep-deprived Pond Leader knew this was quite the moment, as I managed a quiet "yay". But I'm not biased. I just enjoy knowing that Vettel is going to whine and moan some more, revealing his true colors to the world. Where's that finger now, Sebby?
But let's step back from the schadenfreude and instead celebrate Felipe Massa's first pole position since 2008. Yeah, it's not going to mean much once the race starts and the Mercedes cars start their charge, because it's clear that the Silver Arrows are still the class of the field, but there's that brief glimmer of hope, of mechanical insecurity for Mercedes. Hamilton went off due to his rear brakes locking up... another brake failure like in Montreal could take both him and Rosberg out of contention easily.
And if
that
happens, we suddenly get the image of Felipe Massa racing against HWMNBN for a race win, this time with no Ferrari team orders getting in the way... and who doesn't want to see THAT?
Race is Sunday, we'll be here!
Posted by: Wonderduck at 05:09 PM | Comments (6) | Add Comment
Post contains 670 words, total size 17 kb.
June 16, 2014
F1 on NBCSN: Austria 2014
We're slightly giddy around Pond Central today. Not only did we survive the store visit last Friday, not only did we get a surprise rubber duckie in the post this weekend (more to come about that!), but we've got a brand new race track to enjoy when the F1 Circus makes its way to Spielberg Austria, home of the RedBullRing! Let's take a look at this n00b:
One thing we can say for sure: it isn't a Tilkedrome! (Though it was the first circuit he redesigned for F1, as it turns out... read on!) Nor is it really a new circuit, either, as F1 used to race here; most recently from 1997 to 2003, when it was known as the A1-Ring It was purchased by the team sponsor in 2004, renovated, brought up to F1 standards, and slotted into the calendar when the Grand Prix of Weehawken was postponed (again). So here we are. What sort of circuit is it? It's short, fast, with a pleasant amount of elevation change, but best of all... it flows nicely. None of this start-stop-start-stop crap we're "treated" to at all the new circuits, oh no. Actually, here's a (loud) video to give you an idea...
I don't want to scare any of you, because I know how foreign this is going to sound to you all, but... I
like
it. A
lot
. I suspect this is gonna be a fun one! The current lap record is from the 2003 race, 1:08.337, set by Slappy Schumacher.
Speaking of Herr Schumacher, there is news. He was moved today from ICU to a rehab hospital, while his spokesman proclaimed that he's no longer in a coma. Certainly good news, except it's nothing new: he's been out of the coma since some time in April, when it was reported that he was opening his eyes and having some minor interactions with the world. That's called "being out of coma." So today's news... isn't really news at all, except for the being moved to a different hospital bit. So on one hand, yay, but on the other? He's still not likely to be able to feed himself, or possibly even breathe for himself, for a very long time to come, if ever. The weird thing about the brain is that a ridiculously fit man like Slappy may not have a brain that can "rewire" itself around the damage inflicted, while a 46-year old sedentary man who writes about F1, has never driven a manual car in his life, and has only once driven about 100mph, might have a brain eminently suited to rewire itself. We just don't know until it happens. If it does. What I'm saying is, Good Luck, Michael. You were far from my favorite driver, but I'm pullin' for you now.
This weekend's coverage, brought to you by the Legendary Announce Team, will be as follows:
FRIDAY
7a - 830a: Practice 2 live on NBCSN
SATURDAY
7a - 830a: Quals live on NBCSN
SUNDAY
630a - 9a: 2014 Grand Prix of Austria, live on NBCSN
Of course, the good folks of F1U! will be gathered for their usual hijinks, so why not join us? So there, hah!
Posted by: Wonderduck at 09:07 PM | Comments (3) | Add Comment
Post contains 537 words, total size 3 kb.
June 07, 2014
F1 Quals: Canada 2014
Mercedes is the class of the grid this year, clearly. Between Lewis Hamilton and Nico Rosberg, they've had every single pole position to date. They've won every race this season as well, but that's beside the point right now. Either one of the two could easily win pole... but! Hamilton
loves
this circuit. The best drivers have "their" tracks: Senna owned Monaco. Schumacher owned... well,
everything
, but he held Spa dear in his heart. Prost was France, Jim Clark owned the British GP, and on and on. Well, Hamilton claims Montreal as
his
. So how far ahead of his teammate did he finish in Quals? Let's take a look at the provisional grid for the 2014 Grand Prix of Canada:
There will be blood in the Mercedes mobilehome tonight. Hamilton must be chewing 10p nails and pissing hate right now. This can't end well... I just can't see it. SOMEwhere down this season, there's going to be an explosion. This business will get out of control. It will get out of control and we'll be lucky to live through it... because it'll make for GREAT drama!
Really, is there anything else important on the grid? 4Time managed to qualify third, but he's 22nd of 22 when it comes to top speed through the trap. Guess who's first? Well, yeah, Nico Hulkenberg, but the two Mercedes are way up the list. Unless there's a failure, I will NOT bet against the Silver Arrows.
The only reason it isn't as dull as Vettel's domination is that with Mercedes, either driver has a chance. The past four years, Red Bull put everything behind Vettel, and the devil take Mark Webber.
The race is at 1pm Pond Central Time Sunday on NBC, so everybody can watch it (not owning a TV isn't an excuse)... see ya there!
Posted by: Wonderduck at 05:04 PM | Comments (4) | Add Comment
Post contains 458 words, total size 16 kb.
June 03, 2014
F1 on TV: Canada 2014
The next stop on the European leg of the Formula 1 calendar is... Montreal? It must be the whole French-Canadian thing, I suppose. Mon dieu, those European people are odd. Still, if they're going to claim a Canadian racecourse for their own, this is the one to choose. Let's take a look at the map for the Circuit Gilles Villeneuve, on the Ile Notre-Dame, in the St Lawrence River, Montreal, Quebec, Canada.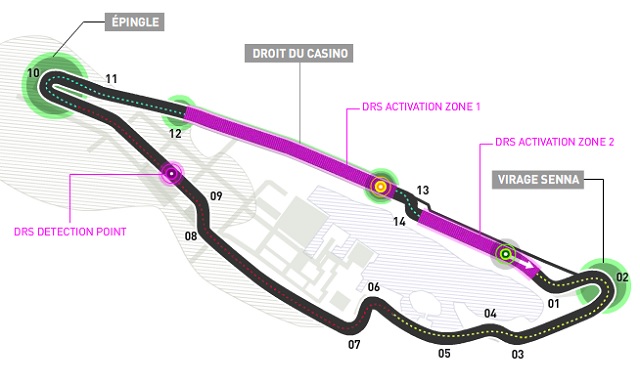 It's the anti-Monaco, all fast straights with heavy braking for sharp turns. It's a fun track, one that's given us such classic moments as the pavement coming up in chunks, the Montreal Marmot Massacre, the 2011 four-hour extravaganza, and the
Robert Kubica wreck
, still the worst accident I've seen in F1. We've also seen a lot of great races here, and maybe we'll get one this year.
I'm not holding my breath. F1 is really the same as the past few years now, just with silver cars instead of purple-blue. Except that, say, last year, I could imagine someone beating the Red Bulls. Still, our friends in the Legendary Announce Team will be doing their level best to make it an interesting broadcast, so lets take a look at when they'll be doing their thing!
FRIDAY
Practice 2
: 1p - 230p live on NBCSN
SATURDAY
Quals
: 12n - 130p live on NBCSN
SUNDAY
2014 Grand Prix of Canada
: 1pm - 3pm? live on NBC (the Big Network)
So gather up your Tim Horton's, pour a Labatt's, load up a plate with poutine, and then realize that Canadian cuisine is awful. Then watch the race! See ya then!
Posted by: Wonderduck at 09:06 PM | Comments (4) | Add Comment
Post contains 274 words, total size 2 kb.
72kb generated in CPU 0.0473, elapsed 0.369 seconds.
48 queries taking 0.3349 seconds, 256 records returned.
Powered by Minx 1.1.6c-pink.