August 28, 2011
F1 Update!: Belgium 2011 Not Coming Tonight
...and I don't care. I'm not in the mood to write about the 2011 Grand Prix of Belgium. I may never write about it. Seb Vettel won, Hamilton crashed, Slappy had a great race and finished 5th. I'm tired, I'm irritated, and to be blunt, I just don't feel like spending two or three hours trying to create a coherent narrative about the race right now. Here's Hamilton obliterating an advertising panel... enjoy.
Posted by: Wonderduck at 06:35 PM | Comments (14) | Add Comment
Post contains 80 words, total size 1 kb.
August 27, 2011
F1 Quals: Belgium 2011
I still haven't watched Quals, so here's the provisional grid with a minimum of conversation:
Guess what? It rained at Spa; go figure. As a result, the grid is a little jumbled. NKOTT in 6th? Bruno Senna 7th? Button 13th? Lap times in the 2-minute range? It must have dried out substantially for Q3, though.
Slappy had a run-in with a wall early in Q1, which is why he's got a "No time." He'll surely be allowed to race, though. Lord only knows if the three other DNQs will be allowed to participate, though considering the weather I suspect they will. Rabbi Maldonado qual'd 16th, but he's received a five-spot grid penalty for intentionally running into Lewis Hamilton after Q2 ended, after an altercation during the session.
Oh, look! Vettel is on pole. Who'dathunkit?
Race in the morning. I have no idea when the F1U! will go up. It might be Sunday, maybe Monday, maybe a week from next Tuesday. We'll see. Keep your eyes peeled, though... I've only missed two writeups in six years of this stuff; one of them was because of a bad thunderstorm, the other because of That Terrible Weekend two years ago. A flooded bookstore shouldn't stop me. See you soon.
Posted by: Wonderduck at 10:55 PM | Comments (1) | Add Comment
Post contains 370 words, total size 15 kb.
August 26, 2011
F1 Practice: Belgium 2011 (take two)
If it isn't raining at Spa, it's getting ready to. It's a F1 cliche, but cliches get to be cliches by being repeated, usually because, well, they have basis in fact. So guess what it did today during the two Friday practices?
If you guessed "rain", you win the no-prize. There were about five minutes at the start of the first practice where it wasn't raining. The track was slowly improving through the afternoon practice until, just as the teams put on dry tires, it began to pour again. As a result, nobody got much data other than figuring out just exactly where the driver would stick the car in the wall. So, short day on track all around.
However, there's a couple of big news items to discuss. The first is that Renault has unceremoniously booted Grizzly Nick Heidfeld from his drive. Team boss Eric Boullier said "I think it didn't work. His leadership didn't work in the team and when you are sometimes slower than (Red Menace) Vitaly (Petrov), in fact most of the time slower than Vitaly, it is difficult for him to push the team and to settle himself as the team leader." In reply, Grizzly Nick said "I have a valid contract, I want to drive," and filed suit in London's High Court to regain his seat. There's something smelly coming from Renault, and it isn't the cheese. I'm sure it's only a coincidence that the Bearded One was being paid €250000 per start and Renault is reportedly desperate for funds, not only for this season but for next. Of course, The Red Menace brought a metric farkton of sponsorship money with him for his seat. But who has replaced Grizzly Nick?
Ladies and gentlemen, may I reintroduce Bruno Senna, last seen driving for HRT in 2010. Somewhere, Grizzly Nick Heidfeld was pointing at the monitor and laughing.
The other bit of news is that this weekend is a major moment in the career of one of the F1 legends, for this is the 20 year anniversary of Slappy Schumacher's debut in the sport. In 1991, he was drafted into service for the Jordan team when their regular driver, Bertrand Gachot, was imprisoned for two months for spraying a taxi driver with teargas (and really, who amongst us hasn't wanted to do that?). He proceeded to qualify the Jordan 191 7th for the Grand Prix of Belgium, making his more experienced teammate, Andrea de Cesaris, who qualified 11th, look awful. Slappy would be forced to retire on the first lap of the race with a gearbox full of neutrals, but it was the start of one of the greatest careers ever. This week, Slappy is wearing a special commemorative helmet.
Say what you want about Slappy, and believe me, I have, he's one of the best. Was one of the best. Something like that. Whatever.
It's supposed to rain during Quals... that should be fun! See you in the morning.
Posted by: Wonderduck at 09:31 PM | No Comments | Add Comment
Post contains 501 words, total size 3 kb.
August 22, 2011
F1 on SPEED!: Belgium 2011
...and we're back! The F1 Circus' summer vacation is over, the motor homes and carriers have converged on a little town in the Ardennes Forest, and the crew of F1 Update! has awakened from their forced hibernation. Ladies and Gentlemen, it's time for Formula 1 to return to Spa!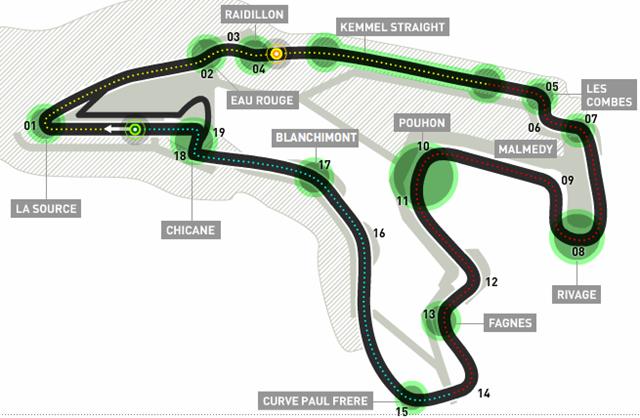 For most of the world, going to a spa for the weekend means a calm, relaxing experience, sometimes involving mud getting into places it shouldn't and fish nibbling dead skin off your toes. For Formula 1 drivers though, going to Spa for the weekend means excitement, tension, stress and danger lurking behind every corner of this 4.35-mile long circuit, arguably the best on the F1 calendar.
One cannot speak of Spa without referencing the track's signature piece, the combination of Eau Rouge and Raidillon. The run from La Source to Eau Rouge is downhill, but at Eau Rouge the track suddenly climbs steeply
up
hill. Indeed, the vertical direction change is so abrupt that you will hear what sounds like the drivers pulling their foot off the accelerator. Nothing could be further from the truth; what you're hearing is the engine suffering from the compression resulting from the sudden changes. Meanwhile, you also have a horizontal direction change as you negotiate the blind third turn. THEN you have another change of direction at Raidillon, the site of some of the
most dramatic, violent accidents
in F1 history. In the old days, saying that you took Eau Rouge flat out was a sign of a driver's bravery. In today's F1 cars it's not quite as difficult to accomplish, but one never, ever, takes Eau Rouge lightly. In fact, news came down today that DRS is not to be used through the turn during practice and quals.
The other signature piece of Spa is the weather. It's practically guaranteed to rain sometime during the F1 weekend, and one can probably count the historical number of totally dry races on the fingers of both hands, and it's likely you'd have a digit or two left over. This year, rain is expected on Friday with chances on both Saturday and Sunday.
All of which can be seen on SPEED! Yes, the Legendary Announce Team will be back in all their glory, providing us with their usual sterling coverage. Here's the way the schedule breaks down:
Friday: 3a-430a Practice 1 (streaming). 7a-840a Practice 2 (live).
Saturday: 4a-5a Practice 3 (streaming). 7a-830a Quals (live).
Sunday: 630a-9a 2011 Grand Prix of Belgium (live). 230p-5p race replay.
All times are, as usual, Pond Central Time. The F1U! crew will be all over the weekend... or at least as much as we can be, considering that Friday will be the 12th day of work in a row and the 18th out of 19. There is a chance we'll not have much in the way of Practice coverage.
But F1 is back! All is right with the world... or something along those lines. See ya then!
Posted by: Wonderduck at 08:38 PM | Comments (3) | Add Comment
Post contains 499 words, total size 3 kb.
55kb generated in CPU 0.0144, elapsed 0.1755 seconds.
47 queries taking 0.1655 seconds, 255 records returned.
Powered by Minx 1.1.6c-pink.