September 25, 2010
F1 Quals: Singapore 2010
Those must have been some darn interesting emotional swings in the Ferrari pits today. Let's take a look at the provisional grid for the 2010 Grand Prix of Singapore:
One has to wonder when the last time Ferrari qualified on pole and dead last in the same race, without penalties. You'll note that Massa set no time... either a frozen gearbox or an electronic engine management problem, one of the two (I've seen conflicting reports), brought the Brazilian to a stop out on track, ending whatever hope he had of a good race. I've also seen reports that he's going to have to change both his gearbox and the engine. If so, he'll be starting the race from the vicinity of Palembang. Anyway, Ferrari then had the exciting experience of having HWMNBN call in early in Q2 reporting problems with
his
engine. The team brought him in, rebooted the electronics, then sent him back out, all fingers crossed. Of course the problem disappeared, much like when you restart your computer after it can't find your keyboard. After that, it became a matter of HWMNBN ripping off ridiculously fast laps in a car that people were saying would stink after Monza, and nobody being able to match him. His pole lap wasn't even done in the final shootout, but on his first flying lap in Q3. HWMNBN now has two consecutive poles, and has suddenly catapulted himself into legit discussion for the Driver's Championship.
The rest of the heavy hitters were pretty much as you'd expect. The big surprises today had to be the two replacement drivers, Grizzly Nick Heidfeld and Taoist Klien. Remember what happened with Luca Badoer and Ferrari in 2009? He stepped into the car and was far and away the slowest man on the grid. Well, Grizzly Nick qualified midpack, a respectable performance indeed. Over at HRT meanwhile, Jainist Klien simply demolished his teammate Bruno Senna. He was over a second faster than Senna, which makes me wonder what the HRT might actually be capable of in the hands of someone a) talented and 2) experienced in the car. Lord knows that DJ DNF, Senna and Cowboy Karun Chandhok haven't exactly covered themselves in glory this season.
So there you have it. The five drivers in contention for the Driver's Championship are in the top five grid slots, which makes me think that the run to Turn 1 might be somewhat exciting tomorrow. Of course, F1Update! will be along with the usual coverage... see you then!
Posted by: Wonderduck at 03:08 PM | No Comments | Add Comment
Post contains 582 words, total size 15 kb.
September 24, 2010
F1 Practice: Singapore 2010
I suppose it's wrong to be disappointed with a dry practice session (and a mostly dry track), particularly on a circuit like Singapore that's only been raced on twice before. But I'll be darned if I wasn't hoping for drizzle or more, and I didn't get it. Worse news still, the Legendary Announce Team minus The Varsha, who's on assignment at the Barrett-Jackson collector car auction in Las Vegas this weekend, told us that while its been raining during the days, the rain stops as night falls. That'd mean a dry race, for which I say boo-hiss! However, a lack of rain
does
mean we get shots like this:
...so I guess it's a fair trade-off.
Action on-track was about what you'd expect from a practice session. Lots of cars going round and round, trying desperately to get lots of laps in on an unfamiliar circuit. This is particularly important considering that Friday's 1st Practice was truncated by rain. Further, the heavy hitters stayed in the garage for most of the earlier session, letting the bottomfeeders go out, clean the dust off the circuit and lay down some rubber around the curves. In P2 though, the big guys pretty much dominated the session, with the top five drivers in the Championship holding down the top five slots on the timesheet.
It wasn't all fun and games in Singapore though, as the track never really dried out; lots of rain mixed with high humidity, no wind, and no sunlight meant that the moisture never went away. We saw a lot of fishtailing, some doinks of the rear wheels off the walls, and quite a few people touching the brakes and sliding off into the darkness. And then you had Adrian Sutil getting a little too much curb in the Singapore Sling chicane, with results that can't be considered pretty:
The landing was even less pretty, with the Force India's front suspension splintering like a twig. Shouldn't be a problem for Saturday's qualifying sessions, but the mechanics will be wondering just what else got knocked around by Adrian's attempt at imitating the Surya Kiran (or, for PhDuck,
सूर्य किरण
).
Which brings us to the biggest surprise of the day. Night. Whatever. Anyway, the surprise... DJ DNF, Sakon Yamamoto hisownbadself, is not driving for HRT this race, allegedly because he's ill. Taking his place for Singapore is none other than Christian Klien, last seen in F1 driving for Red Bull in 2006. Somewhere
the dark spectre of The Zsolt
is gnashing his teeth... and plotting to reclaim Klien.
Quals in the morning but about two hours later than normal... the session
starts
at 10pm race local time, two hours later than the actual race time. See you then!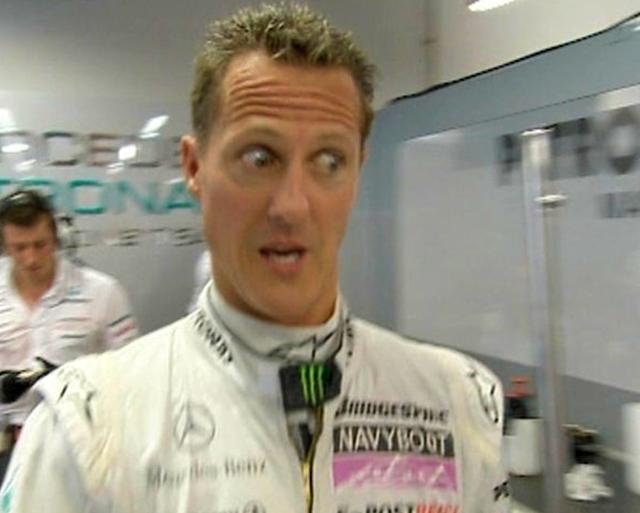 No, no reason for this picture to be here...
...except Slappy looks goofy.
Posted by: Wonderduck at 08:36 PM | Comments (1) | Add Comment
Post contains 475 words, total size 4 kb.
September 21, 2010
F1 on SPEED!: Singapore 2010
With the European leg of the season completed, the F1 Circus packs up and hauls their tents halfway around the world to the island nation of Singapore this week. Home to the world's busiest port, Singapore is also the home of a F1 race with a difference: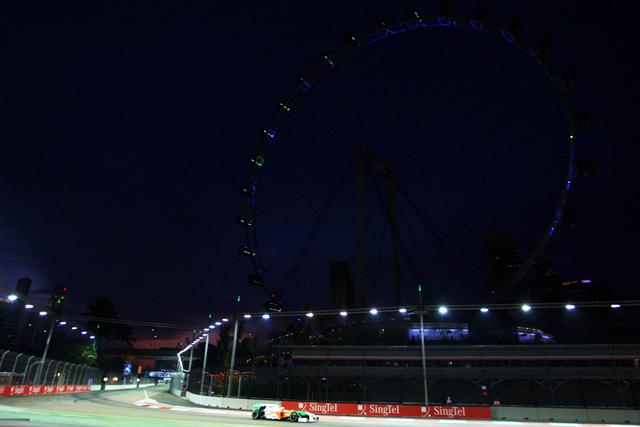 It takes place entirely at night. This'll be the third time Singapore has hosted a race on the Marina Bay Street Circuit... let's take a look at the track map: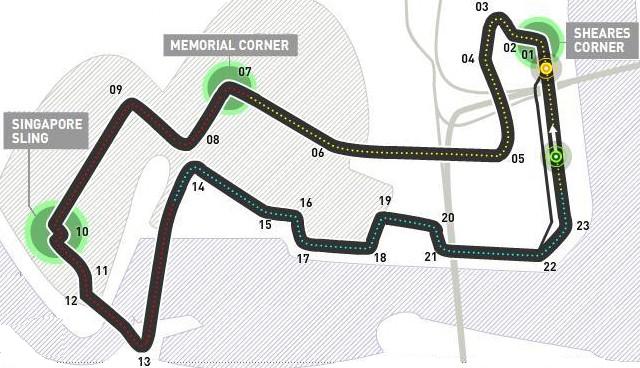 As a spectacle, Singapore is wonderful. The cars shimmer and gleam under the fifty-gazillion overhead lights, in a way they don't anywhere else. A highway flies over the front straight, there are two bridges involved with the circuit, and the cars actually run underneath some of the seating grandstands, just to make everything all that much cooler. As a street circuit, there are many buildings lining the circuit, many of which are beautifully lighted themselves. From the air, the track itself glows, looking like a ribbon of light against the dark background.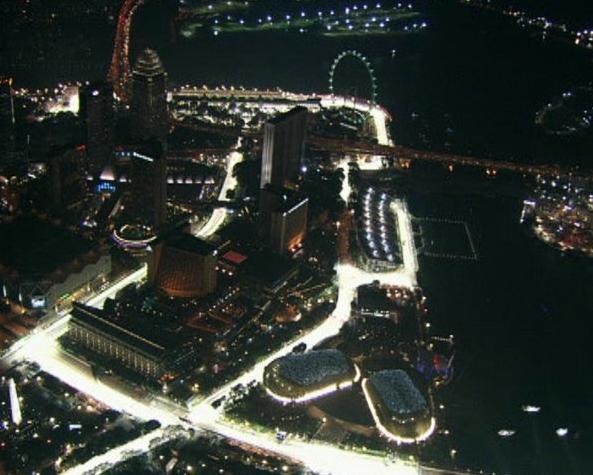 As a
racetrack
however, Singapore leaves a lot to be desired. The heat and humidity makes it a chore to race on, like a cross between Monaco (for the narrowness) and Sepang (for the heat). Last year, officials resurfaced many of the turns in an attempt to smooth out the hideously bumpy breaking zones. Despite this, the drivers
still
asked for them to be improved. Reportedly they've been ground down again. The curbs have been lowered as well, as the teams thought that they might actually break a suspension going over them. There's few passing zones, and a mistake at any time will put you into the Armco and out of the race.
But it
looks
cool.
It's pretty clear that to have a good race at Singapore, we're going to need rain.
In 2008
, HWMNBN got the win after his teammate Nelson Piquet Jr intentionally crashed to give him an advantage.
2009
brought us a flat-out boring race that saw a runaway Lewis Hamilton victory. The weather forecast calls for showers and thunderstorms all weekend, so we might just get F1's first night-rain race. Let's hope so, just for entertainment's sake.
Of course, the good folks at SPEED will bring us every minute of Friday's second practice LIVE, from 830am to 1010am. Saturday will see the drivers go for pole during Qualifying, from 9am to 1030am. Finally, Sunday brings us the 2010 Grand Prix LIVE from 630am to 9am, with a replay from 12noon to 230pm. All times are Pond Central.
Finally, the FIA released the official engine usage list, and clarified if Grizzly Nick Heidfeld would have to deal with Pete Rose's engine penalties. Here's the updated list:
Mark Webber 6
Rubens Barrichello 6
Robert Kubica 6
Vitaly Petrov 6
HWMNBN 8
Felipe Massa 8
Grizzly Nick Heidfeld 9
Everybody else has used 7 engines.
Unfortunately for Grizzly Nick, he will take a 10-spot penalty every time he uses a new engine from now on. Of course you can always use an old engine if you wish. Looking at this, it's clear that Mark Webber, current championship points leader, has an advantage over his rivals in that he's got two unboxed engines in hand, where everybody else only have, at best, one. What difference will this make, with five races left to go? We will see, won't we?
Posted by: Wonderduck at 11:18 AM | Comments (14) | Add Comment
Post contains 564 words, total size 4 kb.
September 14, 2010
The Zsolt Comes For Another
Pedro de la Rosa stood outside the Sauber factory, surrounded by boxes filled with the contents of his desk. He flinched slightly as two burly security guards slammed the gates closed with a massive
clang
, his mind recoiling from the finality of the sound.
Turning in place, the Spaniard raised a fist in the general direction of Peter Sauber's office, which was actually located somewhere towards the back of the building and thus out of sight from the little show of defiance. "I still intend to be in F1 for the 2011 season, you trumped-up Swiss chocolatier! I'll show you that you just made a terrible mistake, dropping me, Pedro de la Rosa, for that unshaven German Nick Heidfeld!"
From behind him, a quiet voice hissed, "At it again, are you?" A frisson of cold terror ran up his spine. His small lizard hindbrain started to wail in fear, but F1 pilots laugh at fear and danger. It still took a supreme act of will from the recently released driver to turn from the gates. What he saw turned his legs to pudding.
"Hello, Pedro. Long time no see." A small man, dressed in a black firesuit with the word
Minardi
embroidered across the chest and holding a black race helmet, stood before the recently fired man. "You got away from me once. What did I say to you then, do you remember?"
"That you'd be coming for me again."
"That's right, Pedro. That I'd be coming for you again. And now, there you are. And here I am."
"I'll race in F1 again."
The figure in black laughed, a sound not unlike the gates of Hell opening. "You're 39 years old, de la Rosa, and you haven't had a full year of racing under your belt since 2002. You only got in the points once this year, while your teammate has scored five times. And then there's your role in the whole StepneyGate saga. What team is going to want you as a driver after all that? I hear USF1 is hiring. No, Pete, you're mine now, and you won't get away from me again." The figure in black lifted his helmet to his head, then paused for a second. "If you're lucky though, you might get to run one of those radio-controlled cars you were so good at once." Then the helmet was on, covering the dark face.
Coming from inside the helmet, the voice of the figure in black sounded sepulchral as he moved towards de la Rosa. "Some of us only got one go at F1, and we had to buy our way in. You got a second chance, Pete. You got a second chance after testing for McLaren all those years, and you screwed it up. You screwed up your second chance, and how? By being slow, Petey-boy,
by being slow
. And you really expect to get a third shot?"
The Zsolt
pulled on his racing gloves, and from somewhere the theme music from
The Exorcist
began to quietly play. "Never again, de la Rosa. Never again."
He slammed the visor down with the sound of a thousand garbage trucks falling off a cliff. "I'm am definitely going to
enjoy
this."
Then the screaming began.
By the time the security guards got to the gate, there was nothing to be seen.
Posted by: Wonderduck at 08:31 PM | Comments (5) | Add Comment
Post contains 561 words, total size 4 kb.
September 13, 2010
Current Engine Usage
Okay, as of the end of the Italian Grand Prix, here are the number of engines used:
Felipe Massa
and
HWMNBN
:
7
Pete Rose
:
9
Robert Kubica
and
Vitaly Petrov
:
5
If a driver isn't one of the above, they've used six of their eight engines so far. Of course, Pete Rose will suffer a 10-spot grid penalty for every race now, for there's no reason for him
not
to use a new engine every time out.
It is perfectly legal for a driver to use an engine that ran in a prior race. For example, Mark Webber used his Spa engine at Monza. So if the Ferrari boys want save their last fresh engine for Abu Dhabi and put their Monaco powerplant in for Singapore, it's quite legal.
Guess the Renault wins the reliability award for the season.
Posted by: Wonderduck at 08:23 PM | No Comments | Add Comment
Post contains 142 words, total size 1 kb.
September 11, 2010
F1 Quals: Italy 2010
I have to admit that I didn't believe it when they said it, but the statistic was true. Let's look at the provisional grid for the Grand Prix of Italy:
Just what statistic is it that had me so flabbergasted? This is Ferrari's first pole in thirty races. Love them or, as I do, hate them, one can't take away from the Scuderia the fact that they really are one of the top teams in motorsports history, if not
the
top team. One just assumes that, even in a down season, they'd've had a pole somewhere along the way. But no, the last time a Ferrari driver was the fastest at the end of a Q3 was Brazil, 2008. That's almost unbelievable.
Unfortunately, it had to come from HWMNBN. Ugh.
Team McLaren couldn't figure out whether to run the F-Duct system or not, so they split the difference. Lewis Hamilton decided to go the low downforce route and has the little tiny wing... and ended up fifth. Over half-a-second faster is his teammate, Jenson Button, who's got the blown rear wing, more downforce in the turns, and ended up second on the grid. Just as way of comparison, Button was nearly a second faster than HWMNBN through sector 2 which is where all the turns are, yet lost all that time and a smidge more through the fast parts of Monza. Button said in the post-quals presser that while the extra downforce is very handy, it also means that he has to run every lap in the race like it's qualifying, pushing both the car and himself the entire way around the track. If it were nearly anybody else, I'd think they'd be out of the race by the halfway point, either buried in a tire barrier or with a flaming lump where the engine had been, but Button is one of the smoothest drivers in F1.
That doesn't mean he's the best; his teammate is a better driver, Vettel is quicker, Massa is showing signs of his pre-injury form, Webber is darn good, and HWMNBN might be the best pilot in F1. Button, however, is practically gentle with his car, seeming to know exactly the best place to put his chariot to have it do what he wants it to do with the least amount of stress on the machine. That's a very useful talent to have, and one that should allow him to make the "push every lap" work. If it doesn't, he's almost certainly dead in the Driver's Championship.
Seb Vettel, the wunderkind of F1, on the other hand, hasn't a clue why he's starting sixth and admitted as much in the press conference. Despite having the same equipment and the same setup as his teammate Mark Webber, he's nearly 3 mph slower. The biggest problem, then, is that he has to attack, and attack hard right when the lights go out... which might lead to glory at the first turn, or lots of carbon fiber scattered across the chicane. This isn't a track that's suited to the Red Bull's strengths, so if he's not out in front, and quickly, he doesn't stand a chance without incidents occurring ahead of him.
Anybody seen Slappy Schumacher recently? He hasn't made it out of Q2 for six races running.... Speaking of streaks, I didn't realize that Toro Rosso's Seb Buemi is the only driver on the grid right now who has made it to Q2 in every race this season. He's never made it
out
of Q2 of course, but that's still a pretty impressive stat: no mechanical failures, no penalties, nothing like that.
On the topic of penalties, Vitaly Petrov will be starting 20th after qualifying 15th. He was given a five grid-spot demotion for blocking Virgin Racing's Timo Glockenspiel early in Q1... and how embarrassing is that? You're penalized for holding up one of the slowest cars on the grid... meanwhile, your teammate has outqualified you for what seems like the 733rd time in a row. Eeeeesh. We do hear that the McDonald's in Irkutsk is hiring, so he's got that going for him, which is nice.
Timo Glockenspiel expresses his displeasure, disbelief, at being blocked by Petrov

Race is tomorrow morning, with the F1U! sometime thereafter! See you then, if Petrov doesn't get in our way.
Posted by: Wonderduck at 06:13 PM | No Comments | Add Comment
Post contains 881 words, total size 16 kb.
September 10, 2010
F1 Practice: Italy 2010
A bright sunny day at Monza brought with it the usual dull practice sessions. No big surprise there, of course. The real surprise occurred when I got a good look at the cars. What do I mean?
Well, consider this. A few days ago I mentioned that if the teams could get away with having no wings at all at Monza, they'd at least give it a try. That's because
La Pista Magica
is such a high-speed circuit that any drag at all is a bad thing. Rear wings about as thin and flat as a sheet of paper are the norm, like this one on a Toro Rosso today:
Compare that to the rear wing used at Monaco, about as polar an opposite as can be found in F1:
Pretty substantial difference there. One's flat as board, the other is a friggin' barn door. It makes a difference, as Seb Buemi's Toro Rosso was fastest through the speed traps at a codswalloping 214mph. That'd be considered slow in the Indy Racing League, but they run on big, big ovals. On a road course, even one as "simple" as Monza, 214 is staggeringly fast.
But then some of the teams threw a monkey wrench into the situation. Take, for example, the McLaren of Jenson Button in First Practice:
Wait... what? That's a normal wing! At Monza? The hell? It must've been the slowest thing on the track with all that vertical stuff in the way, right? Nope, Button was the fastest in P1, and 5th in P2. It's that darn F-Duct system again, messing with our minds.
Earlier I said that there'd be little point to running the F-Duct at Monza, simply because there's so little wing involved, but it appears that the aerodynamic specialists in F1 are smarter than me. They realized, where I did not, that stalling the rear wing using the F-Duct serves the same purpose as having a small wing on the straights, while still allowing quite a bit of downforce in the turns. It's not quite as good as having no wing at all (like the Toro Rosso), at least on the fast bits, but when the car has to change direction it's a huge advantage.
Which explains why Button was 1st and Buemi 11th, even though the Toro Rosso was substantially faster through the speed trap. McLaren, Renault, Ferrari, Red Bull and even Sauber had the blown rear wing going, while the rest did not... and for the most part, it showed on the time sheets.
Formula 1: surprising ducks since 2004.
Quals tomorrow, but my coverage will be in the early evening, as the Duck U. football team takes to the gridiron for the first home game of the season and I've got to be at the store. See you then!
Posted by: Wonderduck at 08:52 PM | No Comments | Add Comment
Post contains 472 words, total size 3 kb.
September 08, 2010
WMSC Pats Ferrari On Head... Again.
The World MotorSports Council met today to rule on the case of Ferrari and their use of team orders at the Grand Prix of Germany. As you may remember, Felipe Massa was leading that race with his teammate HWMNBN trailing, when a radio call came from the guys on the pitlane: "Okay, (HWMNBN) is faster than you. Can you confirm that you understand that message?" Shortly thereafter, Massa did not accelerate coming out of a turn, allowing HWMNBN to blow into the lead and eventually take the victory.
Immediately after the race, the Race Stewards called Ferrari onto the carpet, fined them $100000, and sent the matter up to the WMSC for further sanctions. They had violated Articles 39.1 and 151.c of the Sporting Regulations, which states "
team orders which interfere with a race result are prohibited
" and "
any fraudulent conduct or any act prejudicial to the interests of any competition, or to the interests of motorsport generally.
" Penalties could range from a fine, exclusion from the results of the race, a further race ban, to being booted from the championship, or anything in between in any combination.
The WMSC's ruling in this rather clear-cut case? They confirmed the Stewards' fine and decided not to take any further action in this case. They then went on to say that "
The Judging Body has also acknowledged that article 39.1 of the Sporting Regulations should be reviewed and has decided to refer this question to the Formula One Sporting Working Group.
"
In short, not only did Ferrari escape any noteworthy punishment (100 kilobucks is approximately 0.00025th of the Scuderia's annual budget... it's probably less than their team's windshield wiper allowance), but the WMSC may very well change the rule! Now, nobody denies that team orders exist in F1 despite the ban, but teams are usually much more circumspect in their breaking of the rules. Ferrari did their violating with a not-at-all subtle radio message for the entire world to hear, and Massa made sure everybody knew what had happened.
Understand, it's not like I'm
surprised
by the decision in the least. After all, it's well known that "FIA" stands for "Ferrari International Assistance." I'm just sick and tired of their flagrant rules violations always being winked at... "oh, you naughty scamps. Run along and play now."
What will it take for the team to be actually penalized for an infraction?
Posted by: Wonderduck at 05:36 PM | Comments (2) | Add Comment
Post contains 404 words, total size 3 kb.
September 06, 2010
F1 on SPEED!: Italy 2010
There once was a time when F1 was about going fast at the expense of everything else. Driver safety was an afterthought, if it rated a thought at all. You had eggshells on wheels with big engines and small tires and no wings. It was a time when if a season completed without a driver death, it was considered a miracle. It was a time when the tires were skinny and the drivers weren't. It was the time of Ascari and Clark, Fangio and Rindt, Stewart and McLaren, Hill and Bandini, Surtees and von Trips. It was a time when the drivers were
truly
men. It was the time that the sport was
truly
king.
And Monza was its Holy Church.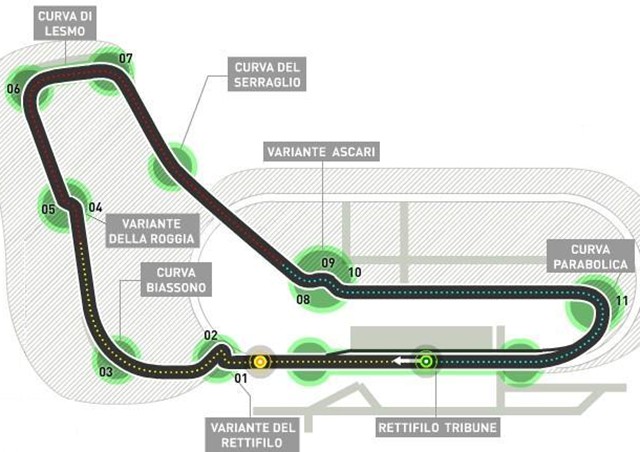 There was once a time at Monza when a driver would simply stomp on the gas pedal and not lift off until the car broke or the race ended. Today... well, not much has changed, actually. A modern F1 car is on full throttle for nearly 80% of the lap, a truly punishing endurance test for an engine when you consider that we're talking nearly 90 minutes at 18000rpm. They'll reach 210mph at the end of the front straight, just before braking for the Variante del Rettifilo.
At Monza, terms like "downforce" and "drag" are dirty words. Cars run with the bare minimum amount of wing possible; if their use wasn't mandated by the FIA, the teams would probably go without. In fact, the use of the rear wing is so minimal here that many of those teams that run an "F-Duct" system are likely to find the feature useless around this track.
SPEED will bring us its usual sterling coverage beginning from 7am to 840am on Friday, with the day's 2nd Practice session. Saturday, from 7am to 830am, we'll see the usual Quals session. And Sunday brings us the 2010 Grand Prix of Italy LIVE from 630am to 9am, with a replay from 12noon to 230pm.
If I had to bet on the race, which fortunately I don't, I'd probably lean towards McLaren. Like Spa, this is not a track that favors the Red Bull chassis (and their remarkable action around turns), and I feel like Ferrari is just smoke and mirrors for some reason. But that's why they actually run the races, isn't it? See you then!
Posted by: Wonderduck at 09:40 PM | Comments (2) | Add Comment
Post contains 395 words, total size 2 kb.
September 01, 2010
Dissecting The Austin F1 Circuit Map
There comes a time in every person's life when one of their core beliefs is shaken to its very core, and they must reassess everything they thought prior to that time in response. My friends, one of those times has come to me, for reader David has pointed me in the direction of a press release from the promoter of the new US Grand Prix in Austin, Texas. This press release contains a proposed circuit map as designed by Hermann Tilke. As readers of my F1 posts are aware, I am not fond of Hermann Tilke as a track designer. Only his design for the Istanbul Otodrom is any good as far as I'm concerned, with his other layouts ranking "meh" at best. Here's the overhead map for the Austin track:
I have to admit, publicly and with no shame whatsoever, that I actually like this. There seem to be a number of homages to other tracks here, like Tilke sat down and borrowed some of the best features of them. For example, I see Suzuka's famed "S Curves" or Silverstone's Maggots-Becketts-Chapel complex in the Turns 3-4-5 on the map, Montreal's Hairpin at Turn 11, Turkey's Quad-8 at Turn 16-18, and Abu Dhabi's massive back straight is echoed by the 3/4th of a mile long back straight here.
All of which is nice, to be sure, but it gets better... oh yes, yes it does... when you look at the elevation map. Seems this time, Tilke's gotten to play with something other than a featureless plain.
more...
Posted by: Wonderduck at 10:47 PM | Comments (9) | Add Comment
Post contains 798 words, total size 5 kb.
100kb generated in CPU 0.0225, elapsed 0.1244 seconds.
50 queries taking 0.1078 seconds, 282 records returned.
Powered by Minx 1.1.6c-pink.