July 26, 2018
Oh, Hey, Hungary Is This Weekend.
My least favorite circuit at a time where I'm really down on F1? I'll monitor everything, if and when anything interesting happens I'll blog about it, but whew.
This may be disappointing to my two or three remaining F1 fans but I'm really toasty around the edges and can't work up the energy right now. I love you all for sticking around, I really really do, and I hope you stick around forever.
Posted by: Wonderduck at 09:56 PM | Comments (3) | Add Comment
Post contains 79 words, total size 1 kb.
July 19, 2018
F1 on The ESPNs: Germany 2018
Gotta hurry on this post... again... while my old computer works and my bodyhealth stays above "miserable". Here's the track map for the home of the Grand Prix of Germany, Hockenheim: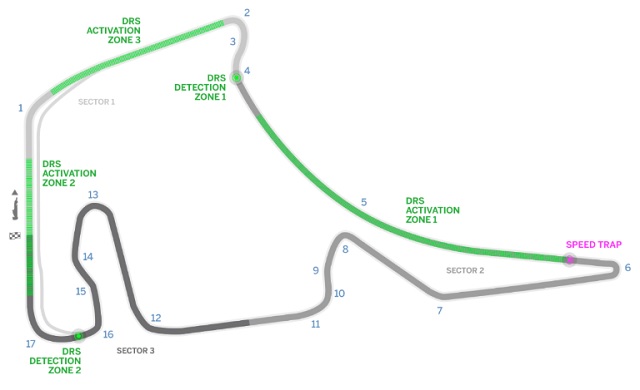 Remember, we had no grand prix in Germany last year... in the rotating track thing that Germany has, the Nurburgring couldn't afford it. So it's Hockenheim's turn again! For the most part, it's inoffensive with a touch of "what used to be" nostalgia involved. As I always mention, back in the old days, there used to be a ridiculously high-speed section that went blasting through a forest in a semi-oval that reached from Turn 2 to Turn 6 on the new map... totally breathtaking, ridiculously dangerous. It's probably good that it's gone, but...
Here's the alleged broadcast schedule:
Practice 3: 5a - 630a live on ESPNews
Quals: 8a - 930a live on ESPNews
2018 Grand Prix of Germany: 8a - 1030a live on ESPN2
No promises on a F1U... if the race moves me to one, then there'll be one. If not, there won't. I'm working on it. See you soon!
Posted by: Wonderduck at 12:52 PM | Comments (2) | Add Comment
Post contains 190 words, total size 1 kb.
July 07, 2018
F1 Quals: Britain 2018
A sunny day greeted the assembled tea-drinkin' hordes at Silverstone today, and with it came even hotter track temperatures than we had last week... remember, the race that saw tires blistering after only a few laps? As a result of the nearly 130ºF surface temps, times were a little slower than expected today... how got effected? Here's the provisional grid for the 2018 Grand Prix of Britain:
Pos

Driver
Q1
Q2
Q3

1

Mercedes

1:26.818

1:26.256

1:25.892

2

Ferrari

1:26.585

1:26.372

1:25.936

3

Ferrari

1:27.549

1:26.483

1:25.990

4

Mercedes

1:27.025

1:26.413

1:26.217

5

Red Bull Racing

1:27.309

1:27.013

1:26.602

6

Red Bull Racing


1:27.979

1:27.369

1:27.099

7

Haas Ferrari

1:28.143

1:27.730

1:27.244

8

Haas Ferrari

1:28.086

1:27.522

1:27.455

9

AMX-30
Sauber Ferrari

1:27.962

1:27.790

1:27.879

10

Force India Mercedes

1:28.279

1:27.843

1:28.194

11

Renault

1:28.017

1:27.901




12

Force India Mercedes

1:28.210

1:27.928




13

McLaren Renault

1:28.187

1:28.139




14

Toro Rosso


1:28.399

1:28.343




15

Sauber Ferrari

1:28.249

1:28.391




16

Renault

1:28.456






17

waffle
McLaren Renault

1:29.096






18

Williams Mercedes

1:29.252






NC

Williams Mercedes

DNF





Nobody, really... or everybody equally. Take your pick. What we got was a Quals session that saw the Lewis Hamilton take pole by 44/1000ths of a second, and the top three covered by just a touch more than 1/10th of a second. Easily the closest quals we've had all year.
Sadly, Pleasant Stroll beached himself in after only a few minutes in Q1 and didn't finish a lap. Similarly, Brendan Hartley missed out on Quals altogether after a rather brutal high-speed accident in Practice 3 when his front suspension snapped under braking. He's okay, but Toro Rosso couldn't repair the car in time.
Teams are saying that a two-stopper is quite possible because of the heat, so we might have some interesting times tomorrow. F1U! sometime afterwards... having dinner with Vaucaunson's Duck... so see you then!
Posted by: Wonderduck at 07:12 PM | No Comments | Add Comment
Post contains 350 words, total size 19 kb.
July 05, 2018
F1 on... Somewhere: Great Britain 2018
The reason for the title will be understood soon enough. Before that, though... it's SILVERSTONE!
I know I'm not alone in disliking the new layout for this iconic track... essentially it ran from turn 1 to turn 7 directly (more or less). Also the start-finish line was between Turns 8 and 9. I guess the new pit facilities and grandstands are pretty darn amazing, so... yeah. Oh, also: there's going to be a third DRS zone, which Formula1.com's maps don't show. Whoops.
In any case, it's fast, it's grippy, the Maggots-Becketts-Copse complex is my favorite sequence of turns in F1, and since the whole place is built on a plateau and has its own microclimate, rain is always a possibility. Let's hope!
Now for the bad news. This is the point where I'd normally list out the broadcast schedule for the weekend, but I can't do that right now. I have three sources for times/channels, and the only thing they agree upon is times. What channel anything is going to be on is up in the air over here at Pond Central... to the point where Quals actually MOVED CHANNELS as I programmed it into my DVR. So check your local schedule for your own set of times. I can confirm that Quals is on Saturday and the Race is on Sunday. So you've got that going for you. Which is nice.
See ya soon!
Posted by: Wonderduck at 10:15 PM | No Comments | Add Comment
Post contains 241 words, total size 2 kb.
47kb generated in CPU 0.0142, elapsed 0.0842 seconds.
46 queries taking 0.0745 seconds, 242 records returned.
Powered by Minx 1.1.6c-pink.