November 22, 2014
F1 Quals: Abu Dhabi 2014
Pretty much perfect weather for today's Quals at Yas Marina Circuit in Abu Dhabi. Tomorrow's race will decide which of the Merc pilots will win the driver's championship! Who are you backing? Is it Lewis Hamilton, 2008 driver champion, and leading this one? Or is it Nico Rosberg and his consistently good finishes and ten poles? Who gets the advantage for tomorrow? Let's look at the provisional grid:
Rosberg scores his 11th pole of the season, and at least has a small advantage going into tomorrow race. Now all he has to do is win and hope Hamilton finishes third or worse... he needs help, in other words. Still, advantage Rosberg.
The huge elephant in the room, obviously, is the two Red Bulls being disqualified from Quals. They were reported to the stewards for having a front wing that had been designed to flex under loading, which means it's a movable aerodynamic device. Tricky, but against the rules. They've accepted the penalty, while saying "we're disappointed that we're getting penalized while other teams are doing the same thing." Of course, all front wings move a bit as downforce comes on, but Red Bull's were really pushing it. I'm not impressed by their reaction; essentially it boils down to "Whaaaaaaaaaaaaaaaaaaaa, you're picking on us!" Which, to be fair, has been their reaction to such things in the past as well. The two Red Bull drivers will start from the back of the grid.
In other news, hey look! It's Caterham! They managed to sucker enough F1 fans into their crowdsourced funding project to get to the grid, and thereby earn 10th place and a cut of the prize money despite not actually having earned it! Even better, all that prize money will likely go right to creditors when the team folds after the race. There are Caterham staff who reportedly haven't received back pay from two months ago, and over 200 employees were let go a while ago. I do hope the mechanics at Abu Dhabi were paid in advance. I also hope the cars are safe... at Russia, Gandalf Kobayashi tweeted that the team had
repaired
a broken carbon fiber suspension piece by wrapping it up with a carbon fiber sheet.
Finally, in the world of ridiculous penalties, Lettuce Grosjean has received a twenty grid-place penalty. He's using his sixth engine, turbocharger and MGU-H (Motor Generator Unit - Heat, which converts exhaust heat to electrical power as part of the KERS unit) at Abu Dhabi, meaning he gets a 10-spot for the engine, and 5-spots for the other two. Since he can't actually start from 36th on the grid (that would put him roughly halfway across the Al-Mafraq bridge), he's going to have to serve a ten second stop-go penalty during the race while starting... um... well, I'm not sure where he'll be starting. He'll either be 18th, just before the two Red Bulls, or 20th, behind them.
Race is in the morning, F1U! thereafter. See ya then!
Posted by: Wonderduck at 01:33 PM | Comments (3) | Add Comment
Post contains 639 words, total size 15 kb.
November 17, 2014
F1 on NBCSN: Abu Dhabi 2014
So it comes down to this. The season which first saw the lights go out in Melbourne will see the checkered flag flown in Abu Dhabi. From the land where everything is trying to kill you, to a small island that holds nearly 10% of the world's oil reserves, and thus has a ridiculous amount of money lying around... a perfect atmosphere for Formula 1. Let's take a look at the track map for the 2014 Grand Prix of Abu Dhabi, shall we?
The Yas Marina circuit is probably the richest, most expensive purpose-built racing circuit, not just in F1 but perhaps in the world. At least as far as a "how to" guide to build an entire racing area, Abu Dhabi is probably THE place to go. The circuit itself, eh, not so good thanks to the influence of Hermann Tilke. Remember, this is the place that has the pit exit that runs underground and crosses under the circuit. It
also
has what is probably the single most ridiculous hotel you could ever hope to stay at, the Yas Viceroy... that's the dark gray handheld razor-shaped thing between Turns 18 and 19. 499 rooms, and while it's currently sold out for the race weekend, you can get a Marina Deluxe King room for about $230/night normally. If you want to be a plebe about it, that is. For something higher end, there's the Presidential Suite... 400m
2
, two floors, private lap pool, terrace overlooking the track, touch panels for the whole-suite ambient lighting, the works... all this can be yours for a mere $5200/night normally. I'd be fascinated to see what it'd cost during race weekend.
Dear god.
Unfortunately, the track itself isn't nearly as spectacular an experience. Like every other Tilke track, it's a weird conglomerate of long straights connected by right-angle turns that ruin any flow the place has for racing. It does have perhaps the best asphalt in F1, however, grippy without being particularly abrasive, a neat trick if you can pull it off. Probably has something to do with the ambient air temperatures; the average high in November is around 86°F, with 65% humidity. Of course, you'd expect that for a tiny island nation in the Persian Gulf, wouldn't you? I'll be honest, I'd take that right now: as I write this, it's snowing with a windchill of -4°F. November in Northern Illinois, yay!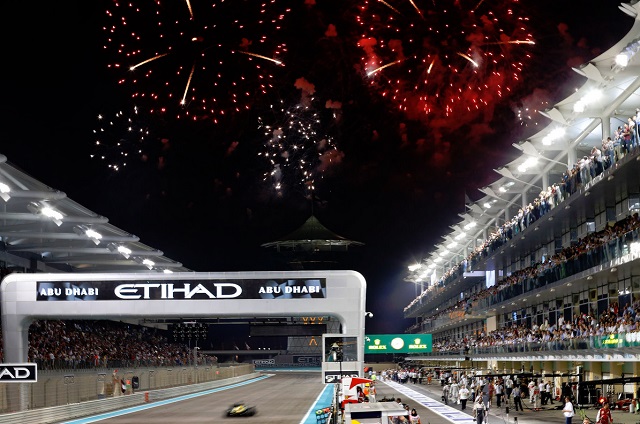 Because
it's so hot in Abu Dhabi, the race begins late in the day and goes into the night, a rather spectacular visual spectacle. The race itself? Not so spectacular, and arguably can be blamed for the acceptance of DRS (see
2010, HWMNBN, losing Driver's Championship
) in F1. In fact, I'll go so far as to say that F1 cars shouldn't be racing here, as the Australian V8Supercar series has had some fantastic races at Abu Dhabi. That's just me, though (note: no, it's not).
Well, our friends at NBCSN will be doing their usual knockout job with coverage, following the following schedule:
FRIDAY
Practice 2
: 7a - 830a
SATURDAY
Quals
: 7a - 830a
SUNDAY
2014 Grand Prix of Abu Dhabi
: 630a - 9a
Of course, it's a race to crown a new driver's champion as well. If Lewis Hamilton finishes ahead of Nico Rosberg, he wins. If Rosberg finishes ahead of Hamilton, Hamilton needs to finish second to win the championship.
Here's a chart breaking down finish positions
and what needs to happen for either to win. Even if Hamilton fails to finish, Rosberg must end up in 5th to win.
So here we go. We here at F1U! will see ya this weekend!
Posted by: Wonderduck at 01:49 PM | Comments (1) | Add Comment
Post contains 609 words, total size 4 kb.
November 08, 2014
F1 Quals: Brazil 2014
Lowering skies and sub-optimal temperatures greeted the Blundering Herd as they got ready to qualify for tomorrow's 2014 Grand Prix of Brazil. Would it affect anybody? Here's the provisional grid:
The end of Q3 definitely fell into the "exciting" category. Rosberg had pole when Hamilton turned his final lap. That lap was not only good enough to wrest pole from his teammate, but was fast enough to set a qualifying record for Interlagos. It took the title from Rubens Barrichello in the Ferrari F2004, probably the pinnacle of the modern F1 car. The F2004 holds almost all of the qualifying and single-lap records for circuits still in use today... indeed, the fastest lap ever at Interlagos is a 1:09.something, set by the F2004 in practice that year.
However, Hamilton's record stood for something like ten seconds, for Rosberg came along and grabbed his 10th pole of the year with
his
final lap. The whole time, though, he was looking over his shoulder at the man behind him, one Felipe Massa. The Brazilian, racing at his home track (almost literally; he grew up in Saõ Paulo, within sight of the circuit), had been making things difficult for the Mercedes boys by being consistently faster than them down the straights, and with the vocal support of the Brazilian fans (that's a lot of fans!), had a legit chance at taking pole. Alas, he was unable to do so, for a reason that we saw all too much of today.
If I had to describe today's Quals session with one word, it'd have to be "sloppy." The track surface temps were some fifty degrees cooler today from Practice, and it seems like many of the teams were set up for rain. As a result, we saw a LOT of smoking tires, blown turns, flatspots and four-wheel drifting. It got so bad that I was joking to myself at one point: "first man to turn a clean lap wins pole and we can all go home." I'm still not sure anybody
did
do so.
So tomorrow actually has the possibility of being interesting, particularly if the expected rains come. Programming note: the race is actually being shown live on CNBC at 930am, then on tape delay on NBC as mentioned in the "F1 on TV" report. That's new, I only just found that out last night.
See ya there, y'all.
Posted by: Wonderduck at 12:11 PM | No Comments | Add Comment
Post contains 526 words, total size 13 kb.
November 07, 2014
F1 Practice: Brazil 2014
Not a whole bunch of excitement during Practice 2 today, unless you count three red flags as "excitement." Formula 1's stewards are being very cautious when it comes to car cleanup these days, perhaps overly so... and that's a good thing. A repeat of Jules Bianchi's accident, as unlikely as that may be, would be A Bad Thing, so I'd rather the cars sit quiet for a little while during cleanup activities.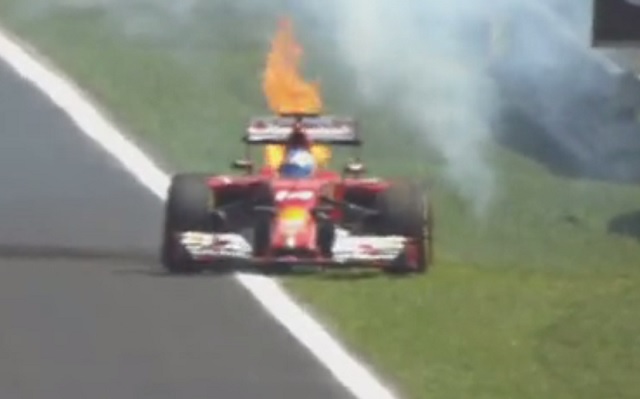 Jules Vergne's Toro Rosso packed up after about 10 minutes of running in the session, then a half hour later, HWMNBN's caught fire shortly before Esteban!'s Sauber decided it didn't want to run anymore. It's suspected that all three fell afoul of the weather in Saõ Paulo, best described as "holy crap that's hot and there's no air." Air temps at the start of the session were near 90, with rain in the immediate future. Combine that with the elevation the track is at, 2500 feet, and life is proving to be very hard for the turbochargers. It may prove to be nothing at all; HWMNBN was running an old power unit, and it's fair to bet that Sauber and Toro Rosso were doing the same, but it's still something we need to keep an eye out for.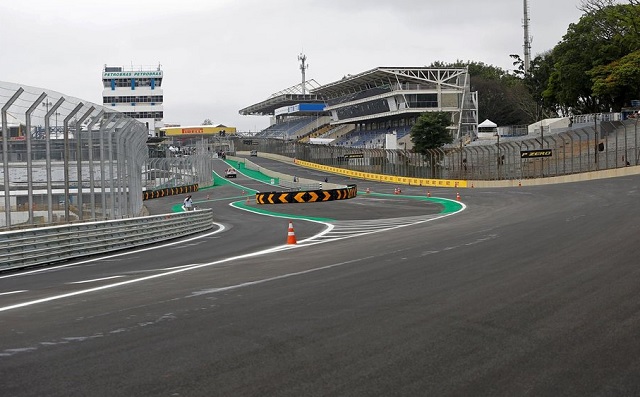 Another thing to watch is the new pit entry.
For years I've complained about the pit lane entry
at Brazil and how the racing line for the final turn ran right through it. Well, the folks in charge of Interlagos finally did something about it, probably after some prodding from the FIA. The results are as seen above, and it's a helluva lot better than before. No longer will it look like someone is entering the pits at 160mph. I still don't like the circuit, but this is a step in the right direction. They also resurfaced the track, I gather, and the new asphalt is stupid slippery in the heat. Track surface temps were near 130 degrees, much hotter than anybody expected. As a result, we saw a lot of tire wear, which may come into play down the road. But probably not, as we're expecting rain both during Quals and the race itself. Won't that be fun?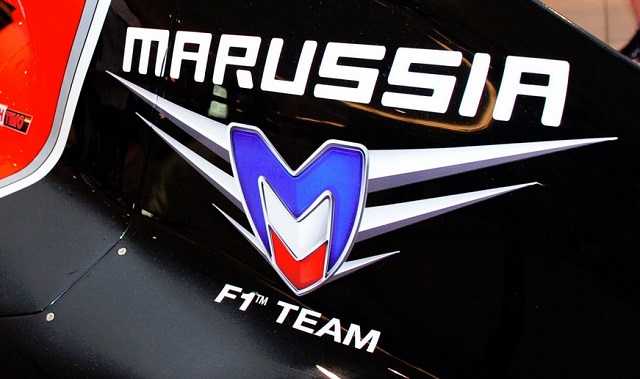 In other news, Marussia has officially given up and is no longer a race team. This removes them from the prize moneys they earned for their points at Monaco, promotes Sauber to 9th place in the standings, and Caterham to 10th if they can make it to Abu Dhabi. The end of Marussia closes the book on a rather troubled lineage. Starting out as Virgin Racing in 2010, that car was the first entirely designed and tested using Computational Fluid Dynamics technology... no wind tunnel for these guys! Unfortunately, no success for them, either, as they often appeared to have the worst car on the grid in both 2010 and 2011, something of a feat considering the presence of HRT. A surprise 9th at Monaco this year by Jules Bianchi earned them their first ever points, a high ruined by Bianchi's terrible accident at Japan, one with some similarities to test driver Maria de Villota's crash in 2012. The team ran one car at Sochi, and that will prove to be the last time Marussia made it to the grid. A pity.
Quals in the morning!
Posted by: Wonderduck at 10:00 PM | No Comments | Add Comment
Post contains 559 words, total size 3 kb.
November 03, 2014
F1 on TV: Brazil 2014
No time to rest for the wicked! The F1 Circus is heading south to São Paulo, Brazil, home of Autodromo Jose Carlos Pace, the location of the 2014 Grand Prix of Brazil! Let's take a look at the track map:
This is the time where I point out that I have a terrible hate for this circuit. It's an irrational hate, one that makes no sense no matter how I look at it. It's just one of those things, like if you get 50 people in a room, no matter how friendly they all are, it's likely two of them will be at each other's throats. That's me and this track, which is better known as Interlagos. Interlagos means "between the lakes", and my long-time joke is that it'd be better if it was known as "
in
the lake." I really don't like this place.
And yet, they don't listen to me and the continue to schedule races there. How rude is that? I mean, sure, Brazilian fans (that's a lot of fans!) are possibly more rabid than the Italian
tifosi
... they just root for Ferrari, where Brazil loves the sport and all thing Ayrton Senna... but is that enough reason to keep coming back? It is? Oh.
Well, the Legendary Announce Team will be doing the whole coverage thing again, so that's good. Here's the broadcast schedule...
FRIDAY
Practice 2: 10a - 12n live on NBCSN
SATURDAY
Quals: 10a - 1130a live on NBCSN
SUNDAY
2014 Grand Prix of Brazil: 12n - 230p live on NBC
The penultimate race of the season... I should be excited.
Posted by: Wonderduck at 11:03 AM | No Comments | Add Comment
Post contains 272 words, total size 2 kb.
November 01, 2014
F1 Quals: United States 2014
A surprisingly chilly day greeted the F1 cowpokes as they guided their steeds onto Austin, Texas' Circuit of the Americas in preparation for Sunday's US Grand Prix. Which of 'em would be named sheriff, and which would be dangling from the end of a rope? Let's take ourselves a look at the provisional grid:
If you ask the Legendary Announce Team, it's something of a miracle that Rosberg and Hamilton made it to Q3, let alone lock out the first row. Both Merc drivers have been dealing with technical difficulties all weekend, the type that make engineers pull out their hair, mechanics lose sleep rebuilding entire cars to find a single mistinned lead, and drivers throw hissyfits while spilling their energy drinks. Rosberg seemed to have a side-to-side brake balance problem, something that you almost never hear of in F1, while Hamilton was having shifter difficulties. Both of these "miraculously" cleared up before Quals, which saw Hamilton make a teeny bobble in Q3 to give his teammate pole for Sunday's race.
Last year, 4Time Vettel won this race, with Lettuce Grosjean standing next to him on the podium. Quite the difference a year can make. Grosjean just has a miserable pile of scrap for a car, and Vettel, knowing that he has to start from the pitlane for using a completely new powerplant (his seventh, one beyond the limit), barely even tried. The talk was, in fact, that he wouldn't even appear in Quals, until someone pointed out that put his ability to race in the hands of the Stewards (for not setting a time within 107% of the fastest time in Q1), officials who were already in a foul mood because of the loss of two teams.
Hail Adrian
F'n
Sutil for finally giving Sauber their first appearance in Q3 this season... and if that isn't a terrible proclamation, I don't know what is.
Actually, I
do
know what is. There's at least a chance that there will only be 12 cars taking the lights tomorrow. To protest the incredible imbalance between the financial situations of the big teams and the smaller ones, Lotus, Sauber and Force India have been linked to a boycott of the race. All three teams have been reported to be suffering financial difficulties, and to be fair, F1 is completely cocked up when it comes to the money situation. For example, the 2013 payout was something like $900 million... and Ferrari got $100 million right off the top simply because they're Ferrari, over and above their prize winnings. That right there is more than the annual budgets of either of the two teams missing this week, Marussia and Caterham. Something does have to be done about this imbalance, and this threat is a good way to draw attention to the problem. The three teams can absolutely
kill
any chance F1 has to get back into the US long-term (remember the 2005 debacle?), and what do they care? As is, none of them will be around in two years, driven out by the manufacturers.
Someone from Lotus tweeted that they'll be racing, but team boss Gerard Lopez was quite angry at yesterday's
team principal press conference
, which makes for quite eye-opening reading. Will they go through with the boycott? Probably not, but we won't really know until the teams form up on the grid for the lights.
Tomorrow could prove to be quite interesting! See ya then.
Posted by: Wonderduck at 01:54 PM | Comments (7) | Add Comment
Post contains 702 words, total size 14 kb.
83kb generated in CPU 0.0197, elapsed 0.3261 seconds.
47 queries taking 0.3122 seconds, 252 records returned.
Powered by Minx 1.1.6c-pink.