September 27, 2008
F1 Quals: Singapore 2008
Here's the provisional grid for the race:
| | | | | | |
| --- | --- | --- | --- | --- | --- |
| 1 | Felipe Massa | Ferrari | 1:44.519 | 1:44.014 | 1:44.801 |
| 2 | Lewis Hamilton | McLaren-Mercedes | 1:44.501 | 1:44.932 | 1:45.465 |
| 3 | Kimi Räikkönen | Ferrari | 1:44.282 | 1:44.232 | 1:45.617 |
| 4 | Robert Kubica | BMW Sauber | 1:44.740 | 1:44.519 | 1:45.779 |
| 5 | Heikki Kovalaineninnie | McLaren-Mercedes | 1:44.311 | 1:44.207 | 1:45.873 |
| 6 | Grizzly Nick Heidfeld | BMW Sauber | 1:45.548 | 1:44.520 | 1:45.964 |
| 7 | Sebastian Vettel | STR-Ferrari | 1:45.042 | 1:44.261 | 1:46.244 |
| 8 | Timo Glock | Toyota | 1:45.184 | 1:44.441 | 1:46.328 |
| 9 | Nico Rosberg | Williams-Toyota | 1:45.103 | 1:44.429 | 1:46.611 |
| 10 | Kazoo Nakajima | Williams-Toyota | 1:45.127 | 1:44.826 | 1:47.547 |
| 11 | Jarno Trulli | Toyota | 1:45.642 | 1:45.038 | |
| 12 | Jenson Button | Honda | 1:45.660 | 1:45.133 | |
| 13 | Mark Webber | Red Bull-Renault | 1:45.493 | 1:45.212 | |
| 14 | David Coulthard's Chin | Red Bull-Renault | 1:46.028 | 1:45.298 | |
| 15 | HWMNBN | Renault | 1:44.971 | no time | |
| 16 | Nelson Piquet Jr | Renault | 1:46.037 | | |
| 17 | SeaBass | STR-Ferrari | 1:46.389 | | |
| 18 | Rubens Barrichello | Honda | 1:46.583 | | |
| 19 | Adrian Sutil | Force India-Ferrari | 1:47.940 | | |
| 20 | Giancarlo Fisichella | Force India-Ferrari | no time | | |
No writeup today.
Posted by: Wonderduck at 05:42 PM | Comments (1) | Add Comment
Post contains 148 words, total size 9 kb.
September 26, 2008
F1 Practice: Singapore 2008!
Wow. Just... wow. I have no idea how the race will go on Sunday, I have no idea how the track will be for actual
racing
, but I do have one idea...
If nothing else, this race is going to be
amazing
visually. Under the track lighting, these cars just glow; to whit: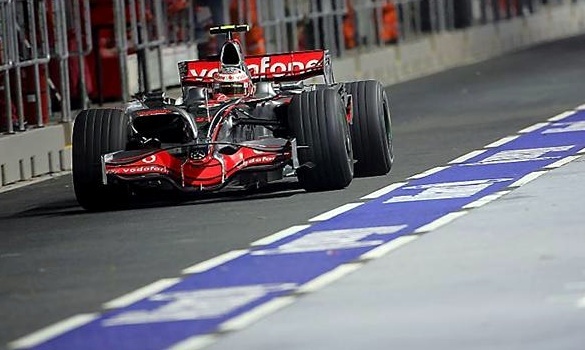 There's a

reason

I call it The Glare With Wheels, y'know...
The lighting gives us great views of other things, too: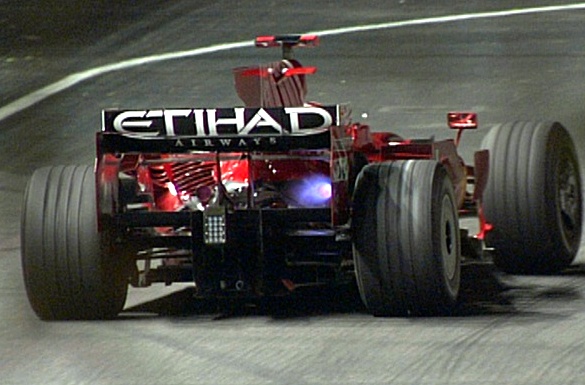 Ferrari tests their new jet engine technology.
The circuit itself looks like a winner, too, challenging and hard, but fair, with a lot of unique bits to give it some flavor (unlike, oh, say, Valencia). I suspect there's going to be a problem with the pit-out, however. It releases right into the driving line for Turn 1, and even in P2 today, we saw the Toro Rosso of SeaBass squeeze himself as close to the inside wall as possible because Grizzly Nick Heidfeld was coming down hard on him... and despite SeaBass' giving him as much room as he could, Heidfeld
still
blew the turn. It's not a stretch to imagine there being a nasty crash at that point during the race.
But the above pictures just don't do the look of the cars under the lights justice. When the McLaren first came on track, I gave one of those low whistles of amazement... it was just that stunning.
It didn't rain, which is surprising as it always rains in Singapore, but we did get an idea about what'll happen if it does: plank dust. As the cars ran over rough spots on the track, they wore away bits of the FIA legality plank, throwing what was essentially sawdust into the air... where it hung around. It was quite thick in the air at some points, and didn't much want to disperse. It was almost like a thick fog, which could play hob with the drivers if it really DOES rain.
Still, this is at least a promising beginning for the Grand Prix of Singapore.
Finally, who says the F1 teams can't have a little bit of fun once in a while?
See you after Quals on Saturday!
Posted by: Wonderduck at 09:14 PM | Comments (3) | Add Comment
Post contains 366 words, total size 3 kb.
September 25, 2008
F1U!'s Favorite Car
The
Tyrrell P34
: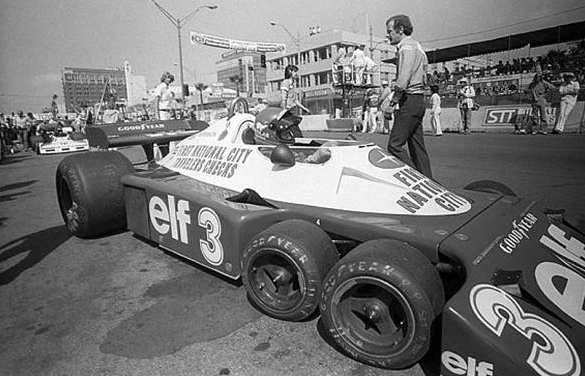 Okay, yes, it looks a little weird to our eyes, but there was a good concept behind it. Since the biggest cause of drag on a F1 car is the tires, and by the rules you can't cover the tires with bodywork, just make the front tires smaller! Brilliant!
Of course, by reducing the size of the steering tires, you lose grip. No problem, just add another set! Add a well-faired nose, and you've almost managed to cover the tires completely and still stay within the rules. Now THAT'S how F1 is supposed to work. Brake cooling was a constant problem however, and the front tires constantly distorted at high speed (being smaller than the rears, they rotated faster. Stresses easily dealt with by the larger tires became much more pronounced in the 10" fronts). The car also had unique steering properties... so much so that while Patrick Depailler was able to figure it out, his teammate Jody Scheckter was never comfortable behind the wheel.
In 1976, the P34 actually finished 1-2 at the Swedish Grand Prix, took 2nd at the Japanese Grand Prix in a huge rainstorm, and had some other podiums as well. While it competed in 1977, shortly thereafter the rules were changed to define a F1 car as having four wheels, consigning the car to the ash heap of history.
Corgi released a diecast car
of the P34, which I was lucky enough to own back when I was a young duckling. Wish I knew what happened to it!
Posted by: Wonderduck at 09:47 AM | Comments (7) | Add Comment
Post contains 259 words, total size 2 kb.
September 22, 2008
F1 on SPEED: Singapore 2008!
While we wait for a decision to be made on Lewis Hamilton's appeal of his penalty at Spa, let's take a look at the this weekend's race at Singapore.
This is a race that will consist of a number of firsts: first time at the Singapore circuit, first F1 night race, and potentially the first wet night race (60% chance of rain at race time). There's not a whole lot we can say about the circuit yet because, unlike Valencia earlier this season, this really
is
a street circuit, like Monaco, while Valencia's circuit ran around a marina. As a result, the Valencia track could easily be set up for other races. The Singapore circuit, on the other hand, runs on
working city streets
. Here's the track map: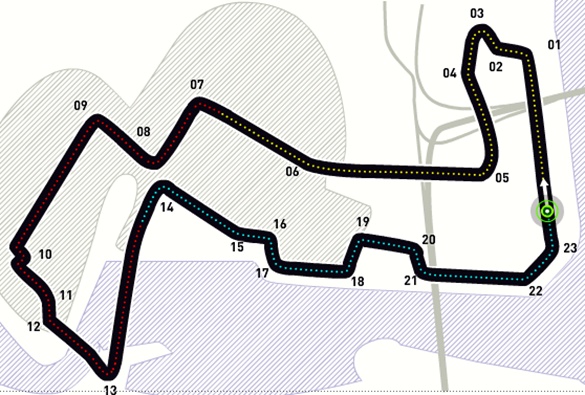 Happily, this is the first new F1 racecourse NOT designed by Hermann ("I hate passing") Tilke. It's based off a suggested trackplan by him, though. The fastest spot on the circuit is expected to be the run-in to Turn 07, where the simulations suggest the cars will be hitting about 200mph before slamming on the brakes. Twice the cars will be running across bridges over water, between 12 and 13, then 13 and 14. The run to the first turn takes the cars UNDER a highway, as does the turnout from 21.
Very interestingly, the short straight between 18 and 19 seems to run UNDER a set of temporary grandstands as well. Hopefully, there won't be any car fires or blown engines at that point. Yeesh.
Simulations also indicate that this course is going to be the highest downforce track on the calendar... even more than Monaco, which doesn't seem possible. Lots of 90-degree turns out there, though, which one would expect from a modern city.
Technically, the lighting system is quite complex. First off, they won't be using the traditional flagging system for the race. Instead, there'll be 35 LED panels around the circuit that'll act as the flags. For illumination, however, there'll be between 1500 and 1600 "light projectors" at 2000w each, with one roughly every 10 feet or so. They'll be using 12 electrical generators to generate the 3.2 million watts required, with almost 109km of cable. The lights will be hung off of 6km of truss surrounding the track.
They ran a test of the lighting system this past weekend; the above shows the "Fullerton Road" bridge, between 12 and 13. The lights will be on one side of the track only, to reduce glare on the TV cameras. Since the cars are only three feet high or so, shadows aren't expected to be a problem.
This'll be a fun one, that's for sure, and SPEED will be bringing us their usual expert coverage.
Friday
, we have the usual Practice 2 session, from
830a to 1015a
, which will be 930pm local time. Late night for the F1 Circus!
Saturday
, from
9a to 1030a
, we get the first ever night Quals session. Even later night for the F1 boys, as that session won't start until 10pm local!
Finally we get the race on
Sunday
, from
630a to 9a
. It'll be quite the spectacle, that's for sure, and F1 UPDATE! will be all over it.
See you then, but check in on Tuesday for the results of the Penalty Appeal!
Posted by: Wonderduck at 08:55 PM | Comments (1) | Add Comment
Post contains 555 words, total size 4 kb.
September 13, 2008
F1 Quals: MONZA 2008!
It never rains at Monza. Never. Never ever. So what happened in the Quals session today?
It rained. A lot. Unfortunately, it was raining here in Duckford as well. A lot. Six inches worth overnight, some reports are saying.
As you can imagine, The Pond's satellite feed was pretty much borked, so I haven't even watched quals yet! While I'm trying to d/l it as I type this, it's going to take some time. So instead of waiting, here's the provisional grid:
1

Sebastian Vettel
STR-Ferrari
1:35.464
1:35.837
1:37.555
2
Heikki Kovalaineninnie

McLaren-Mercedes

1:35.214

1:35.843

1:37.631
3
Mark Webber
Red Bull-Renault
1:36.001
1:36.306
1:38.117
4
SeaBass
STR-Ferrari
1:35.543
1:36.175
1:38.445
5
Nico Rosberg
Williams-Toyota
1:35.485
1:35.898
1:38.767
6
Felipe Massa
Ferrari
1:35.536
1:36.676
1:38.894
7
Jarno Trulli
Toyota
1:35.906
1:36.008
1:39.152
8
HWMNBN
Renault
1:36.297
1:36.518
1:39.751
9
Timo Glock
Toyota
1:35.737
1:36.525
1:39.787
10
Grizzly Nick Heidfeld
BMW Sauber
1:35.709
1:36.626
1:39.906
11
Robert Kubica
BMW Sauber
1:35.553
1:36.697


12
Giancarlo Fisichella
Force India-Ferrari
1:36.280
1:36.698


13
David Coulthard's Chin

Red Bull-Renault
1:36.485
1:37.284


14
Kimi Räikkönen
Ferrari
1:35.965
1:37.522


15
Lewis Hamilton
McLaren-Mercedes
1:35.394
1:39.265


16
Rubens Barrichello
Honda
1:36.510




17
Nelson Piquet Jr

Renault
1:36.630




18
Kazuki Nakajima
Williams-Toyota
1:36.653




19
Jenson Button
Honda
1:37.006




20
Adrian Sutil
Force India-Ferrari
1:37.417
Yes, ladies and gentlemen, it's Bizarro Grid! Sebastian Vettel on the pole? Lewis Hamilton, Kimi Raikkonen AND Robert Kubica not making it out of Q2? Three Red Bull cars in the top four? Vettel becoming the youngest pole-sitter in F1 history? Inconcievable!
It becomes somewhat clearer when you realize that it's NOT expected to rain tomorrow, so the heavy hitters are probably set up for a dry track. The other teams, like STR, are probably gambling and dialed themselves in for wet weather, which helped them today, but could kill them tomorrow.
After I watch the quals, I'll throw in some more info here if warranted. But still...
TORO ROSSO???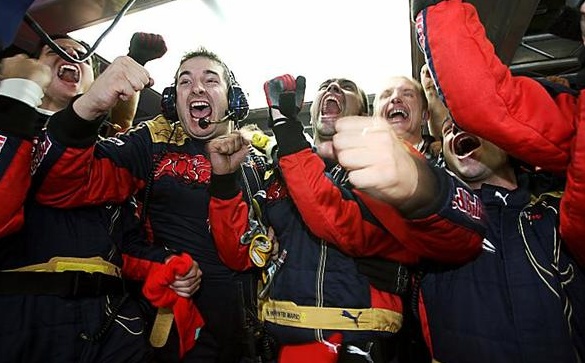 This is madness. MADNESS, I tell you. The mind boggles!
Posted by: Wonderduck at 04:51 PM | Comments (2) | Add Comment
Post contains 338 words, total size 9 kb.
September 12, 2008
F1 Practice: Monza 2008!
It never rains at Monza. Never. Never ever. So what happens in P1 today?
It rains. A LOT. How much?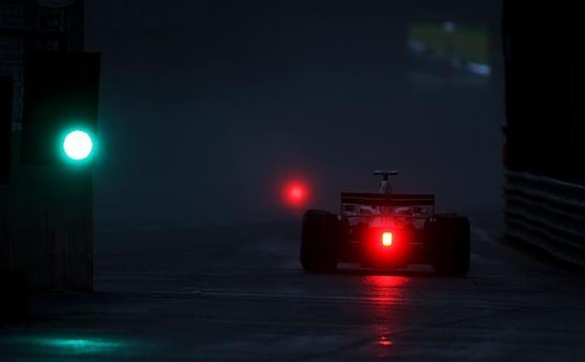 Oh, maybe that much. That's not an edited photo, no color or brightness modification whatsoever... it really was that dark at one point. Okay, so it's dark and rainy, big deal. Well, yes. It REALLY rained.
Yeah, about that much. P1 wound up being red-flagged with about five minutes left in the session. That rain left the track soaked, with some puddles of standing water on the back half of the circuit.
So P2 started on full wet tires, but the times dropped dramatically as the sun came out and the track dried. An example? Laps at the top of the session were around 1m45sec. At the end? 1m24sec. Just because the asphalt dried out.
Other than Nelson Piquet Jr high-centering his car on a "sleeping policeman" in the first chicane, though, there wasn't much else going on. Everybody was going very quickly, but Ferrari, McLaren and BMW proved to be the class of the field, as usual, with the Toro Rossos lurking closely behind. Not only is this Ferrari's home track, but it's the perfect circuit for their cars, one that rewards raw horsepower and low drag. There really aren't any low speed portions to Monza, unlike Spa's Turn 10-15 section for example.
So don't be surprised if Ferrari owns the front row in quals tomorrow... see ya then!
Posted by: Wonderduck at 10:32 PM | Comments (1) | Add Comment
Post contains 244 words, total size 2 kb.
September 09, 2008
F1 on SPEED: ITALY 2008!
Just to get it out of the way, McLaren officially filed their protest regarding the 25sec penalty levied against Lewis Hamilton at Spa last week. Nominally, Felipe Massa is still the winner, and will as such until the protest is heard "at a time forthcoming."
So with that spectre hanging over our heads, let's get our focus out of the backrooms of the FIA and on the track, where it belongs.
And what a track it is. The track where speed is king, the circuit where speed was born, one of the legendary racetracks in all the world,
La Pista Magica
:
Monza.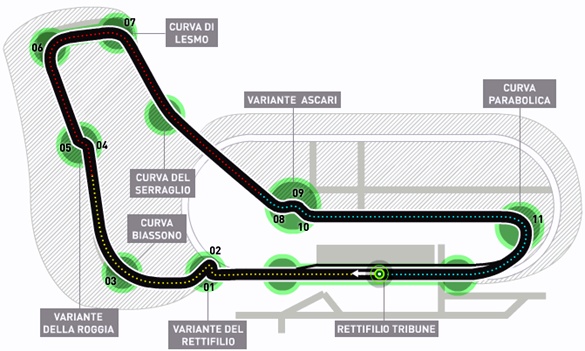 A casual follower of the sport would look at Monza and say "why is
this
legendary?" And in comparison to tricky technical circuits invented by Hermann Tilke, they'd be right. It's not a particularly challenging-looking track... only 11 turns, 7 of them in three chicanes? That's nothing! But turns are not what Monza is about.
Monza is about nothing but flat-out, engine-killing speed. 77% of a lap at this circuit is spent with the gas pedal jammed through the floorboards, the highest percentage in F1. Drivers hit 210mph just before turns 1, 4, 8 and 11... and turn 11, Parabolica, is perhaps the fastest curve in F1... 178mph if you're doing it right. Strangely, it's followed by one of the slowest, Variante del Rettifilio. From 210mph to 45mph in less than 100 yards.
If you could only have four circuits in F1, Monza would have to be one of them (I'd say Spa, Monaco and Silverstone for the other three).
Of course, our friends at SPEED will bring us their usual coverage of the race weekend, starting from
7a to 840a Friday
morning with live coverage of 2nd Practice. The track has been around for so long, however, teams barely need the practice. Still, they'll be out there driving the tires off.
On
Saturday
, from
7a to 830a
, we'll have plausibly live coverage of Quals. With a high-speed track like Monza, passing is a little tricky, so a good position on the grid is crucial, perhaps moreso than most places.
Then
Sunday
brings the tifosi out to cheer on Team Ferrari, who's factory is just down the road. The coverage begins at
630a
, and goes until
9am
.
See how the FIA stewards will bend McLaren over this time!
Who knows who'll be leading the Driver's Championship afterwards? We'll know afterwards!
Of course, F1 UPDATE! will be here all weekend as well!
Posted by: Wonderduck at 07:59 PM | No Comments | Add Comment
Post contains 418 words, total size 3 kb.
September 06, 2008
F1 Quals: SPA 2008!
If you told me this morning that it was likely to rain during today's quals session at the Spa-Francopants circuit, I would have said "...and the surface of the sun is hot, it's fairly cold in Antarctica, and you're likely to see big eyes in anime."
So of course it was completely dry all day. To further scramble my entire world view, SeaBass and his Toro Rosso was fastest in Q1. At least Honda was really slow, so there's still
some
things happening the way they're supposed to. If you start hearing stories about sunburned penguins, though, head for the hills.
Oh, the grid? McLaren-Ferrari-McLaren-Ferrari. Color me surprised. Here's the provisional grid:
Pos
Driver
Team
Q1
Q2
Q3
1
Lewis Hamilton
McLaren-Mercedes

1:46.887

1:46.088

1:47.338
2
Felipe Massa
Ferrari
1:46.873
1:46.391
1:47.678
3
Heikki Kovalaininnie
McLaren-Mercedes
1:46.812
1:46.037
1:47.815
4
Kimi Räikkönen
Ferrari
1:46.960
1:46.298
1:47.992
5
Grizzly Nick Heidfeld
BMW Sauber
1:47.419
1:46.311
1:48.315
6
HWMNBN
Renault
1:47.154
1:46.491
1:48.504
7
Mark Webber
Red Bull-Renault
1:47.270
1:46.814
1:48.736
8
Robert Kubica
BMW Sauber
1:47.093
1:46.494
1:48.763
9
SeaBass

STR-Ferrari
1:46.777
1:46.544
1:48.951
10
Sebastian Vettel
STR-Ferrari
1:47.152
1:46.804
1:50.319
11
Jarno Trulli
Toyota
1:47.400
1:46.949


12
Nelson Piquet, Jr

Renault
1:47.052
1:46.965


13
Timo Glock
Toyota
1:47.359
1:46.995


14
David Coulthard's Chin

Red Bull-Renault
1:47.132
1:47.018


15
Nico Rosberg
Williams-Toyota
1:47.503
1:47.429


16
Rubens Barrichello
Honda
1:48.153




17
Jenson Button
Honda
1:48.211




18
Adrian Sutil
Force India-Ferrari
1:48.226




19
Kazoo Nakajima
Williams-Toyota
1:48.268




20
Giancarlo Fisichella
Force India-Ferrari
1:48.447
Kudos to Toro Rosso again for showing that they DO have speed, even though they're 9-10 on the grid. SeaBass' performance was legit, even though the team does have a ways to go. I've completely lost any chance there was on predicting how BMW is going to do in quals OR in the race... they're just too inconsistent now. It's clear that they're the third best team on the grid, but it's also clear they really aren't close to the Big Two anymore.
40 years ago at Spa, Bruce McLaren, the founder of the team of the same name, won his first race for his team. It seems appropriate, therefore, that Hamilton and Kovalaininnie are in great shape for the race. I wonder, though, if they're short fueled? They WERE faster than the Ferraris all day, but that doesn't mean anything
per se
.
It seems that the Red Cars do better when it's warm and dry... and if there's one thing you can say about the Swimming Pool at Spa, it's that it won't be either come raceday. However, Kimi Raikkonen has won the last three Belgian Grand Prix ('04 & '05 for McLaren, '07 for Ferrari... of course, there was no race in '06 as they were remodeling the course that year), so it's hard to bet against him.
And then there's the rain. If it rains, about the only thing you can say is that Felipe Massa will drive like he's on rails... that lead right into the nearest gravel trap. Other than that, it'll be a crapshoot.
Let's hope for rain!
Posted by: Wonderduck at 03:43 PM | Comments (1) | Add Comment
Post contains 516 words, total size 11 kb.
September 05, 2008
F1 Practice: SPA 2008!
"If it rains at Spa... park it."
-Unnamed F1 Driver.
The second Friday practice went green, and everybody piled out onto the track in the Ardennes Forest. Usually, the teams will trickle onto a circuit during a practice session, but not today... for the radar screen showed rain coming.
Unfortunately for everyone, when the rains did come about 20 minutes into the session, it was basically a heavy drizzle: too wet for dry tires, but not wet enough for intermediates. So, following the guidelines of the old aphorism mentioned above, everybody went back to their paddocks and waited. As the Legendary Announce Team pointed out, there are times when the only thing you can accomplish in practice is learning how to stuff your car into the tire barriers. This was one of those times.
After a half hour or so, SeaBass went out to give it a whirl... and wound up crawling back into the pits. Still too wet. So we sat some more. Fifteen minutes passed, and Sebastian Vettel went out alone. Three laps later, with none of them within 4 seconds of the fast lap in dry weather, the teams decided that the track was dry enough to get some more running in.
Until Kimi Raikkonen lost it in the Rivage hairpin. He backed into the tire wall, breaking off his rear wing. Unbeknown to everybody, when he hit the barrier, he gave them a hard enough shot that the rain that had accumulated in the stacked tires squirted out, like squeezing a wet sponge. The water began to trickle downhill... and across the track.
At this point, Giancarlo Fisichella came charging through Rivage, and just as he exited the turn hit this thin stream... and
really
lost it. Out came the red flag, stopping practice as they had to carry the Force India off-track, dangling from a mobile crane.
While there were 15 minutes of mostly uninterrupted practice after that, today just showed what can happen at Spa when the rain comes. The producers at SPEED got to drag out the infamous clip of the start of the 1998 race... the most expensive crash in motor-racing history.
All together now: AIEEEEEEEEEEE!
13 cars wrecked, four whole teams out,
total carnage
! And, amazingly, the only injuries were to Rubens Barrichello, who had some bumps and bruises. Hopefully, we won't have a similar incident this year... because remember, folks, it's supposed to rain all weekend.
Quals on Saturday.
Posted by: Wonderduck at 10:38 PM | Comments (6) | Add Comment
Post contains 413 words, total size 3 kb.
September 02, 2008
F1 On SPEED: BELGIUM, Man, BELGIUM!!!
From the world's only sterile street circuit at Valencia, the F1 Circus warily heads into the Ardennes Forest to race on what is probably the world's finest modern track: Spa-Francorchamps. Spa has everything one could want from a race course... big elevation changes, high speeds, heavy braking, decent passing zones, and the constant threat of rain. Let's take a look at the map:
Spa-Francopants is probably best known for the test of manhood and courage called "
Eau Rouge
." Now, on the map it doesn't look like much, just a gentle kink to the left, followed by an arcing turn 3 leading to Raidillon, turn 4. But looks can oft be deceiving. You see, the run from about the pit exit to Eau Rouge is a steep uphill slope, with Eau Rouge near the crest of the hill. This makes the turn completely blind, and only the best (or bravest, or craziest... your choice) drivers can take the turn flat-out without lifting off the gas. Over the years, there have been some truly epic accidents here as cars make Eau Rouge, and lose it on turn 3.
This doesn't mean, however, that the rest of the track is chopped liver. Theres only a handful of turns that are taken at less than 100mph (18, 19, and 1, primarily), and the run from 12 down to those three is downhill, with Blanchimont being another test of courage.
As you can imagine, this is a fast track. That's good, because it's also the longest track on the calendar at almost 4.5 miles; a hypothetical "best possible" lap takes about 1m45sec. However, because there are so many high-speed turns at Spa-Francoamerican, having a good amount of downforce is critical... one cannot just go for nothing but speed here.
Because Spa is so long, it's quite common to have rain falling (sometimes quite heavily) at one spot on the circuit, while it's completely dry at the opposite spot on the track. There's a reason why the crew of F1 UPDATE call Spa "The Swimming Pool."
Thankfully for all of us, the good folks at SPEED have a good set of water-wings and will be bringing us plenty of coverage of
Michael Phelps
Lewis Hamilton and the F1 gang! First up will be live coverage of
Friday
's second practice from
7a to 840a
. Bring your snorkel and flippers, as the entire weekend has around a 60% chance of rain... which almost guarantees that it'll be raining on race day.
Saturday
, from
7a to 830a
, we get plausibly live coverage of Quals. Will Ferrari be able to cope with the cool weather that their car seems to hate so much, or will McLaren or BMW step up and take pole?
Then
Sunday
from
630a to 9a
, we've got the Grand Prix of Belgium live and in color, brought to you by the Legendary Announce Team. It should be a fun one (as opposed to the bland dullness of Valencia), even in the dry... Spa-Francoisstilldead is just that good!
Of course, the F1 UPDATE! crew will be there... here... whatever for all of it!
Posted by: Wonderduck at 07:12 PM | Comments (5) | Add Comment
Post contains 522 words, total size 3 kb.
92kb generated in CPU 0.0364, elapsed 0.4971 seconds.
53 queries taking 0.4726 seconds, 276 records returned.
Powered by Minx 1.1.6c-pink.