May 29, 2010
F1 Quals: Turkey 2010
Over the past few years, Turkey has been Ferrari's sandbox, but then BrawnGP came along last year and kicked sand in their faces. Now the Red Bullies have arrived on the scene, looking for a fight. Will Ferrari stand up for themselves? Will McLaren or Mercedes finally kick Red Bull out of the top spot on the grid? Let's take a look at the provisional lineup:
Yeah, like anybody is gonna kick Red Bull off of pole. Though to be honest, it looked like Lewis Hamilton had it cold at the end of Q3. He was maybe 20 seconds behind Webber on the track, and when Webber turned in the fastest sector 1 time of the day, Hamilton bettered it. Webber set the fastest sector 2 time, but Hamilton had been crusing there all day. It seemed that for once we'd get a non-Red Bull car on pole.
Then Slappy Schumacher had to go and ruin it for us by spinning off on Quad-8 and making a fine try for the barriers, coming up just a few feet short. Unfortunately, he was between Webber and Hamilton on track, meaning that when the local yellow flag came out, Hamilton had to slow down... but Webber didn't. So long, pole hunt. Obviously we don't
know
that Lewis would have been faster than the Red Bull driver, but it looked like it would have been close.
As far as Ferrari's sandbox went, it looked more like Ferrari's litterbox. Massa could only manage a lackluster eighth, while HWMNBN screwed up on his final two laps in Q2 and was bumped out. So much for "no more mistakes." For some reason, I am not unhappy with this result.
So there's our grid... and Webber is suddenly looking like he's in the clear for a three race winning streak. Will it pan out? We'll see tomorrow! Come back on Sunday for the F1 Update!
Posted by: Wonderduck at 10:05 AM | Comments (2) | Add Comment
Post contains 480 words, total size 14 kb.
May 28, 2010
F1 Practice: Turkey 2010
It appears that the previous talk about the circuit at the Istanbul Otodrom becoming bumpy in its age didn't go far enough. It's hideous, particularly on the first two apexes of Quad-8 (or, as one e-mailer to the Legendary Announce Team named it, "Diabolica," a play off of the famous "Parabolica" at Monza). The braking zone for Turn 12 is also infested with molehills growing into mountains.
Felipe Massa had a bad, bad time with Turn 8 today, losing the car twice in two laps at the same place on the bend. In fact, he just was having a bad time in general. I'm starting to wonder if the rumors that he's not the same driver he used to be before the Spring Incident... aren't true. He hasn't even come close to winning a race this season; heck, other than the Ferrari domination of Bahrain where he finished second, he's not come close to the front of the pack this year at all. It's a shame... while I can't say that I much like the guy (he
does
drive for Ferrari, after all), having your career curtailed through no fault of your own just isn't very fair.
Speaking of unfair, the last time HRT's Bruno Senna raced at Turkey, his GP2 car was totaled when he
ran into a dog
on the circuit. Which isn't quite as bad as hitting a cow,
like these rally drivers did
, but still pretty bad.
Late in P2, Red Bull's Mark Webber blew an engine. Not so bad, really, as it only had about 30 miles left in its scheduled lifespan anyway. Meanwhile, his teammate, Seb Vettel, got a new chassis. The past two races, he's been complaining about the car not feeling right; turns out there was something wrong with the floor/undertray. The team could not fix it, so brand new car for him... which, in his tradition, he has named "Randy Mandy." She joins "Kate," "Kate's Dirty Sister," and "Luscious Liz" on the list.
Jensen Button headed the timesheet in P2, followed by the two Red Bull drivers and Lewis Hamilton. Massa was 10th.
Ferrari has a new livery for this race: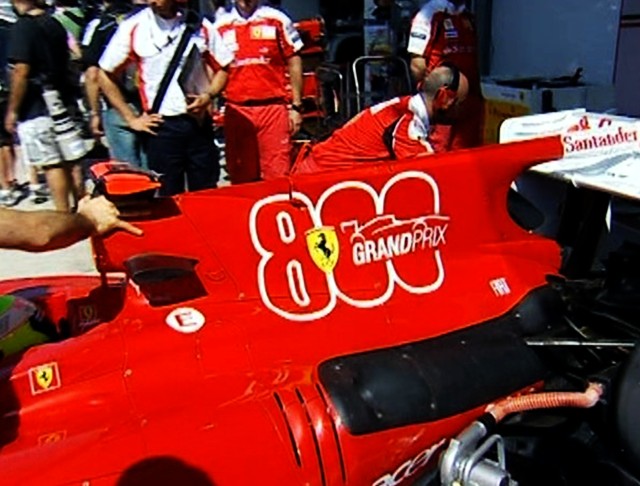 This will be their 800th Grand Prix start. Nobody else is really even close, as they're the only team to have participated in all 60 seasons of F1. That's a lot of races... and makes the fact that Rubens Barrichello is closing in on his 300th start (near the end of this season) all the more impressive.
Quals in the morning. See you then!
Posted by: Wonderduck at 08:26 PM | Comments (1) | Add Comment
Post contains 428 words, total size 3 kb.
May 25, 2010
F1 on SPEED!: Turkey 2010 and Formula 1 Returns to the USA!
First off, Birdy Ecclestone announced today that the city of Austin, Texas will be hosting the US Grand Prix beginning in 2012. A purpose-built facility will be created for the event, the first time a F1-level track has been built in the US. Good job, Birdy!
Now, onto the current season! F1 makes its way to Istanbul this week, home of the only Hermann Tilke circuit that's worth a darn. Let's take a look at the map.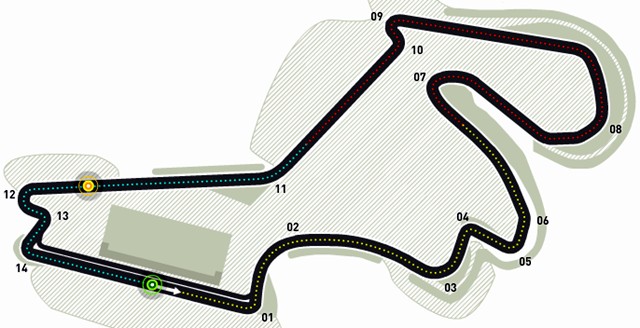 There are three turns on this track that are memorable. Turn 1 has been compared to a junior version of Laguna Seca's famed Corkscrew, though without the radical elevation change (and wouldn't a flock of F1 cars negotiating
that
be something to see?). Turn 11 has jokingly been called "Faux Rouge", as it's a high-speed kink on a hillside, just like the original Eau Rouge at Spa-Francopants.
But it's Turn 8 that elevates this circuit from "okay" to "great." A four-apex corner (which I've called "Quad-8" for years), it's a blisteringly high speed/high risk bend. Get it right in qualifying, and you're on pole. Get it wrong, and you're headed towards the very distant catch fencing... backwards. Nobody's quite made it there yet, but some have given it a mighty effort... I seem to remember Christian Klein a couple of years back coming within a couple of car-lengths. Backwards. Quad-8 is probably Tilke's finest creation.
Of course, Turkey is certainly his best track, too, and it's all due to the land it's on. Unlike Malaysia, China, Bahrain, etc etc, the Istanbul Otodrom (I don't
care
what they call it now) is built on terrain that features hills. Hills mean elevation changes, and that means it actually feels like you're going somewhere. Drivers
love
that, which is one of the reasons that Spa is so popular.
All is not sweetness and light in Turkey, however. Just like the circuit at Shanghai, drivers believe that the track is getting bumpier as it ages, particularly at Quad-8. It's hard enough to make that turn successfully, I can only imagine how grumpy an uneven surface will make the drivers.
Fortunately, we won't HAVE to imagine it, for SPEED will bring us their usual fine coverage beginning with 2nd Practice on Friday, live, from 6am to 740am. Quals follows the next day, from 6am to 7am... at least, that's how the schedule reads. To be safe, set your VCR for 730am.
The 2010 Grand Prix of Turkey comes our way LIVE on Sunday, from 630am to 9am, with a replay on Tuesday from 11am to 130pm. Hopefully my VCR woes will be gone by then, otherwise it'll be another late F1 UPDATE!. However, rest assured that we WILL be here for you!
Posted by: Wonderduck at 06:18 PM | Comments (5) | Add Comment
Post contains 466 words, total size 3 kb.
May 16, 2010
F1U: Monaco is... delayed
Due to recording problems (i.e. the audio sounding like someone is crinkling the cellophane wrapper off a cigarette pack in your ear), it's 7pm Pond Standard Time and I have yet to finish the race. For you guys I suffered through the first 36 laps... and got a headache from all the static. Downloads are about an hour from being complete (they were late getting posted at my F1 source), and that puts it square in the middle of the broadcast of the last episode of
The Pacific
... the only thing that could keep me from watching F1.
So the F1U! for Monaco will be posted tonight, but late... maybe 11pm or midnight, local time. It's still comin', though. Enjoy the suspense.
Posted by: Wonderduck at 06:14 PM | Comments (2) | Add Comment
Post contains 126 words, total size 1 kb.
May 15, 2010
F1 Quals: Monaco 2010!
It was an action-packed Saturday in The Principality today, but did someone knock Red Bull off pole for the first time this season? Let's take a look at the provisional grid for Sunday's Grand Prix of Monaco!
Well, the answer is "no." Mark Webber turned in the only sub-1m14s time of the entire weekend with only eight seconds left to go in Q3. That fended off a last-ditch charge from Robert Kubica, who had sat in the top spot for the first nine minutes of the session. The two of them then threw fast lap after fast lap at each other in a quick game of "Can You Top This?" Eventually, the Renault couldn't.
A sharp-eyed reader will note the glaring "No Time" next to HWMNBN's entry on the grid. That's because he had a little run-in with the armco during Saturday's practice session. He pretty much left the right side of his car at Massanet and Ferrari never even attempted to repair it, opting instead to build up a new chassis for the race. Considering how the damaged car looked, that's probably a good decision.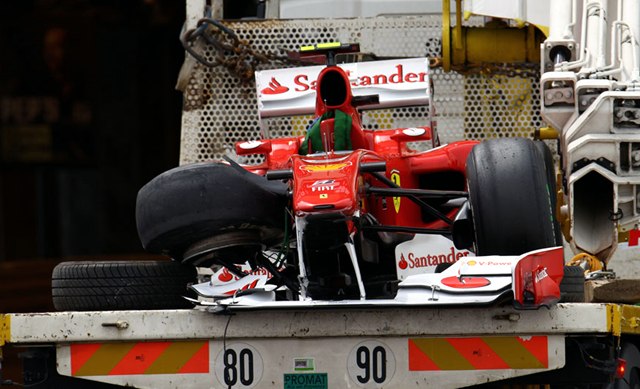 HWMNBN's teammate at Ferrari, Felipe Massa, ended up fourth on the grid, but that might not stand. As the traffic built up in Q3, he slowed down to get a gap between himself and the cars ahead. That's quite normal and usually a good idea, particularly around a track like Monaco, where free space is at a premium. The problem arises when you do it without looking at your mirrors. If Massa had bothered, he would have seen Jenson Button coming up behind him on a rather torrid hot lap. Of course, the Mercedes driver had to stomp on the brakes to keep from impaling the Ferrari; only then did Massa accelerate away, and he never made an attempt to get off the racing line. Expect a five-spot penalty at least for the Brazilian driver, which I'm sure will be cold comfort for Button.
As previously noted, the Renault was surprisingly quick around Monaco; might we see our fifth winner out of six races, or will one of the Red Bull drivers join Button as a double-victor? Find out on Sunday!
Programming note: Sunday is graduation day at Duck U., and I'll be working at the Bookstore from 9am to 2pm or so because of that. The F1 Update!, therefore, won't be up until later in the evening... I won't get to watch the race until mid/late afternoon. I'll keep you guys waiting as little as possible, though.
UPDATE 1045pm
: Massa escapes with no penalty. A member of the media asked Jenson Button if the Ferrari driver was a "plonker." Button's response: "That's your word, not mine." Hmmm... think ol' Jense is a bit peeved at this decision?
Posted by: Wonderduck at 10:52 AM | Comments (2) | Add Comment
Post contains 628 words, total size 15 kb.
May 13, 2010
F1 Practice: Monaco 2010
If it's Thursday, it must be Monaco! Second practice started with a clear blue sky and ended with a slight drizzle, perhaps some foreshadowing for the race? We can only hope, as while Monaco is tough enough to drive, rain just makes it ridiculously fun to watch (though perhaps not to drive).
HWMNBN, one of five drivers in the field to have won here, topped the timesheets for both practices in his Ferrari, with Nico Rosberg following in his Mercedes during 2nd Practice. As always, the admonition to take everything in practice with a grain of salt stands: one never knows who's on a heavy fuel load, who's doing quals practice, and who's doing tire testing or one of a thousand other things. Still, the teams you'd expect to be fast here were, and the usual bottomfeeders were slow.
There's one exception, however. The Renaults were unexpectedly quick around the Principality today, with Robert Kubica leading the afternoon session for much of the 90 minutes before slipping to sixth late in the day. Even with that, he was still ahead of both McLarens and Mark Webber's Red Bull. Hard to tell what that means to be honest, though with Kubica behind the wheel one can always hope for the best. Monaco isn't a circuit that rewards the fastest cars, but the most maneuverable.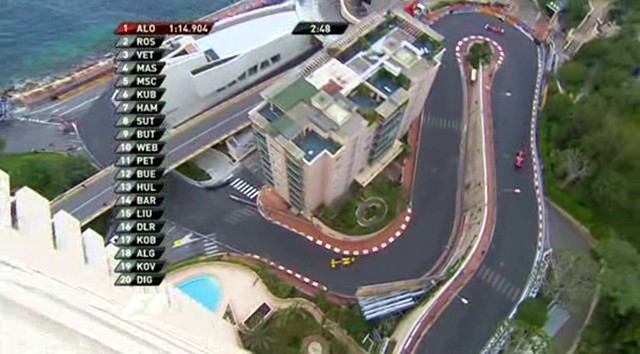 As with all things Monaco, you get some incredible camera angles here, like this one of the Loew's Hairpin and Portier (upper right and upper left, respectfully). In fact, you can almost get a full lap's worth of "aerial shots" from the roofs of condominiums and the like, though the Tunnel is somewhat obstructed. I might try to do that...
One of the main features of the race at Monaco is the appearance of the Beautiful People on race day. Today, though, we had to make do with one of the driving forces of F1.
Ladies and Gentlemen, Birdy Ecclestone is present. No surprise that a McLaren staffer is trying to shoo him out of the pit lane...
Quals on Saturday!
Posted by: Wonderduck at 08:56 PM | Comments (3) | Add Comment
Post contains 348 words, total size 2 kb.
May 10, 2010
F1 on SPEED!: Monte Carlo 2010
Leaving the most average circuit on the calendar, the F1 Circus trundles up the coast about 300 miles to what is probably its most unique track: Monte Carlo. Nowhere in the world will you find a layout like the Circuit de Monaco, with the slowest turn in F1 as well as one of the fastest. No other F1 track has a tunnel as part of the racing surface (Yas Marina in Abu Dhabi has one, but as part of the pit lane), and very few tracks anywhere in any marque. Narrow and dangerous, it's only on the schedule because it's
always
been on the schedule, and like as not it always will be... because Monaco is the spiritual home of Formula 1. Let's take a look at the map...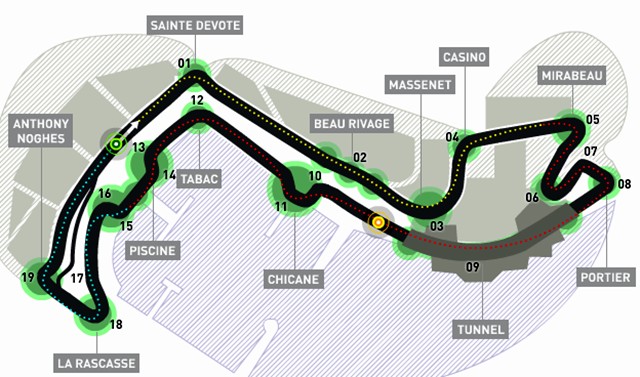 One goes uphill from Ste Devote to right around Beau Rivage, then downhill from just past Casino down to Portier; probably the largest elevation change in the shortest distance in F1 (Spa's elevation change is likely greater, but over a longer stretch of track). Of course, in that downhill stretch is the Loew's Hairpin, noted as Turn 6 on the map (I don't care what it's called these days, it'll always be Loew's to me). A more-than-180° turn if you follow the racing line, it's taken at around 30mph and teams usually have to modify the front suspension on their cars just to be able to make the turn at all. That modified suspension is what allows the cars to make the nearly-180º turn at La Rascasse, home of Slappy Schumacher's infamous
"Parky" incident in 2006
. There's only just enough room on the track to get two modern F1 cars side-by-side, but barely. Of course, the layout is surrounded by Armco barriers and concrete walls (in the tunnel), with precious little runoff area anywhere: Ste Devote and Turn 13 have some, but that's about it. Heck, Ste Devote's runoff area leads directly to the steps of the church located there. I don't know if anybody has ever made it that far, but it's not impossible.
The track, of course, is made up of city streets. For drainage purposes, the streets are crowned in the middle, making it even more difficult to drive a F1 car on. Throw in the oil left behind by everyday use, and Monaco might be the dirtiest, most slippery circuit you'll ever come across. If you can win here, you've accomplished something described as like "riding a bicycle in a phone booth," and your name will go down in the history books as having won F1's Crown Jewel.
F1's Crown Jewel, one of the three races that make up the (unofficial) Triple Crown of Motorsport (along with the Indy 500 and the 24 Hours of LeMans). Only
Graham Hill
has accomplished this feat, but Juan Pablo (The Pope) Montoya is still eligible, needing only LeMans. Of course, he's driving in NASCAR these days, which conflicts with the 24 Hours, but it's still possible.
So who will take that first step to immortality? We'll find out starting on Thursday morning, from 7am to 840am, with live coverage of the 2nd Practice session. Yes, Thursday: Friday in Monaco is reserved for the Monagasts returning home... just another of the quirks of the Grand Prix of Monte Carlo. Saturday morning, from 7am to 830am, is almost live coverage of Quals. It's nearly as important to be on pole here as it is in Spain, so being first on Saturday means you've a good shot to be first on Sunday.
The race begins on the aforementioned Sunday at 630am, and goes until 9am. There appears to be no replay scheduled as of yet. Of course, we of F1 Update! will be here for our usual coverage of the race (even though we're working Sunday morning), so we'll see you then!
Posted by: Wonderduck at 09:23 PM | Comments (3) | Add Comment
Post contains 645 words, total size 4 kb.
May 08, 2010
F1 Quals: Spain 2010
Last year, the top 17 cars on the grid for the Grand Prix of Spain were covered by .800 of a second. What's the result this year? Let's take a look at the provisional grid:
Yeah, not exactly everybody covered by less than a second. There's nearly a second between first and third! Pretty much a dominating performance by the Red Bulls, and as the Legendary Announce Team pointed out, this is without the trick "F-Duct" system that McLaren, Ferrari and Mercedes are using. What'll happen when the RB6 finally gets one of their own?
Overshadowed by Red Bull making the Circuit de Catalunya their own personal playground is Slappy Schumacher finally outqualifying his teammate Nico Rosberg for the first time this season. Looks like the longer wheelbase is to the seven-time World Champion's liking. One would think that Rosberg can't be pleased at the moment, but when you're Slappy, you get what you want and everybody else can go pee up a wheel tether.
Sadly, Force India's Adrian Sutil didn't make it into Q3, ending his streak at four races. It didn't look like his final lap in Q2 was marred by anything untoward, like an off or excessive traffic... he just couldn't make it go any faster when he needed to. Too bad, that.
For the boys at the back, insult added to injury as Glockenspiel, diGrassi, and Chandhok are all having to take five grid-spot penalties. The Virgins' penalty is for a procedural error where the team neglected to tell the FIA what gear ratios they were going to be using by a certain time, while Chandhok needed to have his gearbox changed. Vitaly Petrov of Renault is getting the same penalty.
One driver who
isn't
getting a penalty is HWMNBN. In Q3, the Ferrari driver was released into the pitlane after a tire change, at which point he nearly performed an overrun assault on Nico Rosberg. The Mercedes driver slammed on his brakes as HWMNBN went on his merry way, prompting Rosberg to snap over the radio "(HWMNBN) needs to be penalized for that." Of course, HWMNBN being penalized in Spain is about as likely to happen as Slappy being penalized at Hockenheim. Instead, Ferrari is being tagged with a $20000 fine for an "unsafe release." To make matters worse, HWMNBN just
had
to open his mouth afterwards, saying in effect that if he was penalized, the FIA would need to rethink "some of the grand prixs we've had so far in terms of penalties in the pit lane," obviously referring to Hamilton and Vettel's little squabble in China.
Man, I hate that guy.
Race Sunday, F1U! sometime in the afternoon.
Posted by: Wonderduck at 02:46 PM | Comments (3) | Add Comment
Post contains 607 words, total size 15 kb.
May 07, 2010
F1 Practice: Spain 2010!
Other than Nico Hulkenberg leaving the nose of his Williams in a tire barrier, there wasn't a whole lot of interesting stuff occurring on track in Barcelona today. Red Bull was blindingly fast, McLaren was probably sandbagging, yadda yadda yadda.
However! This is the first European race of the season, which means that every team has put new bits and pieces onto their cars after lessons learned during the first four contests. While most of the cars weren't particularly or obviously different, Mercedes has made some serious changes to the MGP-W01. First off, they've gone back to their pre-season testing chassis layout and in the process, lengthened the wheelbase by moving the front suspension forward. This was done to make Slappy Schumacher happier, as he just couldn't quite get a handle on the car. The most visible change, though, was to the airbox. Let's take a look, shall we? Here's the first version of the car:
And now, the new version: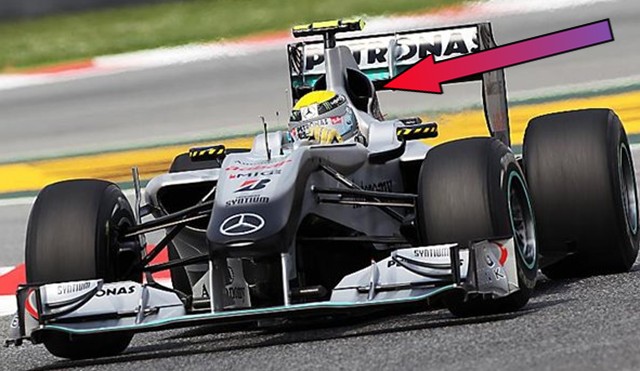 The bulbous air intake with the splitter on the inside is gone, replaced by an intake on either side of the "shark's fin." Not quite as visible is two smaller intakes, just below the top ones. Those are either for cooling purposes or for their inevitable "F-Duct" modification, copying McLaren's clever rear-wing stalling device that gives them such a straight-line advantage. Also not quite visible is that their "shark's fin" is now perfectly smooth instead of curved by the airbox. That's got to improve the airflow back to the rear wing immensely.
In other news, the news is that Ferrari has signed a contract option with Robert Kubica. From all reports, the team has to make the call by July 22nd. That would suggest that Felipe Massa will be a free agent after this season, since HWMNBN has a multi-year contract with the red team. Speaking personally, I believe this to be horrible news, since I actually
like
Kubica and it'd make me sick to see him with Ferrari.
In some good news, Sauber has finally gotten a sponsor!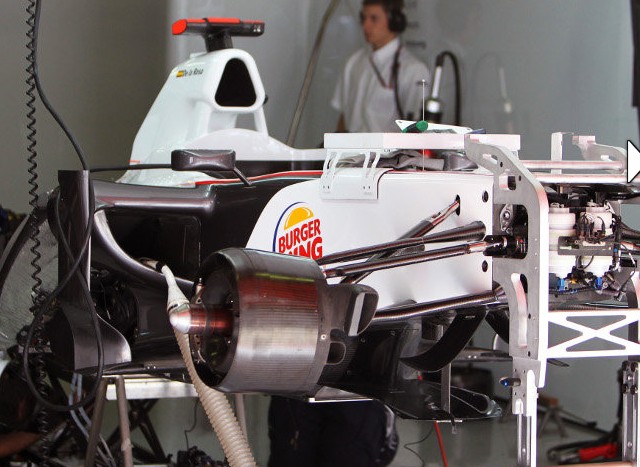 Yes, The King has come to F1. Dear merciful god in heaven, could we actually see McDonalds sponsorship in Hungary? Could Zsolt Baumgartner be far behind?
Quals in the morning.
Posted by: Wonderduck at 08:19 PM | Comments (2) | Add Comment
Post contains 374 words, total size 3 kb.
May 04, 2010
Just A Pleasant Sunday DriOMGWTFWASTHAT?!??!
Just watch it all. Trust me on this one.
Okay, now click on more to see, well, more.



more...
Posted by: Wonderduck at 06:21 PM | Comments (5) | Add Comment
Post contains 156 words, total size 1 kb.
May 03, 2010
F1 on SPEED!: Spain 2010
FINALLY! After a three-week layoff that allowed the teams to tunnel their way back to Europe from China after the eruption of Mt Eyja... Eyjafjalla... Eyjafjallajokullirokdhsdfoihxcvnkwndlaopijxzwhatever, the F1 Circus is picking back up again! Of course, there is the little thing about
where
it's picking up at.
You see, if there is such a thing as an "average Formula 1 circuit," the Circuit de Catalunya is that circuit. Let's take a look at the track map: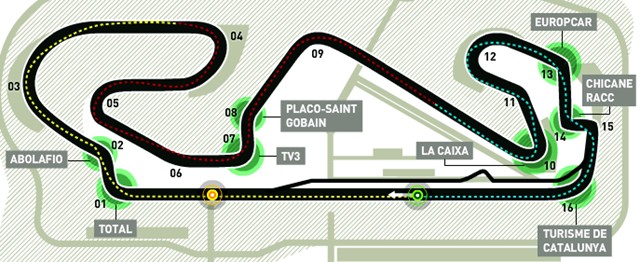 There's nothing wrong with the home track for the Spanish Grand Prix, but there's not all that much that calls out to the watcher, either. While Turn 16 used to be an exciting full-speed blast onto the front straight that allowed a slipstreaming car to get a huge tow into a passing position, nowadays you have the whole turbulence problem that ruins a trailing car's aerodynamics. Other than Turn 1 there really aren't any good passing opportunities. Heck, the circuit only has one really memorable turn, #10 "La Caixa", but even that is kinda "meh" in comparison to the TRUE famous turns (Eau Rouge, Lowes Hairpin, etc etc etc).
Then there's off-season testing. While limited, the teams still turn hundreds of laps in the offseason, and most of them are done at the Circuit de Catalunya. It's been like that for years, and as a result every bump, every wobble, every blade of grass and crack on the layout is ingrained in the institutional memory of the F1 engineering staff. Any driver who's spent more than a year or two in F1 knows the track well... Slappy Schumacher can probably drive it with his eyes closed, Rubens Barrichello knows its curves better than his wife's, and the DNA of HWMNBN (who hails from Catalunya) isn't actually a double-helix, it's shaped like the track. Even the track surface is dull, being neither particularly smooth or abrasive.
What I'm saying is that because everybody knows everything there is to know about this place, it isn't a place that lends itself to excitement. It's like a well broken-in pair of shoes or a 12-year old sweatshirt: no surprises here. Heck, in 1999 there was only one pass made for the entire race.
The only thing that can shake up the parade is the weather, and rain is uncommon. However, due to its location, wind can play a big role; it's not unheard of for the race to start with a tailwind down the front straight that changes to a headwind halfway through. That sort of thing can cause F1 teams to pull out their metaphoric hair as it trashes the aero planning.
Now, the new fuel rules may change things a little bit... or they may not. Either way, we'll find out beginning on Friday from 7am to 840am as the Legendary Announce Team brings us LIVE coverage of the day's 2nd Practice Session.
Saturday, of course, has Quals staring us in the face, plausibly live, from 7am to 830am. The 2010 Grand Prix of Spain is Sunday, LIVE from 630am to 9am. There's a replay from 1030am to 1pm (I think; it's hard to tell on the SPEED Boards sometimes).
So that's it! We're back in the groove with F1, and F1 Update! will be all over it for you! Paella and flan for everybody!
Posted by: Wonderduck at 05:33 PM | Comments (3) | Add Comment
Post contains 554 words, total size 3 kb.
105kb generated in CPU 0.042, elapsed 0.45 seconds.
55 queries taking 0.4208 seconds, 282 records returned.
Powered by Minx 1.1.6c-pink.