October 31, 2008
F1 Practice: Brazil 2008!
In lieu of there being anything in particular that could be considered interesting on track today, we were instead regaled with the answer to two trivia bits asked here on The Pond recently!
First, regarding
Steven's wondering about the pitlane at Interlagos
, it turns out that it used to release into Turn 2, right where you would expect it to. It turns out that it also released cars directly into the racing line, and while I can't find any reference to an accident occurring because of that, it certainly would have happened sooner or later. I can't figure out exactly when the change took place, but it almost certainly happened in reaction to
the events at Imola, 1994
, directly or indirectly.
Second, regarding
the changing of liveries during a season raised by Pete
, the FIA does need to approve alt-liveries, but there's more to it than that. It turns out that the other teams on the grid ALSO need to approve the change unanimously. So, for example, if McLaren wanted to remove the Santander logo and replace it with "Ferrari Sucks!", it probably wouldn't be approved. However, in the case of DC'sC one-off livery, why wouldn't a team approve it? The same went for RedBull's
"innovative" charity livery at Silverstone in 2007
.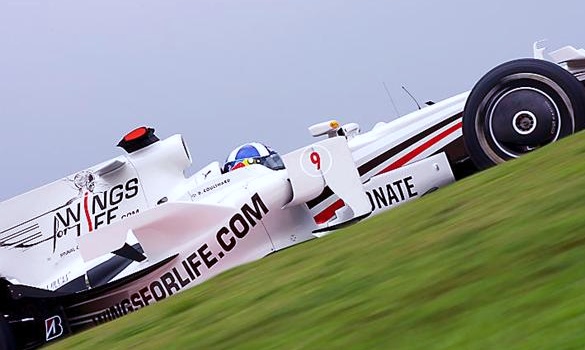 Y'know, I rather like that color scheme. It's a lot better than the regular RedBull livery, if you ask me.
And finally, something that I've been wondering about for the entire time I've been a F1 fan. We've been told that Formula 1 is the pinnacle of technology, that the cars are engineered within an inch of their lives, and there's nothing F1 can't do if they don't put their minds to it. So why the heck haven't they been able to put a camera on a driver's helmet so we can see what it looks like from the cockpit?
Today, they finally did it.
I guess it's fitting that The Chin, probably the most fan friendly of the drivers, got to debut the tiny camera today. From what the Legendary Announce Team (and myself) could figure, it appears to have been mounted just below the visor, so it's actually a little lower than the driver's eyes, but still, it gave us a great idea of what the driver goes through.
The buffeting they go through is amazing, as we know from the 5.0Gs figure we get to see when they slam on the brakes, but there's a difference in seeing the g-force gauge move and watching the view of the camera go from the above shot... to one that gives us a great look at the steering wheel as The Chin sank down into the cockpit under braking. Of course, that might have just been because The Chin itself has a pretty substantial gravitational pull. Interestingly, Jeff Gordon, NASCAR driver,
talked about that feeling
when he swapped cars with Juan Pablo (The Pope) Montoya back in 2003 on SPEED's "Tradin' Paint" program.
Oh, and it was drizzling off and on today, too, with t-storms expected for quals. Great! Take the single most important race of the season and make the weather bad so we wind up with a Force India on pole! Fun!
See ya after Quals.
Posted by: Wonderduck at 08:43 PM | Comments (1) | Add Comment
Post contains 544 words, total size 4 kb.
DCC's Last Race
While Brazil will be the last race of the season, it will also mark the end of a F1U! legend's career. After 246 races, the fourth most in F1 history (behind Rubens Barrichello, Riccardo Patrese and Slappy Schumacher), 13 wins, 535 points and 12 poles, David Coulthard's Chin will be hanging up his helmet for good.
He's finished as high as second in the Driver's Championship (2001 for McLaren) and finished third four times (1995 for Williams, 1997, 1998 and 2000 for McLaren). His last win came in Australia, 2003. While he's only had two podiums since them (Canada this year, Monaco in 2006, both 3rds), he's always been a solid performer, if not particularly successful.
A lot of that can be put down to lackluster cars; McLaren won only once in 2004 (Kimi Raikkonen, Belgium), and Red Bull has yet to win in their four seasons. Despite it all, The Chin has always been one of the more fan friendly drivers in the sport. He became legend 'round these parts in 2005 when a blown engine took him out of Friday's second practice at Silverstone. Rather than walk back to the pits, The Chin started signing autographs and chatting to the spectators. Forty-five minutes later, he was still at it.
While he'll be missed on the track, he'll be joining the BBC's race coverage when they pick up the F1 contract in 2009. I'm sure his knack for the pithy comment will be quite popular; he easily has my favorite quote of the year. When he had a 'racing incident' with Felipe Massa, he said: "
I know I screwed up the same way with Alex [Wurz] last year, and took full responsibility for it, and I would expect Felipe to do the same. If he doesn't, I'm going to kick three colours of shit out of the little bastard.
"
Even with his last race looming, The Chin will be going out with class. For this final race weekend, he'll be running a special paintjob to drum up attention for the organization "Wings For Life," which is a charity for research into spinal cord injuries.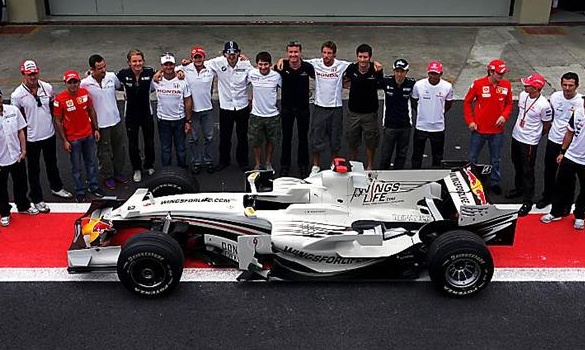 DC'sC (center), the rest of the F1 racers, and the RB4
Interestingly enough, The Chin has a
museum devoted to his racing history
in his hometown of Twynholm Village, Scotland.
We'll miss you, David Coulthard's Chin. A tip o' the cap from all of us here at F1 UPDATE!
Posted by: Wonderduck at 12:13 AM | Comments (3) | Add Comment
Post contains 406 words, total size 3 kb.
October 28, 2008
F1 on SPEED: BRAZIL 2008!
This is it. The Big One. The last race of the season, and it's all up for grabs. Ferrari vs McLaren for the Constructor's Championship, Hamilton vs Massa for the Driver's Championship... and it's Massa's home track.
And I hate it.
Interlagos, which in Portuguese means "between the lakes", is positioned between (wait for it) two lakes which are actually reservoirs for the city of Sao Paolo. But then, Interlagos hasn't actually been named "Interlagos" since 1977, when it was renamed "Autodromo Jose Carlos Pace", named for a F1 driver killed in a plane crash. Drivers like the circuit, which bobs and weaves over rolling terrain, but the rest of the team's staff despise Interlagos, despite recent updates. Unlike almost every other
permanent
track on the F1 calendar, Interlagos is actually located inside the city, and not a good part of it, either. In 2006, Toyota staffers were attacked by gunmen on the way to the circuit. Throw in the recent police strikes (and
police on police rioting
), and one can understand the dislike.
Let's take a look at the circuit map:
The circuit actually reminds me of the (now-departed) Indianapolis GP circuit, which I wasn't overly fond of, either: high speed, but with a really annoying "mickey mouse" section thrown in to ruin the design. Further, Turn 15 makes me think, every stinkin' year, that someone is going to crash into the Pit In at 170mph. It's just an optical illusion from the camera angle (placed near Turn 1), it still bothers me. It is also one of the few counter-clockwise circuits on the calendar.
The circuit's concrete, though redone before last year's race, is very bumpy; the ground underneath the track is constantly in motion due to the pressure of the two lakes. This causes the track surface to buckle and heave, causing the washboarding effect. While it was better last race, what Interlagos calls "smooth" would be considered "rough" everywhere else.
Finally, the track has the longest pit lane in all of F1. While it may be safer for all involved, it also removes cars from actually
racing
for an extended period of time.
Felipe Massa is historically good here. He relinquished the lead intentionally to teammate Kimi Raikkonen in 2007, won in 2006, and was on pole both years. This is important, as he MUST win to stand any real chance of victory in the Driver's Championship. Even if he does, he'll still finish second to Lewis Hamilton if Hamilton finishes 5th or better. Of course, the same situation applied last year and Hamilton peed it down his leg, finishing 7th.
Rain is forecast for race weekend, though it may not actually rain during the track times. There's a 40% chance of rain on Sunday, and 60% on Friday and Saturday. If it DOES rain, the season is over right there (probably), as nobody is better on wet tracks than Hamilton, and Massa is...
suspect
in the wet.
Well, we'll see what happens, and thanks to the good folks at SPEED, we'll be seeing it all live! Practice session #2 comes to us from
11am to 1240pm
on
Friday
morning. Quals, from
11am to 1230pm
on
Saturday
, will be interesting strategy-wise. Will McLaren short-fuel Hamilton to get him on pole, so as to avoid ANY chance of getting caught in the Turn 1 schmozzle, but throw away any chance of a win (which Hamilton
does not
need)? Find out on Saturday!
Finally, race day. Coverage of the Brazilian Grand Prix (that's a lot of Grand Prix!) begins at
1030am
and goes until
1pm
on
Sunday
. Keep in mind that Daylight Savings ends early Sunday, so set your clocks back an hour!
Of course, the F1U! crew will be all over everything... see ya then!
Posted by: Wonderduck at 07:17 PM | Comments (7) | Add Comment
Post contains 633 words, total size 4 kb.
October 18, 2008
F1 Quals: China 2008!
As semi-predicted, McLaren's Lewis Hamilton continued his domination of Shanghai in today's quals session. Other than a fairly lurid slide in Turn Eight in his first Q3 run, he handily owned the track and his opponents all day, ending up nearly a third of a second better than his nearest competition, Ferrari's Kimi Raikkonen. Let's look at the provisional grid:
Pos
Driver
Team
Q1
Q2
Q3
1
Lewis Hamilton

McLaren-Mercedes

1:35.566

1:34.947

1:36.303
2
Kimi Räikkönen
Ferrari
1:35.983
1:35.355
1:36.645
3
Felipe Massa
Ferrari
1:35.971
1:35.135
1:36.889
4
HWMNBN
Ferrari (Renault Livery )

1:35.769
1:35.461
1:36.927
5
Heikki Kovalaininnie

McLaren-Mercedes
1:35.623
1:35.216
1:36.930
6
Mark Webber
Red Bull-Renault
1:36.238
1:35.686
1:37.083
7
Grizzly Nick Heidfeld
BMW Sauber
1:36.224
1:35.403
1:37.201
8
Sebastian Vettel
STR-Ferrari
1:35.752
1:35.386
1:37.685
9
Jarno Trulli
Toyota
1:36.104
1:35.715
1:37.934
10
SeaBass
STR-Ferrari
1:36.239
1:35.478
1:38.885
11
Nelson Piquet Jr

Renault
1:36.029
1:35.722


12
Robert Kubica
BMW Sauber
1:36.503
1:35.814


13
Timo Glockenspiel
Toyota
1:36.210
1:35.937


14
Rubens Barrichello
Honda
1:36.640
1:36.079


15
Nico Rosberg
Williams-Toyota
1:36.434
1:36.210


16
David Coulthard's Chin

Red Bull-Renault
1:36.731




17
Kazoo Nakajima
Williams-Toyota
1:36.863




18
Jenson Button
Honda
1:37.053




19
Adrian Sutil
Force India-Ferrari
1:37.730




20
Giancarlo Fisichella
Force India-Ferrari
1:37.739


There are two penalties to be assessed. The first is Mark Webber's 10-spot penalty for an engine change this morning (apparently quite a nice kablammo, too). The second is a weird three-spot penalty given to BMW's Grizzly Nick Heidfeld for impeding the progress of The Chin in Q1. The fact that he was penalized isn't weird, but the amount of grid spaces is... three? Usually a penalty of that sort is either five or 10 spots. Oh well, just another lovely call by the stewards.
Alas, Robert Kubica's faint championship hopes are pretty much completely gone after qualifying 12th on the grid. He'd been having problems coming to grips with the car all day, complaining at one point that his BMW wouldn't turn under braking. That's not good for a racecar.
Up at the top of the timesheet, the three Ferrari drivers are stacked between the McLarens, with Massa right behind Hamilton on the grid, and Kimi next to Lewis. Considering the speed he's shown all weekend (and the threat of rain), if Hamilton gets a good start, he should run away and hide from the Ferraris. If he doesn't, however, I fully expect to see him mauled and maimed by the end of Turn 3.
This should be a fun one... see ya Sunday!
Posted by: Wonderduck at 06:47 PM | No Comments | Add Comment
Post contains 418 words, total size 10 kb.
October 17, 2008
F1 Practice: China 2008!
It's fact that in F1 practice, you can't really put anything down on the speed shown. Different teams, even different cars in a team, may very well be working on something different from another team. Toyota might be working on setup, Ferrari on tire wear, Toro Rosso just going out to set high speeds, and Super Aguri on finding funding.
However, there
are
times where you might be able to glean some nuggets of information from a practice, and today's second practice is probably one of those times. With both championships up for grabs, Lewis Hamilton came out early in P2 and blew the rest of the field away with a 1:35.750. Nobody else broke the 1:36 barrier, despite having nearly 90 minutes to shoot at it. Hamilton's main competition for the Driver's Championship, Felipe Massa, put up a 1:36.480, good for 6th best on the day.
And all this after stomping over everybody in Friday's first practice, too. Again, it's dangerous to base anything on Friday practice numbers, but those numbers have to make you sit up and take notice.
In other news, HWMNBN still has a few issues with his year at McLaren. During Thursday's pre-race interview session, HWMNBN said, flat out, he'd do whatever he could do to help Massa beat Hamilton. Considering that HWMNBN basically despises Hamilton, this makes one wonder if we'll be seeing the Renault punting the McLaren into low earth orbit soon. He says no, but we'll see once the heat of the race comes around.
Also, you may remember that after the Japanese Grand Prix, Sebastian Vettel and Alex "Man-Mountain" Wurz were going to climb Mt Fuji, with the plan being that they'd summit at dawn. Indeed, they managed to do so, but Wurz was partially eaten by a
yuki-onna
during the descent. While unfortunate, this will allow him to fit better in the cockpit of the car that he test drives for Honda.
Quals later!
Posted by: Wonderduck at 05:29 PM | Comments (3) | Add Comment
Post contains 328 words, total size 2 kb.
October 16, 2008
Monza Has A Bridge...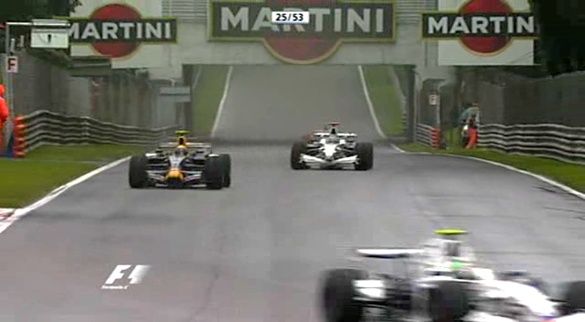 ...and I'm a friggin' moron
.
Posted by: Wonderduck at 10:48 PM | Comments (1) | Add Comment
Post contains 9 words, total size 1 kb.
October 15, 2008
MegaMonza
They call Monza 'The Magic Track.'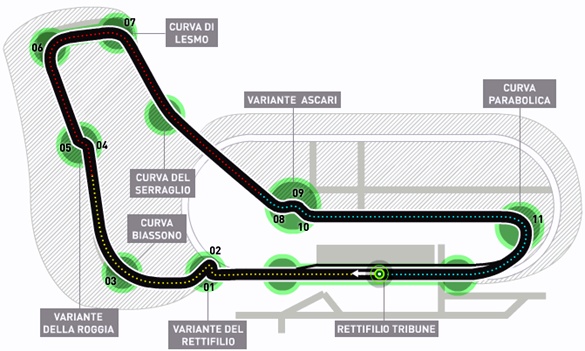 The above is how it runs now... but once upon a time, Monza was even faster. Ladies and Gentlemen, may I introduce you to the REAL Monza!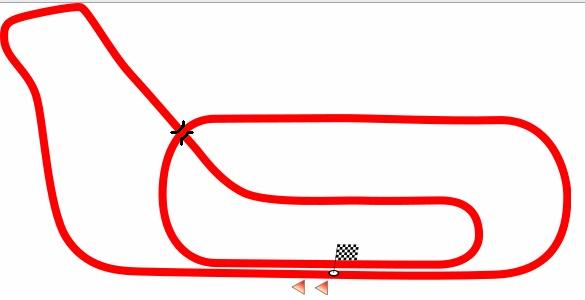 No, your eyes aren't deceiving you. It's the familiar Monza track mixed with a high-banked oval. If you've seen the movie
Grand Prix
(and if you haven't, why not???), the climatic scene where Ferrari driver Jean-Pierre Sarti crashes is at the bridge marked above. In fact, here's what the bridge looks like now:
Could you imagine today's cars trying to race through
that
? Merciful heavens.
The MegaMonza was a full six miles long, and it's hard to imagine brakes being used very much during a lap, just at the Curva di Lesmo (what is now Turn 7). Actually, I suspect that a F1 car couldn't handle MegaMonza these days... they're just not designed for the sort of banking found there. Like this:
Heck, they had problems with the nine-degree banking at Indianapolis. But, oh, it'd be
glorious
...
Posted by: Wonderduck at 10:37 PM | Comments (7) | Add Comment
Post contains 171 words, total size 2 kb.
October 14, 2008
F1 on SPEED!: China 2008
One year ago
, Lewis Hamilton could have clinched the Drivers Championship as a rookie... and instead drove his car into a graveltrap the size of a postage stamp.
THIS year, Lewis Hamilton can clinch the Drivers Championship in his second year. Let's take a look at the track map, shall we?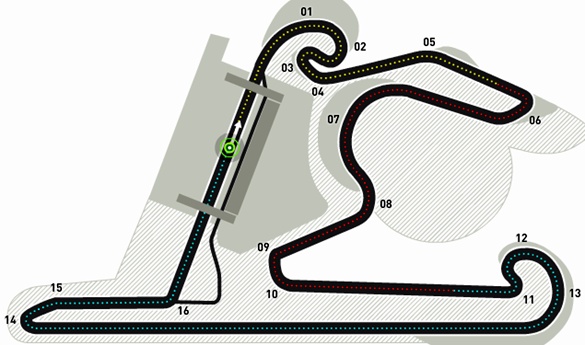 Allegedly designed to mimic the Chinese character "shang", meaning "ascend", it's the prototypical Hermann Tilke circuit: twisty and impossible to pass on. It seems telling that the only lasting memories I have of the Shanghai International Circuit are uniformly negative: Hamilton in 2007, and in 2005 the double-whammy of Slappy Schumacher running over the Minardi of Robert Doorknob on the way to the grid and Juan Pablo Montoya's race being ended by a drain cover.
I'm not fond of this circuit, as you can tell. It's
dull
. The only signifigance to the race at all is it's location on the calendar: someone can win a championship here. It's a medium downforce track, not particularly hard or easy on brakes, the medium tire compound is favored, a little over half the lap is run at full throttle... in other words, an average track. The only little bit of flavor on the track is the turn they call "Indianapolis", which if memory serves is Turn 13. It actually has a little bit of banking, making it now the only banked turn in F1.
Essentially, Shanghai is like the old joke about Chinese food: in an hour, you want more.
The good burghers at SPEED will be bringing us live coverage of everything from Shanghai, beginning (as usual) with coverage of
Friday
's Practice 2 from
1am to 240am
. Quals are on
Saturday
at the same time,
1am to 240am
. The Grand Prix of China is on
Sunday
, from
130am to 4am
, with a replay from 130pm to 4pm. (all times central)
Of course, F1U! will be here as well... will we have a champion? Or will we have to go to Brazil to find the answers? See you then!
Posted by: Wonderduck at 10:43 PM | Comments (8) | Add Comment
Post contains 342 words, total size 2 kb.
October 11, 2008
F1 Quals: JAPAN 2008!
If you're McLaren or Lewis Hamilton, that quals session went exactly how you'd want it to. If you're Ferrari or Felipe Massa, you're beating your head against the steering wheel... and wondering if your Championship chances just went out the window.
Let's take a look at the provisional grid:
| Pos | Driver | Team | Q1 | Q2 | Q3 |
| --- | --- | --- | --- | --- | --- |
| 1 | Lewis Hamilton | McLaren-Mercedes | 1:18.071 | 1:17.462 | 1:18.404 |
| 2 | Kimi Räikkönen | Ferrari | 1:18.160 | 1:17.733 | 1:18.644 |
| 3 | Heikki Kovalaineninnie | McLaren-Mercedes | 1:18.220 | 1:17.360 | 1:18.821 |
| 4 | HWMNBN | Renault | 1:18.290 | 1:17.871 | 1:18.852 |
| 5 | Felipe Massa | Ferrari | 1:18.110 | 1:17.287 | 1:18.874 |
| 6 | Robert Kubica | BMW Sauber | 1:18.684 | 1:17.931 | 1:18.979 |
| 7 | Jarno Trulli | Toyota | 1:18.501 | 1:17.541 | 1:19.026 |
| 8 | Timo Glock | Toyota | 1:17.945 | 1:17.670 | 1:19.118 |
| 9 | Sebastian Vettel | STR-Ferrari | 1:18.559 | 1:17.714 | 1:19.638 |
| 10 | SeaBass | STR-Ferrari | 1:18.593 | 1:18.102 | 1:20.167 |
| 11 | David Coulthard's Chin | Red Bull-Renault | 1:18.303 | 1:18.187 | |
| 12 | Nelson Piquet Jr | Renault | 1:18.300 | 1:18.274 | |
| 13 | Mark Webber | Red Bull-Renault | 1:18.372 | 1:18.354 | |
| 14 | Kazoo Nakajima | Williams-Toyota | 1:18.640 | 1:18.594 | |
| 15 | Nico Rosberg | Williams-Toyota | 1:18.740 | 1:18.672 | |
| 16 | Grizzly Nick Heidfeld | BMW Sauber | 1:18.835 | | |
| 17 | Rubens Barrichello | Honda | 1:18.882 | | |
| 18 | Jenson Button | Honda | 1:19.100 | | |
| 19 | Adrian Sutil | Force India-Ferrari | 1:19.163 | | |
| 20 | Giancarlo Fisichella | Force India-Ferrari | 1:19.910 | | |
Hamilton has Pole Position, and Ferrari's drivers are reversed from the way the team would have wanted them. Throw in Heikki and HWMNBN as a buffer between Hamilton and Massa, and suddenly this is looking like a desperate situation for the Brazillian driver's championship hopes. Essentially, it's the perfect situation for Lewis.
Now, it might be that Massa is heavy on fuel, but I don't think so. He was just too fast earlier... it feels like he was just beaten. Now, the Renault of HWMNBN is probably a little light on gas, but Heikki almost surely isn't.
The Toyotas certainly put on a good show, with Der Glockenspiel being right up at the top of the charts until Q3. Who knows if it's real speed, or low-fuel speed? Robert Kubica's faint chances for a championship are still alive, but on life-support. He has to win out and hope that the guys ahead of him both break down... not likely.
Notable is the fact that both Toro Rossos made it to Q3. They've really come alive; seems like they've finally gotten their car dialed in. Could we be seeing the birth of a new member of the Big Teams? Or will the Minardi-child slump back next year?
Of course, Honda blew chunks. Force India is just bad, but that's what you expect from a new startup like them (yes, yes, I know: "Jordan/Midland/Spyker", but still...). But what in the world is Grizzly Nick doing down there, unable to get out of Q1? Very odd.
Well, we'll see what happens tomorrow at the race. Looks like the weather will be good, if a little cool. That'll favor the McLarens a touch, as the Ferrari uses their tires better when the track is warmer.
We've already had seven different winning drivers for five different teams. Since I started writing about F1 (with e-mails to Official First Reader Mallory, in 2004), there's never been so many winning drivers and teams in a season. Could you imagine Toyota winning finally? Of all the teams that haven't won, they're the most likely to do so. Mind you, that's not likely, but as we saw in Singapore, luck plays a part. See you Sunday morning!
Posted by: Wonderduck at 12:52 AM | Comments (8) | Add Comment
Post contains 557 words, total size 11 kb.
October 10, 2008
F1 Practice: Japan 2008!
A bright sunny day over Fuji today, a dramatic change from last year's weather. Of course, nothing much happened in practice, as usual, but we did learn some interesting tidbits of trivia. For example, Sebastian Vettel and Alexander "Man-Mountain" Wurz are going to climb Mt Fuji Sunday night... AFTER THE RACE!
I remember being young. Sheesh.
Toyota's Timo Glock was fastest in P2. He probably had enough fuel left on board afterwards to get back to the pitlane, but not a whole lot more, but there you are. Toyota, on their home track (literally; Fuji Speedway is
owned
by Toyota, just like Suzuka is owned by Honda), in their home country (even though the team is based in Germany), set fast lap in both Practice sessions.
This should not be considered indicative of future performance.
What
should
be considered indicative of future performance is the humiliating pace set by Jenson Button's Honda: almost two seconds slower than Glock in P2. Yeesh. Is Honda the new Spyker/Midlands/Jordan, a laughingstock, a subject of ridicule? Well, yes. Of course, they have Ross Brawn, the #1 technical mind in the sport and the architect of Ferrari's domination (along with some guy named Schumacher) on their pitwall, but he joined the team too late to have any real say in how the car was going to be designed this year. Still and all, it seems unfathomable to think they'll make any splashes anytime soon.
Those green tires look stupid. To make matters worse, the white stripe on the "option" (or soft) tire disappears amongst the green stripes, so now you can't even tell what tire the cars are on. That was the whole point of the paint-in-groove concept in the first place!
Look for teams to be using the hard compound tire for the majority of the race, by the way. The softs get run ragged in just a handful of laps, particularly the rears. A lot of little fishtails out there, particularly on 100R and the Hairpin, and that plays hob with the rear rubber.
One last amusing bit: the main straight is nearly a mile long. They need FIVE cameras to cover the length of it: one at each end, and three spaced equally down the length, just to follow a car! By far, the longest straight in F1; only Indianapolis (which isn't on the calendar anymore) was close.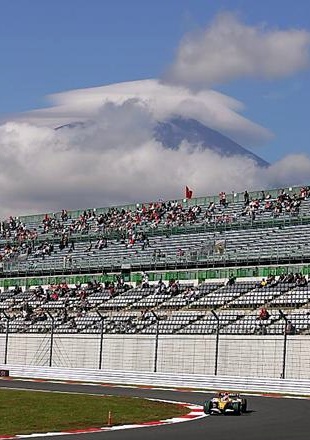 If you were wondering why it's called "Fuji Speedway",
there's your answer.
So, Quals tomorrow.
Posted by: Wonderduck at 01:05 AM | Comments (1) | Add Comment
Post contains 415 words, total size 3 kb.
October 08, 2008
F1 on SPEED: Japan 2008!
With the recent news of F1 retreating completely from North America in 2009, as Montreal is off the official calendar, ringing in our ears, we head into the final three races of the 2008 season. This weekend we return to the legendary Fuji circuit for the Grand Prix of Japan. Last year, of course, the intelligentsia of the FIA decided to go away from Suzuka, which is pretty much the racer's favorite circuit, to follow the money.
So why is Fuji "legendary"? That's simple: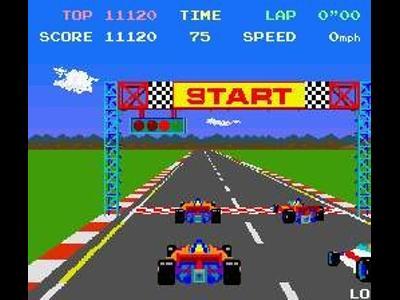 One of the greatest video games of all time:
POLE POSITION II
! Is there anybody of a certain age that fed quarters into machines that doesn't remember the computerized voice saying "prepare to qualify"? I think not! It was also the first game that I ever truly mastered. I preferred the sit-down version, of course.
Last year, we had the
incredible rain race
that ran the first 17 laps behind the safety car, and may as well have been run in the Pacific Ocean for all the water around. Because of that, of course, we don't really know how the newly reformatted Fuji circuit runs in the dry. Maybe we'll find out this year? Let's check the track map:
Pretty much a medium-low downforce circuit. Turns 2 thru 5 may as well be a straightaway for all the slowing down that goes on. 100R is pretty neat, and is probably the signature turn for the circuit. Unfortunately, the remodeling of the track (to make it "safer") removed the absolutely great turn that was a huge arc from the now-turn 10 to turn 16, just like an oval's. "Too fast", they say now, and I suppose it's so, but it'd've been nice to see it. Ah well.
At least SPEED will be there (raincoats at the ready) for our enjoyment! However, here's the best part for us here in the US: it's watchable without waking up waaaaaaay too early! Coverage of Friday's second practice begins at
1159pm THURSDAY
(well, actually midnight, but play with me here) and goes
until 145am
. I'm usually up that late anyway!
Quals comes to us live at
1159pm FRIDAY, until 130am Saturday
. I'm not even going to try and predict who'll come up on Pole Position this race. We've had five teams win races this season (Ferrari, McLaren, Renault, BMW and Toro Rosso)... and this track fits all of them.
The race comes to us live at
11pm on Saturday until 130am Sunday morning
. There's a replay from 330p - 6p Sunday afternoon as well, if you don't like staying up late.
One... um...
interesting
feature of this particular race will be the debut of the FIA's "Make Cars Green" program. Well, not the debut
per se
, but F1 will be participating in the MCG thingy by... what? Biofuel? Hybrids?
Green tires.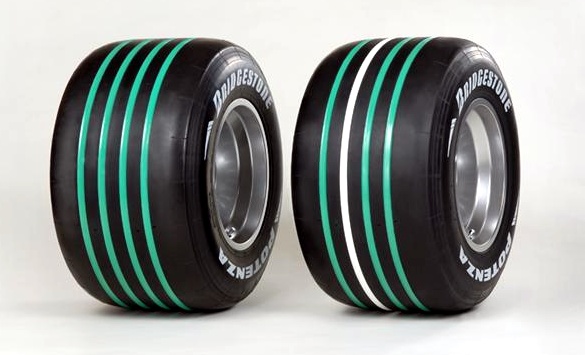 Well, green paint in the grooves. Oil based paint. BUT IT'S GREEN!!! OMGWTFBBQ!!!!!11!!!eleventy!!
*sigh*
Posted by: Wonderduck at 06:53 PM | Comments (2) | Add Comment
Post contains 492 words, total size 4 kb.
93kb generated in CPU 0.0238, elapsed 0.1013 seconds.
54 queries taking 0.0846 seconds, 292 records returned.
Powered by Minx 1.1.6c-pink.