September 07, 2013
So, About That F1 Quals: Italy 2013 Post...
I've decided that Labor Day weekend is great when you're, y'know, labor. When you're management it just means you have four days to do what you normally do in five. Throw in some other things and I pulled another "week" of 13-hour days. I also went in on Labor Day for a couple of hours, not to mention today!
And that's where the F1 Quals post went: in to work. I've not watched Quals for Monza yet, but from what I've read, the grid looks like this:
Hamilton had two hot runs in Q2, from reports. The first ended when he slid off-track in Parabolica, and on the second he was impeded by Force India's Adrian F'n Sutil, who received a three-spot grid penalty and will start 17th. Cold comfort for the Mercedes man, though it's not like they like each other.
Speaking of Force India, I'm going to use them to illustrate the amount of downforce cars run at Monza. In this picture, please look at the rear wing.
As you can see, it's very shallow. This, of course, makes sense, as a shallow wing provides less downforce and thus less drag. Downforce is great when you're trying to turn: it pushes you onto the pavement, giving you more grip. But this is MONZA, where drag is the last thing you could possibly want, so you crank off as much wing as possible... resulting in the paper-thin beast you see here. When DRS is activated, it becomes even thinner. Having said that, Force India might have more wing than anybody this year: they were the slowest cars through the speed trap, some 7mph behind the fastest. By comparison, let's look at Force India's wing at Hungary: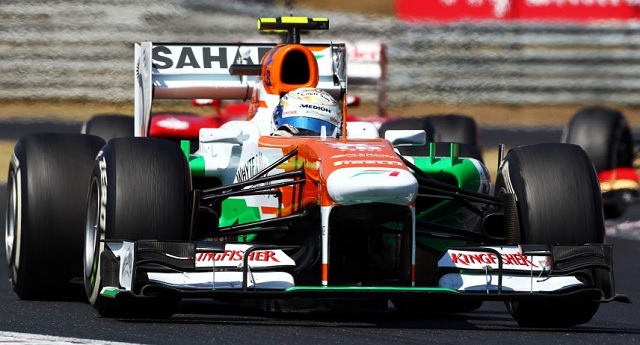 Yeah, 'nuff said.
But why would FI be running wing at Monza? Because it's supposed to rain. Forecasts are calling for thunderstorms in the morning, and then again somewhere around race time. Interesting fact: it almost never rains at Monza. In fact, the last time it did was 2008,
when some young kid won his first race
. Before that? 1985.
See you tomorrow!
Posted by: Wonderduck at 08:45 PM | No Comments | Add Comment
Post contains 509 words, total size 15 kb.
Comments are disabled. Post is locked.
35kb generated in CPU 0.018, elapsed 0.3912 seconds.
45 queries taking 0.3781 seconds, 232 records returned.
Powered by Minx 1.1.6c-pink.