September 07, 2012
F1 Practice: Italy 2012
Okay, y'all, I'm gonna tell you the truth: I haven't watched Practice yet, and truth be told, I probably won't tonight. Near as I can tell, however, I'm not missing much of anything at all. Oh, sure, HWMNBN killed his gearbox with 20 minutes left in P2, and the Red Bulls have no speed whatsoever, but other than that, it was just a lot of lapping. At least it looked good: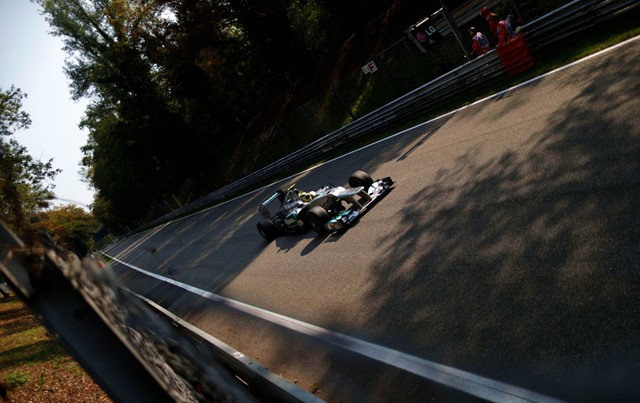 See? A lot of folks think Monza is the best looking place to see a race, and it's hard for me to disagree when I see pics like that. So Quals will be coming along in the morning, and I'll be there for that for sure!
In other news from the F1 world, Luca di Montezemelo apparently didn't care for the canapes in the FIA hospitality tent today, because he's saying that Ferrari could pull out of Formula 1. Again. Ferrari has threatened that every year I've been a fan, and probably every year since dirt was new. Note to Luca: threats only work if there's a chance they'll be followed up on.
We had a F1 first today in P1, when HRT let Chinese driver Ma Qing Hua take the wheel. All I know about him is that he won the China Touring Car Championship (1600cc Division) in 2011, and he's got the square-root of fark-all success in open-wheel racing, and nearly as little experience. Either he's got awfully deep pockets, or he's some sort of prodigy. I'm betting on the pockets.
Here's a name we haven't heard about in a while... Robert Kubica, injured well over a year ago in a terrible rally car accident, is apparently going to be returning to competition this weekend! Yay! In a rally car race in Italy. Oh. Hm. Well, it's good to hear that he's racing again. He probably won't ever be back in F1, but considering
the injuries he suffered
, any racing has got to be considered a bonus.
Finally, there's a lot of griping amongst the drivers about the track condition. Specifically, Slappy Schumacher is complaining about the run-off bumps at the Variante Della Roggia, saying that if someone hits them after suffering a brake failure, the driver will surely suffer a broken back. Osteoporosis is a terrible thing, Slappy, and I'm sorry to hear that you're suffering from it. Mostly because I'm almost a year older than you. He does have a point, though. F1 cars have no suspension to speak of, no shock absorbers, and a driver basically sits directly on the floor of the chassis; hitting a bump at speed
must
hurt.
See you Saturday for Quals!
Posted by: Wonderduck at 07:57 PM | Comments (5) | Add Comment
Post contains 446 words, total size 3 kb.
Comments are disabled. Post is locked.
25kb generated in CPU 0.0114, elapsed 0.0685 seconds.
47 queries taking 0.0615 seconds, 238 records returned.
Powered by Minx 1.1.6c-pink.