September 21, 2010
F1 on SPEED!: Singapore 2010
With the European leg of the season completed, the F1 Circus packs up and hauls their tents halfway around the world to the island nation of Singapore this week. Home to the world's busiest port, Singapore is also the home of a F1 race with a difference: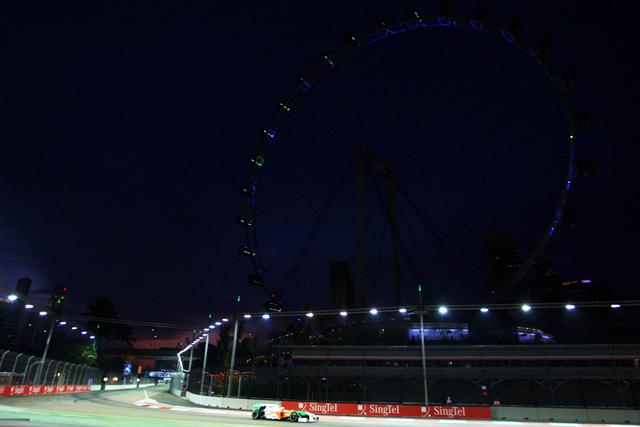 It takes place entirely at night. This'll be the third time Singapore has hosted a race on the Marina Bay Street Circuit... let's take a look at the track map: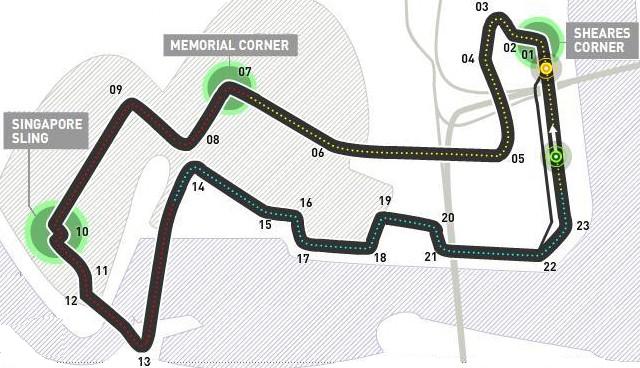 As a spectacle, Singapore is wonderful. The cars shimmer and gleam under the fifty-gazillion overhead lights, in a way they don't anywhere else. A highway flies over the front straight, there are two bridges involved with the circuit, and the cars actually run underneath some of the seating grandstands, just to make everything all that much cooler. As a street circuit, there are many buildings lining the circuit, many of which are beautifully lighted themselves. From the air, the track itself glows, looking like a ribbon of light against the dark background.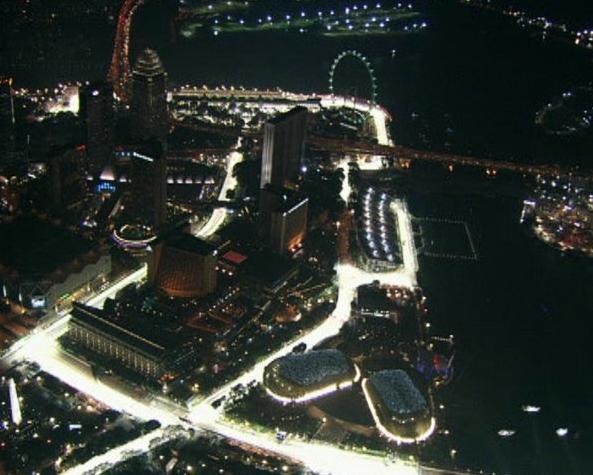 As a
racetrack
however, Singapore leaves a lot to be desired. The heat and humidity makes it a chore to race on, like a cross between Monaco (for the narrowness) and Sepang (for the heat). Last year, officials resurfaced many of the turns in an attempt to smooth out the hideously bumpy breaking zones. Despite this, the drivers
still
asked for them to be improved. Reportedly they've been ground down again. The curbs have been lowered as well, as the teams thought that they might actually break a suspension going over them. There's few passing zones, and a mistake at any time will put you into the Armco and out of the race.
But it
looks
cool.
It's pretty clear that to have a good race at Singapore, we're going to need rain.
In 2008
, HWMNBN got the win after his teammate Nelson Piquet Jr intentionally crashed to give him an advantage.
2009
brought us a flat-out boring race that saw a runaway Lewis Hamilton victory. The weather forecast calls for showers and thunderstorms all weekend, so we might just get F1's first night-rain race. Let's hope so, just for entertainment's sake.
Of course, the good folks at SPEED will bring us every minute of Friday's second practice LIVE, from 830am to 1010am. Saturday will see the drivers go for pole during Qualifying, from 9am to 1030am. Finally, Sunday brings us the 2010 Grand Prix LIVE from 630am to 9am, with a replay from 12noon to 230pm. All times are Pond Central.
Finally, the FIA released the official engine usage list, and clarified if Grizzly Nick Heidfeld would have to deal with Pete Rose's engine penalties. Here's the updated list:
Mark Webber 6
Rubens Barrichello 6
Robert Kubica 6
Vitaly Petrov 6
HWMNBN 8
Felipe Massa 8
Grizzly Nick Heidfeld 9
Everybody else has used 7 engines.
Unfortunately for Grizzly Nick, he will take a 10-spot penalty every time he uses a new engine from now on. Of course you can always use an old engine if you wish. Looking at this, it's clear that Mark Webber, current championship points leader, has an advantage over his rivals in that he's got two unboxed engines in hand, where everybody else only have, at best, one. What difference will this make, with five races left to go? We will see, won't we?
Posted by: Wonderduck at 11:18 AM | Comments (14) | Add Comment
Post contains 564 words, total size 4 kb.
1
Will the Ferris Wheel be turning during the race? That'd be a great place to watch it from, at least for a little while.
Posted by: Steven Den Beste at September 21, 2010 03:01 PM (+rSRq)
2
Unfortunately for Grizzly Nick, he will take a 10-spot penalty every time he uses a new engine from now on.
If I were Peter Sauber, I'd have to wonder what the point is of even running a car with this sort of penalty for what could be all of the remaining races; it would take a minor miracle for Heidfeld to even get into the points with this sort of handicap. OTOH, they could just blow off the points and turn Heidfeld's car into a test mule for components for the 2011 car.

Of course you can always use an old engine if you wish.
Can a team repair a worn or damaged engine without it counting as a new engine under the rules? That assumes a F1 engine
can
be repaired like a road car's engine; I'm guessing that when something lets go at 18,000 rpm, the results are catastrophic.
Posted by: Peter the Not-so-Great at September 21, 2010 05:33 PM (c62wM)
3
Does the penalty kick in once each time a new engine is needed, or is the penalty for each race run from here on out?
Posted by: Steven Den Beste at September 21, 2010 06:01 PM (+rSRq)
4
Steven, the
Singapore Flyer
will indeed be running during the race. It's about a 30-minute run from start to finish, and there's always some good shots from up there during coverage.
The penalty comes into play whenever they need a new engine. If Sauber keeps reusing the same nine engines the rest of the way, they don't get penalized. I think the test mule is the way they'll be going since Grizzly Nick has zero experience in this car, but we'll see about that.
Peter, they can't rebuild the engine, per the tech regs. They can inspect it, borescope it, everything they can think of to make sure it's okay, but they can't replace or repair parts.
And yeah, if a F1 engine blows,
it blows up reeeeal good.
Posted by: Wonderduck at September 21, 2010 07:16 PM (blg68)
5
I dunno. Compared to some
Top
Fuel
engine explosions I've seen, that was pretty tame.
(
This one
is particularly spectacular, because the engine comes off the car and slides down the track.)
Posted by: Steven Den Beste at September 21, 2010 09:01 PM (+rSRq)
6
Jet engines make big boom too, Steven, but that's not the same as a car engine. A Top Fuel engine is basically a 500 lb bomb with some pistons attached. There's a reason the dragster's mechanics have to rebuild their engine after every pass, after all. I mean, yes it puts out somewhere between 8000 and 10000hp, but after ten seconds at top power they get all explodey.
Meanwhile, a F1 engine is designed to run at 600-700hp or so (teams don't release horsepower statistics... ever) for two race weekends at least. They also weigh about 200lbs, and can fit into a shoebox (I'm exaggerating, but not by much).
Perhaps I'm just impressed by the reliability. A F1 engine
idles
at around 7000rpm. The Duckmobile's tach maxes out at 7000, and I think the only way I could get it that high would be to hang the car from the ceiling and bury the accelerator.
Posted by: Wonderduck at September 21, 2010 09:34 PM (blg68)
7
Also the fuel is different. Nitromethane is pretty much high-explosive in liquid form.
F1 uses gasoline, doesn't it? (Like 130 octane, but it's gasoline?)
Posted by: Steven Den Beste at September 22, 2010 10:07 AM (+rSRq)
8
F1 fuel is basically pump gas. Octane is limited by the rule set to a range of 95-102, Additives are also fairly limited, but they can put in a small percentage of oxygenates, also a small amount of some things like methane, etc. Basically it's not high-power fuel, but they can pull tricks to let them push the envelope on spark timing and compression.
Posted by: David at September 22, 2010 10:45 AM (oyblT)
9
What he said. Used to be you could put all sorts of crepe into the gas, but that got outlawed a while back.
Posted by: Wonderduck at September 22, 2010 12:17 PM (OS+Cr)
10
Actually, if the octane rating is 95-102 then it
is
"high power fuel". I would have thought Wonderduck would remember how American shipments of 100 octane av-gas made a big difference in the Battle of Britain.
Most pump gas is in the high 80's.
Of course, I suppose that "high power" is a relative term. It's still not like nitromethane.
Posted by: Steven Den Beste at September 22, 2010 07:54 PM (+rSRq)
11
Some pumps sell 100. I saw it myself in Tracy, for example.
Posted by: Pete Zaitcev at September 22, 2010 08:27 PM (9KseV)
12
To be sure, 100 octane
is
a high power gasoline, but it's still gasoline. As you point out, liquid explosives like nitromethane is a whole different class of power supply. If there was some way to use it without turning a car into a rolling demolition charge, I'm sure the F1 teams would have at least looked into it back in the day when they could do that sort of thing.
Posted by: Wonderduck at September 22, 2010 08:31 PM (blg68)
13
I know of at least three gas stations within a 15 minute drive of Pond Central that sell 100 octane gasoline. It's no surprise that they're all near the
Duckford Speedway
, of course.
Posted by: Wonderduck at September 22, 2010 08:35 PM (blg68)
14
My car requires 92 octane. And it's not that hard to get 100 if you go looking for it, and 110 can be had at many race tracks and some specialty shops. But octane isn't actually a meaningful measure of fuel power, 87 and 100 both give you the same bang. Higher octane just means you can run higher compression without getting knock, and it's THAT which produces extra power. So running 110 in an engine tuned for 87 gets you nothing, but if you know you're going to be pumping in 110 then you can design and tune the engine to run at higher power. And of course if you know you're going to be running nitromethane, then you can go crazy. Even with that fuel, it's not the fuel itself that's producing the insane power levels, but the fact that a top fuel engine has a compression ratio that is just insane compared to even F1.
Posted by: David at September 22, 2010 10:17 PM (rlE2m)
Comments are disabled. Post is locked.
33kb generated in CPU 0.03, elapsed 0.1455 seconds.
47 queries taking 0.1219 seconds, 247 records returned.
Powered by Minx 1.1.6c-pink.