September 27, 2009
F1 UPDATE!: Singapore 2009!
Lightning near the track, stunning in the darkness... did we get the first wet night race in F1 history? THIS is
your
F1U! for the 2009 Grand Prix of Singapore!
*MCLAREN MASSACRE
: Lewis Hamilton got a gift pole on Saturday when Rubens Barrichello's crash brought out a red flag just as everybody was beginning their final runs. The McLaren driver took full advantage of his present, running away with the victory. The only time the reigning world champion didn't lead was when he was in the pits. If only their car had been this good at the beginning of the season, he'd be a legit contender now. Instead, he's just looking for as many points as he can get.
*BRAKES BOLLIXED
: Singapore's Marina Circuit is known to be hard on brakes. Lots of turns mean they got hot quickly, and essentially never cool down. As they get hotter and hotter, the carbon starts to fail, slowly sloughing away in ever-increasing clouds of brake dust. This has the effect of causing them to go into a death spiral: the loss of mass means they have less ability to radiate away the heat, causing them to fail faster, sending more dust into the air, and losing more mass. To make things worse, the carbon discs get so hot that the aluminum brake calipers actually begin to deform, meaning the drivers have to stomp on the brakes even harder to get them to work... and that increases the heat even farther. Today, both Toro Rosso chargers withdrew with brake problems, as did Renault's Lettuce Grosjean. Red Bull's Mark Webber saw his slim championship hopes disappear when his front-right brake disc exploded, sending him into the wall in a lurid skid. His teammate, Sebastien Vettel dialed his bias nearly all the way to the rear in an attempt to keep his front brakes from a similar fate. Championship leader Jensen Button had to slow down late in the race for the same reason. All of these cars use Brembo brakes. The other teams, users of Hipco or Carbon Industry brakes, certainly had brake wear but nowhere to the extent of the Brembos.
*BUTTON, BARRICHELLO BATTLE
: WIth his fifth-place finish, Championship leader Jensen Button added another point to his lead over teammate Rubens Barrichello, who finished in 6th. Increasing his total to 84, he's nearly eliminated Seb Vettel and his 59 points as well. With three races left, Rubens is 15 points adrift. As a team, BrawnGP has a 42.5 point lead over Red Bull for the Constructor's Championship as well.
*DRIVER OF THE RACE
: His career is in jeopardy. His team is desperate for a good result. Today, Toyota's Timo Glockenspiel announced that he needs to be looked at for 2010 by bringing his TF109 home with a strong 2nd place finish after starting 6th. He's proven that he's a good driver this season with repeated points-scoring results after starting waaaaay down the grid (and sometimes from the pit lane), and today it all came together.
*TEAM OF THE RACE
: No one team really distinguished itself today, so we'll give the award to BrawnGP. They finished 5th and 6th, and nearly clinched the Manufacturer's Championship in the process. Not bad for a first-year team.
*MOVE OF THE RACE
: None whatsoever. After the opening lap, if there was an on-track pass, we never saw it. Oh well. So, instead, we'll give it to the unnamed trackworker who braved oncoming cars to dash onto the circuit and remove a piece of bodywork from the racing line. A dangerous move indeed, despite the local yellow flags. Well done!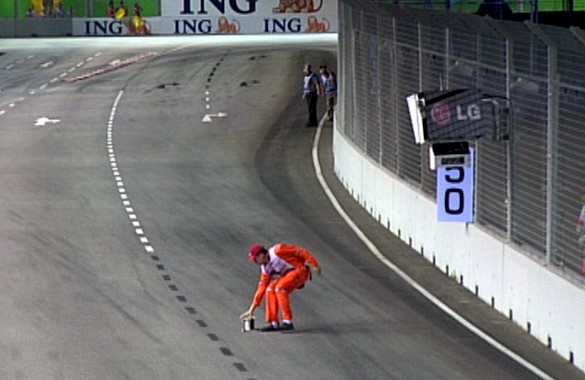 *MOOOOOOO-OOOVE OF THE RACE
: Force India's Adrian Sutil had been desperate to get past NKOTT for a few laps. He could get close, but couldn't quite make a move. On lap 21, however, he seemed to see something open up and made his try. It didn't work, and in an almost comical result the Force India performed a slow-speed pirouette as NKOTT continued on his merry way. Sutil, however, quite used to watching the world go spinning around his helmet, kept his foot on the gas pedal and kept the car rotating without coming to a stop and immediately began to advance back onto the track...
...right into the side of the BMW of Grizzly Nick Heidfeld.
Heidfeld was out on the spot. Sutil managed to limp back to the pits despite having the entire nose back to the suspension removed, though he would retire from the race four laps later. Whoops.
*DRIVER QUOTES OF THE RACE
:
"I like easy races. I wish the other drivers could have given me a challenge, though... I even had to disable my KERS system for a while, just to make it interesting." - Lewis Hamilton
"
PLE-E-E-E-E-SE
let me keep my job.
PLE-E-E-E-E-E-SE
!!!" - Timo Glock
"I dedicate this podium to Flavio - he is at home, but he is part of the success we had today." - HWMNBN (
note: real quote. He just doesn't get it, does he?
)
"Are grenades stuffed in the fuel tanks of your opponents legal?" - Seb Vettel
"Hey, Rubens? Pbpbppbpbpbbpbpbpthhhhhhhh!" - Jensen Button
"Hey, Jensen? I ain't gone yet." - Rubens Barrichello
"Are there any McDonalds in Finland? I should try and find out." - Heikki Kovaleininninnie
"If I can drag this piece of crap into the points, just think what I could do in a
good
car! And all you team principals, I'm available! Just call 1-800-POLE-GUY..." - Robert Kubica
"My home track is next week. The land of Kawaii, Sushi, and Race Queens... heaven on earth." - Kazoo Nakajima
"rmmbrlm mrmrmbbll rmrmbleblll rmmlblb blbmmmrblrb mmlph." - Kimi Raikkonen
"Stupid. Stupidstupidstupidstupidstupidstupid. I'm so stupid! Stupidstupidstupidstupidstupid! Gawd, I'm stupid." - Nico Rosberg (
note: Rosberg lost a possible podium finish by crossing the pit exit line and earning himself a drive-through penalty
)
"The Engineer is back again, baby! Wooooo-woooooooooooooooo!" - Jarno Trulli (
who had a long train of cars behind him, because he was so friggin' slow yet is nearly impossible to pass
)
"Can I go back to Force India now?" - Giancarlo Fisichella
"No." - Vitantonio Liuzzi
"Brakes almost go boom." - NKOTT, Sebastian Buemi, Lettuce Grosjean
"AIEEEEEEEEEEEEEEEEEEEEEEEEEEEEEE!" - Mark Webber
"Um, sorry?" - Adrian Sutil
"Wow, that was stupid. Maybe we can find a brain for (Sutil)." - Grizzly Nick Heidfeld (
note: real quote
)
So Singapore is done, but we've got Japan next weekend... and we're back to the drivers' favorite track, Suzuka! See you then!
Posted by: Wonderduck at 03:31 PM | Comments (2) | Add Comment
Post contains 1088 words, total size 8 kb.
1
I was surprised to hear Alonso even mention Flavio. You're right--he doesn't get it.
I was also surprised by Rosberg's mistakes compounded by more mistakes.
Posted by: Mallory at September 28, 2009 06:49 PM (WJ2qy)
2
It's looking more and more each week like Button may pull it off. His strongest competition is coming from Reubens, and considering that Reubens has had a better second half of the season than Button, this might still be interesting. It would be a "Cinderella story" to see either of them win a Championship, considering the path their careers have taken, and for Reubens, if that was to include a possible victory in Brazil... wow!
Posted by: madmike at September 29, 2009 08:49 AM (MJ3gP)
Comments are disabled. Post is locked.
29kb generated in CPU 0.0292, elapsed 0.1288 seconds.
47 queries taking 0.1087 seconds, 278 records returned.
Powered by Minx 1.1.6c-pink.