September 28, 2008
F1 UPDATE!: Singapore 2008!
A nice night for a drive, eh? THIS is
your
F1 UPDATE! for the Grand Prix of Singapore!
*GOOD NEWS
: There are two things that the crew at F1U! dislike intensely... Ferrari and He Who Must Not Be Named. Well, and mushrooms, but that doesn't have any bearing on the race. So the sort of day (night?) experienced by Ferrari put a grim, satisfied smile on our faces. First, there was Massa's disaster of a pitstop, driving away with his fuel hose still attached (and sending one of his mechanics sprawling). This eventually turned into a drive-through penalty for the Brazillian, for "unsafe release into the pit lane". Then there was Kimi Raikkonen's unforced error late in the race, catching just a smidge too much curb in the Turn 10 left-right-left complex, sending him arrowing into the wall and throwing away a solid fifth place finish.
*BAD NEWS
: To counter the smile on F1U!'s face, HWMNBN won the race, his first in over a year, his 20th overall, and his 50th career podium. Even this win for Renault had a slight bit of grimness to it, however, as it was handed to HWMNBN when his teammate, Nelson Piquet Jr, slammed hard into a wall. This brought out the Safety Car... one lap
after
HWMNBN had made his first pitstop. He was also the first driver to pit, giving him a huge boost in position when everybody else stopped a couple of laps later. Make no mistake, he was the right driver in the right car today, but jumping from 15th to a win needs help and luck, and he got it.
*SINGAPORE SWING
: Hey, Valencia, were you watching? THAT'S how you do a new track.
*DRIVER OF THE RACE
: Nico Rosberg. No, he didn't win, and no, he didn't pick up 14 places like HWMNBN did. He started 8th and couldn't seem to catch a break back there in the pack. To make matters worse, when the Safety Car came out, he was very low on fuel and had to pit before the pitlane was open, incurring a 10sec stop-and-go penalty. But a funny thing happened: his car came alive. He wound up in the lead by the time the safety car went back into the pits and started ripping off blisteringly fast laps. When he finally served his stop-and-go penalty, he had opened up such a gap that he only lost a small number of places. Good driving in the last few laps, particularly with Lewis Hamilton filling his mirrors, solidified his career-best second-place finish. Nicely done, Wonderboy!
*TEAM OF THE RACE
: Williams. The only team with both cars in the points, and a surprise 2nd place to boot? On a night when most of the other teams didn't exactly cover themselves with glory, Williams turned in a very solid performance and earned themselves a TotR.
*MOVE OF THE RACE
: On lap 42, Lewis Hamilton was trailing David Coulthard's Chin down the front straight. Out of the pits came HWMNBN, rejoining the race right in front of the two. The Chin had to slow down a bit, letting the McLaren pull right up behind the Red Bull. Heading down the short straight to Turn 7, Hamilton swung to the left side of the track and began to charge. The Chin edged left to give Lewis less room, but Hamilton just clenched his teeth and bulled through, pulling off a beautiful pass.
*MOOOOOO-OOOVE OF THE RACE
: While in general, we here at F1U! prefer to give these awards to the actual drivers, there are moments that are so egregious that they must be honored. Today's winners are the Ferrari engineering staff, for creating the stupid "automatic lollypop" that led to this: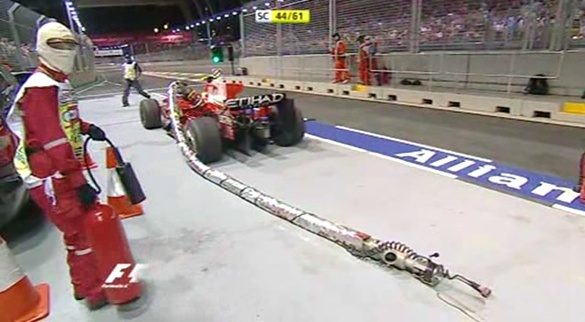 If Felipe Massa loses the Driver's Championship by a couple of points, this is why. Bravo, Ferrari, here's your Moo.
*DRIVER COMMENTS OF THE RACE
:
"Go ahead, FIA, just TRY and give me a penalty. I dare you." - HWMNBN (
note: on the first lap of the race, HWMNBN violated the rules by leaving the track altogether on Turn 1, picking up two places in the process. No penalty. So it's not so much that the FIA favors Ferrari, it's just that they hate McLaren
.)
"I think Frank (
Williams, team principle
) will have to wear his lucky tartan trousers again!" - Nico Rosberg (
note: real quote
)
"Gosh, both Ferraris outside the points? Hully-gee, that's a shame, isn't it?" - Lewis Hamilton
"T-t-t-r-r-r-r-a-a-a-a-c-c-c-c-k-k-k-k i-i-i-s-s-s a-a-a l-l-l-l-l-i-i-i-t-t-t-l-l-l-e-e-e b-b-b-u-u-u-m-m-m-p-p-p-y-y-y." - Timo Glock (
note: Glock has suffered a few back injuries due to accident this season
)
"I prefer winning, I'll admit." - Sebastian Vettel
"I always seem to be down here in the low-points-positions, don't I?" - Grizzly Nick Heidfeld
"It was incredibly bumpy out there, you can't see the braking down into Turn Seven and it was as hot as hell." - David Coulthard's Chin (
note: real quote
)
"A nice weekend. Can I finish second next time, please?" - Kazoo Nakajima
"Luck was not on our side this weekend. Luck hasn't been on our side all year. Remember when I won in 2006? I think that used up all our luck for a few decades." - Jenson Button
"I finished 10th, but it was all someone else's fault, not mine." - Heikki Kovaleininninninnie
"There are so many bumps. Over the final fifteen laps I had an incredible headache. That's racing." - Robert Kubica (
note: real quote
)
"You would think that all my street-racing experience in ChampCar should have served me in good stead here, wouldn't you? I wonder if Paul Newman would take me back next year..." - SeaBass
"I don't much like my fueling guy anyway." - Felipe Massa
"Darn, almost caught Massa." - Giancarlo Fisichella
"MMMMRRMMRBLLLBMMLBBL!" - Kimi Raikkonen
"Limp noodle. Wet dishrag. Me." - Jarno Trulli (
who looked completely exhausted after his car was rolled into his garage with a hydraulics failure
)
"Lah-dee-dah, pleasant drive, doing okay, tum-de-dum, FERRARI WALL AIEEEEEEE!" - Adrian Sutil
"I think we should do more night racing, since I did so well tonight." - Mark Webber
"Nope, had plenty of fuel. Engine just turned off. Maybe I shouldn't push that button?" - Rubens Barrichello
"AIEEEEEEEEEEEE!" - Nelson Piquet Jr.
Well, that was a successful first race for Singapore, that's for sure! In two weeks, we're back to the wonderful Fuji track for the Japanese Grand Prix... see ya then!
Posted by: Wonderduck at 09:53 PM | Comments (8) | Add Comment
Post contains 1069 words, total size 7 kb.
1
Man, it just wasn't Ferrari's day today, was it? (MWaahaahaa...)
I just looked at the team standings. McLaren 135, Ferrari 134, BMW-Sauber 120. BMW-Sauber definitely has a chance to win it.
Posted by: Steven Den Beste at September 28, 2008 09:56 PM (AW3EJ)
2
ps- I moved Steven's comment from the Quals post to this one.
-Wonderduck
Posted by: Wonderduck at September 28, 2008 09:56 PM (AW3EJ)
3
BMW-Sauber has to be pretty happy about today's race, since both of their cars finished higher than either of Ferrari's cars. (Heh heh heh...)
So with three races left, Hamilton is 7 points ahead of Massa and 20 points ahead of Kubica. Wonder if he can hang on to win the season? I'd love to see Hamilton #1 and Kubica #2, just to spite Ferrari.
Posted by: Steven Den Beste at September 28, 2008 11:55 PM (+rSRq)
4
Fuji is going to have some big shoes to fill, track-wise, after such glittering debut of the Singapore track.
The only thing that spoiled it was HWMNBN winning it.
;-)
Posted by: Mallory at September 29, 2008 06:57 AM (3sife)
5
I'm actually happy that HWMNBN took the win, his luck has been horrible lately and it's good to see it swing the other way. That's part of whats exciting about F1, luck is still a huge factor. A lot of people complain about the SC rules but don't offer any legitimate alternatives. HWMNBN has been driving the wheels off the Renault (which had a very competitive setup for Singapore) and it was very savvy move of him to start on a light fuel load on soft tires. Fortune favors the bold!
Posted by: RobertV at September 29, 2008 10:41 AM (DSGv+)
6
Not that it would ever happen, because it was committed by a Ferrari, but I would love to see a penalty for Massa for causing an unnecessary accident. Yeah, he was in a bad spot, but he should have let the
Jordan
Midland
Spyker
Force India go by, instead of cutting him off and sending him into the wall. I never was a Ferrari fan and today I found myself yelling "Black Flag" after the Pit debacle, team or driver, I couldn't care less.
Posted by: Buttons at September 29, 2008 11:35 PM (DSgje)
7
Buttons, I'm just happy that Massa got hit with the drive-through. Even though it was pointless (Massa being dead last on the track at the time), it at least showed that yes, the stewards CAN rule against Ferrari if the infraction is obvious enough.
As far as the Sutil accident goes, Massa probably did the right thing. If he hadn't've moved when he did, Sutil would have t-boned him. And if the Force India didn't, someone else would have, as Massa was pretty much blocking the track at that point. It's unfortunate, but I think it was a "racing incident."
Posted by: Wonderduck at September 30, 2008 12:38 AM (AW3EJ)
8
FIA confirmed that they are investigating a report that Nelson Piquet was ordered by the team to crash on purpose (source - Motorsport.com).
Posted by: Pete Zaitcev at August 30, 2009 11:23 AM (/ppBw)
Comments are disabled. Post is locked.
32kb generated in CPU 0.0186, elapsed 0.0724 seconds.
47 queries taking 0.0615 seconds, 284 records returned.
Powered by Minx 1.1.6c-pink.