October 03, 2011
F1 on SPEED!: Japan 2011
Though the Driver's Championship is all but wrapped up, the Constructor's is still up for grabs, and
that
means there's still something to race for. Which is good, because this week the F1 Circus will raise their tents at what is almost certainly the best of the non-European circuits: Japan's Suzuka. Let's take a look at the track map, shall we?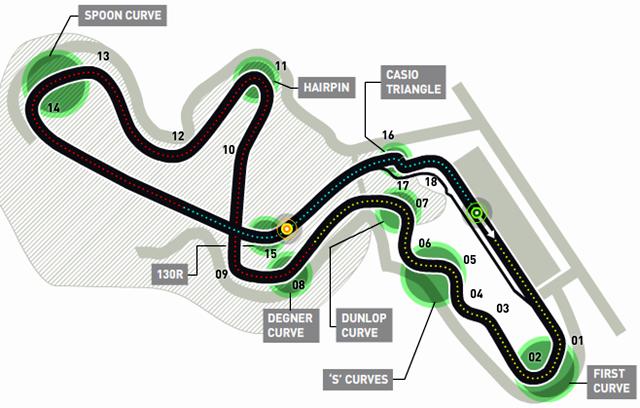 The first thing you notice about Suzuka is that it's a figure-of-eight layout, the only one in F1. Fortunately, or perhaps unfortunately if you're a redneck, the track doesn't really cross itself; the outbound part goes through a tunnel beneath the inbound. The next feature you notice are the "S Curves", a Gene Krupa-level rhythm section that determines your success on any particular lap of the circuit. Do it right, you've got a chance for a good time. Do it wrong, even a little bit, and you've ruined the lap completely and you'll have to fight to salvage what you can the rest of the lap. There's nothing quite like it anywhere else on the calendar.
It's a fast circuit that paradoxically is also a high-downforce track. Tires can take a beating around here from the high lateral loads suffered at places like the full-throttle 130R or the aforementioned S Curves. The track surface is variable; in 2009 some portions of the circuit were resurfaced, leading to changing traction levels depending on where you are in the lap. Pirelli is bringing the Medium and Soft compound tires this year, which should prove successful here.
As Suzuka is located on the eastern coast of Japan it tends to be somewhat damp around the circuit during race weekend. Indeed, the Great Suzuka Boat Races are something of a tradition in F1, and while they don't occur every year,
they certainly did in 2010
as Quals were actually postponed until just before the race on Sunday. It appears that this year, the weather forecast is for sunny skies.
Of course, the good folks at SPEED will be bringing us the whole weekend, as they usually do. Let's take a look at the schedule:
THURSDAY: 8pm to 930pm - Practice 1 (streaming)
FRIDAY: 1201am - 140am - Practice 2 (live), 9pm - 10pm - Practice 3 (streaming)
SATURDAY: 1201am - 130am - Quals (live)
SUNDAY: 1am - 330am - Grand Prix of Japan (live), 230pm - 5pm (replay)
As is usual, I'll be here with reports on the usual things, culminating with the F1 Update! after the race. Hope to see you here!
Posted by: Wonderduck at 12:04 PM | Comments (3) | Add Comment
Post contains 425 words, total size 3 kb.
1
Suzuka is definitely a lot more interesting than Fuji. I'm glad they stopped using that track.
Posted by: Steven Den Beste at October 03, 2011 12:31 PM (+rSRq)
2
The Mt Fuji circuit was actually quite good until it got Tilkefied. Not Suzuka level, no, but not a bad track at all. Then the Hermonnster got his claws into it and that was all she wrote.
Posted by: Wonderduck at October 05, 2011 01:47 PM (OS+Cr)
Posted by: Avatar_exADV at October 06, 2011 12:33 PM (GJQTS)
Comments are disabled. Post is locked.
24kb generated in CPU 0.021, elapsed 0.1496 seconds.
47 queries taking 0.1345 seconds, 236 records returned.
Powered by Minx 1.1.6c-pink.