March 26, 2010
Australia Second Practice 2010
The good news is that Kamui Kobyashi's front wing didn't fall off in the second practice session. The bad news is that it rained. Twice. While some teams tried to take advantage and get some running in the wet, most of the teams quickly discovered that the track was too wet for the dry tires, but not wet enough for the intermediates. Rubens Barrichello said it best when, over the radio to his pit crew, he simply said "we're not learning anything. We know the white lines are slippery."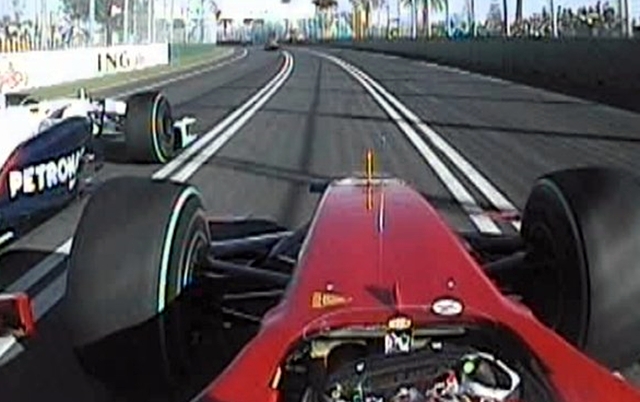 Picture from the 2009 Australian Grand Prix
It's those lines that earned the Albert Park circuit "God's Slotcar Track," by the way. Because of the ooky track conditions, nobody could really decide what shoes to run. As a result, a lot of teams very quickly chewed through their tires. P2 was, essentially, a waste of time for the most part.
So let us, instead, look at what's going on around F1! The big news up and down the pit lane is the rather embarrassing announcement that the virgin Virgin Racing VR-1 was built with... a fuel tank that was too small. Oy. The team estimates that it really needs to be about 21 liters larger for their car to have the ability to run a race distance. After going to the FIA, begging and groveling, they've been given dispensation to install a larger tank. The problem is, however, that F1 cars are built to such tight tolerances that to install a bigger fuel bladder requires a complete redesign and rebuild of the chassis. The amount of work needed to be completed will mean that the new chassis will be a whole new car... and that
should
mean new crash testing and all that sort of thing. It goes without saying that the costs of all of this rework will be astronomical... and for a new team, perhaps too much to carry. Of course, the chances of the VR-1 actually finishing a race for the forseeable future are slim to none, so maybe they won't bother.
Speaking of the new squads, Hispania Racing Team got a grand total of zero complete laps in P2 from their two cars. Bruno Senna's car had a telemetry/electrical problem and never left the pits, and Karun Chandhok's HRT HRT made it 100m out of the pit lane before it died, apparently of embarrassment. To be fair, they did complete 43 laps in the first session between the two drivers.
Darth Bernie Ecclestone told Italy's
La Gazzetta dello Sport
that he intends for F1 to be back in the US in 2012. "I'm trying to get F1 to the US in 2012, opposite Manhattan in New Jersey with skyscrapers in the background. The track would be just fifteen minutes from the city centre of New York. It would be something great," said the F1 Troll. I'll believe it when it happens, says the F1 Wonderduck.
Finally, the weather forecast for Australia is great: thunderstorms all afternoon and evening. Which means a wet race, which means fun fun fun! Except for one tiny detail... remember
last year's Malaysian Grand Prix
, when it rained so hard that the race was delayed, then called at about the halfway mark because of darkness? The Australian Grand Prix will be starting at 5pm local time, and it will be twilight-ish at the end of the race. If it rains during the race...
Quals are late tonight; I'm going to try to stay awake for it.
Posted by: Wonderduck at 07:07 PM | Comments (2) | Add Comment
Post contains 587 words, total size 4 kb.
1
Where in hell does he think they'd run in Joisey? Hoboken?
Posted by: Steven Den Beste at March 27, 2010 12:15 AM (+rSRq)
2
Maybe Bernie could build a new track with view of NYC. ;-)
Posted by: Mallory at March 27, 2010 06:21 AM (WJ2qy)
Comments are disabled. Post is locked.
24kb generated in CPU 0.03, elapsed 0.099 seconds.
53 queries taking 0.0823 seconds, 234 records returned.
Powered by Minx 1.1.6c-pink.