May 26, 2014
F1 Update!: Monaco 2014
The blue skies over the Cote de Azur belied the chance of rain as the field formed up on Boulevard Albert 1er. All eyes were on the two silver Mercedes up at the front of the grid; comments had been exchanged between Lewis Hamilton and Nico Rosberg after the debacle that was Qualifying, leading many to believe that there would be serious bumping and grinding at Turn 1. Did that happen? Did we actually have a race where some car
other
than a Mercedes had a chance to win? THIS is
your
F1 Update! for the 2014 Grand Prix of Monaco!
*LIGHTS OUT!
: Of course not. Twenty or thirty years ago, Formula 1 was different and Hamilton could have punted Rosberg into the harbor without much in the way of repercussions. Now, however? There was no way Hamilton was going to do anything more than crowd his teammate as much as possible without touching him. As it turned out, he wasn't even able to do that as Rosberg got off the line very well. All the Brit could do was fall into trail behind him as they went through Turn 1. Just as it looked like we were going to have a repeat of... well, every race this season thus far... a Force India was tipped into the Armco barriers in a location on the track with no fast way to get it off. Berndt Maylander was duly summoned and a Safety Car period begun. Two laps later, the restart put paid to any hope the rest of the field had.
*BANG ZOOM!
: By the top of the hill, in Casino Square, the two Silver Arrows had opened up a lead of at least a second, if not more, while Red Bull driver 4Time Vettel suddenly slowed. First his turbo unit appeared to fail, then his RB10 seemed to get stuck in gear. The team retired him a lap later. As it turned out, it hardly mattered. There were two races going on in Monaco: Rosberg vs Hamilton, and everybody else racing for third.

*MOST OF THE RACE
: Hamilton hung on the rear wing of Rosberg's Mercedes like he was attached by a rubber band. The lead would stretch out a bit, then snap back to under a second, then stretch out a bit... repeat as desired. Until Lap 25.
*LAST CHANCE
: When Adrian Sutil dropped it coming out of the Tunnel, scattering a vast amount of debris across the Nouvelle Chicane, it was clear a Safety Car was going to have to be summoned. This gave Hamilton a chance to make a strategic call that could win the race... or not. If he pitted before the SC came out, he
might
"pass in the pits", so to speak. Instead, he didn't, and Mercedes called both drivers in on the same lap once the SC was on the track. Hamilton
immediately
went into full-blown whinybaby mode. "I can't believe you didn't call me in a lap earlier", he radioed to the pits, assuming that they could see the accident coming. The race was, for all intents and purposes, over at that point.
*MEANWHILE
: Something strange was happening down the field. The Marussia of Jules Bianchi was sitting in 13th position and looking kinda racy. Not racy enough to actually pass anybody on merit, it must be noted, but racy. And then, the Racing Gods grinned. Jules Vergne suffered exhaust failure. Valtteri Bottas had an engine failure. Esteban! clipped the wall and retired with a broken suspension. Then came the big one: McLaren's Kevin Magnussen lost power. Jenson Button went past him in the hairpin, but Ferrari's Kimi Raikkonen, in an attempt to follow Button through, overcooked it and pushed both himself and Magnussen into the outside of the turn. And when Bianchi cruised past the two of them, he was in 8th place.
*THE END
: Hamilton was making movements at Rosberg, who was being forced to conserve fuel. At any other circuit, this would have meant he'd be passed in no time, but this was Monaco. Narrow city streets with no grip and identical cars is no way to try and pass someone. With 12 laps to go, he was all over his young German teammate... and then inexplicably dropped back! In the space of a lap, he lost nearly four seconds. The call came over the radio: "I can't see anything out of my left eye. There's something in it. It's impossible." Whatever it was cleared up soon enough, but Hamilton nearly fell into the clutches of Red Bull's Daniel Ricciardo in the process. Nearly. In the end, it was another Mercedes 1-2, with a nine-second gap between the two teammates, and less than a half-second separating Hamilton and Ricciardo. What was even bigger, though, was the gulf that had opened between the two teammates who were long-time friends. Hamilton didn't congratulate Rosberg, not even a perfunctory handshake or pat on the helmet, as is normal. On the podium, Hamilton barely acknowledged his teammate. This has the potential of coming to a bad end.
*MEANWHILE, PT 2
: Bianchi was still in 8th place, but, alas, when he crossed the finish line he was only four seconds ahead of Lettuce Grosjean. You see, earlier in the race, Bianchi had been given a five-second stop-and-go penalty, which he duly served... under a Safety Car period, a no-no. So he was given
another
five-second penalty, which the team decided he would NOT serve, instead having the penalty applied to his final time. This was done, dropping him down to 9th place. This was the first time Marussia had earned points in their career.

*DRIVER OF THE RACE
: Jules Bianchi. Seriously. In a below-average car on a circuit just waiting to rip your wheels off, he managed to legitimately finish 8th. Sometimes Monaco coughs up a big surprise, and while people generally only notice when it's up at the front of the grid, when it's something like this, F1U! will notice. Congrats, Jules!
*TEAM OF THE RACE
: Mercedes. The cracks are beginning to show, though... cracks that could cost them the season sweep they're now aiming for.
*MOMENT OF THE RACE
: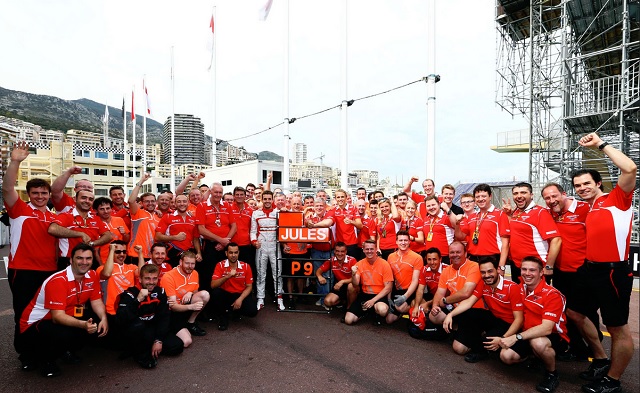 It's hard not to be happy for Marussia. We here at F1U! are managing it, as we expected Caterham to break through first, but it's hard.
*SELECTED DRIVER QUOTES OF THE RACE
:
"Two in a row at my home race." - Nico Rosberg
"..." - Lewis Hamilton
"Remember when my teammate was good? Yeah, me neither." - Daniel Ricciardo
"I finished 4th, and yet, I was never on screen." - HWMNBN
"Nobody cares what we have to say." - Nico Hulkenberg, Jenson Button, Felipe Massa
"Thank god I wasn't beaten by a Marussia" - Lettuce Grosjean
"On the track you were, and that's the only place that really matters. You know it, I know it, the whole world knows it.. You lost to a Marussia." - Jules Bianchi
"It's not so bad, really." - Kevin Magnussen
"I've gotten used to it." - Marcus Ericsson
In two weeks, we have the next stop on the European leg of the F1 Calendar... Montreal? See ya then!
Posted by: Wonderduck at 09:10 PM | Comments (3) | Add Comment
Post contains 1196 words, total size 8 kb.
1
What I think is awesome is that Hulk has been in the points every single race so far, driving for Force India. They don't have a snowball's chance of beating Mercedes for the constructor's championship, of course, but I think this is going to turn out to be their best season ever.
And Hulk is in fifth place for the driver's championship.
Posted by: Steven Den Beste at May 26, 2014 09:55 PM (+rSRq)
2
Also: Hamilton used to be a class act. Shame he isn't any longer.
Posted by: Steven Den Beste at May 26, 2014 10:01 PM (+rSRq)
3
It happened four years ago or so when Lewis dumped his father and decided to be his own boy. If you recall, unfavourable comparison with Button made him rethink his life a little, but nowhere near enough.
Posted by: Pete at May 27, 2014 03:02 PM (RqRa5)
Comments are disabled.
30kb generated in CPU 0.0788, elapsed 0.1994 seconds.
47 queries taking 0.1767 seconds, 279 records returned.
Powered by Minx 1.1.6c-pink.