March 21, 2011
F1 on SPEED!: Australia 2011
The cars have been delivered.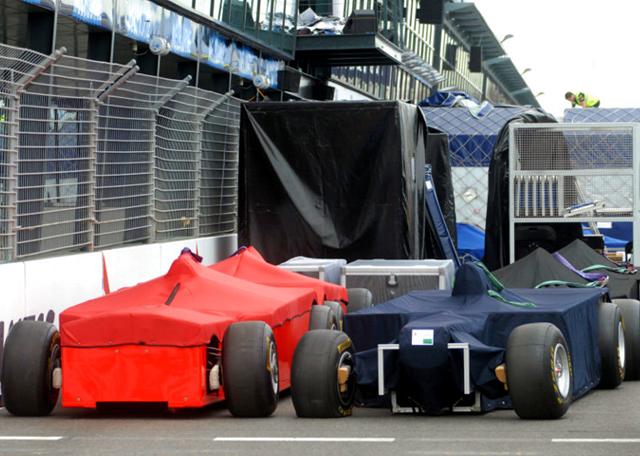 The crew are busy setting up the track.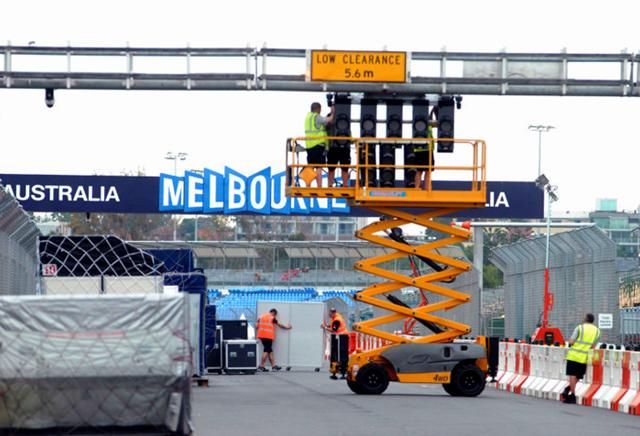 That can mean only one thing... Formula 1 is back! And if F1 is back, that too can only mean one thing... F1Update! is back! Welcome to the first installment of F1 on SPEED! for the 2011 season. I'm your host and resident fanatic, Wonderduck, and it'll be my pleasure to guide you through this 18-possibly-19-race year with the usual amount of humor, aplomb and maybe even a pinch of knowledge along the way.
As you know if you've been reading the off-season reports here at The Pond, the first race of the year was supposed to have been held at Bahrain two weekends ago. The Bahrainian people had something to say about that (and a few other things too), and the race was postponed and probably canceled. That means that Australia, long the traditional first race of the year and only recently displaced by oil money, really
will
be the first race of the season, and there's no better place for it in my opinion.
Let's take a look at the trackmap for the Albert Park Grand Prix Circuit, Melbourne: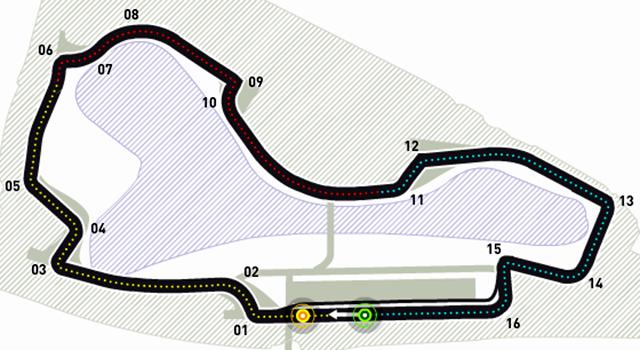 Running around a man-made lake in the center of Albert Park, the course is made up primarily by public roads. Technically this makes it a street circuit, but it doesn't much have the feel of one. It's best to think of Melbourne as a purpose-built course that just happens to have street cars drive on it every day.
It's generally considered a fast track, but the shortage of traditional straightaways does make it something of a challenge to pass on. The drivers generally like the course, often saying that it's neither challenging or boring to drive. Except when it rains; then it becomes something of a nightmare. The painted lines on the asphalt that designate lanes during the rest of the year (and earned the circuit the nickname "God's Slotcar Track") become quite slippery in the wet, a hazard not experienced anywhere else save Monte Carlo.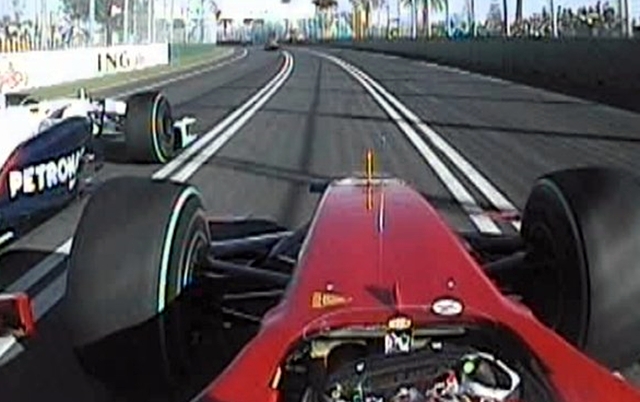 You can barely see the joins between track pieces.
Combined with the rather close armco barriers, it becomes quite easy to break your car with a moment's lapse in concentration. Last season the circuit was pretty much smooth, though some ripples were beginning to form in some braking zones. No surprise really, as the last resurfacing was nearly 15 years ago.
As with everything else at this place, the asphalt is neither particularly abrasive or easy on tires. Pirelli is probably very happy with this being the first race of the year; it'll give them a great baseline to work from for the rest of the season.
All in all, it's great to have F1 back. As usual, the good folks at SPEED will be bringing us their usual sterling coverage... with some bonuses!
Coverage begins online at
SPEEDtv.com
on Thursday evening from 830pm to 10pm, with a streaming feed of 1st Practice. Practice 2 will be broadcast live on SPEED early Friday morning, from 1230am to 210am. That'll be the first time the Legendary Announce Team will be providing commentary, by the way... all streaming events are strictly ambient sound. 3rd Practice will be streaming from 10pm to 11pm on Friday.
The all-important Qualifying session is plausibly live early Saturday morning, from 1am to 230am. It'll be interesting to see if HRT, the only team not to have turned any off-season testing laps, will be caught by the "new" 107% rule, and the only place to see it will be on SPEED.
Finally, the first race of the 2011 season, the Grand Prix of Australia, will be televised LIVE early Sunday morning, from 1230am to 3am. For those of you whose circadian rhythms don't work that way, there will be a replay on Monday, from 12noon to 230pm as well.
Of course, the first F1Update! of the year will go up sometime Sunday! We'll see you then, we'll see you here!
UPDATE
: Of course, all times are Pond Central. If you're in Oregon, subtract two hours. Denver, subtract an hour. If you're in New York, move. If you're in London, watch the BBC.
Posted by: Wonderduck at 07:37 PM | Comments (7) | Add Comment
Post contains 699 words, total size 5 kb.
Posted by: Steven Den Beste at March 21, 2011 07:45 PM (+rSRq)
Posted by: Wonderduck at March 21, 2011 10:08 PM (W8Men)
Posted by: Steven Den Beste at March 22, 2011 09:24 AM (+rSRq)
Posted by: Vaucanson's Duck at March 22, 2011 09:36 AM (XVJDy)
Posted by: Mallory at March 22, 2011 10:03 AM (WJ2qy)
Posted by: Steven Den Beste at March 22, 2011 11:50 AM (+rSRq)
Posted by: Wonderduck at March 22, 2011 05:23 PM (W8Men)
Comments are disabled. Post is locked.
28kb generated in CPU 0.0185, elapsed 0.4732 seconds.
47 queries taking 0.4616 seconds, 283 records returned.
Powered by Minx 1.1.6c-pink.